Patios and decks are an intricate part of home living. These outdoor spaces have become living rooms, impromptu home offices, nature-filled reception halls, resort-like staycation spots, and so much more. Thanks to patio covers, pergola, canopies, and enclosures, people can enjoy these outdoor spaces every day, not just on special occasions. Of course, no two patios or decks are alike. Customizing and designing these outdoor spaces is what it's all about. Thus, if you're considering taking your backyard space to the next level, you should take the time to research your options before focusing on all the possibilities or your overall decor. The reality is there are several types of patio covers and shades. Moreover, these patio shields are made from a variety of materials. Therefore, to maximize your patio or deck's full potential during the planning stages, here are the six types of patio covers, the commonly used materials they are constructed from, and the available styles/designs.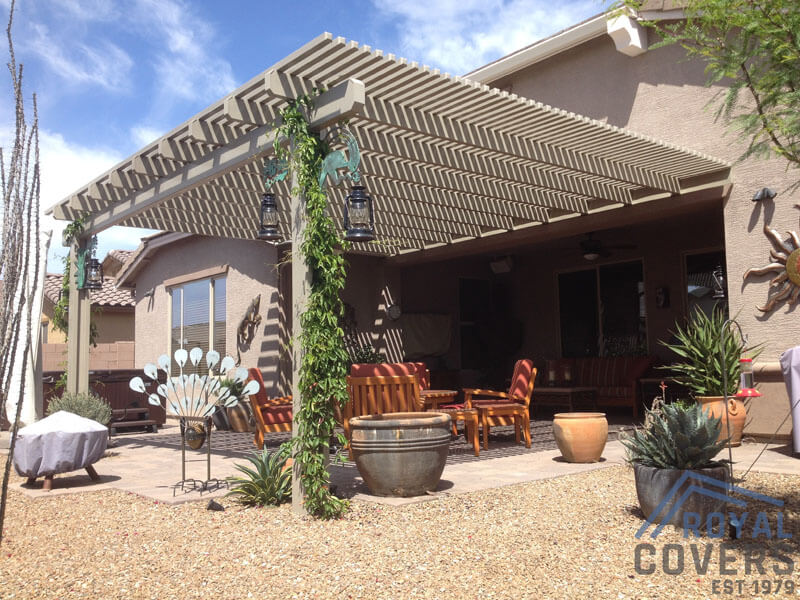 Commonly Used Materials
The materials that are used to make patio structures and shades are important for several reasons. One reason, in particular, is the required maintenance. For instance, wood patio covers are trendy, yet often require regular maintenance to look their best. Typically for wood covers, this involves weather treatments, possible re-staining, and polishing. Nevertheless, wood covers are a great go-to if you desire a rustic or more traditional look. Another commonly used material for covers or awnings is aluminum. Many homeowners opt for aluminum patio covers because they are incredibly durable, especially when it comes to harsh weather. Besides being low-maintenance, aluminum covers are very versatile—faux finishes are often used to add texture or change the overall appearance of the material. With that being said, aluminum covers have been known to rust over decades or without proper upkeep, so you might want to be mindful of that. Plus, aluminum is an excellent conductor of heat. This may be perfect for a chilly night and a bonfire, but maybe a bad idea if you're trying to keep your patio cool in 100-degree weather.
Acrylic/vinyl covers are also fairly common, plus are available in practically every color and finish. Acrylic patio covers are easy to clean and UV/heat-resistant for the most part. Covers made from acrylic/vinyl are cost-effective options as well. Here, the only possible downside is discoloration and fading can occur when this material is exposed to UV rays for an extended period. Nevertheless, there's an easy and affordable fix. Just polish or add a coat of paint every few years to keep your cover looking brand-new. Finally, most canopy covers or canopies are made from polyester and weather-resistant. Canopies are an excellent option when you need a quick, semi-permanent solution to your patio's lack of shade.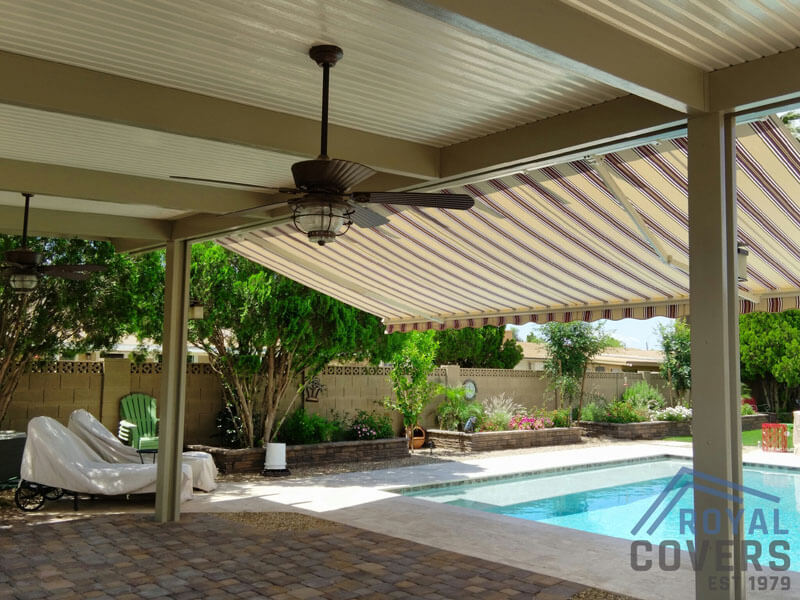 Types and Available Styles
Take a drive around your neighborhood, and you might see over a dozen types of patio covers. The truth is that there are actually six common types of patio shields or shades—standard patio covers, pergolas, gazebos, awnings, canopies, and thatched roofs. Standard patio covers are strictly business. In other words, when you're looking for something practical, permanent, and functional with the least amount of maintenance, standard covers are for you. For those looking for something with flair, pergolas and gazebos are worth considering.
Pergolas are for nature-lovers who want open and airy covered space with more of an ability to customize. This is where styles and designs come in. To achieve this open yet intimate space, pergolas typically consist of wooden or metallic beams extended across columns or support walls. There are free-standing pergolas, too. The most popular designs here are a lattice style and a solid attached design.
Likewise, gazebos are free-standing structures that are open on all sides. If you wonder what the major difference between these types of patio covers is, the answer is gazebos are often round or octagonal and have some form of a roof. If you're interested in a pergola or gazebo, but don't know where to look or are looking for a local quote, go to https://www.royalcovers.com/alumawood-patio-covers-phoenix-arizona-installer/ and find out more.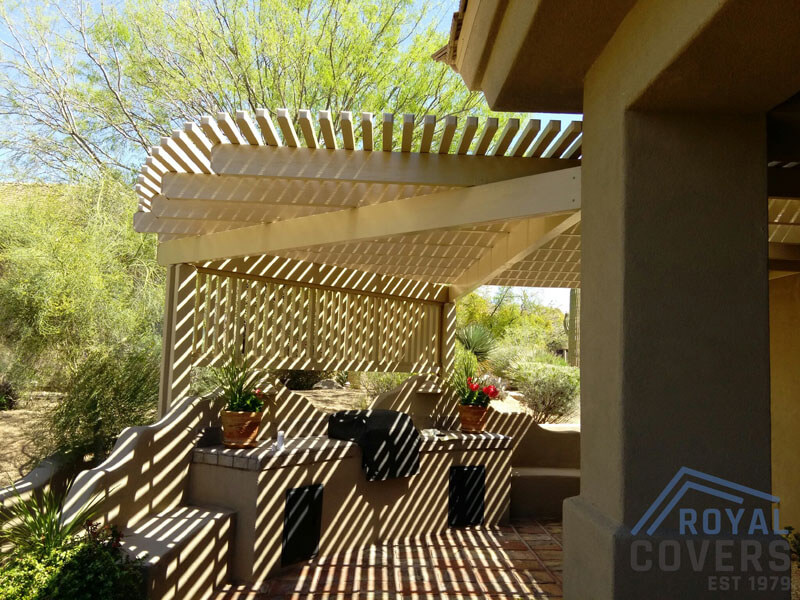 Awnings and canopies, on the other hand, are two more types of covers that you'll see often. Awnings have pretty much been around forever, but they have reinvented themselves over the years. Today's awnings are both static or retractable and come in an almost endless selection of designs/styles. Moreover, awnings are made of aluminum, so they are both low-maintenance and durable. Canopies, however, have been popular for the last few decades or so and, as briefly mentioned, tend to be made of polyester. Since polyester is exceptionally versatile, it's typically not hard to find the color, size, or shape of canopy you want. Overall, these canopy covers are ideal for a laid-back or possibly festive look.
Finally, thatched roof covers are wonderful options for people who love staycations and traditional decorations. If you still have no idea what a thatched roof cover looks like, think of tiki bar—yes, the exotic-themed drinking establishment. If you're looking for some festive flare, then a thatched roof is for you. But then, a word of caution, before you put on your Hawaiian shirt, you should know this isn't your grandfather's tiki bar. There are luxurious tiki bar designs now available with all the trimmings.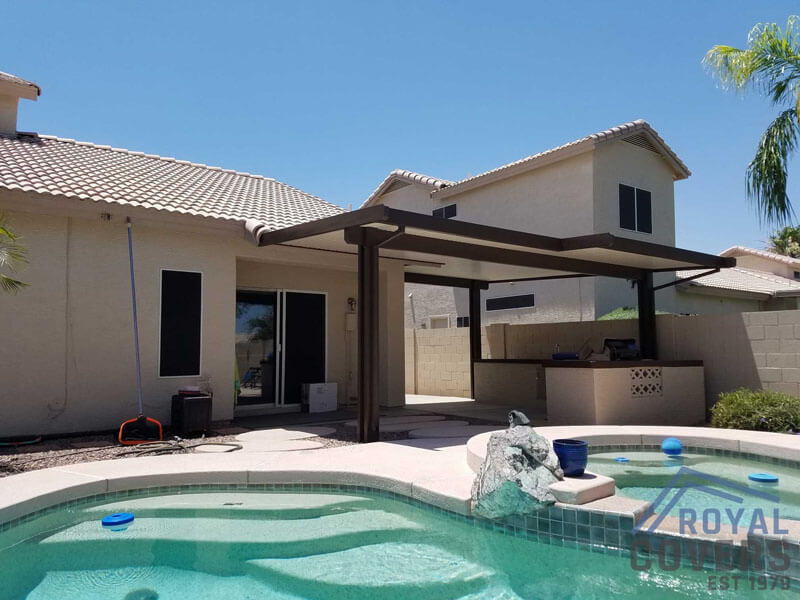 Takeaway
Ultimately, only you know what works best for you and your backyard oasis or retreat. However, it doesn't hurt to speak with the professionals and get their input on what type, style, and material will provide you with the most enjoyment for years to come. Remember, taking your patio or deck to the next level should be fun and rewarding. Furthermore, the outdoor space you eventually create or help to design should be both practical as well as visually pleasing. With all these options and amenable decor possibilities, you should have no trouble making your outdoor space everything you want and more.