If you want to add some fun or unexpected to your home, take a look at the 8 Cool Bomb Shaped Product Designs we presented here. From vase to lamp, speaker to timer, these little funky bomb shaped products will definitely be a conversation starter.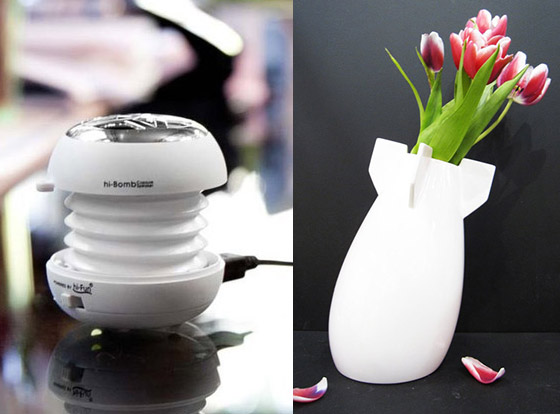 We are a participant in the Amazon Services LLC Associates Program, an affiliate advertising program designed to provide a means for us to earn fees by linking to Amazon.com and affiliated sites.
1. Time Bomb kitchen timer [buy on amazon]
It was very clever to turn a ticking time bomb into a kitchen timer. As it stands this bomb is just a globe with the rudimentary capability of tracking time in 60-minute increments. And when time's up the bomb will brrrrring! and vibrate violently.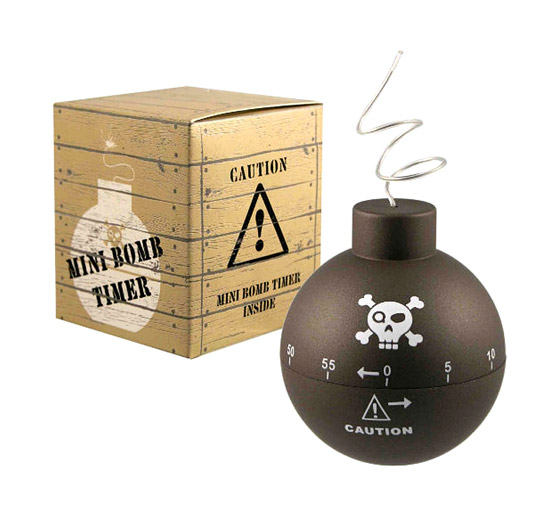 2. Hi-Bomb Speaker by Hi Fun [hi-fun]
Small but powerful, the Hi-Bomb is a pocket audio speaker that you can take anywhere.
This compact speaker recharges at lightning speed and plays your music at an explosive volume!
– Speaker: shielded 36mm
– Audio power: 2.4W
– Frequency response: 100hz – 20khz
– Battery charge time: via DC circa 2,5 hours, via USB circa 4 hours
– Battery life: 4 to 8hours
– Measures: l 52 x p 50 x h 64.5mm; net wt. 52 g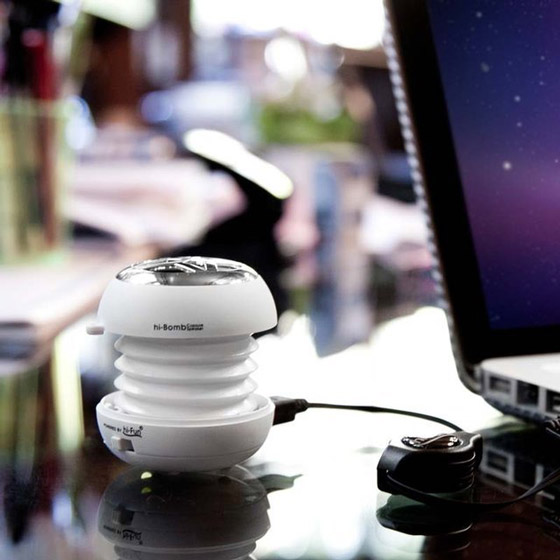 3. Fashion Round Bomb Shape Toilet Paper Pot Holder [buy on amazon]
The creative tissue paper box is suitable for household, restaurant, etc.
– Material: Plastic
– Dimension: 17.2 x 16.5 cm(Dia. x H)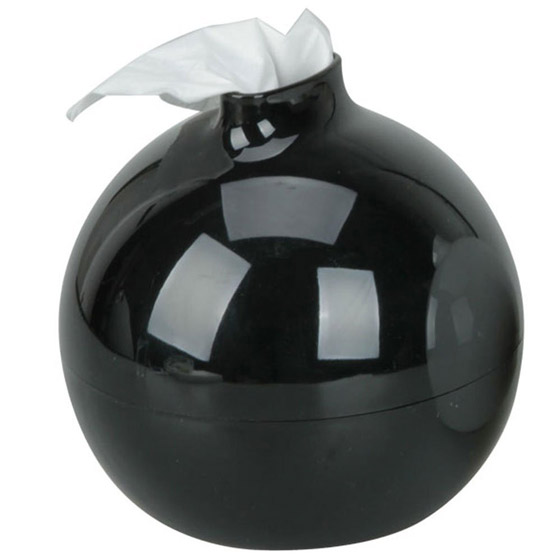 4. Bomb Shape Silicone Ice Cube Tray Mold [buy on amazon]
Soft, safe and healthy, easy to clean and keep. Flexible silicone ice cube trays are perfect for making party-themed ice cubes, chocolates, gelatins, and more.
The ice cubes come out intact – not chipped or cracked. To get them out, push each cube from the bottom with your finger, for fastest and easiest results, wait for 5 minutes after taking the tray out of the freezer. This way, the ice cubes will pop right out. If you don't wait, your fingertip will be freezing while trying to push them out.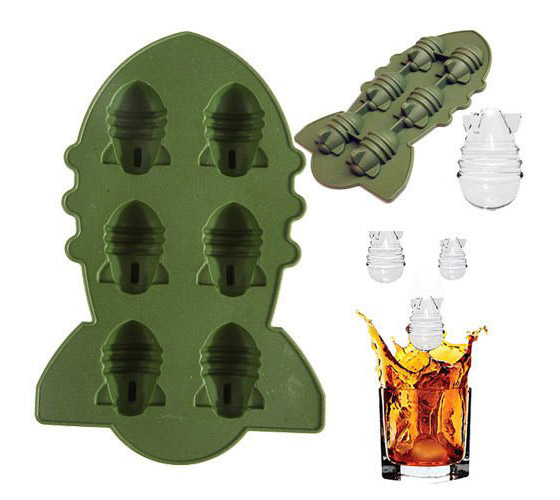 5. Bomb Typed Electronic Piggy Bank [buy on amazon]
Funny and cool piggy bank for you, every time you throw one coin into it, the bomb shape box will make a sound immediately, and meanwhile the signal on the top will brighten up.
The bomb shape piggy bank is not only a perfect place to stash your change, but also a fine ornament on the desk or table.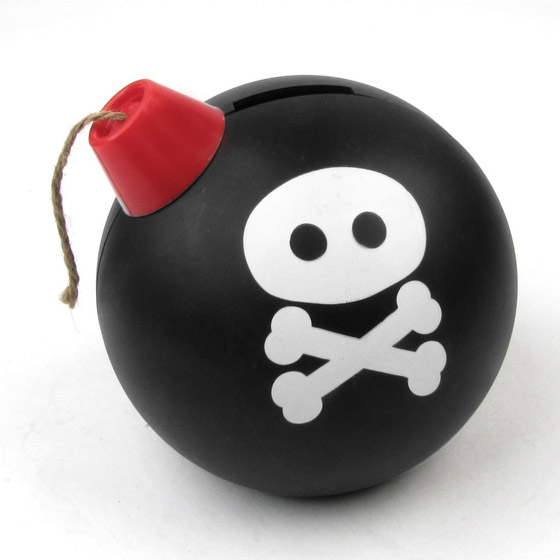 6. MollaSpace Peaceful Bomb Vase [buy on amazon]
You won't hear the deafening explosion when this Peaceful Bomb is placed, nor the devastation after the explosion. Instead, you'll see flowers and plants which are full of life to bring peace to its surroundings.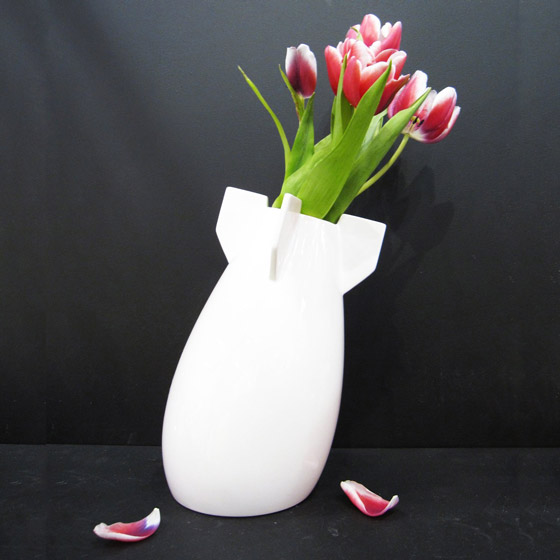 7. Massive Bomb Lamp [etsy]
This lamp is made with the tail fins of a 100-lb bomb from the Korean War. Paint and corrosion are removed to expose gleaming steel, interrupted by rough machinists marks from the factory. Finished with a nickel socket, elegant cloth-wrapped cord, and a natural linen shade. Base is 29″ from table to harp (where the shade attaches), and approx 7.5″ in diameter; shade is 17″ in diameter and 12″ tall.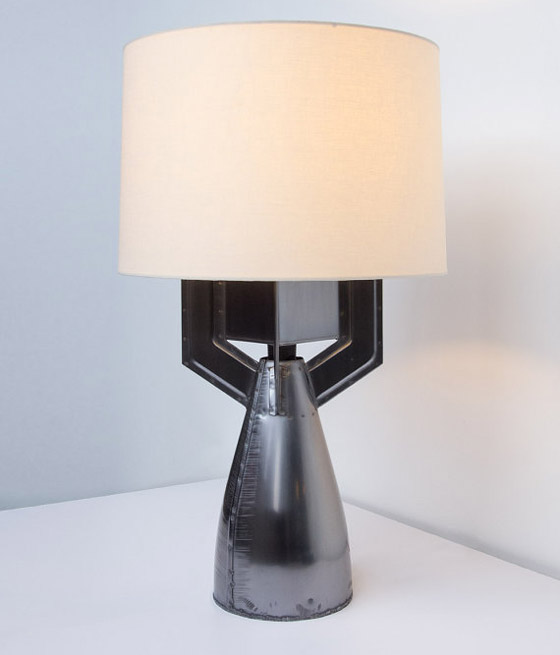 8. GOgroove BoomBUDDY Portable High-Powered 2.1 Stereo Speaker [buy on amazon]
The GOgroove BoomBUDDY's playful and unique design lights up any room! Behind the sunglasses are powerful speakers, while the orange light up nose contains the volume and power controls.
Speakers: (2W x 2) 4W RMS + 6W RMS subwoofer; 20W Peak
Dimensions: 6.9″ x 8.2″ x 7.9″
Weight: 2.4 lbs (39 oz)
Power: AC adapter 100-240v (included)