A selfie is probably the most popular type of photography of modern times. These days everyone has a camera in their pocket and a quick snapshot of oneself is made each day in uncountable amounts. The photographic technology we have today makes it very easy for us to snap an image of ourselves and share it with the world by just pressing a button. However, if you want to make the snap more professional or need more distance between you and camera, your hands are not enough. With those selfie gadgets, you can easily take photo whenever and wherever. Take a look at 8 Selfie Gadgets listed below. We will show you the most craziest ones first.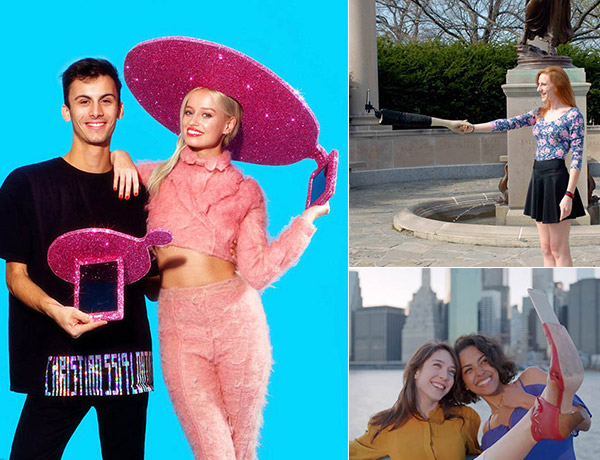 We are a participant in the Amazon Services LLC Associates Program, an affiliate advertising program designed to provide a means for us to earn fees by linking to Amazon.com and affiliated sites.
Selfie Shoes [designswan]
Miz Mooz, a popular shoe brand in New York, has released a unusual shoe design that claim to revolutionize the way women take selfies. The idea behind the shoe is to solve all the problems that women run into when they have to use hands or selfie sticks to take their selfies. These shoes have a smartphone dock in the lengthened toes that will allow women to use their legs as extended selfie sticks.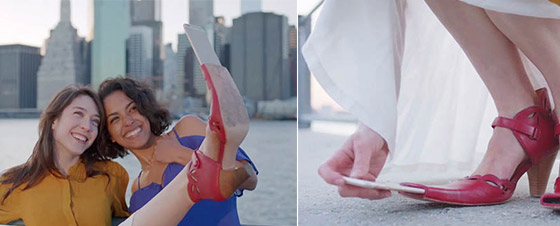 Selfie Arm [designboom]
"Fascinated by the idea of technology and its illusionary 'connectedness' and 'sociableness', snee and crowe created the 'selfie arm'. The sarcastic solution to a quintessential problem — nobody wants to look alone while they mindlessly snap pictures of themselves — the product conveniently provides you a welcoming arm. And better yet, it doesn't talk or have emotions of any sort. You can even create fake accounts and use its finger to like all your images; its not you its the hand! 'selfie arm' is made of fiberglass, is lightweight and portable.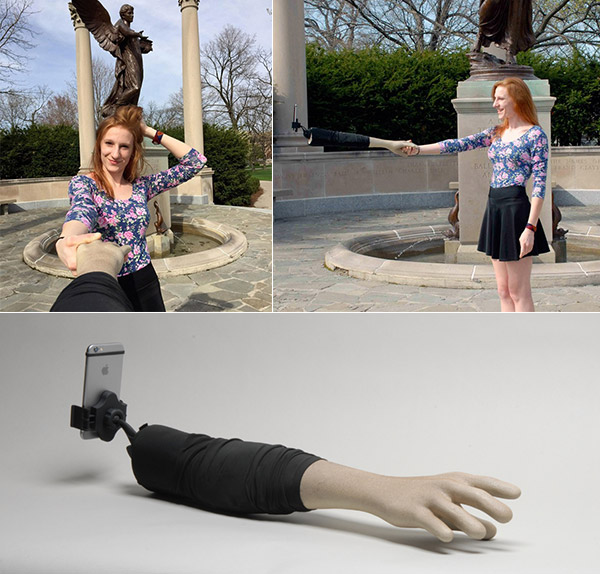 selfie hat [dailymail]
The £599 couture hat spins 360 degrees – helping selfie lovers find their best angle – and is available through appointment only.
Dubbed the 'Christian Cowan-Sanluis x Acer Selfie-Hat', the piece combines the designer's unique and playful style with the Taiwanese tech firm's top-notch technology.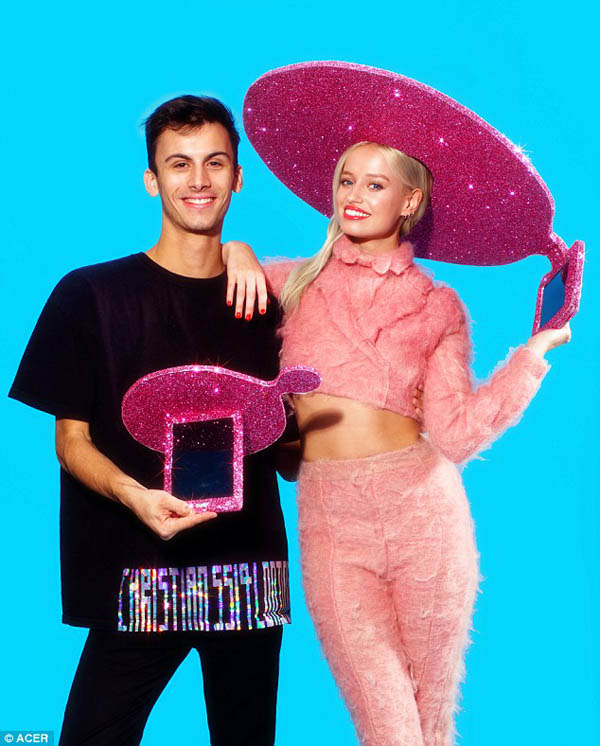 Selfie Stick [buy on amazon]
Customizable orientation: the monopod can extend as long as 3.5 feet, has a phone holder compatible with all phones.
Simple to use: to use, simply turn on the selfie stick and pair it with your phone via Bluetooth to take photos with the accessible handle button.
For the selfie artist – the adjustable holder allows a variety of shooting angles from traditional selfies to above-crowd shots.
Fully compatible with most smartphones, including Android and Apple.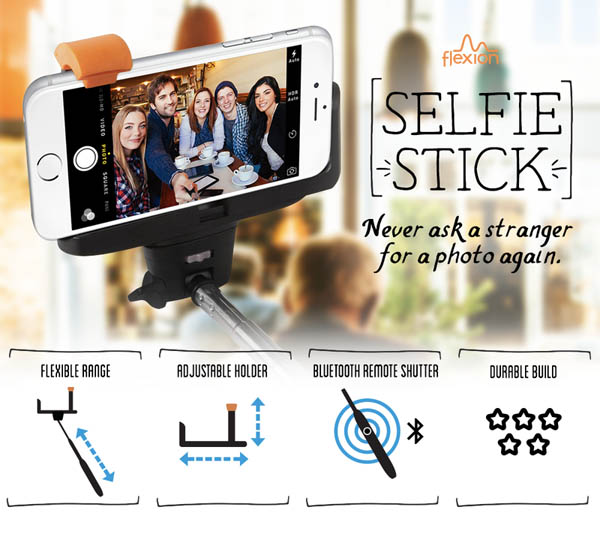 Kootek Extendable Wireless Bluetooth Monopod Selfie Stick (discontinued)
Kootek? 3-in-1 latest version extreme lightweight selfie stick monopod. Extendable up to 38 inches with Adjustable clamp for multiple angles shooting with 180 degree position.
EASY TO CARRY ON: shutter controller, extendable pole, phone clamp, tripod leg are all detachable which can be put into the pouch.
Perfect for traveling, video diaries, hiking, camping, weddings, parties, the beach, concerts, aerial photos, sports, gift ideas and etc.
Compatible with most iOS and Android Smartphones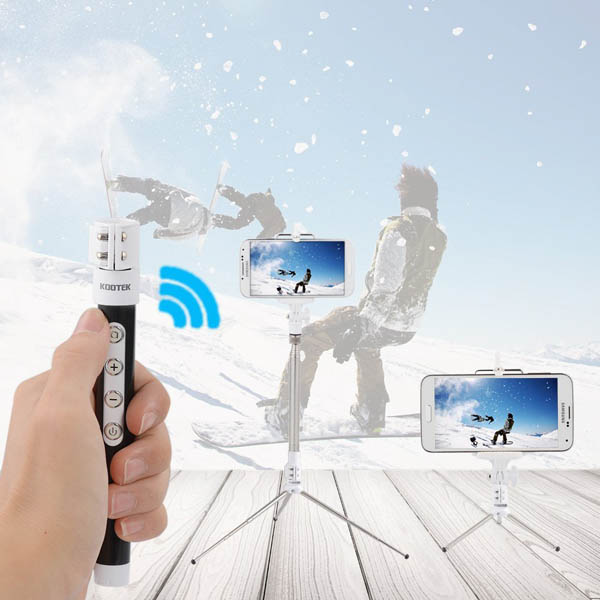 SelfieMe: Bluetooth Photo Button for Your Phone [designswan]
Is it a keyring? Is it a Bluetooth button? Does it allow you to take selflies?
Yes, Yes and more Yes. This is the Retro Bluetooth Selfie Button you have all been waiting for and even comes with its handy own camera stand that fits inside your wallet / purse.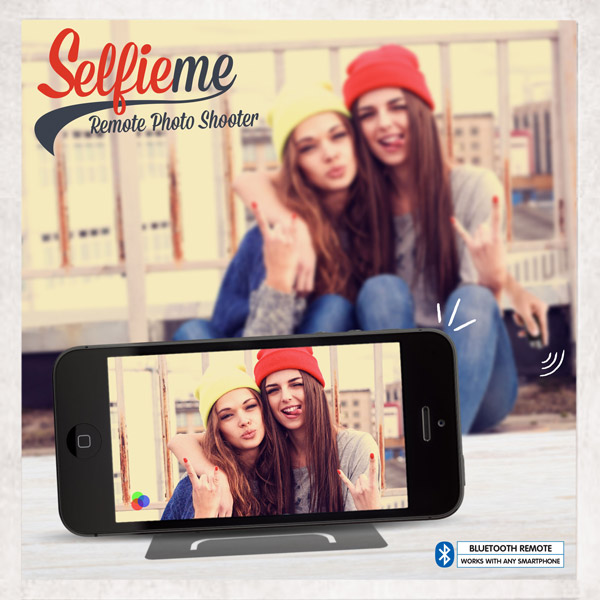 Universal Wireless Bluetooth Selfie Remote [buy on amazon]
The smallest remote control for iPhone, iPad, Android and Samsung Galaxy / Notes
Take great selfies, group photos and videos from as far as 30 feet. Use the included tripod to position your phone in a freestanding position. Never be left out of a photo again!
Simple and easy setup in less than 30 seconds! There are NO APPS TO DOWNLOAD when using an iPhone, iPad, iPod touch and Samsung galaxy S5/S4/S3, Note 2/3/10.1, Moto X, Moto G, Nexus 4/5/7/8, LG G2, LG Gro, G Flex, Sony Xperia Z2, HTC One M8
Size Matters! The Shutter is small enough to have with you on your keychain whenever you need it. Keychain strap is included in the package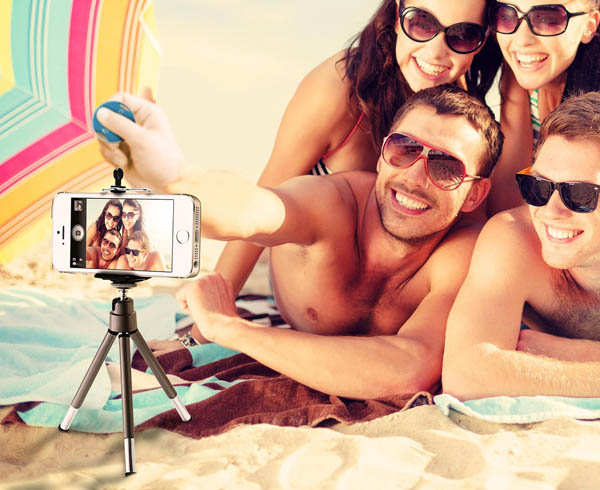 GripSnap [gripsnap.com]
he GripSnap is a magnetic monopod that will stick to any metal surface and hold your device while you take a selfie, a time-lapse, or even a long exposure photograph. Perfect for use with GoPros, iPhones, Android devices, and cameras and phones of all shapes and sizes, the GripSnap has a super strong magnetic base along with a flexible tube so that you can bend it to any position of your liking.