Decanting is simply transferring the wine from the bottle to another container in order to remove sediment. Another reason for decanting wine is to aerate it, or allow it to "breathe". The decanter is meant to mimic the effects of swirling the wine glass to stimulate the oxidation processes which trigger the release of more aroma compounds. In these days, more and more wine lovers will practice decanting at home, which affords a great way for friends and family to increase their enjoyment of a wine. Here, we rounded up 8 Stylish and Functional Wine Decanters, which are not only offer you nicer taste of wine and better looking on the table.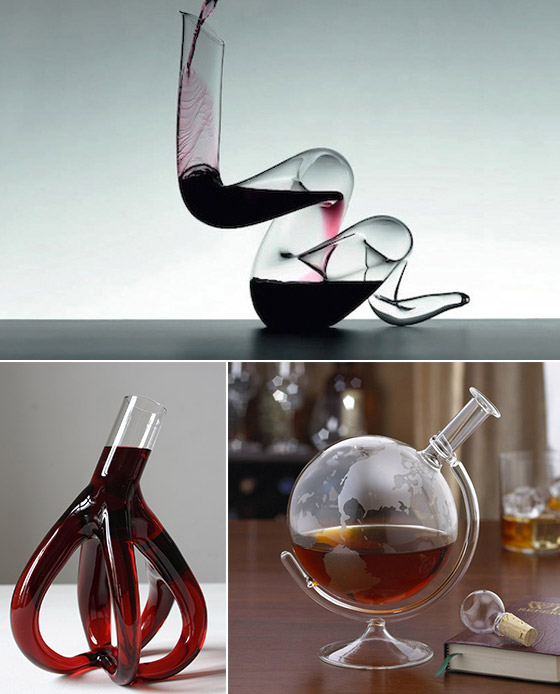 We are a participant in the Amazon Services LLC Associates Program, an affiliate advertising program designed to provide a means for us to earn fees by linking to Amazon.com and affiliated sites.
1. Riedel Boa Decanter [buy on amazon]
Place this snakelike decanter in the center of the table during your next dinner party or holiday gathering, pour in a bottle of wine, and watch as it aerates it as it flows down through the coiled curves. It then double decants when later poured back out into a glass. Each decanter is handmade in Austria from the finest lead crystal for maximum clarity and holds up to 69 oz of your finest vino.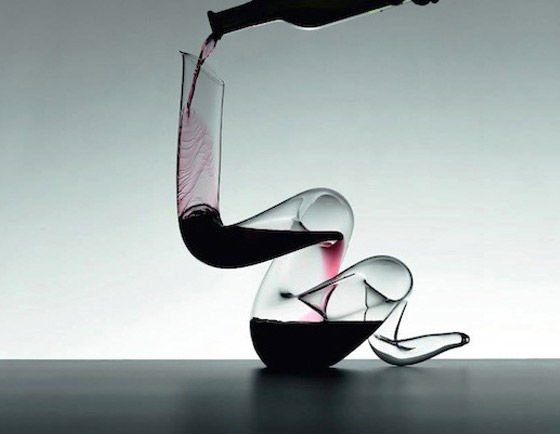 2. Twist Decanter [buy on amazon]
The unique curves of the glass disperse wine over a larger flow area than most decanters. This process helps aerate your wine to enhance the full aroma and flavor potential.
Two-phase aeration process (when filling and serving)
Specs: Dimensions: 8 3/4″H.
Capacity: 375ml (12.7 oz).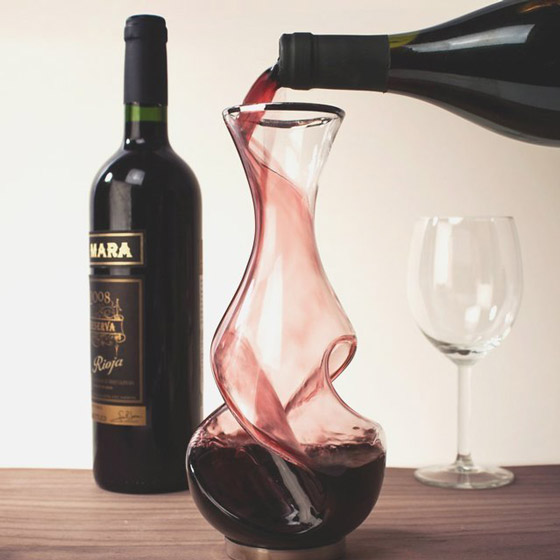 3. Black Tie Bliss Decanter [buy on amazon]
The Bliss decanter stands 14-3/8 inches tall and is one of Riedel's most romantic pieces yet, each adorned with a sophisticated ribbon black crystal making this a marvelous addition to the black tie collection. This decanter is mouth blown and formed by hand without the use of molds, making each a unique work of art.

4. Dragon Wine Decanter [buy on amazon]
In Chinese lore the dragon is a symbol of strength power peace and good luck. Riedel wine decanters renowned for their beauty and design captures the spirit of this mythical beast with their cleverly-shaped dragon wine decanter. May this celestial dragon bring ultimate joy and good luck to people around the world.
Height: 14″
Capacity: 61 5/8 oz.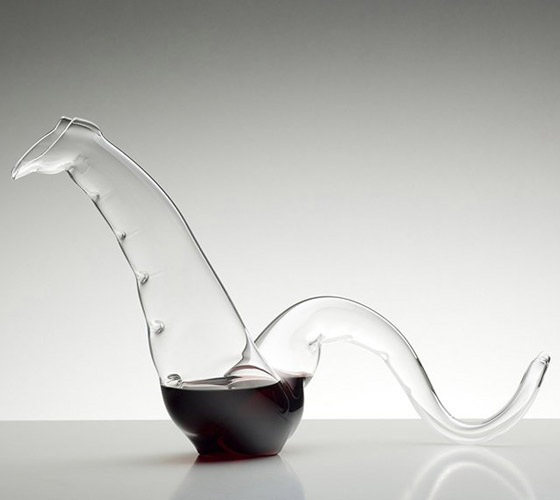 5. Petit Coeur Wine Decanter [verren1]
height : 7.9 in.
content : 1/4 of a standard wine bottle)
material : borosilicat glass
limited edition ( 8 numbered and signed + 4 artist proofs )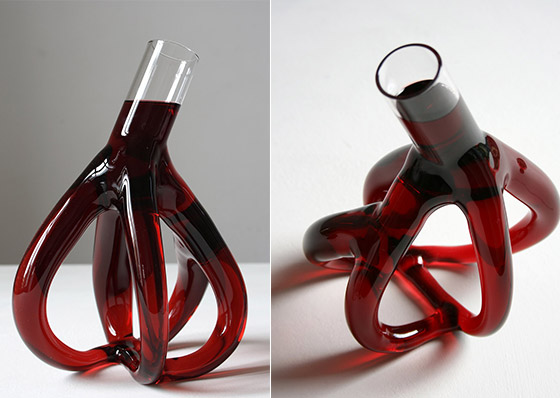 6. Hulu Red Wine Decanter with Funnel and Stand [buy on amazon]
The Jia Inc. red wine decanter takes the organic form of the Hulu, enlivening the dining experience. The wider round body allows enough room for oxidization. The filter can be used to separate wine residue and maximize taste. The base holder is used to secure decanter and to adjust the position of the decanter to maximize the oxidization.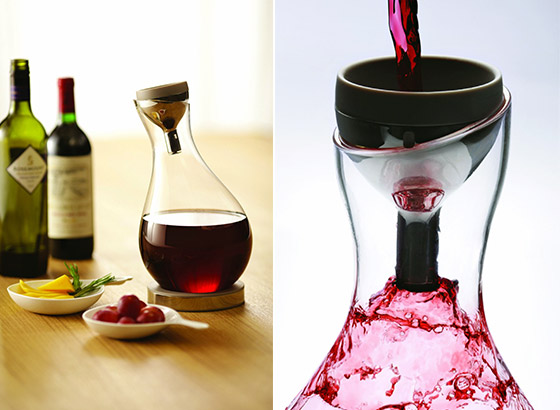 7. Oenophilia Porto Decanter Set [buy on amazon]
For styling with contemporary lines, this decanter makes a perfect accent for all classic wine lovers.
Graceful arches with geometric accents support the proven aerating system of the RoJaus Decanter line.
The stand is made of steel.
Contemporary Flair Wine Decanter.
Finished in Brushed Nickel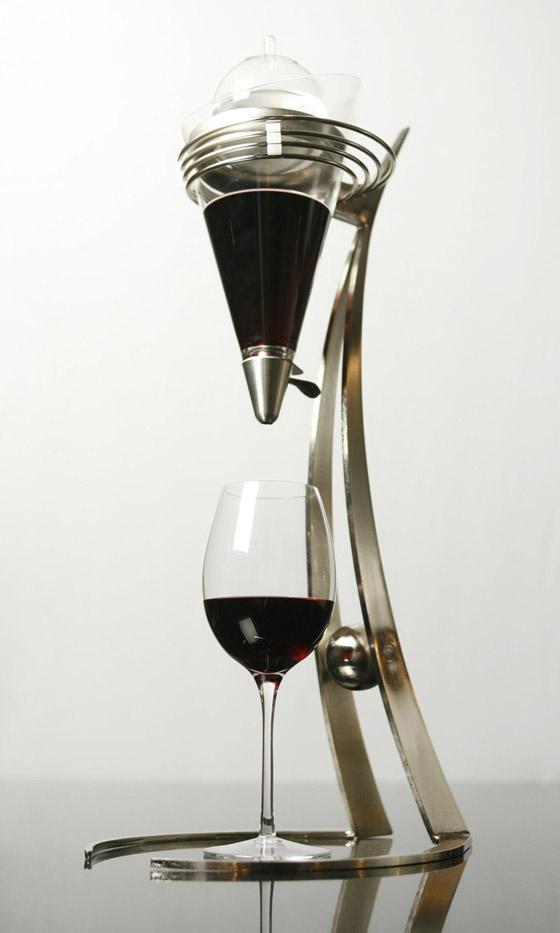 8. Wine Enthusiast Etched Globe Spirits Decanter [buy on amazon]
A new spin on serving spirits. Turn this globe spirits decanter east to west or west to east and admire the rich hue of your prized port, cognac or wine. As you spin the decanter, its precious contents will also aerate to open up the flavor and allow your wine or spirits' aromas to develop. The heat-resistant glass globe decanter features decorative etching of the world map. Includes glass decanter stopper and glass base. This lead free decanter is recommended to be hand washed. Size: 8-1/2″H x 6-1/2″W, 35 oz.