Creating a green haven where you can retreat after a gruelling day is a sound investment with each passing day. Having a place where you can unwind and relax, lay down and recharge your batteries has no price while doing wonders for your physical and mental health. Backyards are the extensions of our homes when the weather is right. No longer tied to four walls or returning from the daily grind, and being greeted by a lush oasis is one of life's greatest joys. The best way to get started with creating or re-decoration your own is to slouch back, pour yourself something refreshing, browse Pinterest and dot some of the tips&tricks we are about to share. Without further ado, let us get started!
1. Step by step
Slopped or uneven backyards don't have to be a nightmare to traverse. When you improvise and adapt, you will overcome any seemingly big obstacle standing in your way. The best materials to use are wood and stone. Partially for their longevity and partially for how versatile those materials can be. Going up and down on steep and sloppy terrain can be tricky if you don't have stairs. When it rains or snows, it becomes almost impossible not to slip or get knee-deep in mud.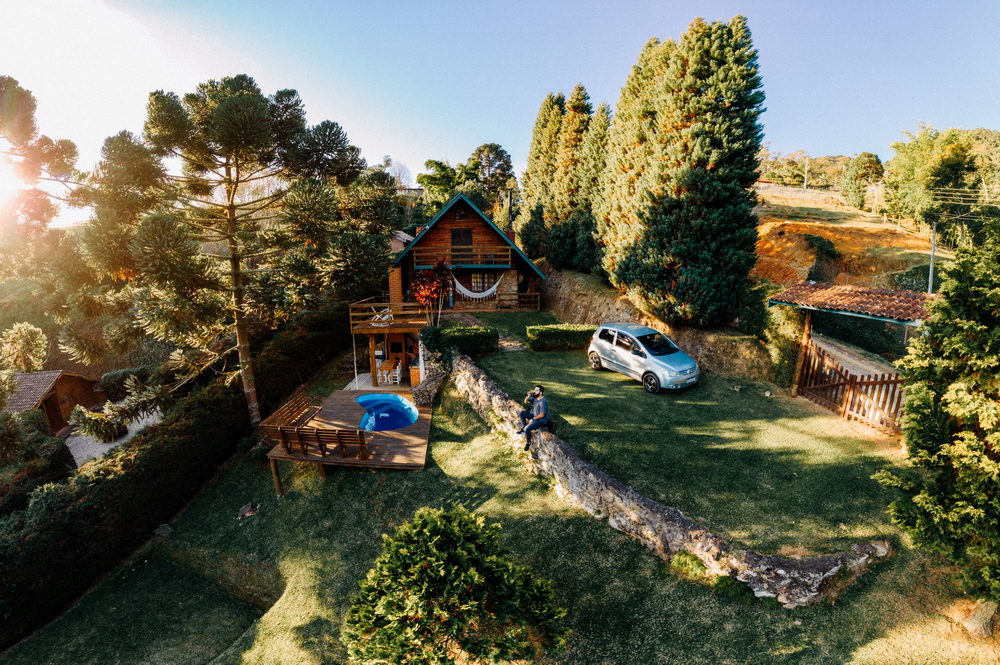 All the more reason to opt for stairs. Not only that they look stylish, but you can also incorporate their appearance into your overall garden design. From rustic to modern, with natural colours, or anything that fits your vision, stairs make strolling around your backyard a breeze. All the while adding to the overall "feel" of the garden. Stairs help elevate your backyard to a new level, pun intended.
2. Tiers all over
When your creativity knows no bounds, and you wish to utilise your space to the maximum, that's when you reach out to Eagle Creek Nursery & Landscape for tier backyard design. Divide and conquer is the landscape style you are aiming for. Take a step back and observe your surroundings. Once that is done, you can best decide how much you want to split it up. Every tier you make can have a unique theme. Or you can make them fit and click together in the overall grand plan cooking up in your head.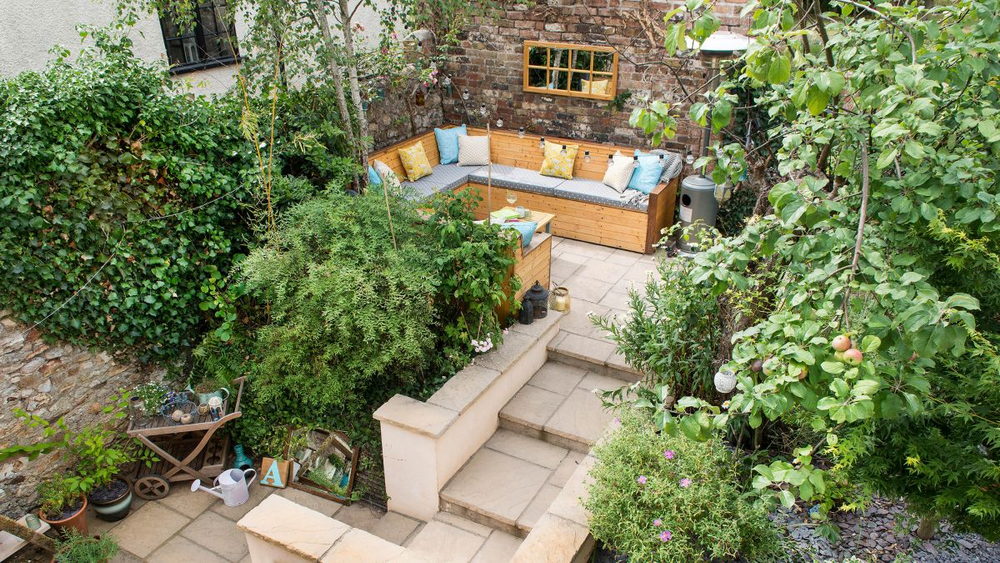 Battling backyard erosion comes naturally with tier design. Each tier made with stones, pebbles, wooden boards, or concrete contributes to the overall sturdiness of your sloped garden. Any change to your slopes makes for a dramatic effect. Plain old grass slope pales in comparison to railroad ties, stone pavers, or concrete tiers that add layers to your vision. Each floor can be a tale of its own, or they can click together to form the mosaic you always wanted.
3. Lights, camera, action
Ok, maybe just the lights, but no one is preventing you from publicly bragging about your grand backyard design. Stairs or tiers you worked so hard to create should not be on display for half the time. When night falls all of your great decisions can fall into obscurity but not if you decorate them with solar fairy lights. Lighting makes all the difference in the world because it adds safety when you traverse your sloped backyard, and they proudly display your accomplishments.
You don't have to worry about the intensity or complexity of lights when you try to place them. LCD string lights can be attached anywhere, and burrowing their cable does all the insulation you need. You don't want to fiddle around with cables and electricity? Then go solar! It's eco-friendly as it gets nowadays and you will save a pretty penny on the electric bill. If you are concerned about the intensity of certain lights when they are placed at any place, rest assured that modern technology has you covered.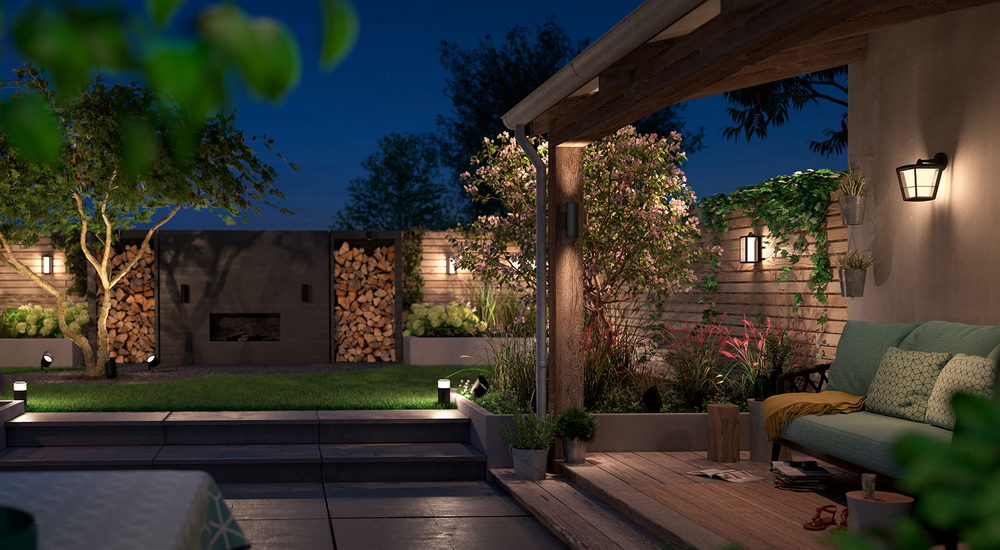 You can buy adjustable lights which have remote-controlled lumen output (Brightness settings) that you can fiddle around with. For each day and occasion, you can adjust, dim or crank it up to your liking and put your fabulous garden in full display and spotlight!
4. Be water, my friend
Your sloped garden design can benefit from an infusion of the elements. Earth is a given, but what can give it certain zen-like qualities, is a waterfall or a fountain. Slopes lay natural groundworks for waterfalls and sloped water designs. The sound of running water brings with it all sorts of mental tranquility. Imagine sitting back, laying, and drifting off with the sound of your private waterfall right next to you. Those people that own flat land can pull it off, but with greater effort.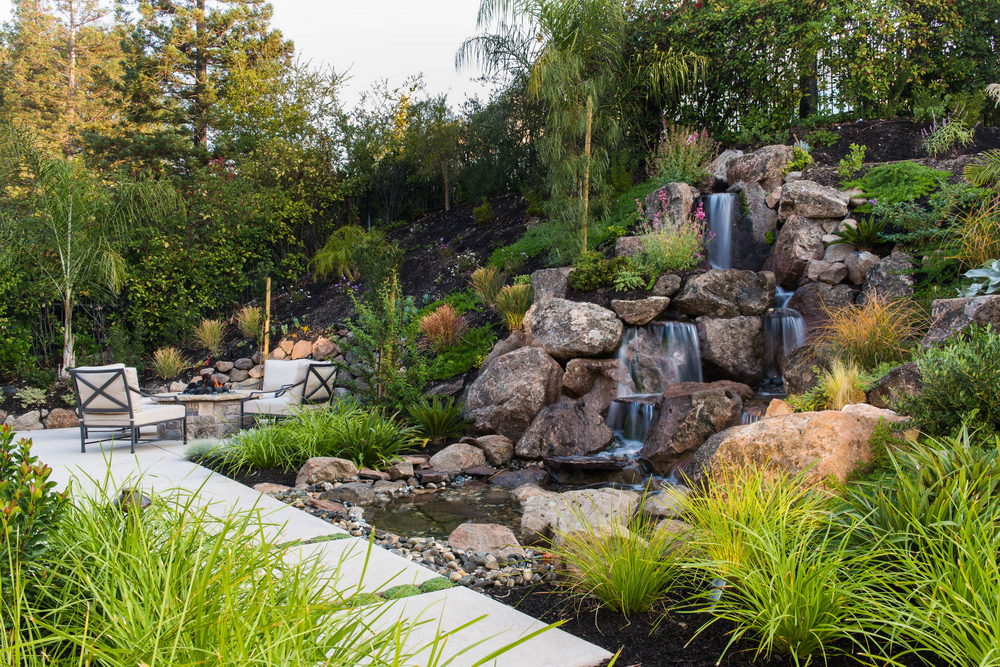 You, on the other hand, are blessed with sloped terrain and can transform it into your meditative place of inner tranquillity. A sanctum of recovery where you can gaze upon your mini waterfall, surrounded by plants, as it drifts down beside your stone stairs. Incorporating any element into your garden plans can only enhance it and bring with it a slew of benefits. If you are not the water type of person, then you can look for inspiration in our next item.
5. Light up the place!
Fire elements are polarities and can only be implemented in opposite locations. Either you place them at the top of your garden or the bottom. Wherever you decide, a fire pit or a BBQ station is a clear winner with little to no competition about its utility. Gatherings around any fireplace come naturally to humans since we have been doing it before recorded history. When those special lazy summer nights come, and your friend and relatives gather, the best kind of talk can happen while you are relaxing around a crackling fire.
When the heat gets unbearable, it gets harder to cook inside your home. Going outside on a Sunday, lighting some logs on fire and cooking a stake or two is one of life's great delights. Fire is a great asset to your design that you can put atop or at the bottom of your garden, which can serve as a beacon or a guiding spot. Whatever the choice may be, you cannot go wrong.
6. Wooden decks
Unlike your fire pits and waterfalls, a deck is your garden's crown. It's a shining jewel that you want to place at the highest point so that you can admire your domain. Decks with ramps and fences are there to instil safety when you relax on them after a day of hard work. You can place just about anything you wish on one. From garden furniture, sofas, or classics like tables and chairs.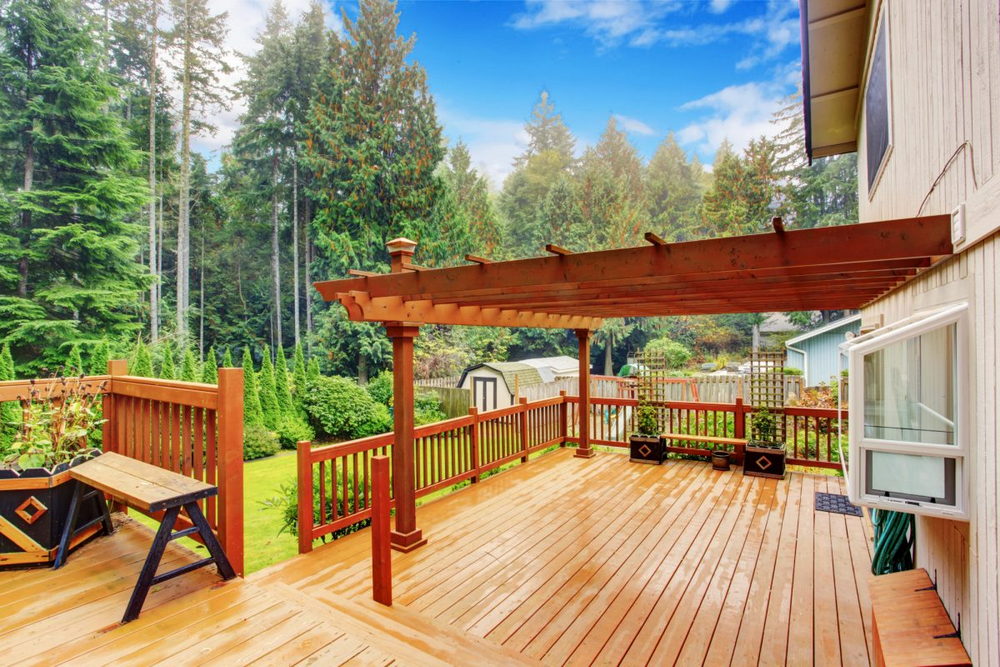 You can think of them as outside living rooms that extend your living space when it becomes unbearable to stay inside. Wooden decks offer places to hang your potted plants, decorate them with vines, add some lighting or go with a full-blown outdoor cinema. Again, it's up to you if you want to be subtle, relaxing or extravagant your outside deck is there to accompany your sloped garden design decisions.
7. Patios
Decks are one dimension, but patios are taking your outdoor sloped garden design to completely another level. Patios are there to provide unmatched versatility with options that you previously thought impossible. To simplify things, patios are decks with beams and a roof on top. You can put an outdoor cinema without any risk of rain beneath them. Growing lush vines at its side and replicating the ancient Greek look is a given. Patios can have curtains for intimacy or be completely open, allowing you to take in the scenery and fresh air.
You can install lights besides your wines, make them dangle across or you can go for a surround sound system. Imagine sitting on your furnished patio, with relaxing sounds all around you while a gentle breeze caresses and lulls you to sleep. You are atop your garden and observing your kingdom. With a patio, you get so much more out of your property, and it will raise its price accordingly.
8. Plant beds
So far, we covered the aesthetic and mental aspects of your sloped garden. But what about functionality and productivity? Some wish to maximise every inch of their land, which is understandable. Low-maintenance vegetables in plant beds are there to give you full organic yields for your cooking and health. These can be installed in the aforementioned tiers, and each plant bed can be for one plant type or a family. Each tier can be themed to your liking.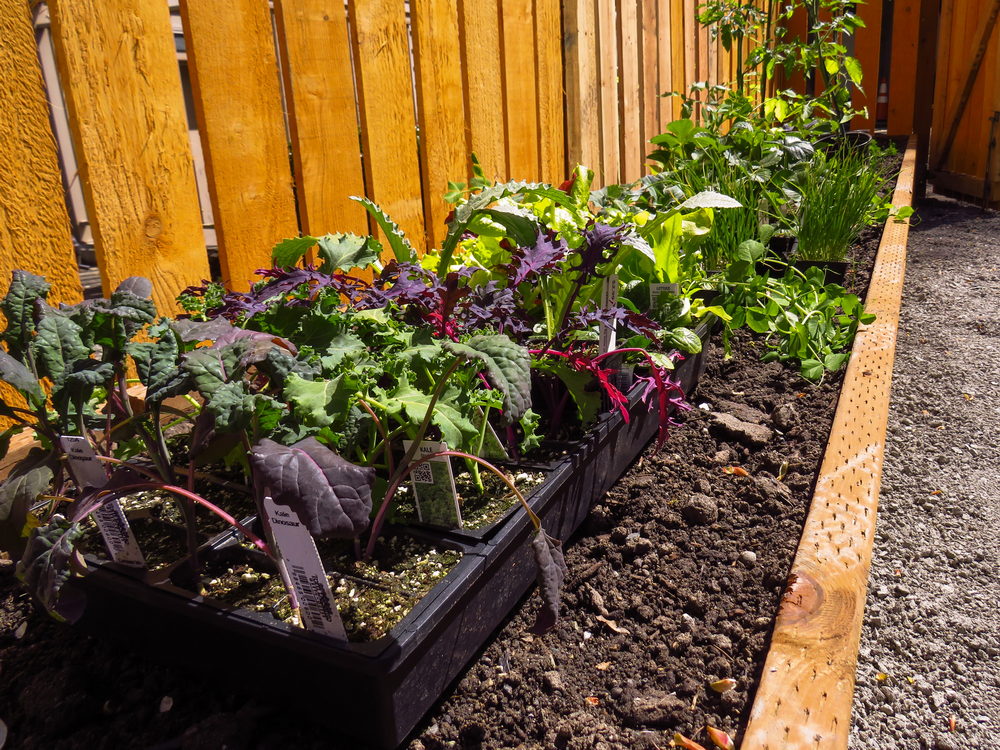 One tier can be scented plants, one can be seasoning plants for cooking, and one can be vegetables. You can also add decorative plants or vines that stretch out, and cover your slopes. Vegetable gardens require occasional watering and maintenance, but it can be a hobby you never knew you needed. Are you tired of going out and searching for some rare spices? Or do you want to have common spices available when you get that cooking itch? Then planting spices in your garden provides the necessary boost to your cooking skills.
Fresh spices are a league above bought ones, and most of them require regular watering and nothing more. Or, you want to keep it nice and simple, with decorative flowers. Dreams and fairytale-like visions come naturally when we think of a garden with a meandering trail that is surrounded by roses or bushes. Subtle lights can be placed beneath that emphasise your blooming buds, and their fragrance will take you away to fairyland.
Googling scented flowers and mixing the types, colours and sizes to your liking will keep you occupied for days. You can take a picture of your sloped garden and then try to imagine what would be best to plan and decorate it with. After that, all you need to do is plant the first seed and wait for your vision to bloom before your very eyes.
Making any changes to your surroundings is always better than leaving them stale. Progress starts with the first step, and while it may be the hardest one, each one after it comes easier and more naturally. Taking control and landscaping your backyard to your vision is the key to successfully enjoying the fruits of your labour. Once all is said and done, you can sit back and toast to your success. We wish you all the best.