The Child (aka Baby Yoda) has made his way into the hearts of many people both on or off the screen. And now, this little green guy has found his way into your life as well.
Besides the collectible toys or print, there are more products than ever featuring the lovable creature, and our editor has handpicked 8 adorable "The Child" shaped products here. Now you can eat it, plant in it, cook with it, listen to it and of course, play with it. Are you ready to find some gifts for your star war lover friends/families or simply give yourself a treat.
1. Hot Cocoa Bomb filled with The Child Marshmallow [buy on amazon]
You don't have to go to a galaxy far, far away to get your hands on this yummy Star Wars chocolate treat What does Baby Yoda and this Milk Chocolate ball have in common? Both have been referred to as a "small package with a large bounty" Marshmallow is the surprise treat you will find inside the milk chocolate treat The Mandalorian themed candy weighs 2.12 ounces and was made in Belgium Old or new fans will enjoy this special gift!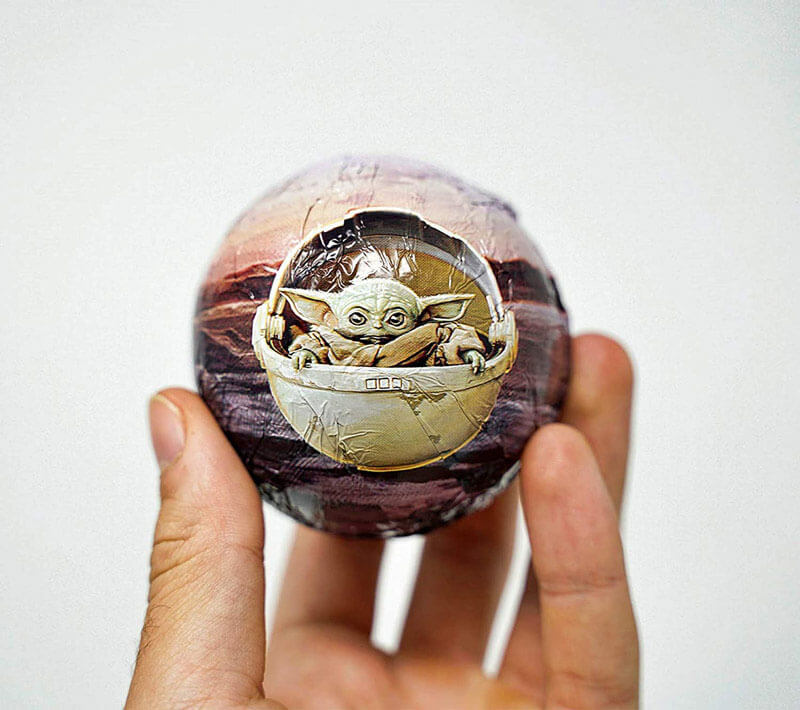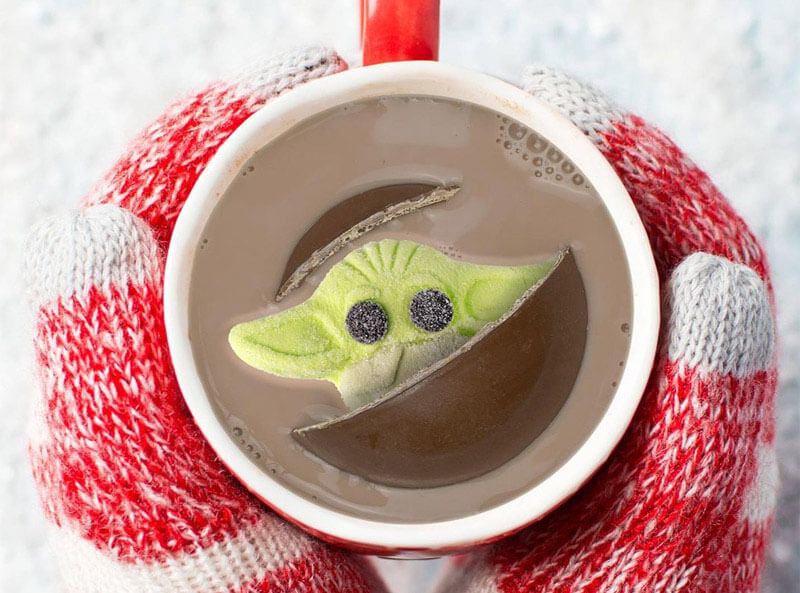 2. Star Wars™ Yoda™ Metal Bookend [buy on amazon]
The bookends are made of high quality 316L stainless steel with a black coating finish to ensure cool style and durability.
Smooth curved edge design to protect your hand and desk.
With a rectangular non-skid mat, our bookends allow you to remove one item without dislocating the others, holds your many books but won't scratch your desk.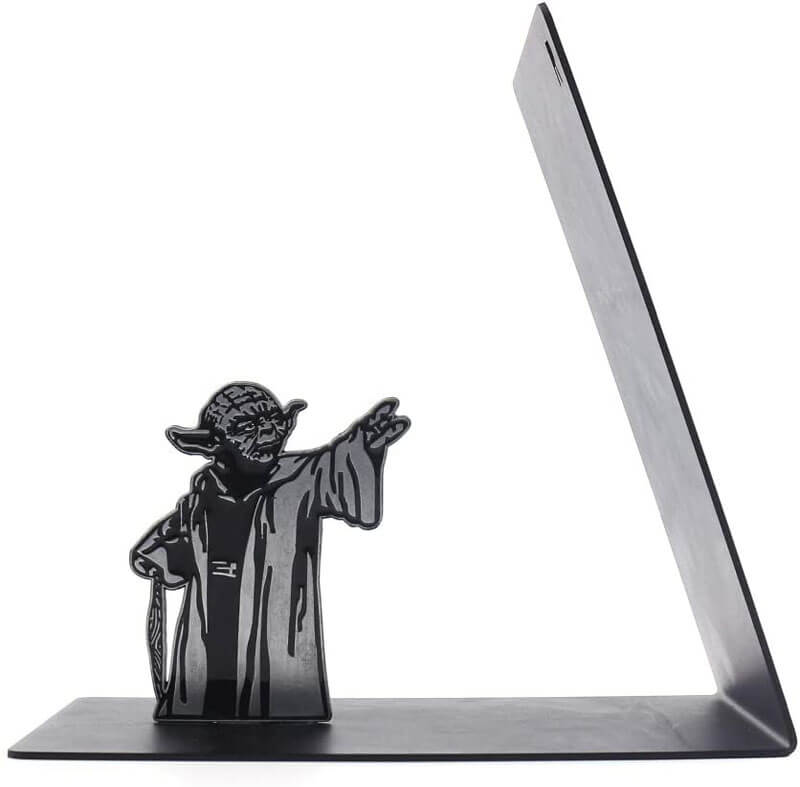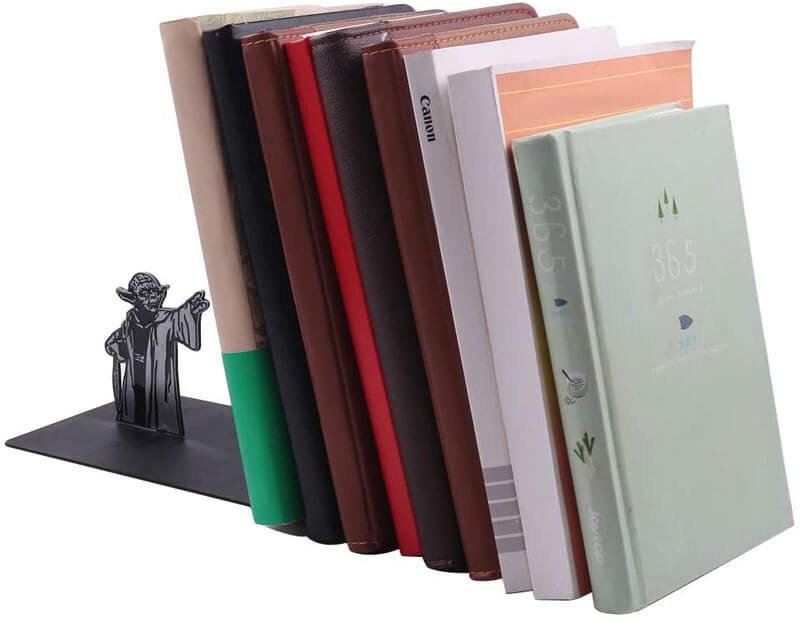 3. The Mandalorian The Child 75318 Building Kit [buy on amazon]
This buildable model captures all the cute features of this hugely popular little Star Wars character, including a posable head.
The set includes a gearshift knob element – the Child's favorite toy – which can be placed in its hand, plus an information sign and the Child LEGO minifigure to complete a delightful display
This 1,073-piece, collectible LEGO Star Wars building toy makes the best birthday gift, holiday present or special occasion surprise for kids aged 10+ and all Star Wars: The Mandalorian fans
Measuring over 7.5" (19cm) high, 8.5" (21cm) wide and 5" (13cm) deep, this brick-built model of the Child won't take up too much space, but is sure to make a big visual impact wherever it is displayed.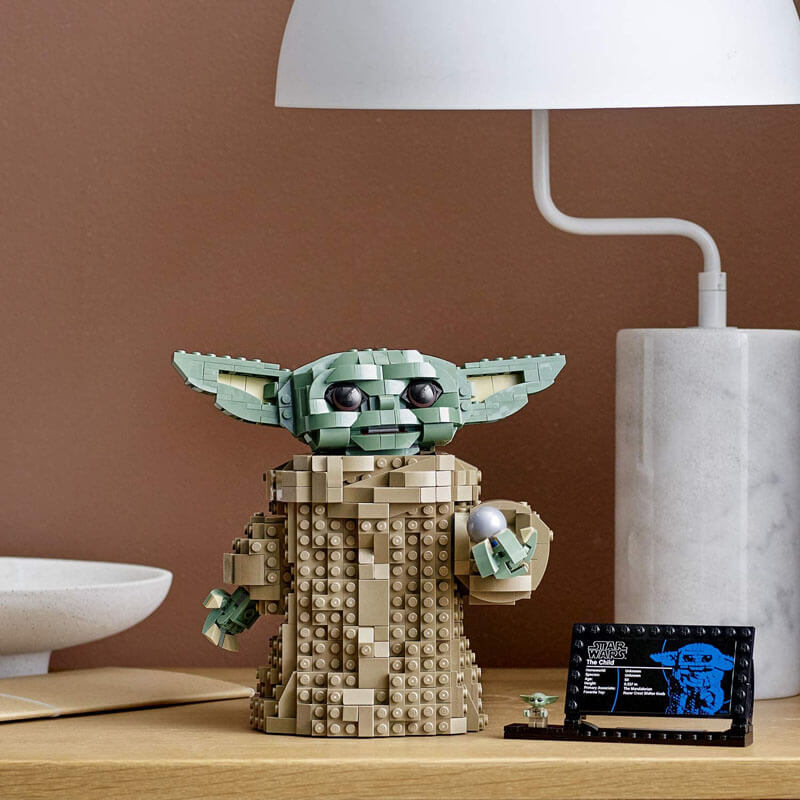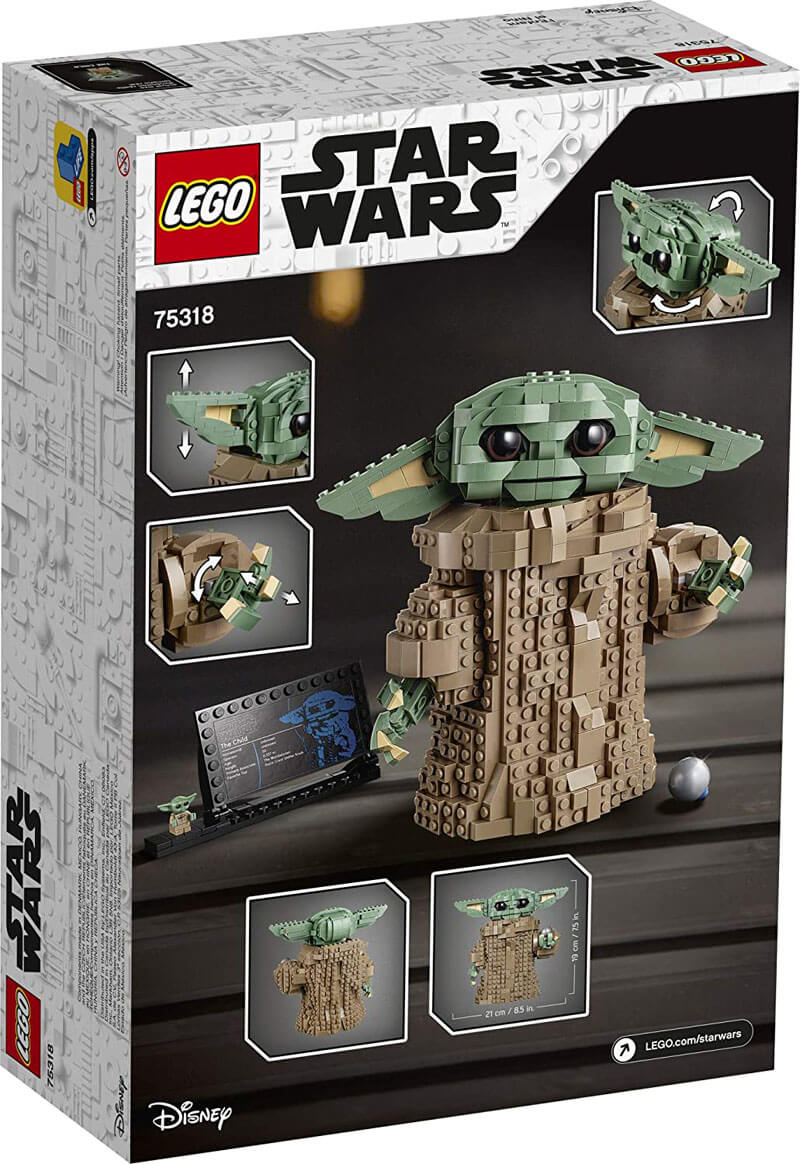 4. Yoda Waffle Maker [buy on amazon]
Take breakfast to a galaxy far, far away with this non-stick waffle maker. It makes tasty waffles your way. Whether you like them brown and crispy or tender and golden, the regulated thermostat and weighted lid ensure even heating, while the dual indicator lights make adding batter and removing the finished product easy. More than just a waffle iron, this can also be used to make eggs, brownies, cakes, quesadillas or even as a Yoda sandwich press. Waffle maker is compact, easy to use and easy to clean.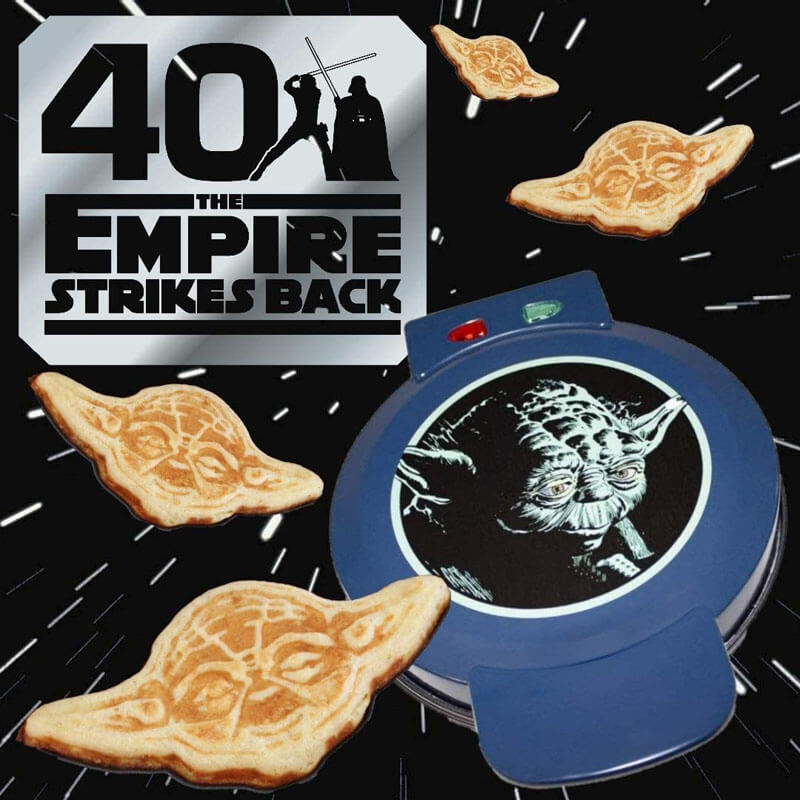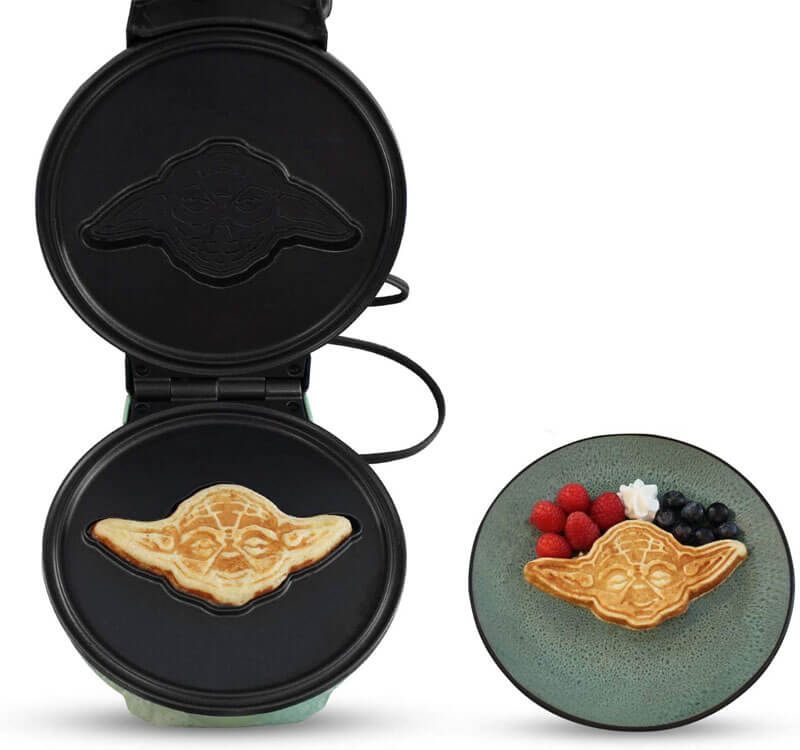 5. Star Wars Mandalorian Design A Planter [buy on amazon]
Design your own Mandalorian The Child vinyl planter with markers and stickers!
Customize your own
Lots of fun & easy to do
Features a plastic succulent for a finished look…..or plant your own real one
He may look like a Baby Yoda but this loveable creature is referred to as The Child.
Include vinyl planter, 1 plastic succulent, 1 sticker sheet & 4 markers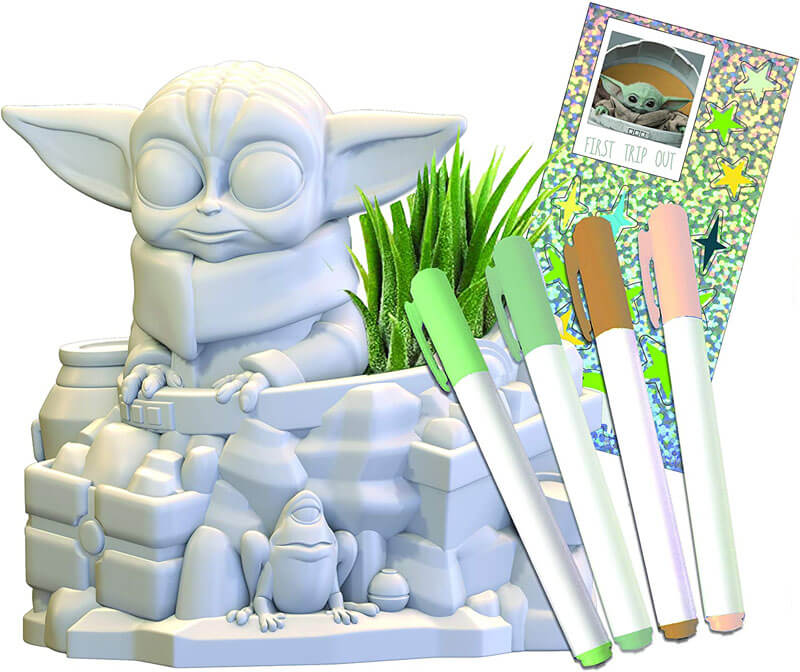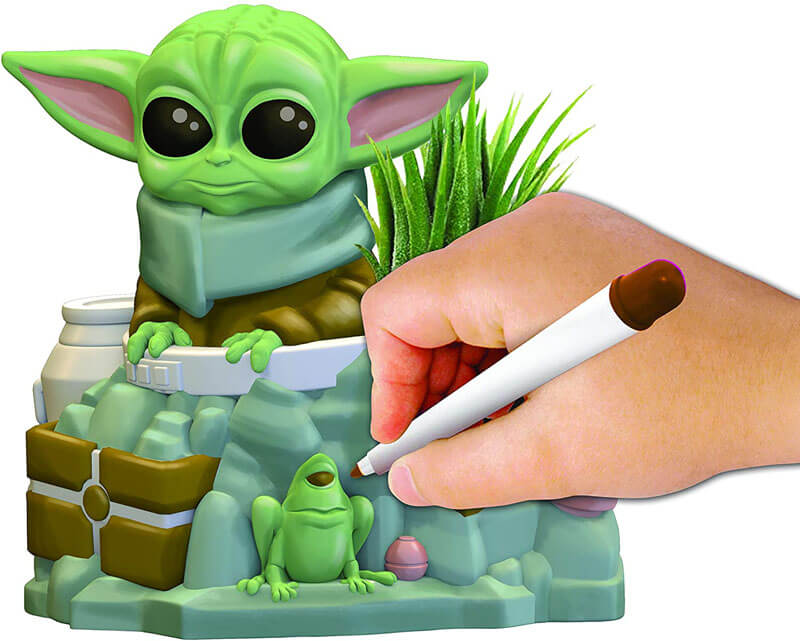 6. The Mandalorian – The Child Bluetooth Speaker [buy on amazon]
Ultra-Portable 2″ Tall Speaker
Bluetooth 5. 0 Technology Wirelessly Connects to all Bluetooth Enabled Devices
30Ft. Wireless Range / Over 4 Hours of Music Time on a Single Charge. / Rechargeable – Micro USB Cable Included
Easily Connect 2 Bitty Boomers Together and Enjoy a True Wireless Stereo Experience
Strap Included to Help Secure to any Backpack or Bag
He may look like a Baby Yoda, but this lovable creature is referred to as The Child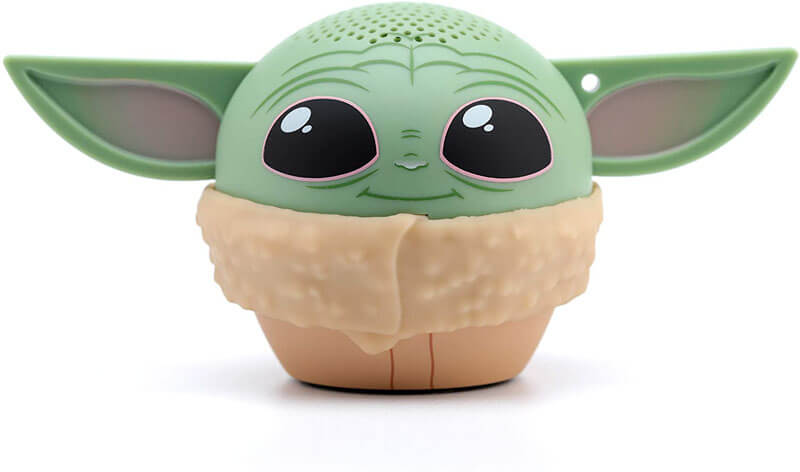 7. Chia Child Star Wars The Mandalorian Planter [buy on amazon]
Includes a unique pottery planter, convenient plastic drip tray and chia seed packets for 3 plantings.
Chia pets are the perfect and affordable gift for any budget. Both kids and adults will love to watch Chia planters sprout and develop into a hilarious creation.
In just a few short weeks your Chia Pet will achieve maximum growth and enjoy a luscious green coat. Each Chia Pet Contains a simple 6 step Care instruction on how to grow your creation.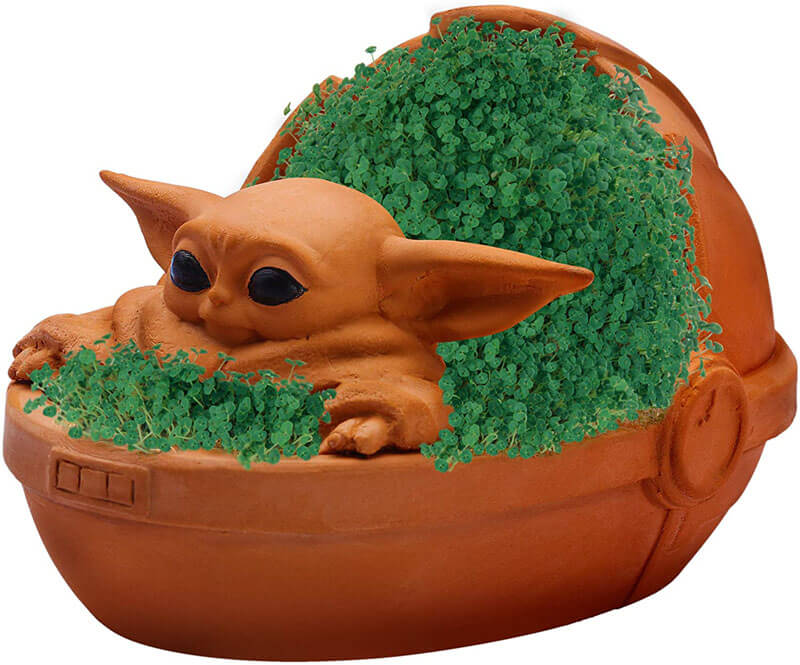 8. The Child, Stand for Amazon Echo Dot [buy on amazon]
Made exclusively for Amazon Echo Dot 3rd Gen. (Stand not compatible with the Amazon Echo Dot 1st and 2nd Gen). Amazon Echo Dot (3rd Gen), sold separately.
Cutest bounty in the galaxy, an instant conversation starter.
Built to last, durable materials to withstand daily use.
Holds your Echo device securely, same great Alexa experience.
Precision-fit, non-slip base engineered for optimal audio output.
Designed to delight the whole family.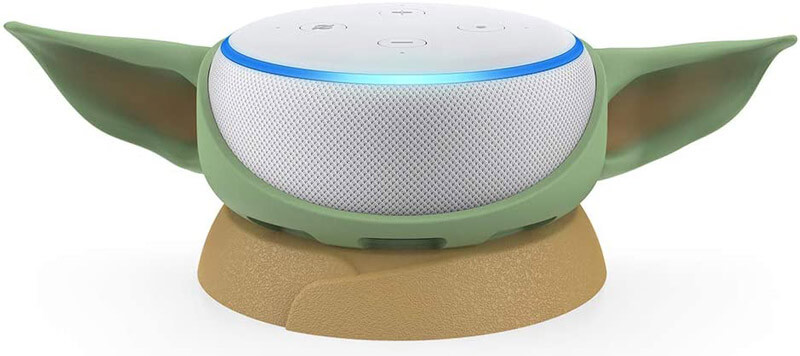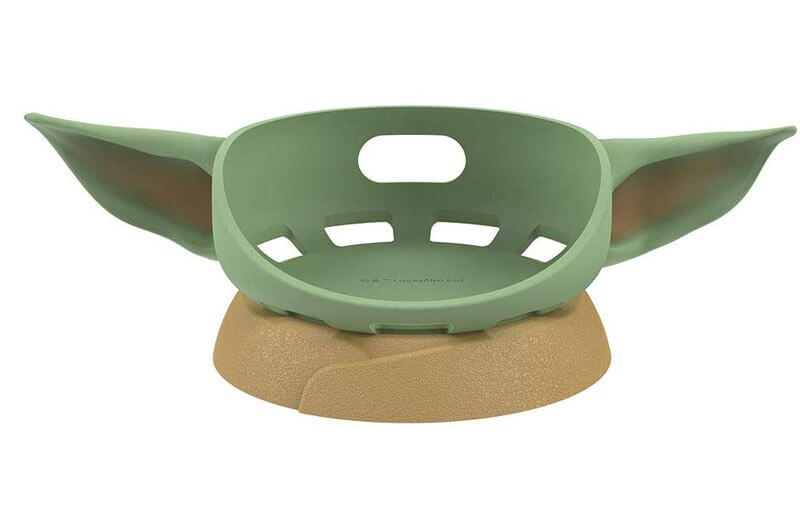 9. 3D Illusion Star Wars Night Light [buy on amazon]
3D Star Wars Night Light Include: 3 Acrylic Plate(Kids Darth Vader, Baby Yoda and Kids Chewbacca), 1 ABS Night Lights Base, 1 Remote Control, 1 USB Cable, 25 Star Wars Stickers and a User manual.
3D Illusion Star Wars Night Light – Laser Engraving Acrylic Panels Can Give You a Perfect Sense of 3D Vision, Like It Is Floating.
16 Colors Changing and 3 Modes, you can choose Different Modes and colors depending on your mood or the surrounding.