Not sure how many of you still use clocks for time. With the development of the technology, you can check time anywhere at your home – your microwave, your cable box, your computer, your mobile, the need for a special device to show time seems limited. But does that mean we don't need clock anymore? Functionality-wise, maybe yes, but some clock can offer you more than just display time. They can be playful or a beautiful/unique decoration as well. Here we handpicked 9 Desk Clocks and Table Clocks, each of them has something special hope you like.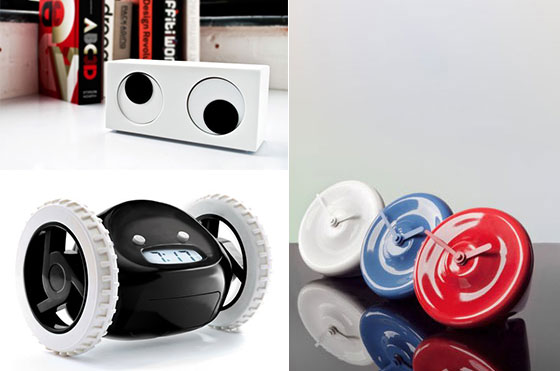 We are a participant in the Amazon Services LLC Associates Program, an affiliate advertising program designed to provide a means for us to earn fees by linking to Amazon.com and affiliated sites.
1. Non là ceramic table clocks [source]
Milan-based Studio Klass have created the Non là ceramic table clocks for Diamantini & Domeniconi. "Non là is a ceramic table clock with conical shape, inspired by the famous straw hat – Nón lá in vietnamese – and usually used by Asian people to protect themselves from sun and rain. The form comes also from a functional aspect: when the watch is placed on the table, the base of the cone – on which the quadrant is on – is tilted, thus facilitating the reading time."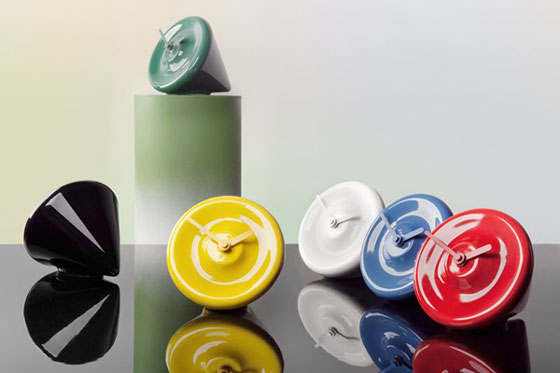 2. Bird Clock light brown [source]
alarm clock shaped like a bird
for placing on a surface or hanging on the wall
shows the time and date
12/24 hour formats available
alarm and snooze functions
3 adjustable alarm tones
voice function: the bird says the date, day of the week and time in Japanese & English
sings at every full hour at your discretion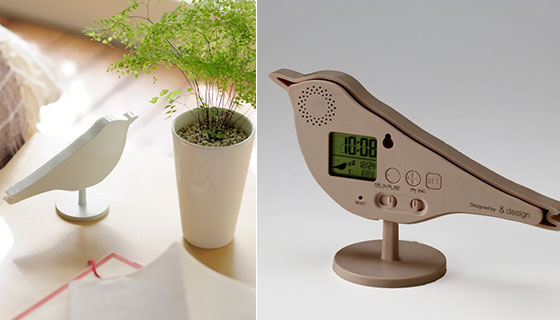 3. Ghost Clock
A stunning interpretation of the traditional carriage clock, the Ghost Clock features ornate etching and Roman numerals on the glass front, an intricate, visible chrome mechanism, and a reflective mirror backing. Its ample size makes it a prominent addition to a mantle or furnishing. Simple assembly required.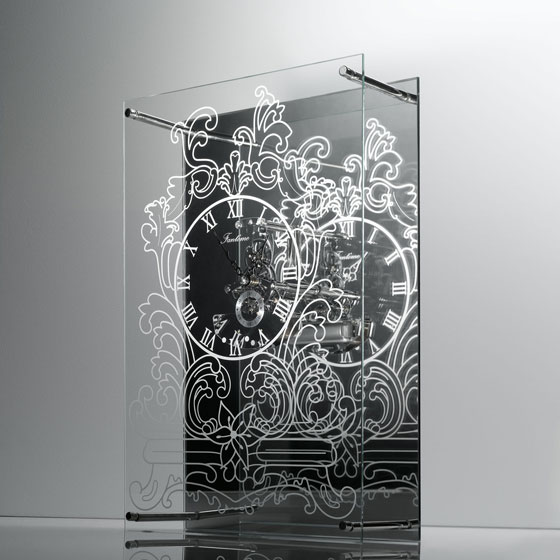 4. Notepad Clock [source]
The Notepad Clock combines an analog clock with a handy 300-page notepad. When all the paper has been used, only the clock remains.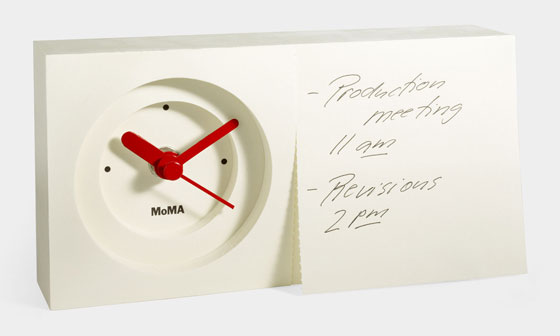 5. Clocky Alarm Clock On Wheels [buy on amazon]
he alarm clock that runs away and hides to get you out of bed
Clocky gives you one chance to get up. But if you snooze, Clocky will jump off your nightstand and wheel around your room looking for a place to hide, beeping all the while. You'll have to get out of bed to silence his alarm. Clocky is kind of like a misbehaving pet, only he will get up at the right time.
6. Suck UK Eye Clock [buy on amazon]
Fun looking battery powered clock
One eye on the hour, one eye on the minutes
Plastic with 2 clock mechanisms
Requires 2 AA batteries (included)
Measures 6-3/4 by 3-1/4 by 2-1/2-inch
7. Niceeshop Retro Flip Down Clock [buy on amazon]
12 Hour AM/ PM Clock
Flip Down Minute and Hour Display
Gear Operated;Time Adjustment
Dimensions: 165mm x 205mm x 70mm (L x W x D)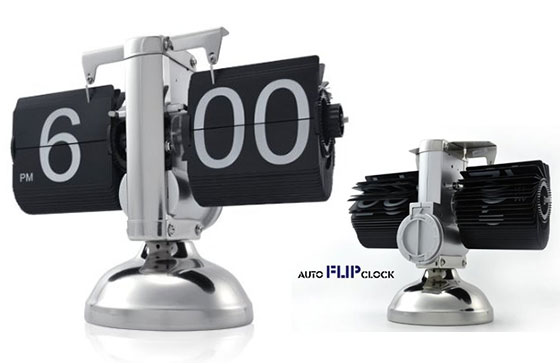 8. Really Simple Clock
The classic mantle clock has been simplified to create this elegant and understated piece. Made of glossy white powder-coated aluminum and beech plywood. One AA battery included.
9. Cool Bronze Finish Melted Desk Clock [buy on amazon]
Made of cold cast resin, this awesome battery powered table or mantel clock is reminiscent of Salvador Dali's famous painting, The Persistence Of Memory. The clock looks as though it has melted, yet still tells great time. The clock measures 11 inches tall, 6 1/4 inches wide, and 4 inches deep, with a beautiful metallic bronze finish, an off-white crackle painted face, and black hands and markers. It runs on one AA battery (not included). This clock makes a great gift for the surreal person in your life.