Kitchen products could be a lot smarter, easier and more fun, even as ordinary as cutting board. If you are one of those people who are bored with the old, regular and conventional cutting board, then this is the post for you. Need extra storage? Need prevent cross-contamination during food preparation? An easy way to get rid of trimmings? Or just a cute voodoo cutting board for your little evil imagination? Take a look at the 9 Cool and Multifunctional Cutting Boards, and see your kitchen in a new, peaceful light with those cool cutting boards.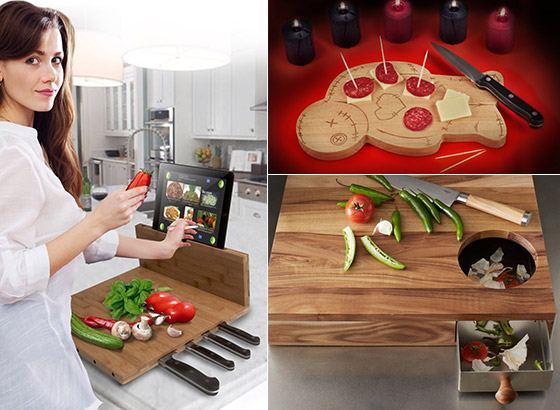 We are a participant in the Amazon Services LLC Associates Program, an affiliate advertising program designed to provide a means for us to earn fees by linking to Amazon.com and affiliated sites.
1. CTA DIGITAL Bamboo Cutting Board for iPad and other Tablets [buy on amazon]
Bring the power and convenience of the iPad into the kitchen with CTA Digital's Bamboo Cutting Board with Stand for iPad and Knife Storage. Easily view recipes and watch how-to videos while cooking or simply enjoy apps and music from your iPad as you prepare delicious meals. Made in bamboo, the whole set includes: (1) Bamboo Cutting Board (1) Bamboo stand attachment (1) Bamboo stylus for iPad Care
Specifications:
– Designed for iPad (2nd – 4th Generation) – Compatible with iPad Air, iPad Mini and most other tablets with similar dimensions
– Three 1″ slots and one 2″ slot on each side for kitchen knife storage
– Base dimensions: 14.25″ L x 14.125″ W x 0.75″ D
– Extendable to 18.75″ W with stand attachment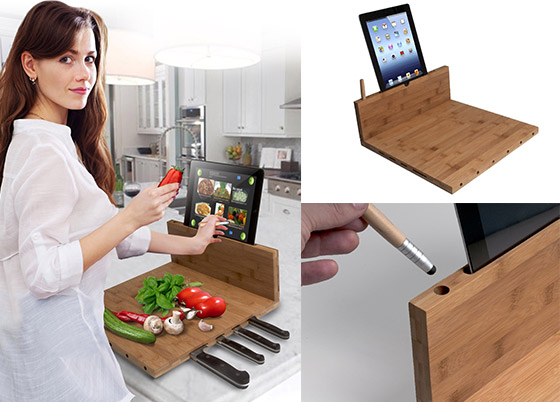 2. Chop'n Prep Bamboo Cutting Board Set with 4 Silicone Cut Boards [buy on amazon]
The innovative Chop 'n Prep bamboo cutting board set by Casabella is the all-in-one, perfect solution of cutting boards. This durable, food-safe, chopping board also includes 4 additional, self-storing boards/trays to prevent cross-contamination during food prep. whether its meat, vegetables, chicken, or fish – Casabella designed each tray with convenient, color lined themed icons for each 4 categories to eliminate confusion.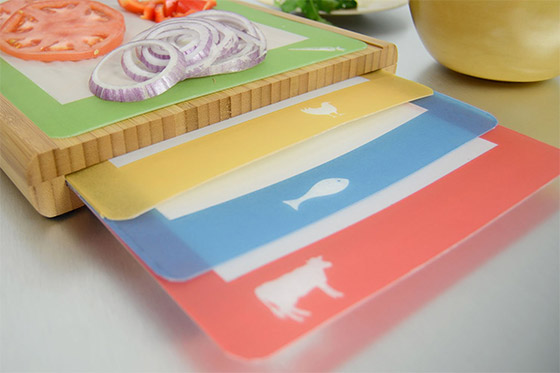 3. Cutting Board with Storage Base [buy on amazon]
This cool cutting board with two removable drawers with adjustable dividers is designed to make handling ingredients easier.
Features:
– Built-in coarse and fine grater;
– Built-in conversion chart makes it easier to follow recipes;
– Juice groove helps to retain liquids on board;
– Polyethylene cutting surfaces resists deep scratches.
With a compact and versatile design, it will help you save time on food prep and discover space you never knew existed.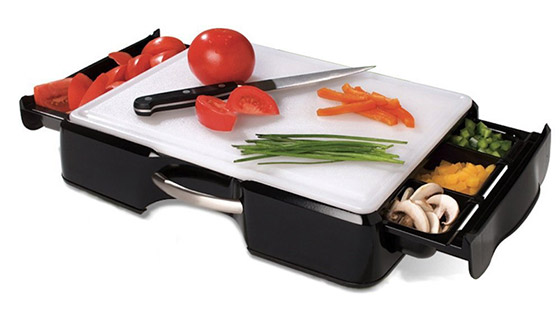 4. Chef'n PrepStation, 3-in-1 Cutting Board [buy on amazon]
The compact design of the PrepStation lets you have a durable bamboo cutting surface, a collapsible colander and a transfer tray all in one place.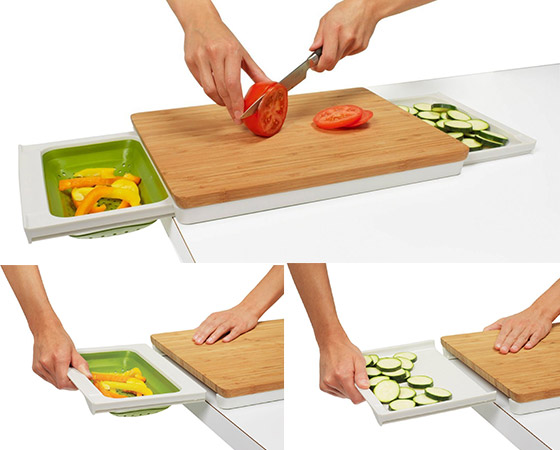 5. Ouch Cutting Board [buy on amazon]
A Voodoo cutting board for cutting off that annoying someone out of your life. Made out of solid beechwood, the hilarious cutting board has a storage slot for a handy paring knife.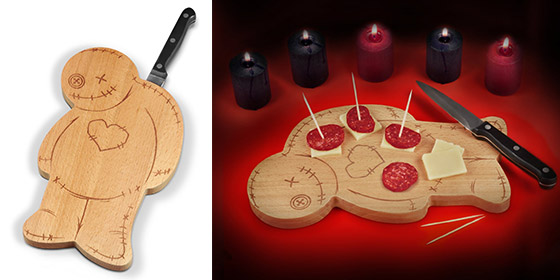 6. Storage Cutting Board with Hole for Discarding Trimmings [buy on westelm]
This solid acacia wood Storage Cutting Board has a hole in one corner where you can sweep trimmings, peelings and other discards into a hidden compartment while you work. The metal drawer pulls out for easy disposal.
15.5″w x 17.9″d x 3.3″h.
Solid acacia wood body, metal drawer.
Discard refuse in top hole and empty via pull-out drawer.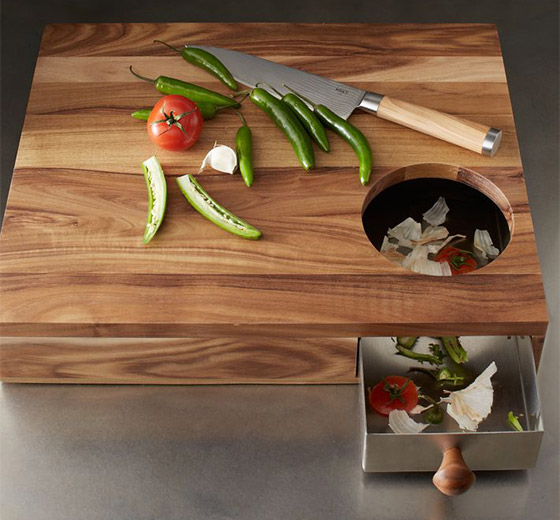 7. Index Advance Chopping Board with Knifes [buy on amazon]
Designed to reduce the likelihood of cross contamination of different food types, the set contains four color-coded, non-slip chopping boards plus four high-quality coordinating knives. Each chopping board has an index-style illustrated tab, indicating which food type it should be used for. Each knife is color-coded to match its corresponding board and designed to suit its specific task, whether it is preparing fish, meat, vegetables or cooked food. All knives have ergonomic handles and stainless-steel blades. The boards and knives fit neatly into a stylish storage case that has an embossed texture across its surface.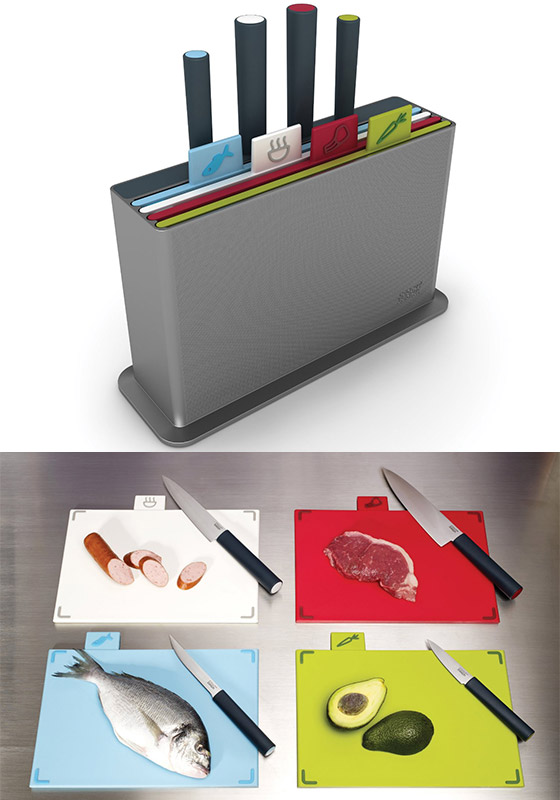 8. Multi Functional chop and rinse folding cutting board [buy on amazon]
This multi-use cutting board not only eliminates wasted space, it also makes preparation easier and much more enjoyable. It's made of dishwasher safe polypropylene which means it is easy to clean and light-weight to carry around. It can be folded into chute, simultaneously creating a colander
Ideal for rinsing and chopping all foods.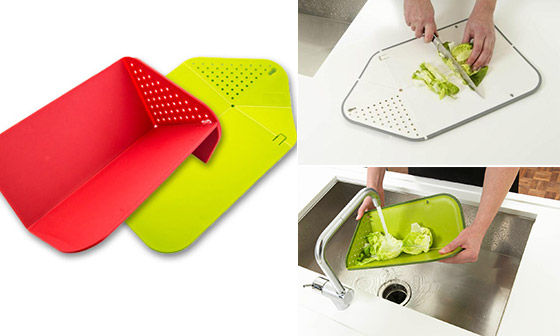 9. Cutting Board with Chopped Food Sliding Guide [buy on amazon]
This cool Curved Cutting Board by designer Nikolai Carels is more like an art piece instead of an utentils for kitchen. It features a unique curved design that makes it easier to guide chopped food off into a pan and lift it up on the edge. This dual-sided cutting board is flat on one half of each side which tapers into a curved edge.