Having a challenging long and narrow shape, this chic loft located in historic downtown building of New York is required to accommodate a complex set of living requirements:
1. Since both husband and wife work from home, they need office and private space for their work;
2. They frequently entertain large groups. Hence, they need a spacious living, dinning and entertaining space;
3. They often have overnight guests, so they need enough living space for guests.
4. They have a large book collection, which means they need a space to store/display their books.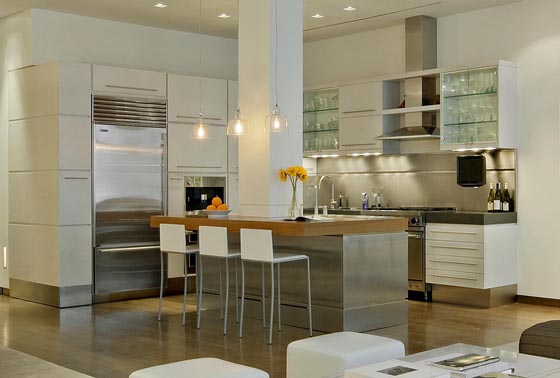 All those functions are required to accommodate within the tight 2,200-square-foot space (204 sqm). With clever planing and design, architect Adi Gershoni successfully deliver a kitchen, a dining room, a living room, a master suite, his and her offices, a den, a guestroom, a sitting/TV room and a wall shelf for owners book collection. Moreover, to get more space for overnight guest, the sitting/TV space can transform into a second guest room by opening the sofa bed and drawing curtains over the wood-and-glass enclosure. With all those highly efficient design, this loft meet all requirements without giving any crowded impression.