Soft-boiled eggs are a special treat which many remember fondly from childhood days. Here we have collected 9 Cool and Unusual Egg Cups, which help to properly hold your eggs in fun and stylish way. Not matter you need a cute armor egg cup for your kids, artistic bird-nest egg cup for a romantic morning or a eco-friendly cork egg to keep your egg warm, there is someting for you. Hope you enjoy those lovely egg cups.
We are a participant in the Amazon Services LLC Associates Program, an affiliate advertising program designed to provide a means for us to earn fees by linking to Amazon.com and affiliated sites.
1. Arthur – Egg Cup [buy on amazon]
Want a special egg cup? How about server up a soft-boiled egg inside this cool armor egg cup? This cute little suit of armor for knighted eggs holds a serving spoon. Perfect egg serving cup for kids or anyone needs a good laugh in the morning.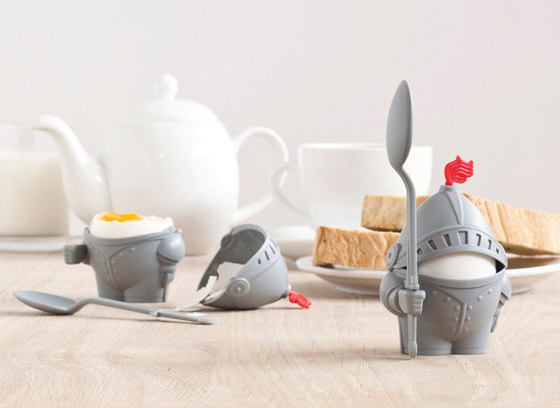 2. RSVP 8 Piece Egg Cup & Spoon Set [buy on amazon]
Made in porcelain, this poultry theme egg cup set includes 4 Egg Cups, 4 Spoons.
Egg cup 2 3/4″ H
Spoon 5 1/2″ L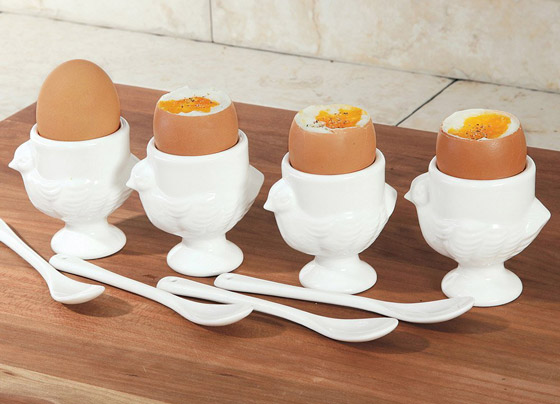 3. Alessi "Cico" Egg Cup with Spoon [buy on amazon]
Designed by Stefano Giovannoni, this egg cup with salt castor and spoon are made of thermoplastic resin. Have Cico hold your egg for you to make having eggs in the morning an easier task. With it's adorable and fun design maybe getting your kids to have breakfast will also be an easier task.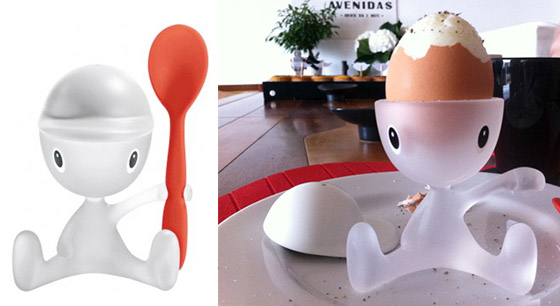 4. Birdsnest eggcup [buy on shapeways]
This beautiful birdsnest eggcup is printed on demand in laser sintered polyamide. The eggcup can hold a medium egg and due to the flexible nature of the printing material, it will adapt its shape to larger eggs as well.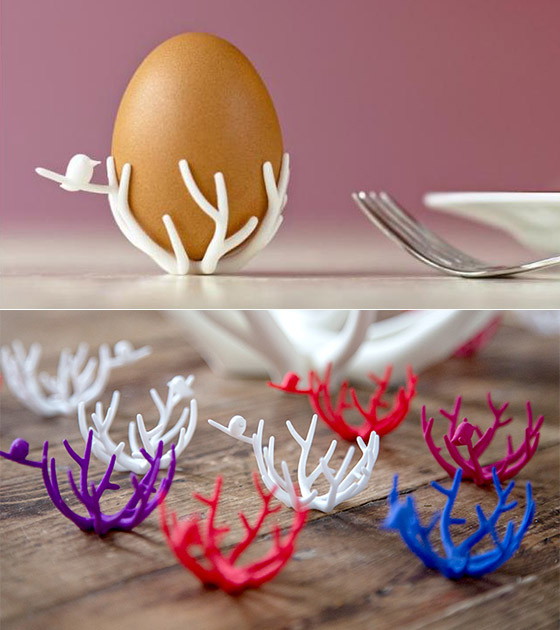 5. Eggcup "Leggy" [buy on shapeways]
This cool and fun tripod egg cup called 'Leggy'. It looks like three duck leg are helping to hold the egg. The leggy can be made with different kind of plastic, metal and steel and comes in different color. You can customize your own leggy to hold delicious eggs.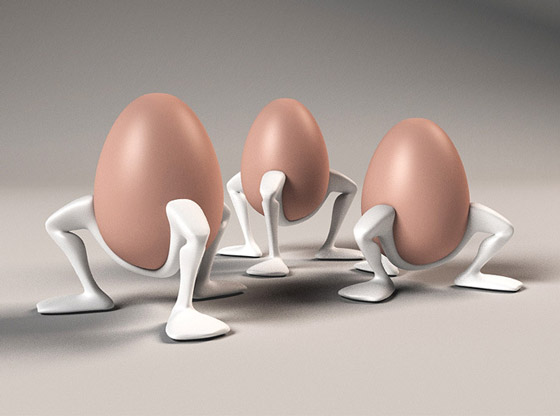 6. Egg And Soldiers Breakfast Set [buy on notonthehighstreet]
Don't you think it's not really fair that soldiers often have to lie down on a plate? They look sad and already lost before battling with an egg. Good soldiers need royal horses and a tasty egg needs to be in a humble castle. This cute "Egg And Soldiers Breakfast Set" is made of fine bone china and messured:
Egg cup: H6cm x D6cm
Soldier stand: H6.5cm x D9cm x W3cm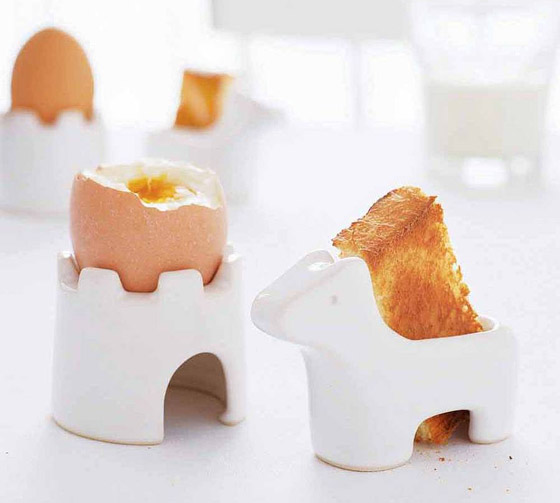 7. Luckies of London Fried Egg Cup [buy on amazon]
Have you ever been relaxing at the kitchen table, pen poised at the crossword and wondered why on earth you don't get given anywhere to put your soldiers when you're eating your boiled egg? This Fried Egg Cup is designed to solve that problem – a cool ceramic egg cup that DOES have somewhere to rest your soldiers and EVEN look like an egg.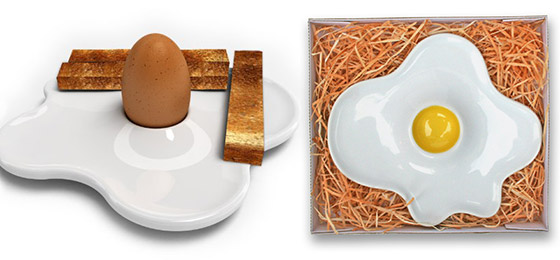 8. Oak bunny ears egg cup [buy on lukuhome]
Bunny ears solid oak egg cup brings an added smile to breakfast time. A perfect treat which can be enjoyed for generations. Robust enough for toddlers to use, and stylish too. Bunny ears delights children every time they enjoy eggs…especially the chocolate ones. A lovely gift which can be enjoyed all year round. Beautifully presented in a white cotton drawstring bag for safe keeping.
9. Agüevo Cork Egg Cup Keeps Soft-Boiled Eggs Warm [source]
Designed by IN-TENTA, Agüevo is a new modern egg cup made from natural cork! These water-repellent, lightweight anti-slip egg cups protect soft-boiled eggs and keep them warm.