If you're looking for some cool and unusual way of serving up style, then the 9 serving boards in this post will definitely make providing hors d'oeuvres a lot more interesting. Featuring such eclectic designs as cloud shape, puzzle piece, 3 tires, these quirky serving boards will definitely have your guests chuckling at how their appetizers are being served.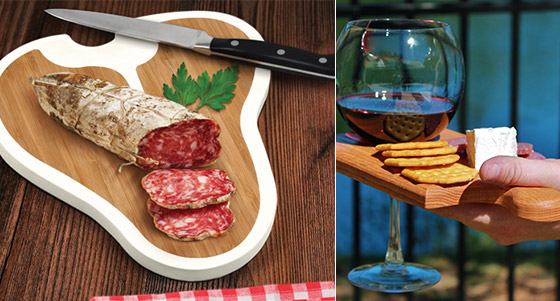 We are a participant in the Amazon Services LLC Associates Program, an affiliate advertising program designed to provide a means for us to earn fees by linking to Amazon.com and affiliated sites.
1. Nimbus Cloud Serving Board [buy on uncommongoods]
Shaped like a fluffy nimbus cloud, this end grain solid maple board can't help but add an element of fun to your cooking routine. Have some friends over and sample cheeses and your other favorite finger foods using the board as a center piece and its four raindrop shaped wooden coasters as hors d'oeuvres trays. While it might look like a cloud, its sturdy construction from locally sourced maple ensures that with a little love, you'll be enjoying rainy days in your kitchen for a long time to come. Handcrafted in North Dakota.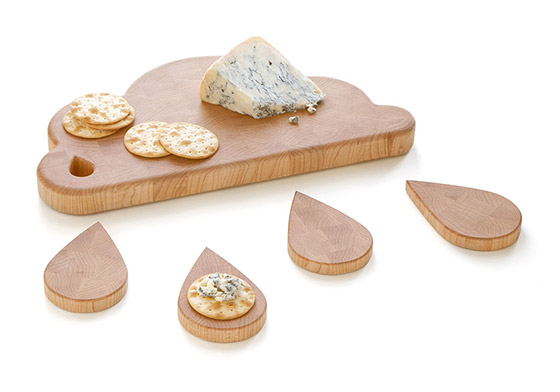 2. Masu Serving Board [buy on amazon]
Masu Serving Board is an an elegant yet modern board to serve sushi and sashimi, cheese, or bread and oil. Its minimal platform presents the food, while a seamless basin holds the sauce accompaniment.Cantilevered edges create an illusion of floating, making the Masu a stylish accent piece for any modern party. The plate is a white solid surface made of hygienic and non-porous materials. The material does not support the growth of bacteria, and is completely dishwasher-safe.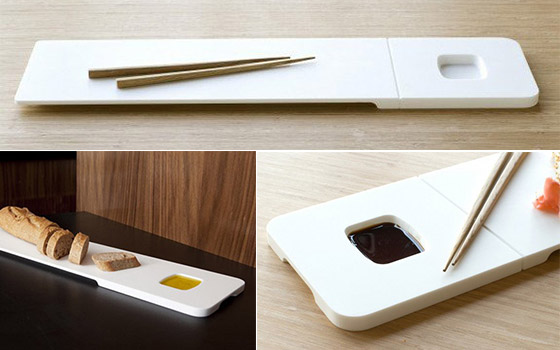 3. Puzzle Piece Wine Glass Holding Plates [buy on amazon]
These beautiful handmade puzzle piece wine glass holding plates are handcrafted out of solid red oak. Perfect for wine parties, the inner-cut will hold your guests wine glass while they enjoy hors d'oeuvres. They can also be used as cutting boards, or link all 4 together to create an extra-long serving tray. These are wonderful for an outdoor party where seating is limited. Use them as plates, cutting boards, or link all 4 together to create an extra-long serving tray. Wine glass and wine bottle not included. Set includes: 4 Pieces Dimensions: 10″ x 5.5″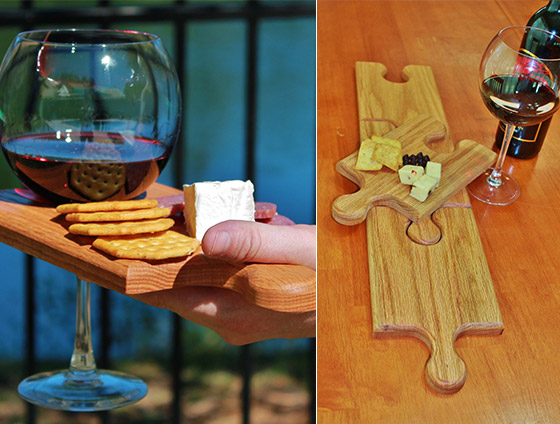 4. PRIME CUTS SERVING BOARD [buy on amazon]
Where's the beef? Here it is! Prime Cuts is built from perfectly marbled bamboo and cushy, durable food-safe silicone. Prime Cuts measures 10 X 9 inches, ideally sized for entertaining. The bamboo is naturally smoked to a rich color and embedded in food-safe pure silicone.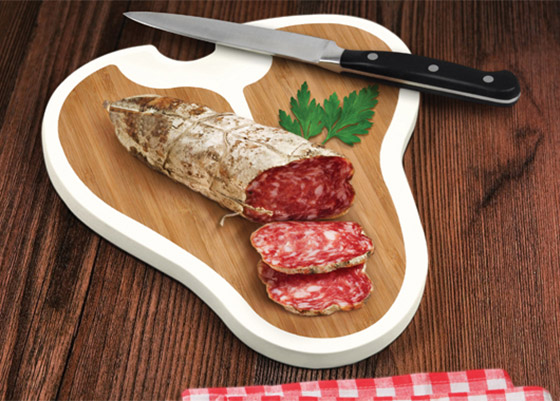 5. SAY CHEESE! Cheeseboard [buy on amazon]
Everybody knows all you have do to smile is SAY CHEESE! Fred thinks eating cheese is even better than saying it, so he presents this happy cheeseboard for your table. It's crafted from sustainable bamboo with cushy, durable, food-safe silicone lips so you can serve your cheese with a smile!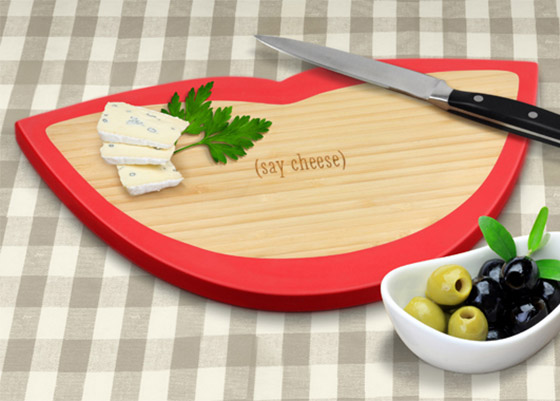 6. 3 Tiered Fruit and Cheese Serving Set [buy on amazon]
It is a three-tiered combination serving tray and cheese board with three cheese tools and two serving plates. The tiers are connected with two stainless steel poles (with screw ends) and are topped off with a wooden finial. Measuring 10″ x 10″ x 11.5″, it's made of eco-friendly rubberwood, a hardwood that's known for its durability and beautiful grain. The two serving trays sit atop the cheese board base and swivel from side to side so you can create the most fitting and attractive food arrangement. The rubberwood plates measure 7″ and 8″ and have a decorative groove along their edges to match the moat engraved on the cheese board below.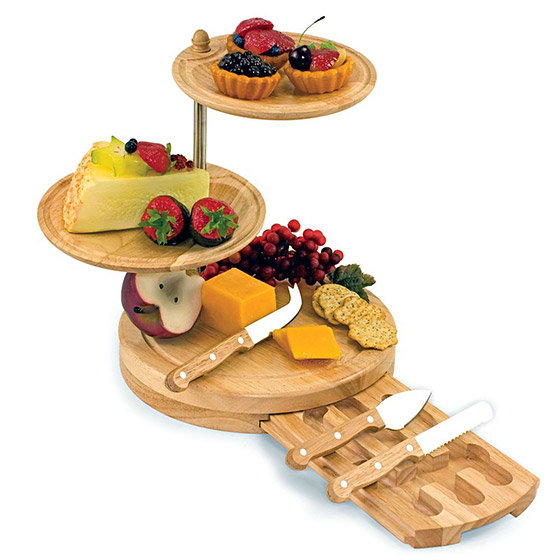 7. Hawaiian Golden Shower Cutting Board and Serving Board [unavailable]
This beautiful board can be used as a cutting board on the back and serving board on the front. It makes a great board for slicing fruit and bread to serve with sauces or dips. The hole near the middle of the board serves dual purposes. First as a convenient way to hang and store your cutting board for display, and second, as a perfect niche for a small bowl to house your favorite spreads. Shower tree wood is meat safe and has natural anti-pathogenic properties. The wood was salvaged on the North Shore of Oahu and is a sustainable piece.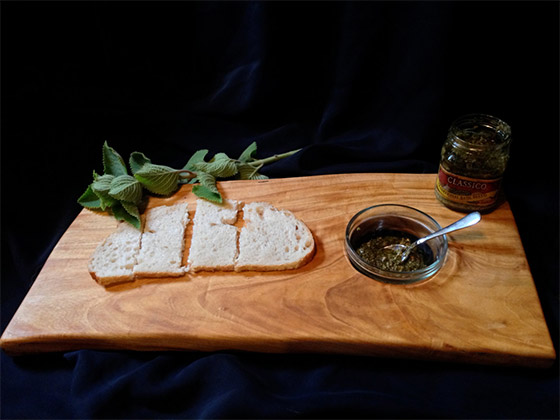 8. 8″ Round Wood Serving Board for 18 Sauce Cups [buy on amazon]
This 18″ black wood serving board features 18 indentations for sauce or appetizer cups. The serving board is ideal for serving sauce or appetizer sample platters at your restaurant, buffet, or next catered event.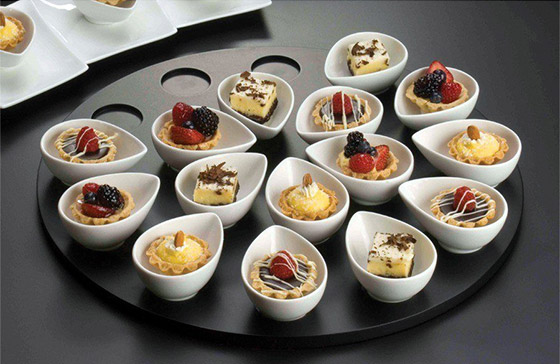 9. Bunny Ears Wooden Oak Chopping/Serving Board [buy on amazon]
Bunny Ears is the contemporary fun alternative to a plate and great fun too. Perfect for serving healthy snacks and encourage tasting new foods.