Life is hard and sometime you just can't control your temper. There are many ways to release your stress and angry, voodoo doll is one of the oldest way. Here, we rounded up 8 Playful Voodoo Doll Inspired Products. No matter you want to soak the annoying someone in hot water or bake a voodoo cookie and eat them, there are so many other fun ways to have your revenge. Take a look and have fun.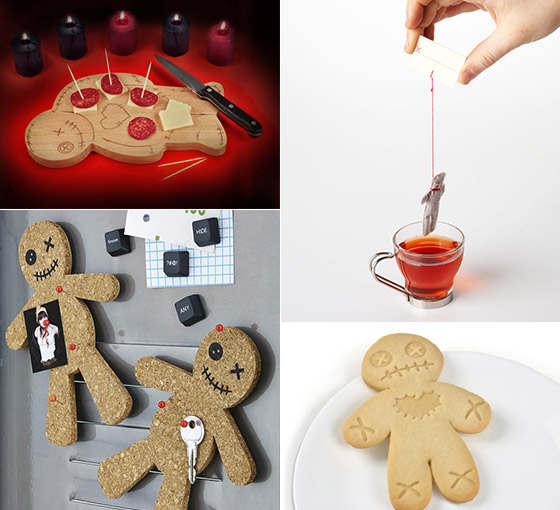 We are a participant in the Amazon Services LLC Associates Program, an affiliate advertising program designed to provide a means for us to earn fees by linking to Amazon.com and affiliated sites.
1. Voodoo Corkboard [fancy]
Do the voodoo that you do so well with the help of a playful corkboard that will give that evil to-do list exactly what it deserves.
Includes corkboard, four pushpins, double-sided tape and magnets for mounting.
6 3/4″ x 5″.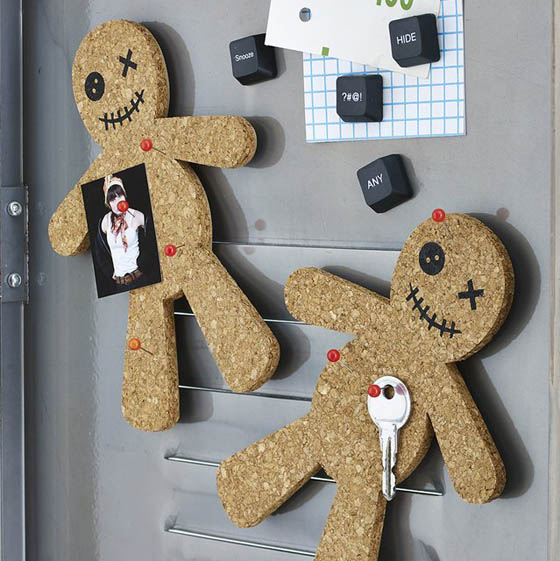 2. Ouch Cutting Board [buy on amazon]
A Voodoo cutting board for cutting off that annoying someone out of your life. Backstabbing knife included. It's also great for cutting cheese, meat and maybe veggies, too!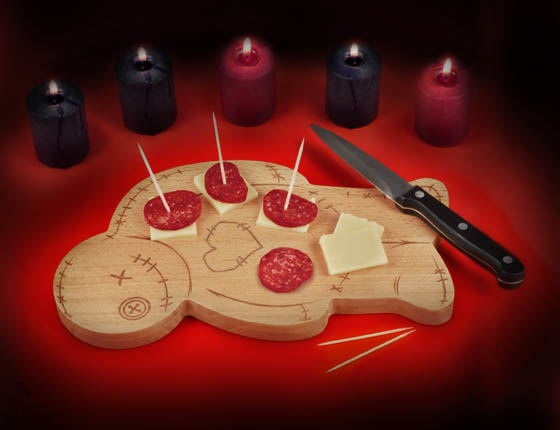 3. Cursed Cookies Cookie Cutters [buy on amazon]
Sticking pins in a voodoo doll is so yesterday. Why not bake a voodoo cookie instead so you can have your revenge and eat it too! Cursed Cookies punches the shape on one side, stamps the detail on the other.
Great fun design
2 in 1 design. Double sided cuts and stamps
Stylish and fully packaged in giftbox
Heavy, durable food safe plastic
Makes deliciously cursed cookies
Great Halloween gift idea
Funny and bizarre gift idea
Measures 11cm x 14cm x 1.5cm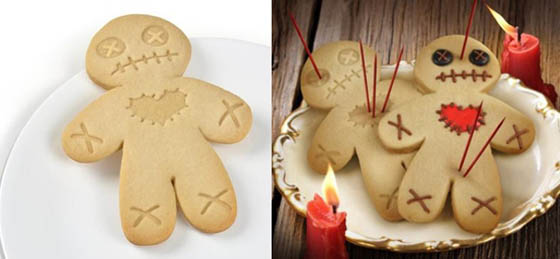 4. Voodoo Knife Set [buy on amazon]
THE EX, A radical alternative to the typical block o' wood, will revolutionize the way you store your knives. No knife holder has taken a greater stab at the theatrical than this specially designed Ex knife holder. Et tu, Brute?. This 5-piece knife holder is unlike any cutlery set you have ever seen. This whimsical, artistic kitchen accessory holds 5 high quality stainless steel kitchen knives (included) in a rather unorthodox fashion – store your knives in an anonymous effigy dedicated to whomever you please. Take out your frustrations as you store your knives.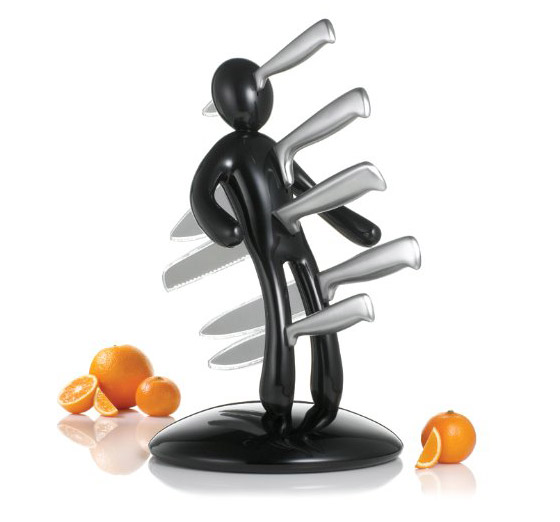 5. The Ex Skewer Set [buy on amazon]
Holds 10 high quality stainless steel skewers (included). Removing the figure and setting it on your table exposes a well in the tray for dips. Tray measures 12 inches x 11.5 inches
Designed by Raffaele Iannello and Manufactured by RICSB. A radical alternative to the typical serving tray,The Ex Skewer Set is the most unique way to serve your hors d'oeuvres.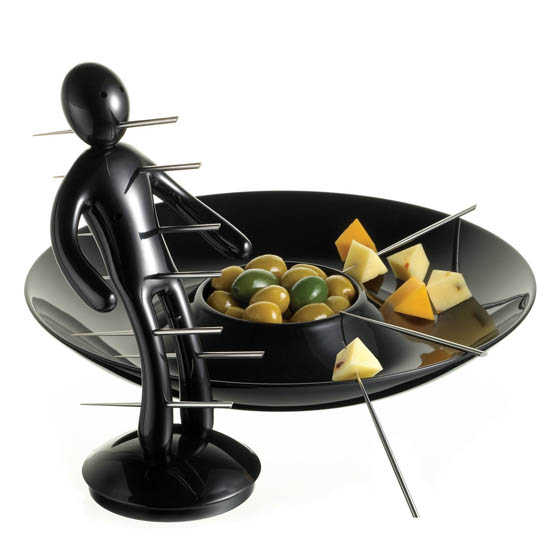 6. Flat Voodoo Toothpick Server [buy on amazon]
Handmade ceramic voodoo doll toothpick holder. Produced right here in Southern Louisiana. Holds @26 toothpicks. No two are exactly alike!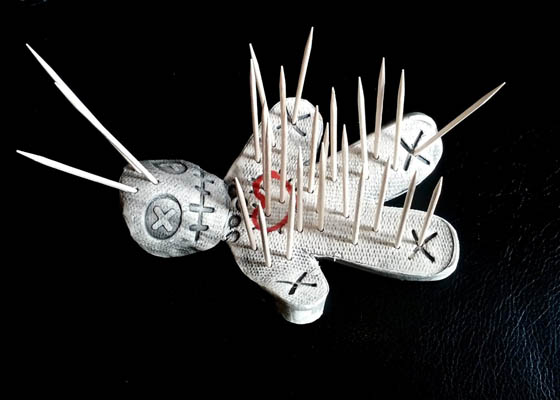 7. VOODOO TEA [packaginguqam]
The product is to first find a Turk's head. For those few in Quebec who wouldn't use a famous politician: you could take anyone that you dislike. Scalding your victim to a human pouch size, you can soak it into boiling water in a legal way, still making you feel better.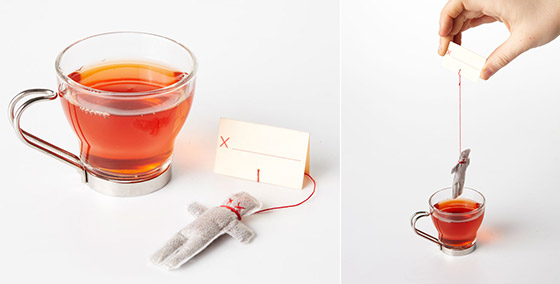 8. Voodoo lollipop [likecool]
What better way to forget about a pathetic love affair than to melt away your sorrow and your ex in a cup of tea? Go for the chocolate voodoo lollipop — Chocoubli. One bite to erase the sound of his voice. Another bite to block out his phone number. A final bite to wipe him completely out of your memory banks. Chocoubli created by Mezher Ouss is actually a concept for heartbreak.