Not many of us still use toothpick to remove detritus from the teeth but his tiny pointed stick is still useful for picking up small appetizers (like cheese cubes or olives). To have an easy access to those useful stick, we need a proper holder or dispenser. Unless you are extremely selective on what kinds of toothpick holders to have in the house, it may not be a big issue which design you choose to purchase. But have a unique toothpick holder will definitely win you some applause during a party. Take a look at the 9 Cool and Unusual Toothpick Holders we prepared for you. Now you can not only make your toothpick easy access but also attractive.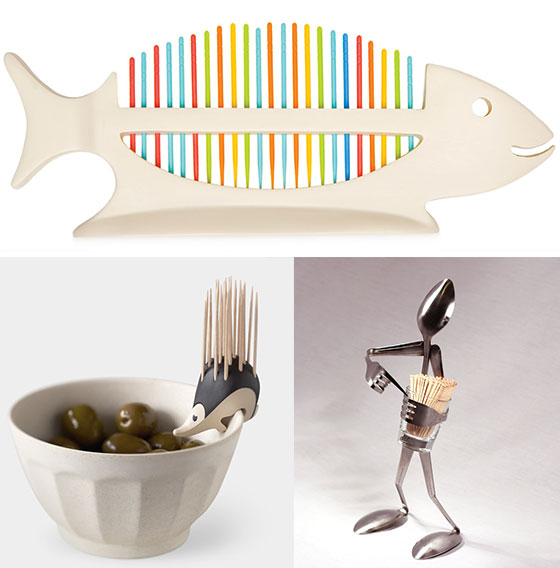 We are a participant in the Amazon Services LLC Associates Program, an affiliate advertising program designed to provide a means for us to earn fees by linking to Amazon.com and affiliated sites.

1. Kipik Toothpick Holder [buy on amazon]
Display toothpicks in this charming hedgehog-shaped holder when serving cocktails or hors d' oeuvres. It rests on the table or conveniently hangs on the edge of a bowl. Comes with 22 picks. Hand-wash only.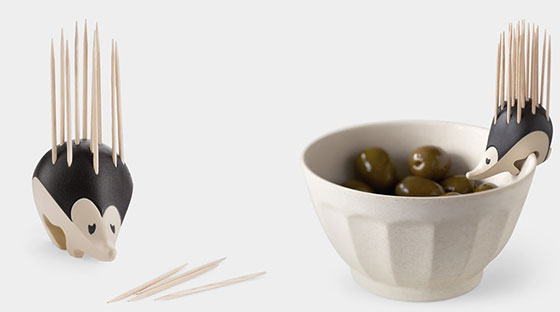 2. Cactus Toothpick Dispenser [buy on amazon]
In nature there are many species of cactus in varying shapes and sizes, most of which are green and involve sharp thorns. Rather than a thorn in your side the Essey cactus is an elegant container with a secret. Press the top and it silently rises to reveal not thorns but hygienic dental toothpicks instead. Press the top back down and once again you are left with the clean lines of this stylish "table cactus". Soft touch coated plastic. Approximate size: h. 4.25″, 11cm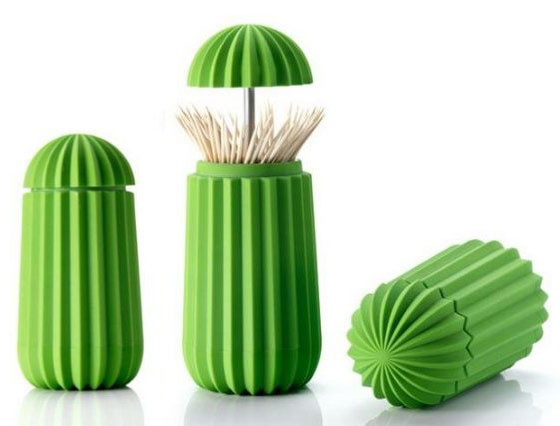 3. Salt, Pepper & Toothpick Holder Set Forest Gump [buy on amazon]
The salt and pepper trees also stick to their place on the plate with the help of little magnets.In this case it is a toothpick-holder-pig. You can find him standing under two green fir trees. He loves to hang around there. Because of a little magnet under his feet he always finds his way back to the trees on the green plate, which is included in the set. You can fill them easily from the bottom.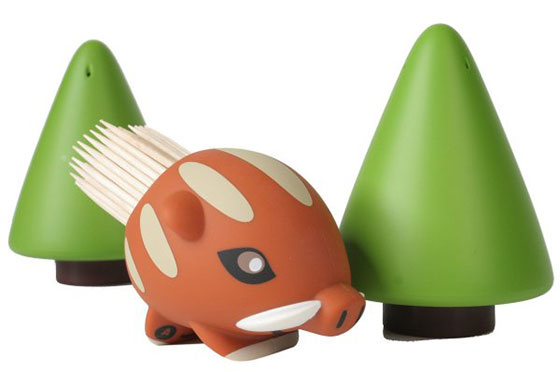 4. Ouch Toothpick Holder [buy on amazon]
Set guests' tongues wagging with another innovative kitchen novelty from Fred
The unique toothpick holder invites double takes when set out next to finger foods
Available in 2 colors, this one is gray polystone and comes packaged in a clear display box
A great gift idea for the gagster in your life
Toothpicks not included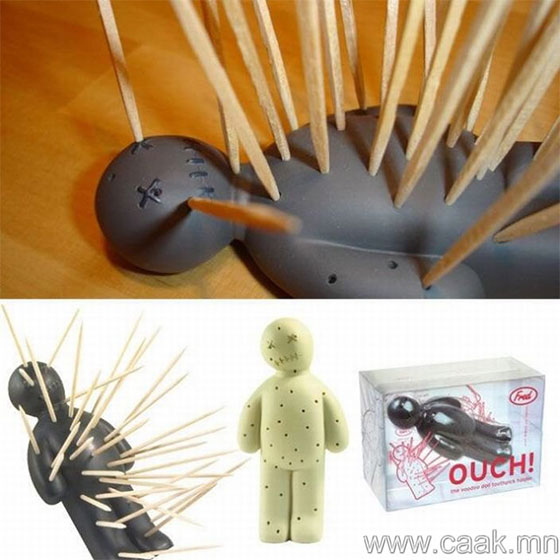 5. Forked Up Art – Toothpick holder [buy on amazon]
This piece is a more versatile piece that can double as a toothpick stand as well as a shot glass holder. SHOT GLASS IS INCLUDED! :) This stand makes an excellent display for the kitchen counter, table top, bar, restaurant front. It is 100% stainless steel so it will not rust and it will surely get laughs every time!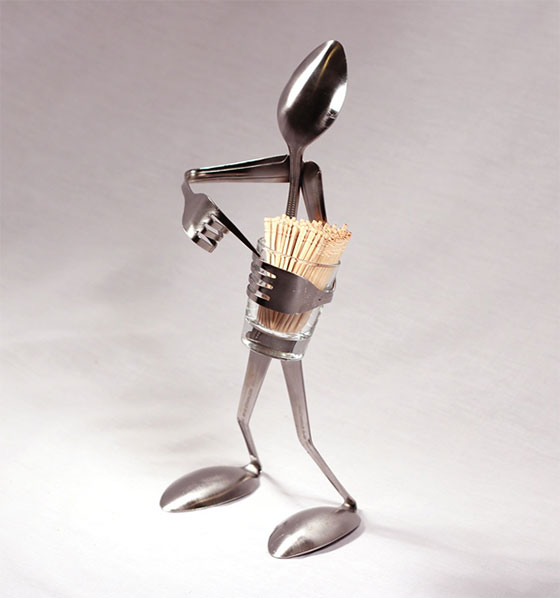 6. Qualy Picky Boy Toothpick Holder [buy on amazon]
Bring a little life to your kitchen with this Picky Boy toothpick holder from Qualy! Picky Boy has been designed to help keep your toothpicks nice and organized. When you need to grab a pick simply lift up his hat, and up the toothpicks will pop. This fun novelty kitchen product is sure to be a hit with all your guests. . All Qualy products and packaging are 100% recyclable.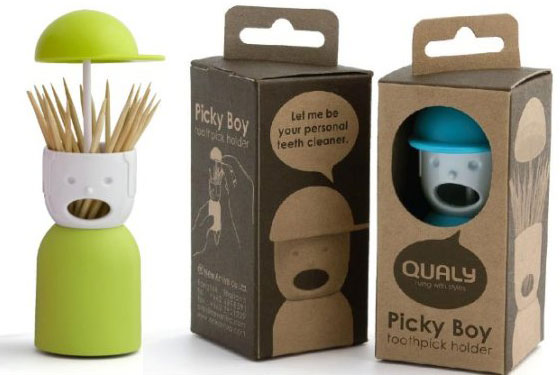 7. Film Canister Toothpick Holder [buy on amazon]
Toothpick holders don't always have to be a boring shadow on the dining room table. The Film Canister Toothpick Holder brings a cool hipster vibe into your home. This toothpick holder can store more than 100 wooden toothpicks, and comes with a lid to protect them and keep them from scattering all over the place. The bright colors, unique film canister design, and realistic details make this holder a winner, even if everyone uses digital cameras these days. Now, you can keep your table stylish and your teeth clean with this one tiny miracle worker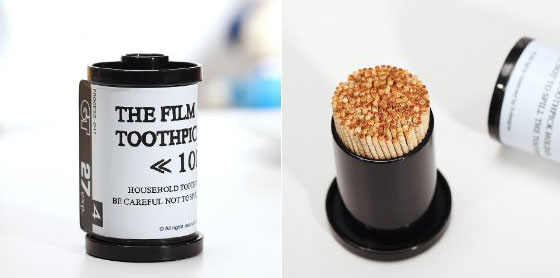 8. Spino Toothpick Holder [source]
Spino" toothpick Holder and napkin holder takes its shape from the porcupine. This unique toothpick holder as well as napkin holder was designed taking not only the physical aspects, but also the substance, the essence and the sympathy from these animals. This holder is quite stylish and will enhance the show of you table.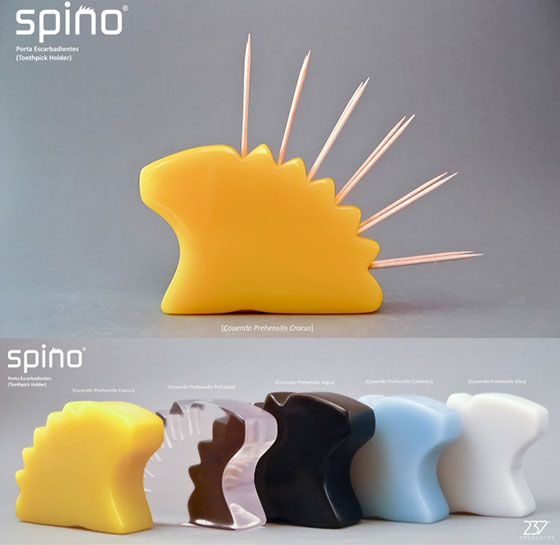 9. BONE TO PICK TOOTHPICK HOLDER [source]
Cheese cubes, fruit chunks and meatballs beware! These toothpicks are coming to get you. This white fish sculpture made of resin holds a rainbow of reusable corn toothpicks that can be used to add a little life to party after party.