"Trick or treat!" It's the unmistakable greeting offered by children and adolescents standing at your door, eager to fill up their candy receptacles. When the special time comes, you want to make sure not you are ready, but your outdoor décor is ready too. Spreading Halloween spirit is easy as hanging Halloween wreaths and door décor for all to see.
Of course, you can find many Halloween wreath DIY tutorials online. But if you are someone like me who isn't good at crafting or looking for a quick way to decorate my door. Buying some ready-made wreathes are the way to go. In this article, we have rounded up 9 Cool Skull Wreath Designs. They are unique and charming, spooky with a balance of elegance.
We are a participant in the Amazon Services LLC Associates Program. If you make a purchase, Design Swan may earn an affiliate commission. Please read our disclosure for more info.
19.6 Inch Skull Wreath with Spider Web and LED Lights
The outside diameter of Halloween wreath is 19.6 inch x 19.6 inch. The branches, flowers are covered with golden and purple light. Increasing the mysterious and horrifying atmosphere of Halloween, attract friends and neighbors to attach your house party.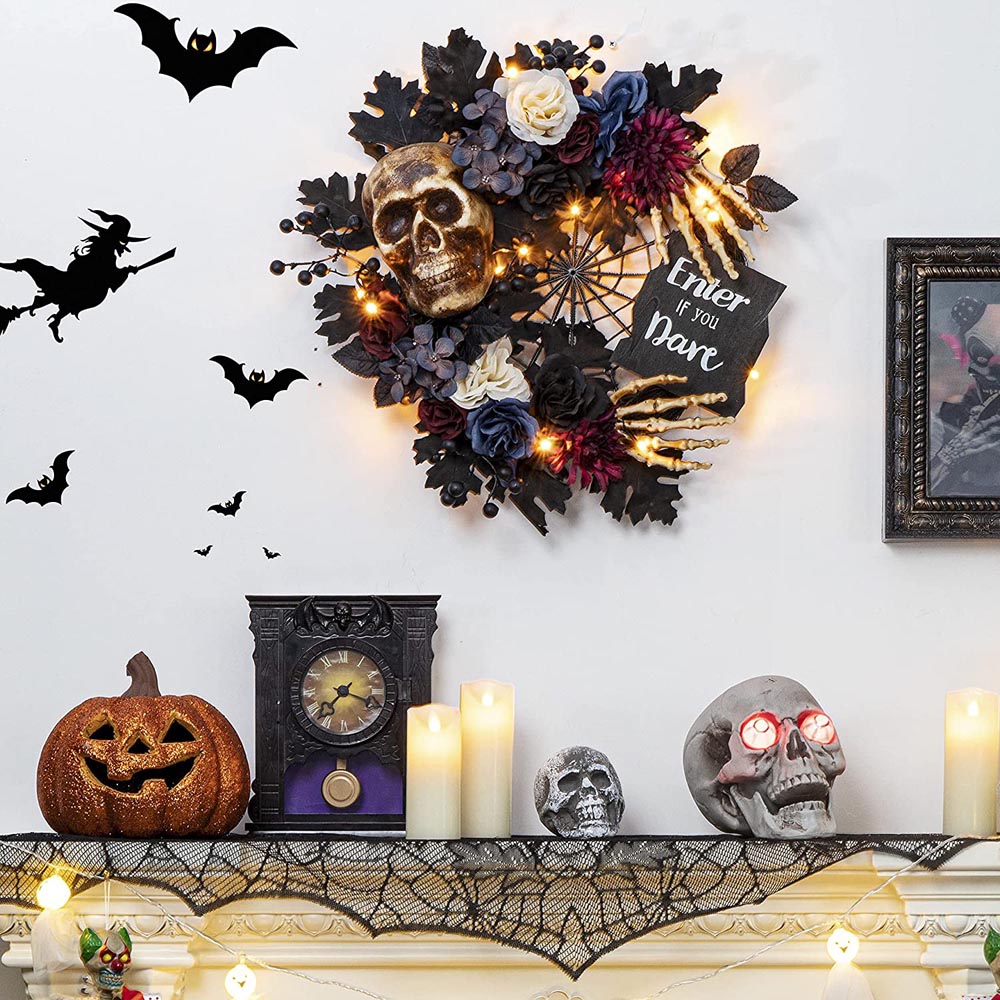 [buy on amazon]
16 Inch Prelit Halloween Skull Wreath
This 16 Inch Halloween wreath has 20 LED purple lights, with an inner diameter of 8 inch and a thickness of 2 inch. Come with a lanyard on the top, convenient for hanging in front door or anywhere else. Note: The Halloween wreath you received may be oval and need to be DIY adjust into a circular shape.
There are purple-black shiny tinsels, 3pcs 3D large skulls (3*2 inch), 3pcs 3D small skulls (1.2*0.8inch), 3 large blue-purple rose(3 inch), 3 dual color rose, some feather and branches placed around the wreath.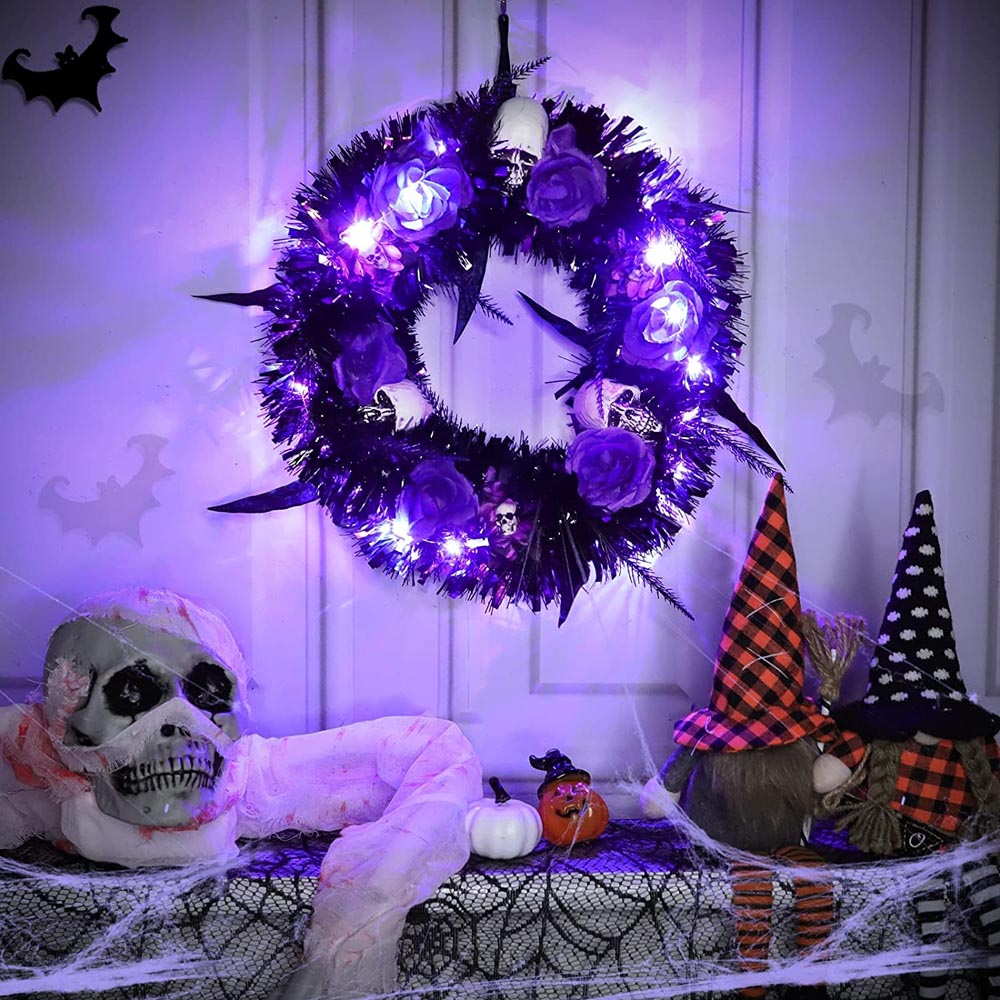 [buy on amazon]
Halloween Skull Wreath for Front Door
Creepy and fun Halloween prop is perfect to hang on your front door, in your kitchen or in your house! Fall wreath has bright reds and blacks and is lightweight to hang on doors and walls.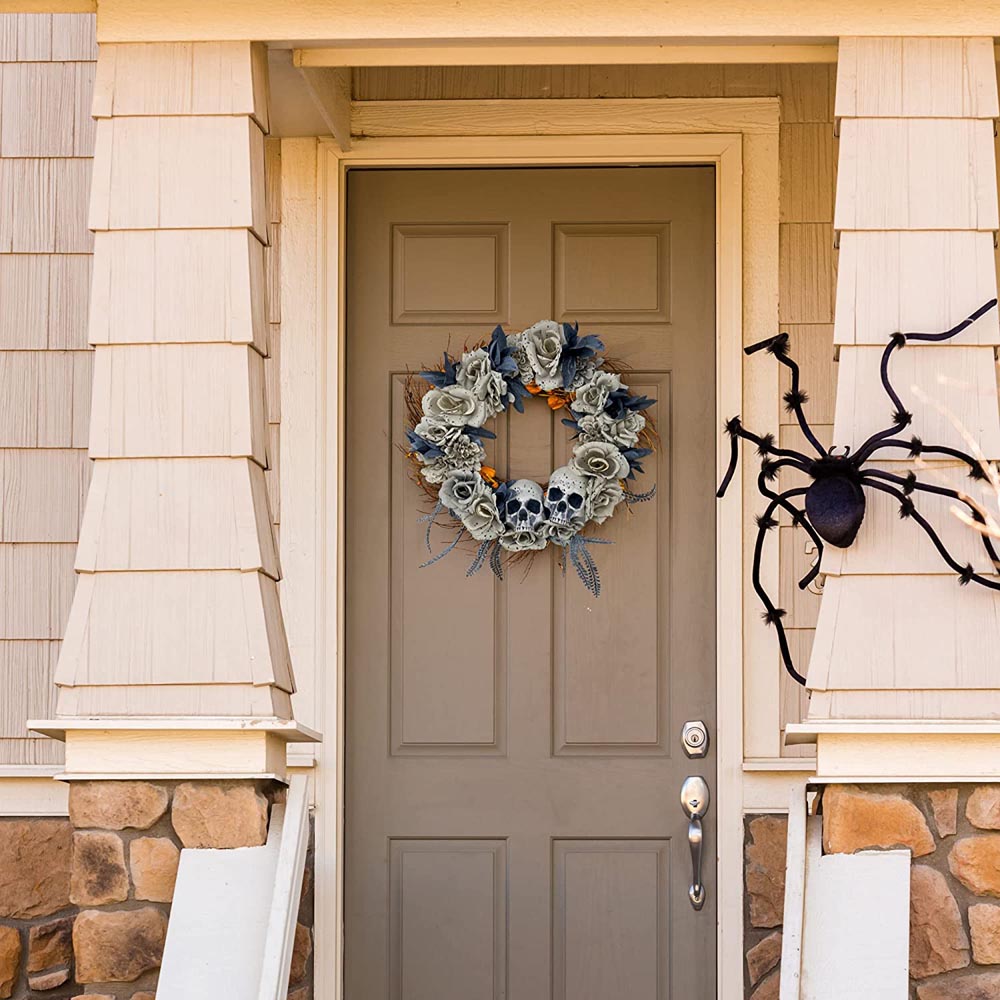 [buy on amazon]
20 LED Warm Lights Skull Wreath
The skull wreath decorating with lights is made by durable material, which is great to reuse. Long lasting garlands never fall apart, only look beautiful, vivid realistic and lifelike. The decoration includes garland, realistic skull and skeleton arms, artificial red roses, dead branches and LED string lights, creating spooky atmosphere for your Halloween.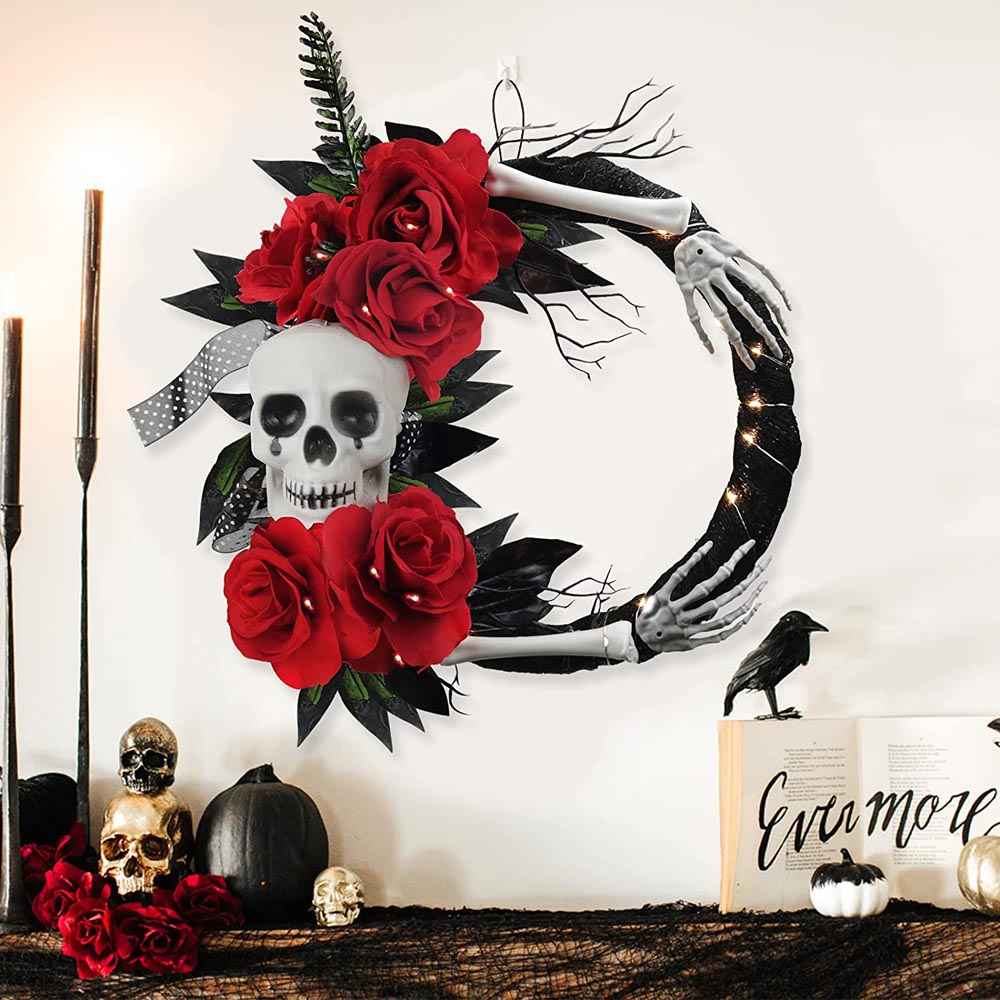 [buy on amazon]
21″Halloween Wreaths with Maple Leaf, Rose and Pumpkin
Vlorart halloween wreath is made of natural sturdy vine base,handmade with artificial skulls, roses, maple leaves, spider and pumpkins. This artificial Halloween skull wreaths is made of environmentally friendly materials,realistic size and solid workmanship,delicate and durable. Comes with 20 LED lights.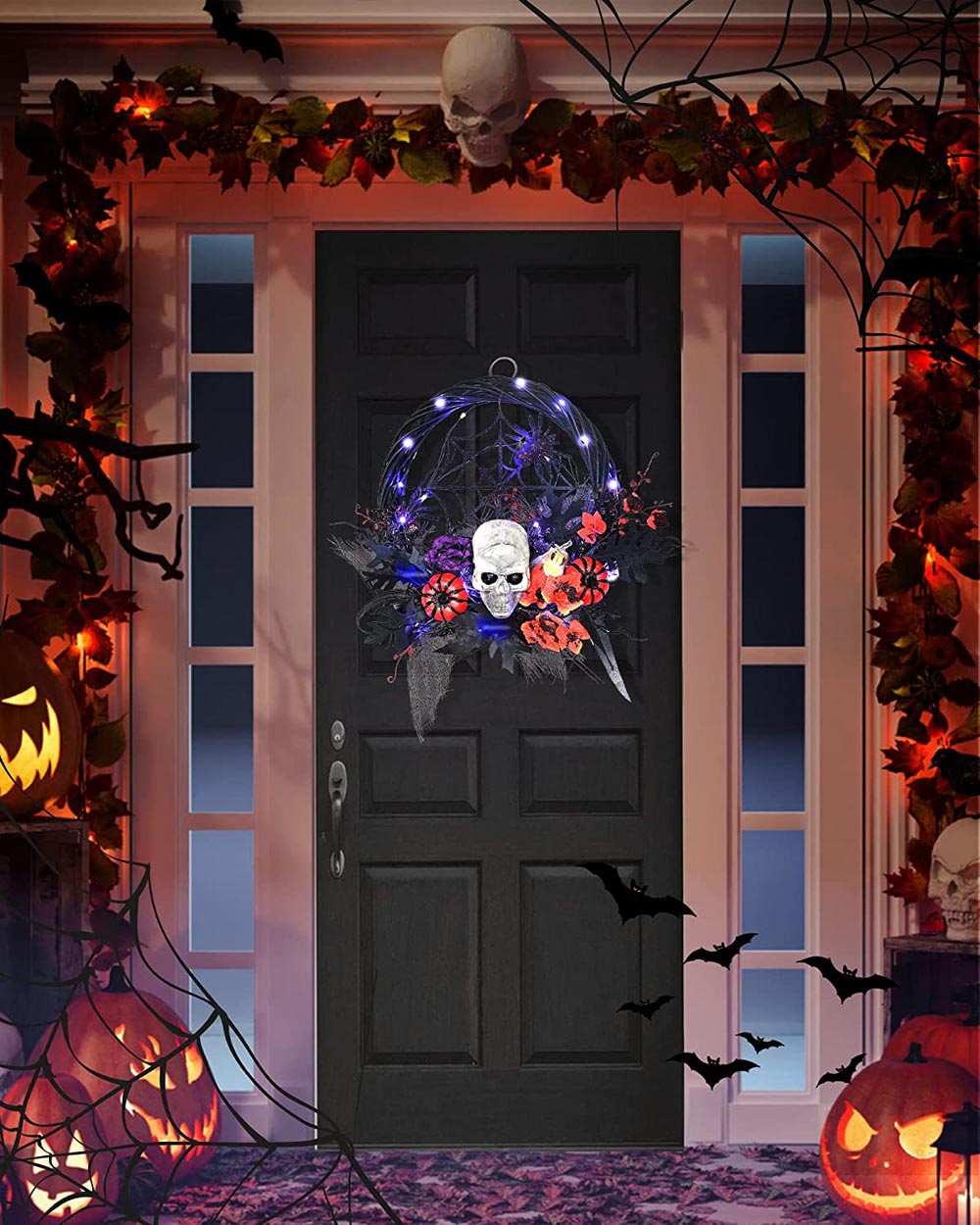 [buy on amazon]
ChamBay Halloween Wreath
The Halloween wreaths consists of 1 creepy realistic skull head mask, 1 artificial snake, 5 roses, 20 led purple lights, 2 pinecones, and a twig base. The Halloween door wreath diameter is 15 inches.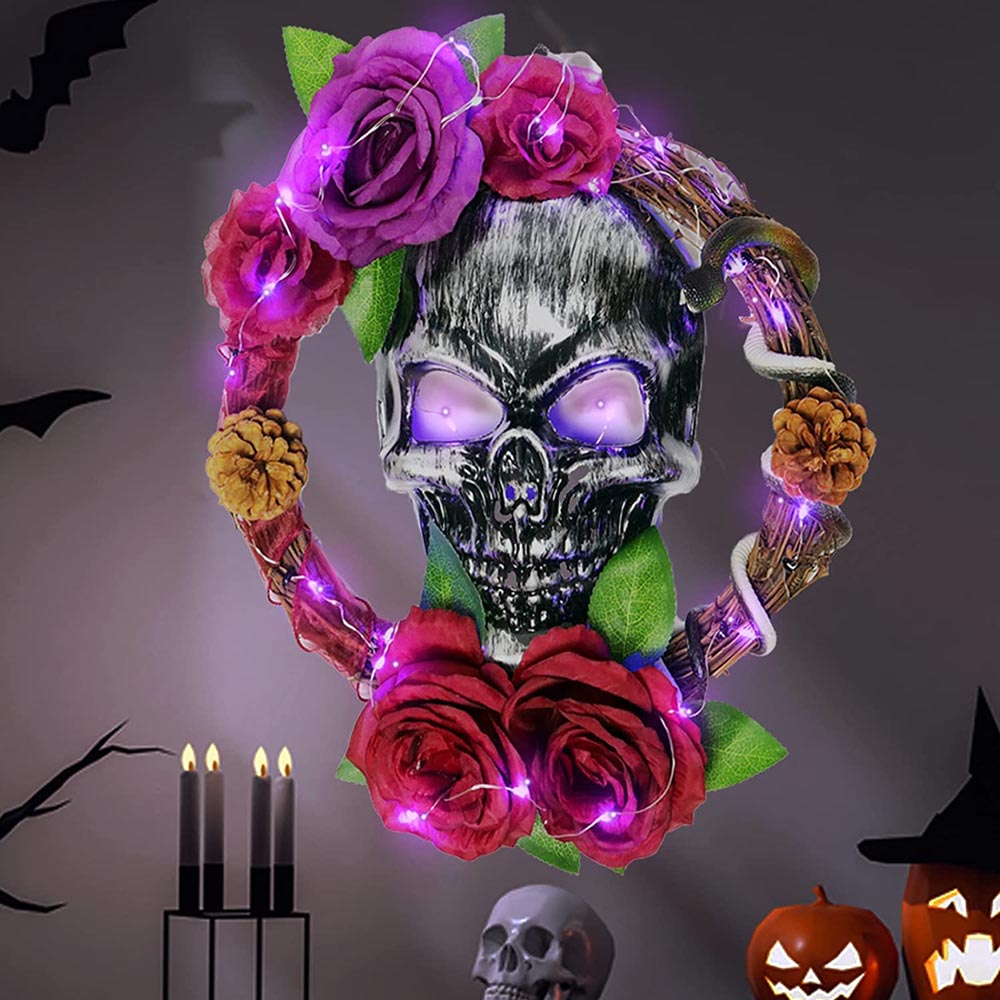 [buy on amazon]
16 Inch Black Halloween Wreath with Skull White Black Rose
Skull rose rattan wreath made of silk cloth,rattan,resin. Quality handmade material and exquisite workmanship, lightweight and easy to decorate various places, durable to use and not easy to deform or break, which can provide you long time use.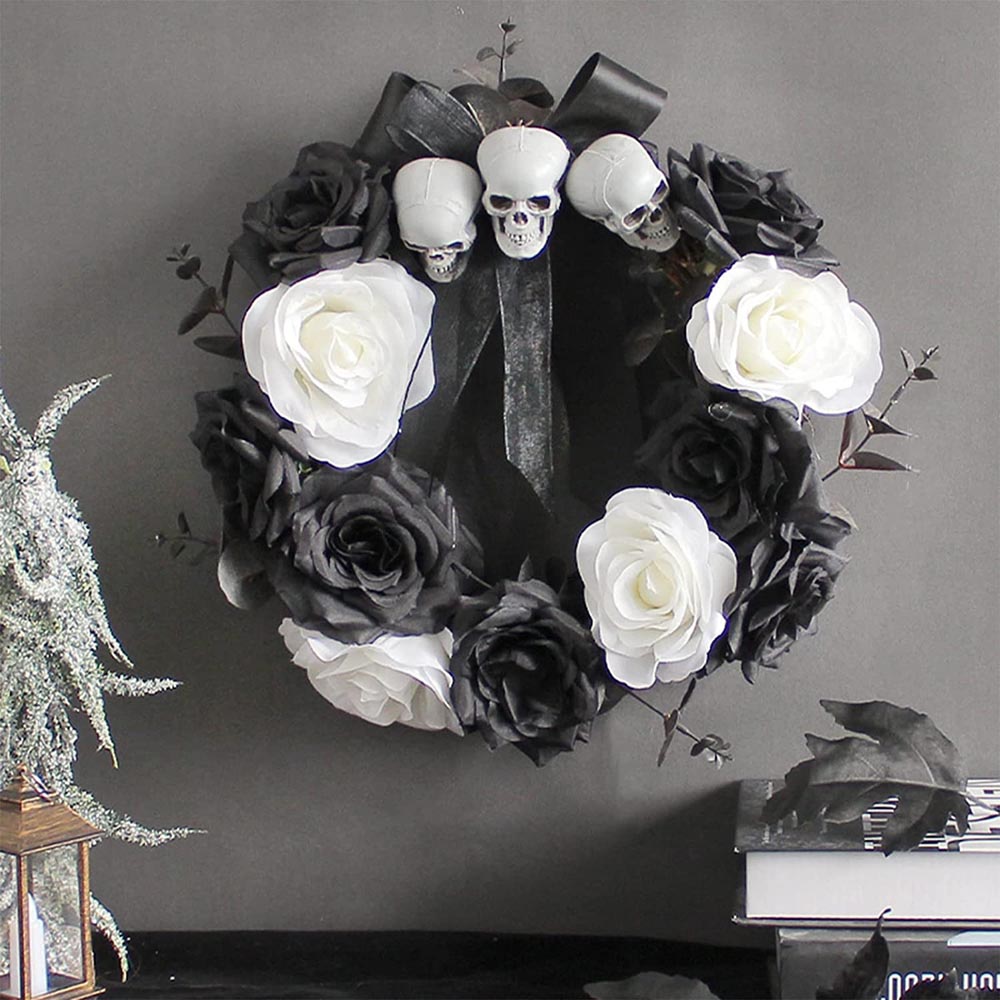 [buy on amazon]
20 Inch Artificial Halloween Wreath
This Halloween wreath is 20 inches. It is a combination of black, red and gold. The elements of this Halloween décor include a golden skull, 2 black roses and 2 red flowers. The half design wreath is the most scary decoration for Halloween.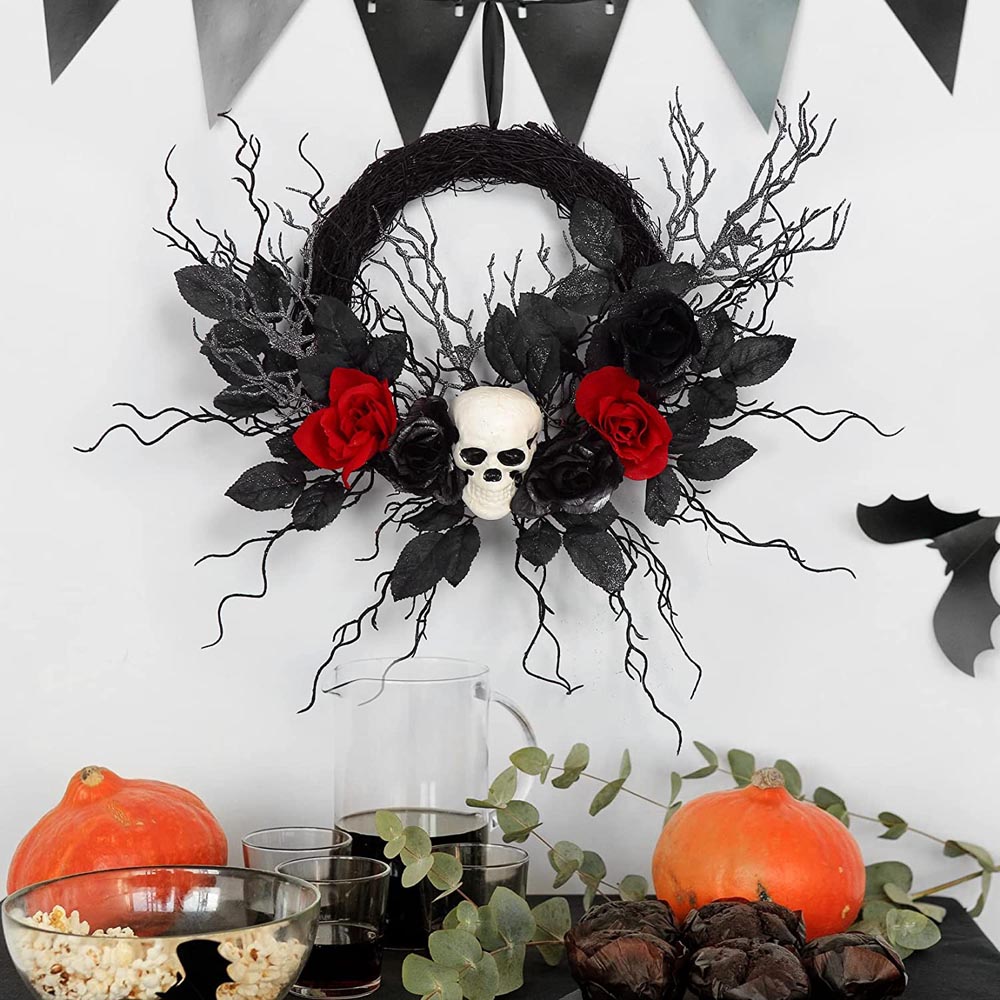 [buy on amazon]
16.5 Inch Halloween Wreath with 20 Lights
Three 4.3" large skulls hidden in the white and cyan faux roses, let this skull wreath help you to start the eerie atmosphere from the door, which will spook the whole street. The faint, misty warm light shrouds the whole skeleton wreath, bringing a Halloween creepy atmosphere.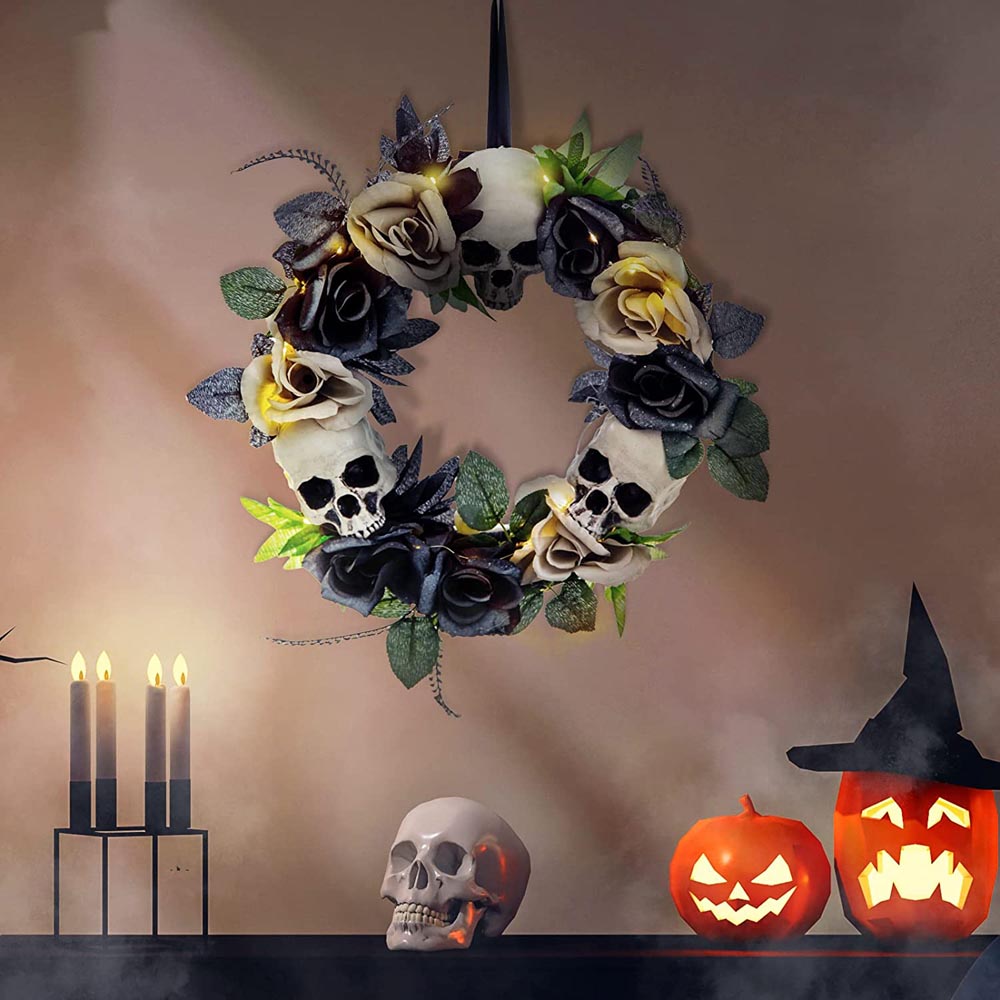 [buy on amazon]