Prepare to embark on a culinary adventure that goes beyond the ordinary with our selection of seven extraordinary taco holders. These quirky and practical holders add a delightful twist to your dining experience, turning every taco night into a memorable occasion. From football helmet taco stands that score a touchdown with your taste buds to playful dinosaur-shaped holders, these unique creations offer a fusion of fun and functionality. Whether it's a taco truck, a heated lazy Susan taco bar for sharing, or cactus-shaped holders for a touch of whimsy, we've scoured the culinary world to bring you the most creative and diverse options. Let's dive into the world of unconventional taco presentation and find the ideal holder for your next taco extravaganza!
Football Helmet Taco Stand and Snack Bowl
Make sure you're all set for game day with the Touchdown Taco Holder. Shaped like a helmet, this unique holder is ready to carry two of your favorite tacos on its back!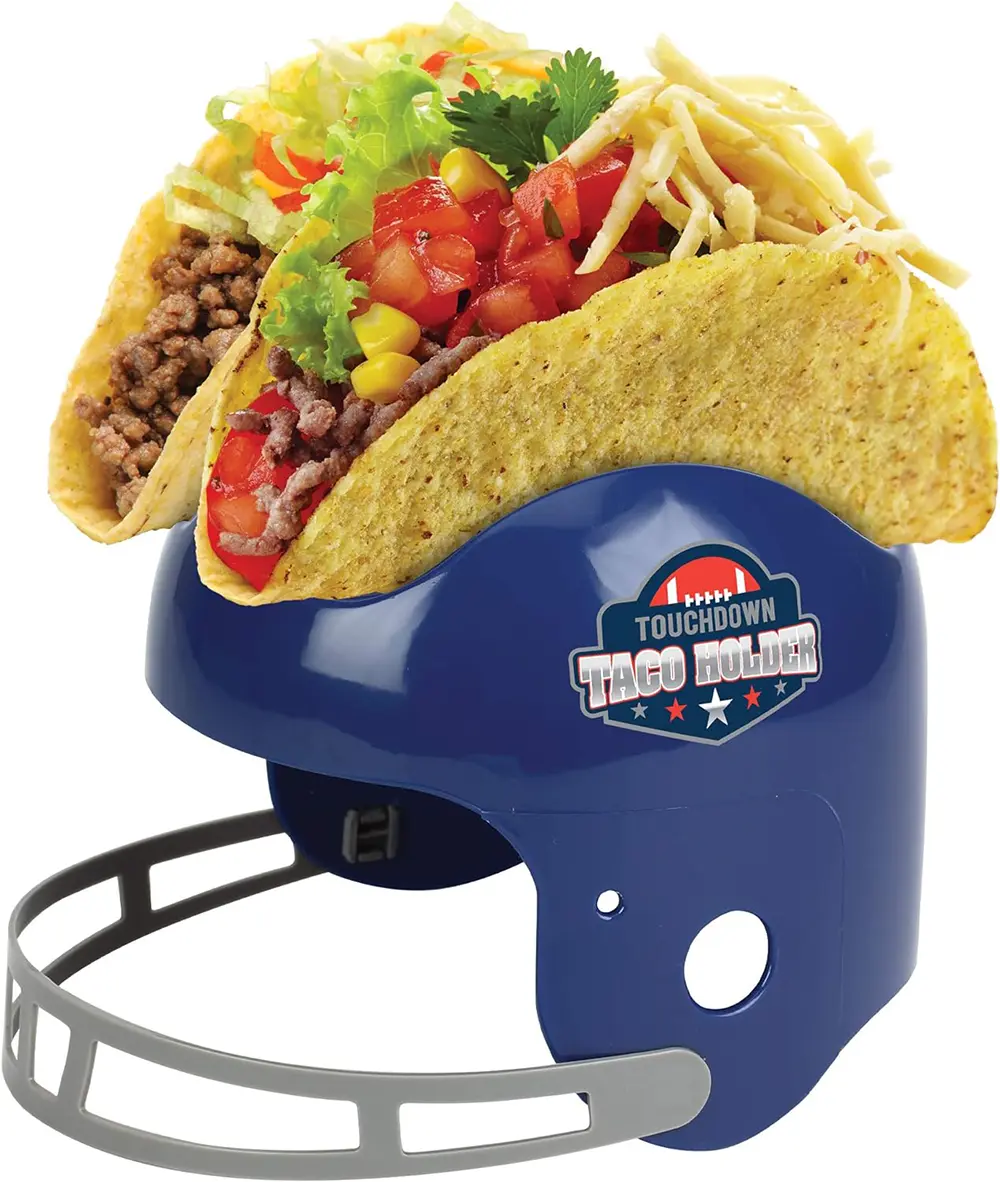 [buy on amazon]
Dinosaur Taco Holder
Unleash your inner child and indulge in the joy of reliving childhood memories with Tacosaurus; a nostalgic and playful kitchen accessory. Enhance your movie nights, Taco Tuesday dinners, and parties with the Tacosaurus. Tacosaurus is made with 100% Food-Safe & BPA-Free durable plastic.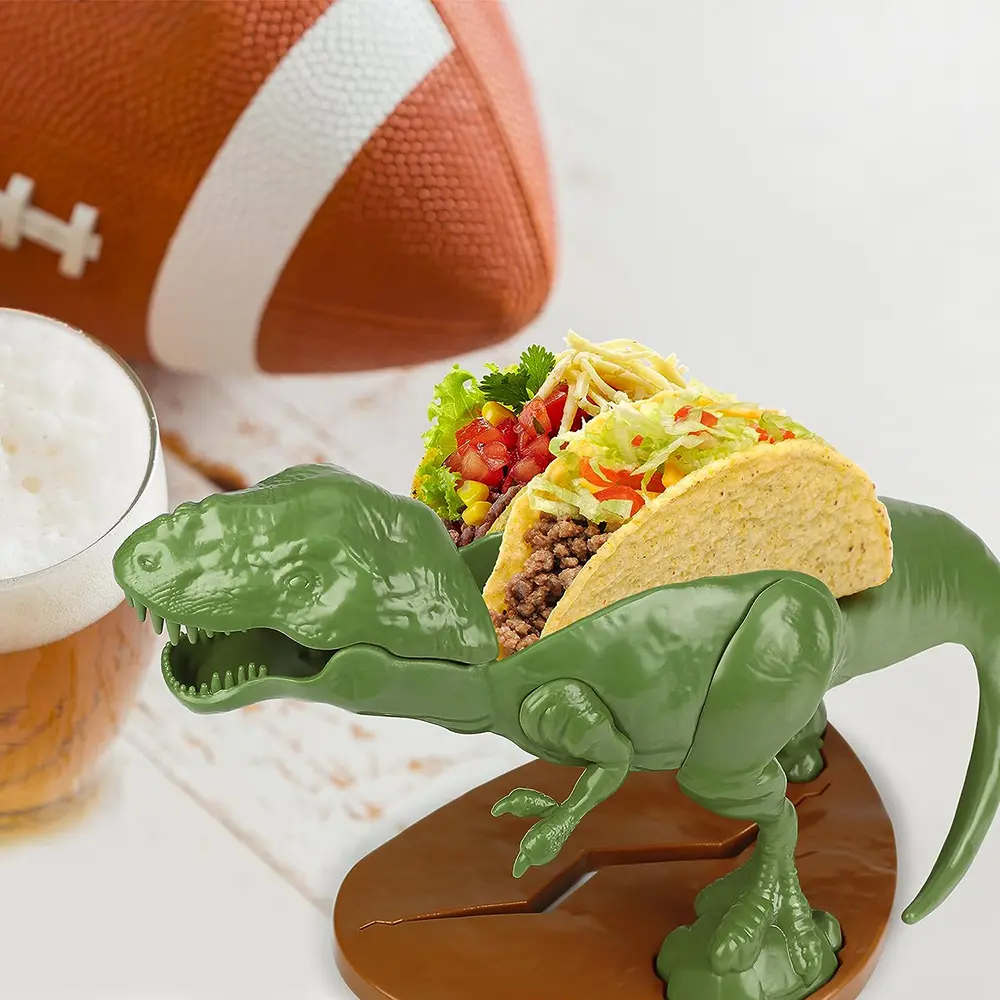 [buy on amazon]
Taco Truck Taco Holders
wo (2) colorfully assorted trucks come in each set. One truck is colored salsa red, and the other is guacamole green. Each truck measures about 5.5″ x 2.9″ x 2.4″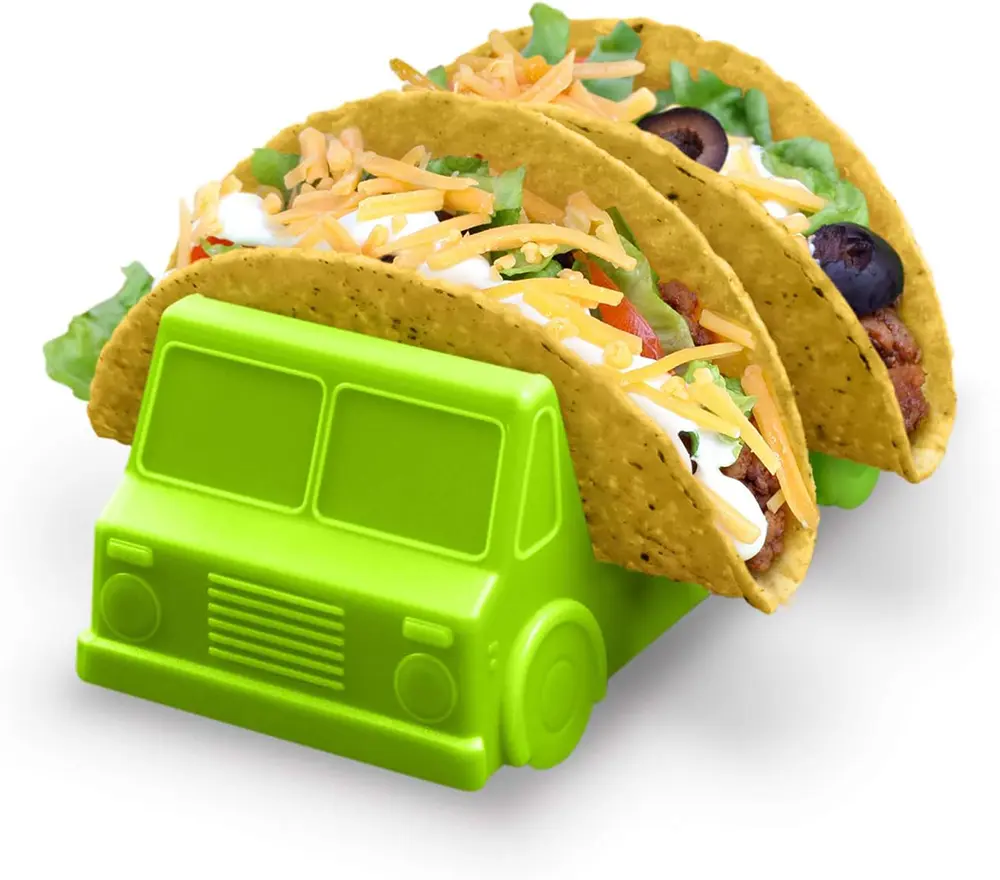 [buy on amazon]
Heated Lazy Susan Taco Bar
Make every night taco night with our fun taco bar. It works great for serving platters for entertaining and holds everything you need. The spinning lazy Susan design makes it perfect for sharing across the table with friends and family. Includes 6 removable taco plates with dividers that hold about 2 cups of your favorite toppings and 4 holders for hard or soft shells to keep them upright while you create the perfect taco.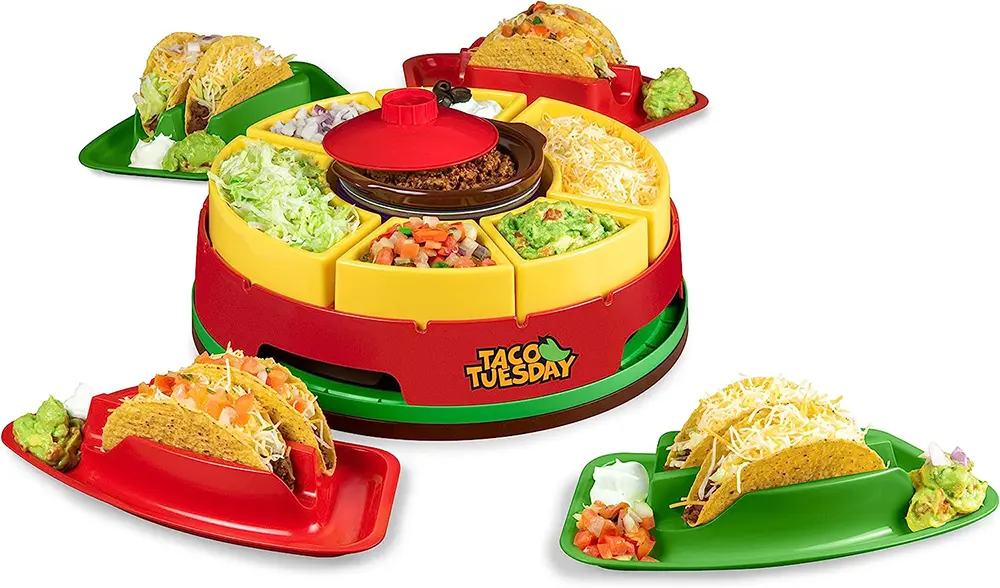 [buy on amazon]
Joie Cactus Taco Holders
Taco Holders for handling, filling, serving, and enjoying crunchy tacos without broken shells or spilled fillings. Made from BPA-free and European LFGB approved plastic; sturdy, durable, and reusable; each holder measures 2.17 x 1.85 x 1.97-inches; set of 4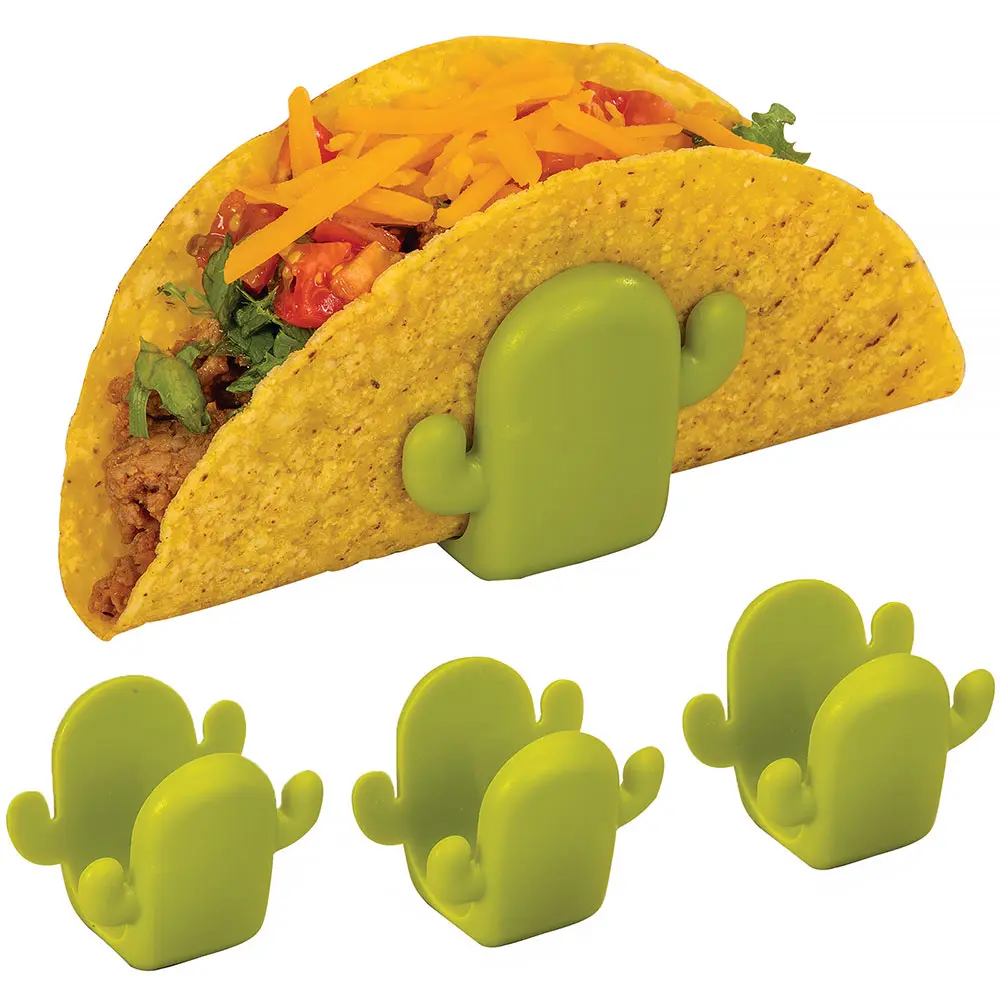 [buy on amazon]
Dead Skull Taco Holders
Reach for Fred's Yum Skulls next time you're dead set on serving tacos! Each brightly colored gift box includes two Calavera-styled skull taco trays that nest together for easy storage. Each skull measures 6.6 x 3.2 x 2.4″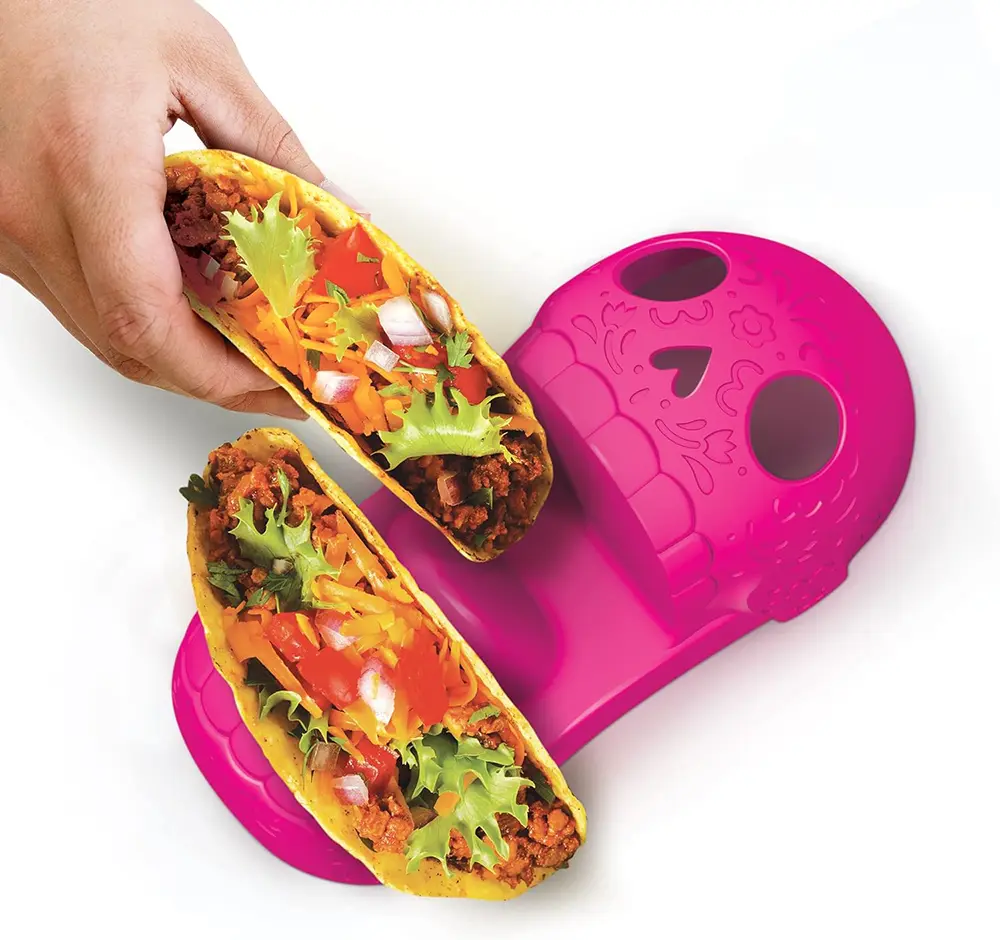 [buy on amazon]
Porcelain Plate Carousel Tray
Ceramic Taco Stand is highly resistant to heat, so these taco holders can safely be used with hot tacos without warping or melting. Compared to plastic, this shell taco holder stand is oven and microwave safe.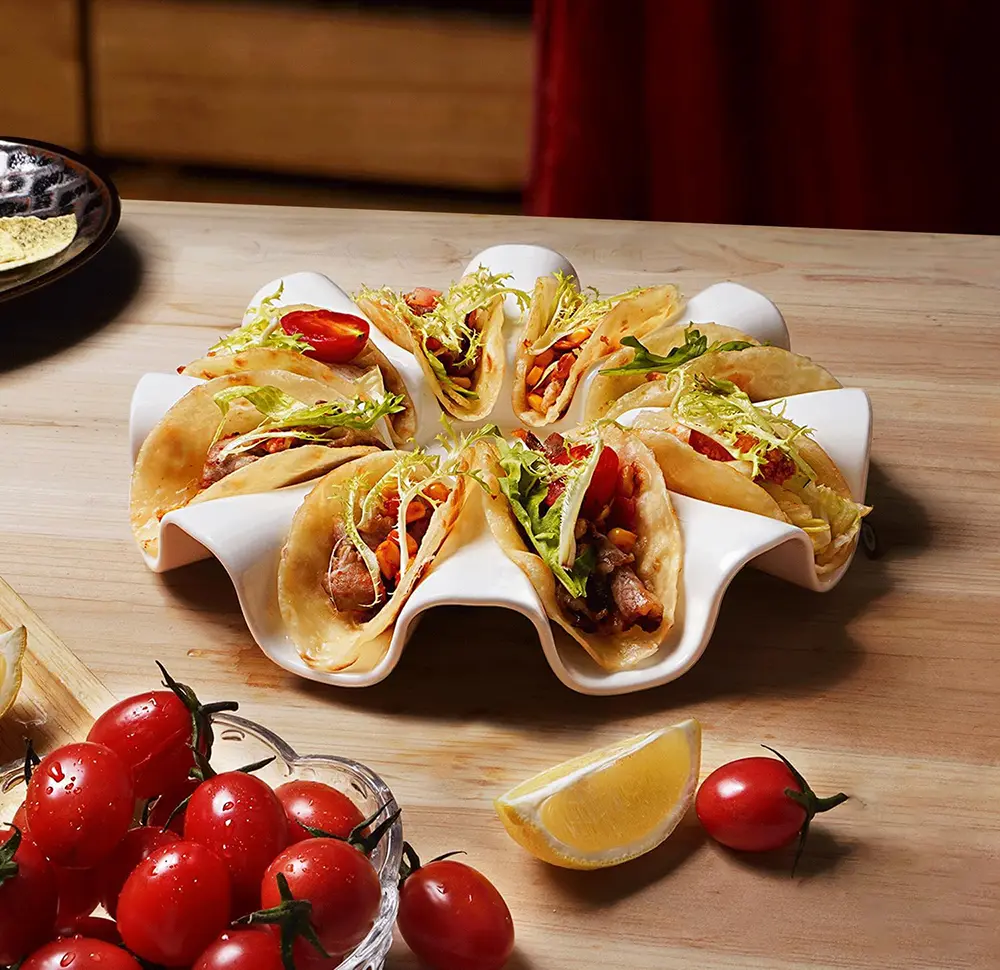 [buy on amazon]
Discover 7 unique and practical taco holders that add flair to your dining experience. Spice up your taco nights today!