In October 1933, White Star Cafeteria created a weeklong campaign in order to let locals know that they were offering "Mexican tacos" each Tuesday. Throughout the next several decades, a number of restaurants had designated Tuesday as the day for special deals on tacos.
But who said we should only enjoy taco on Tuesday? Any day can be a great day for serving up tacos and fajitas, burritos, nachos, and other tasty Mexican dishes.
Here, we rounded up 9 Playful and Useful Taco Stands or serving set which provides a fun way to serve taco to family and friends. With the help of these fun taco accessories, we can easily enjoy the tasty taco without making too much mess.
We are a participant in the Amazon Services LLC Associates Program. If you make a purchase, Design Swan may earn an affiliate commission. Please read our disclosure for more info.
1. Dinosaur Tortilla Taco Stand
The Taco Set includes 2 dinosaur holders and 1 salad cup. Taco Stand is can be easily assembled and dissembled , it is a wonderful toy dinosaur.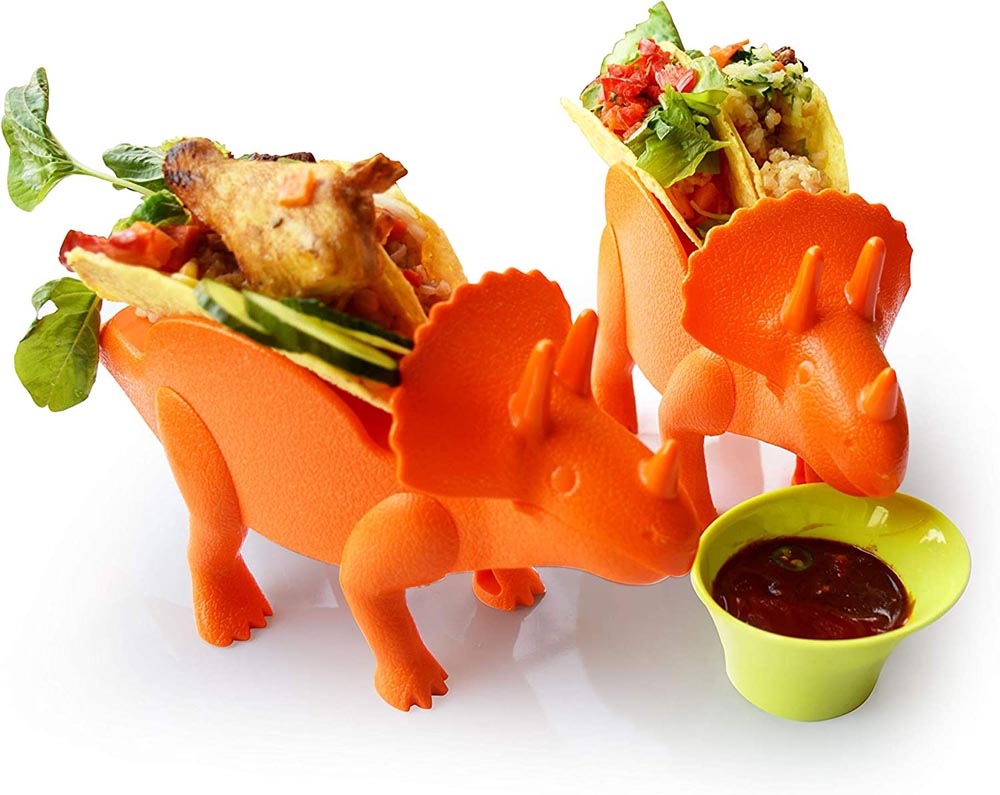 [buy on amazon]
2. Colorful Taco Holder Stands Set of 6
6 pack Taco Holder Stands in 6 different colors, large size for bigger tacos, holds up to 3 or 2 Tacos EACH, perfect for TACO TUESDAY, holidays, outings and weekends.100% food grade PP material, BPA Free, safe and sturdy. Microwave and Dishwasher SAFE.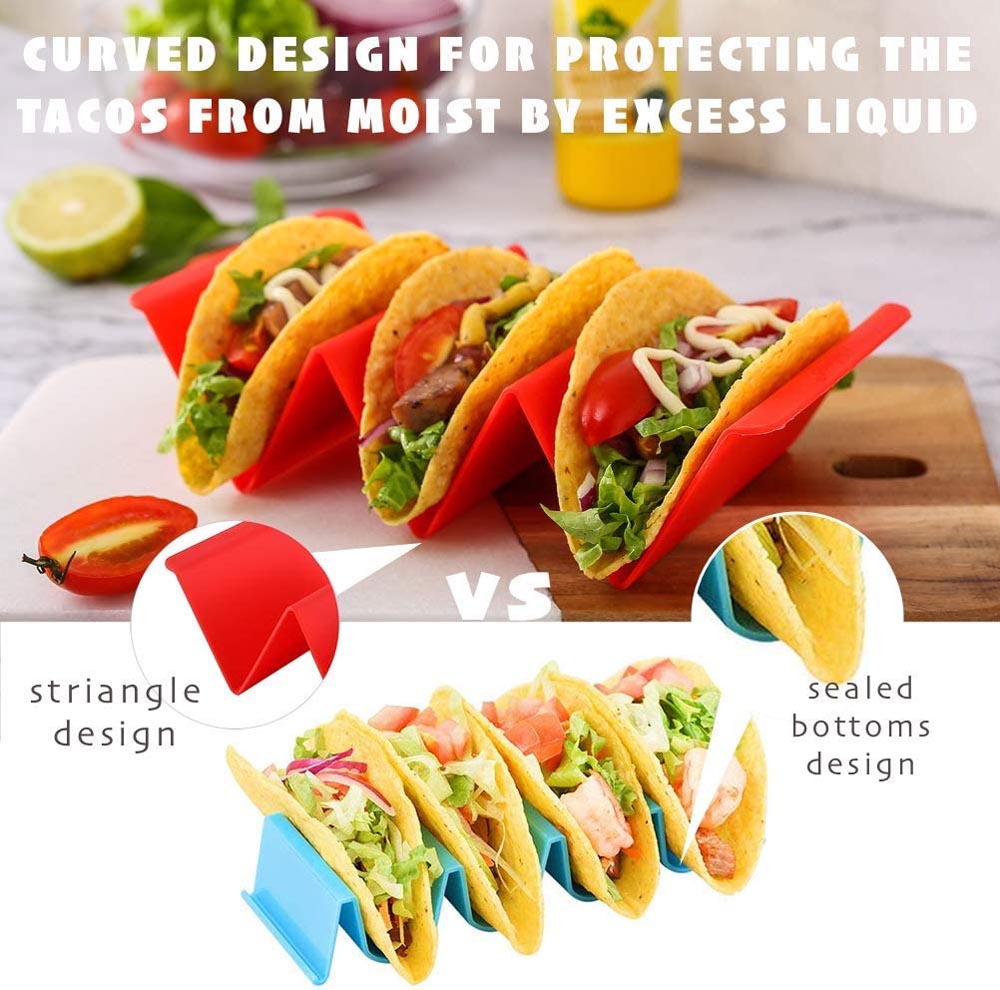 [buy on amazon]
3. Kids Kitty Cat Taco Holder
TacoCat & Silicone Insert are dishwasher safe. TacoCat is 100% Food-Safe and BPA-Free. Messes are Hiss-tory!
Hold more than just tacos. From take out napkins to dish sponges to mail and more!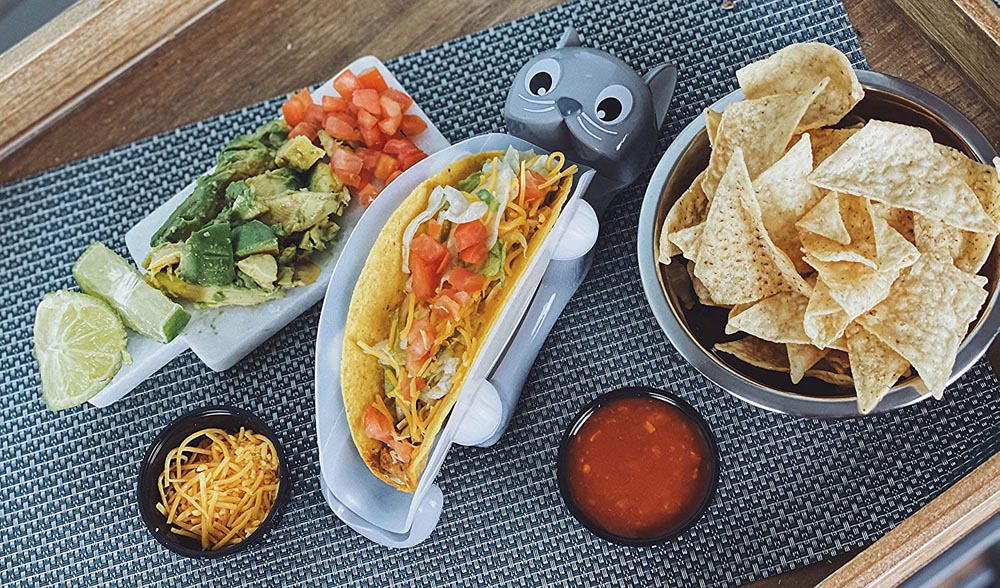 [buy on amazon]
4. Taco Truck Taco Holders
Two (2) colorfully assorted trucks come in each set. One truck is colored salsa red, and the other is guacamole green. Each truck measures about 5.5″ x 2.9″ x 2.4″.
Drive Genuine Fred Taco Truck up to your messiest eater and marvel at how it serves the goods! This set makes a fun addition to any Taco Tuesday.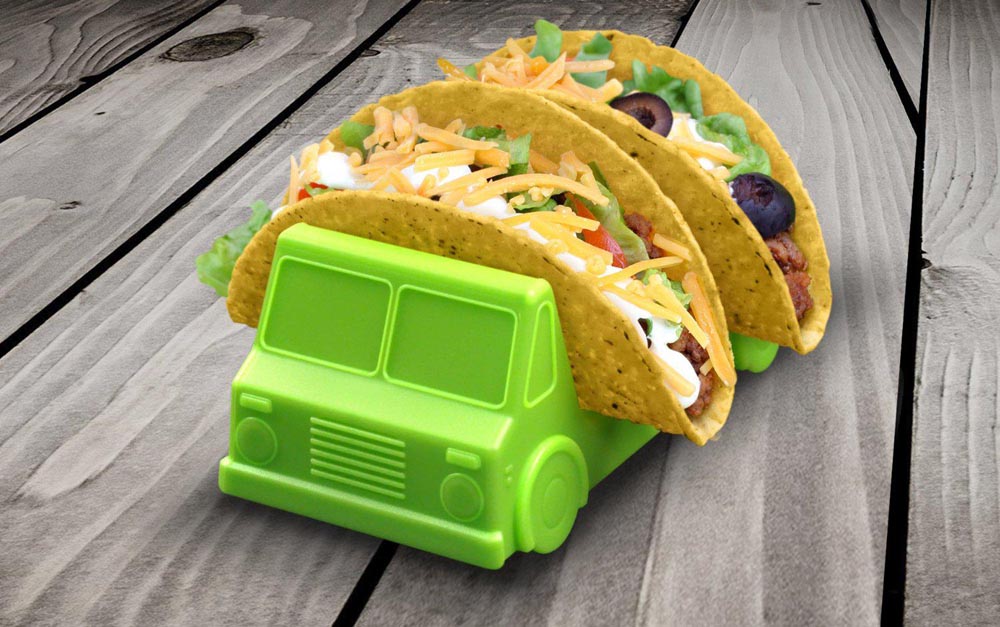 [buy on amazon]
5. T-Rex Dinosaur Jurassic-Era Taco Stand
If your children are picky eaters, take the stress out of mealtime with a fun dish for kids! Tacosaurus Rex also holds crackers, waffles, sandwiches, nachos, panini sandwiches, pizza roll-ups, burrito dogs, cheese flautas, and other snacks.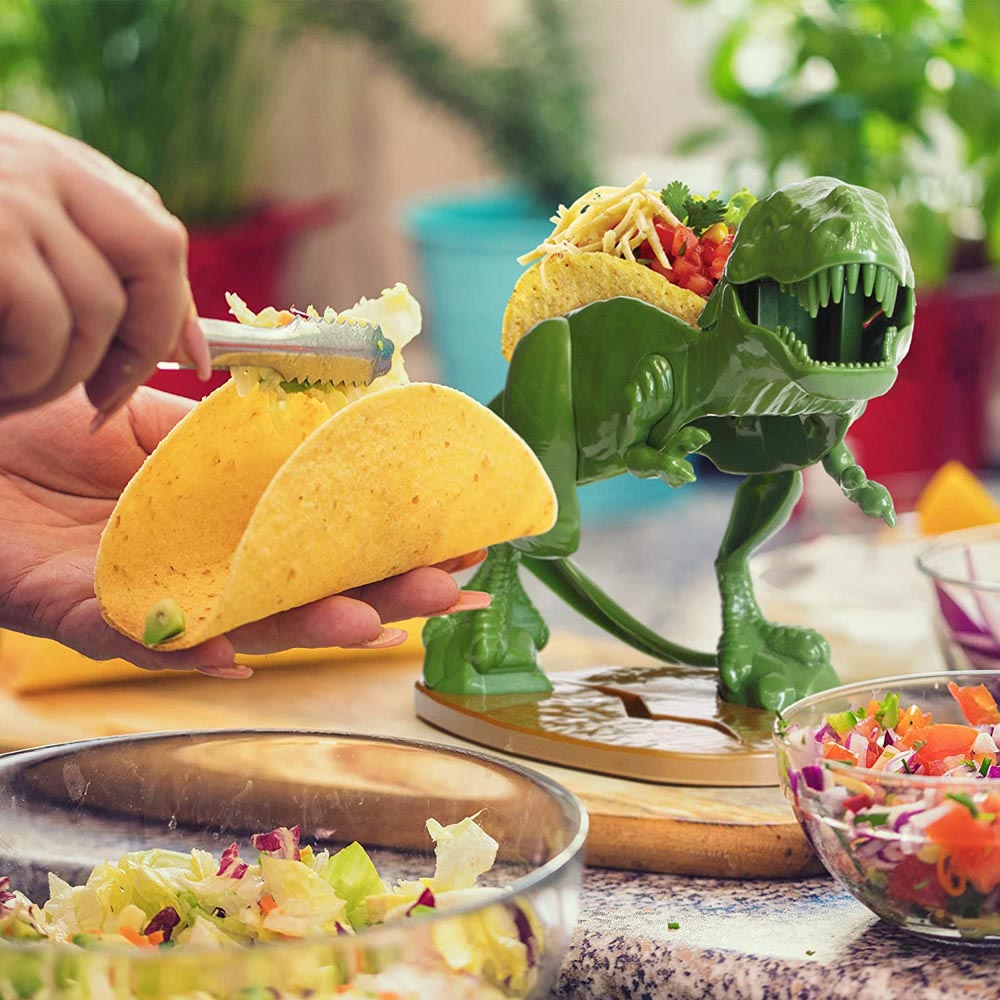 [buy on amazon]
6. TacoCat Stand for Soft and Hard Shell Tacos
These adorable taco cat plates will make a puurfect addition to your taco night traditions. TacoCat taco holders conveniently hold 3 hard or soft tacos at a time. Just place your taco shell in the taco holder and make your creation without a mess.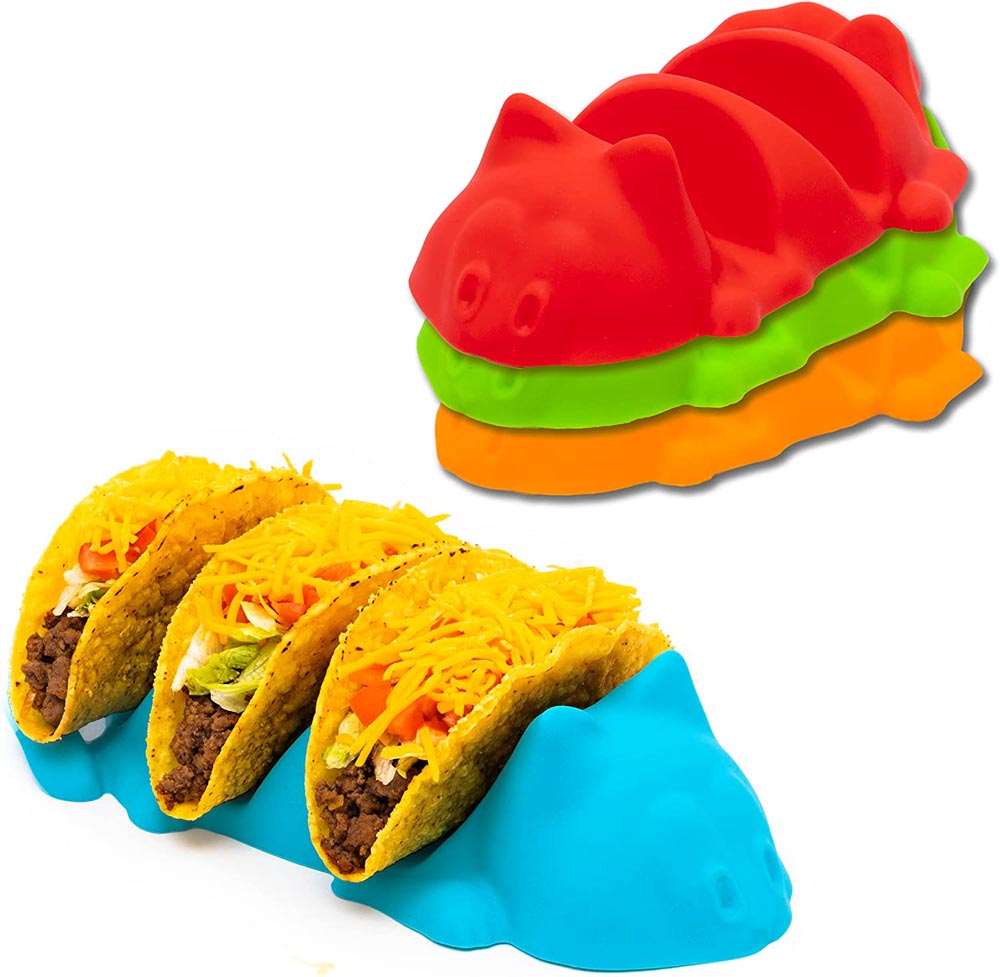 [buy on amazon]
7. Bamboo Taco Holder
Elevate your taco nights with an taco 5 slot holder that is perfect for serving guests. Made with sturdy bamboo wood that is long lasting for many of your hosting experiences.
2 CUPS & SPOONS INCLUDED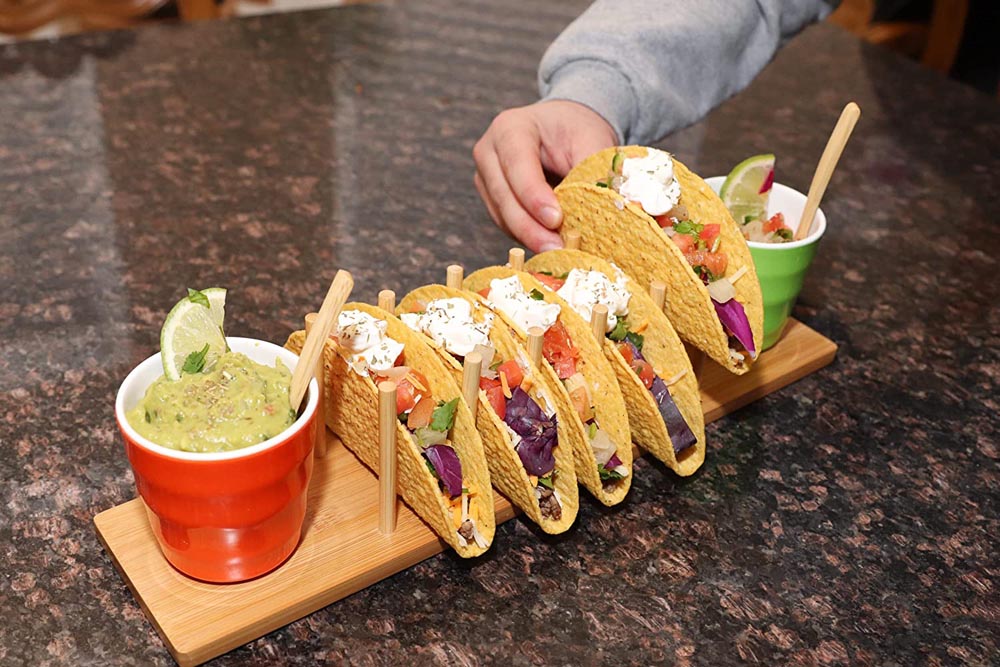 [buy on amazon]
8. Heated Lazy Susan Topping Bar
Get creative when making tacos, burritos, nachos, fajitas and other great Mexican dishes. Removable, 20-ounce warming hot pot keeps queso, meats, beans, rice at the perfect temperature. Pot can be removed, allowing for easy clean up.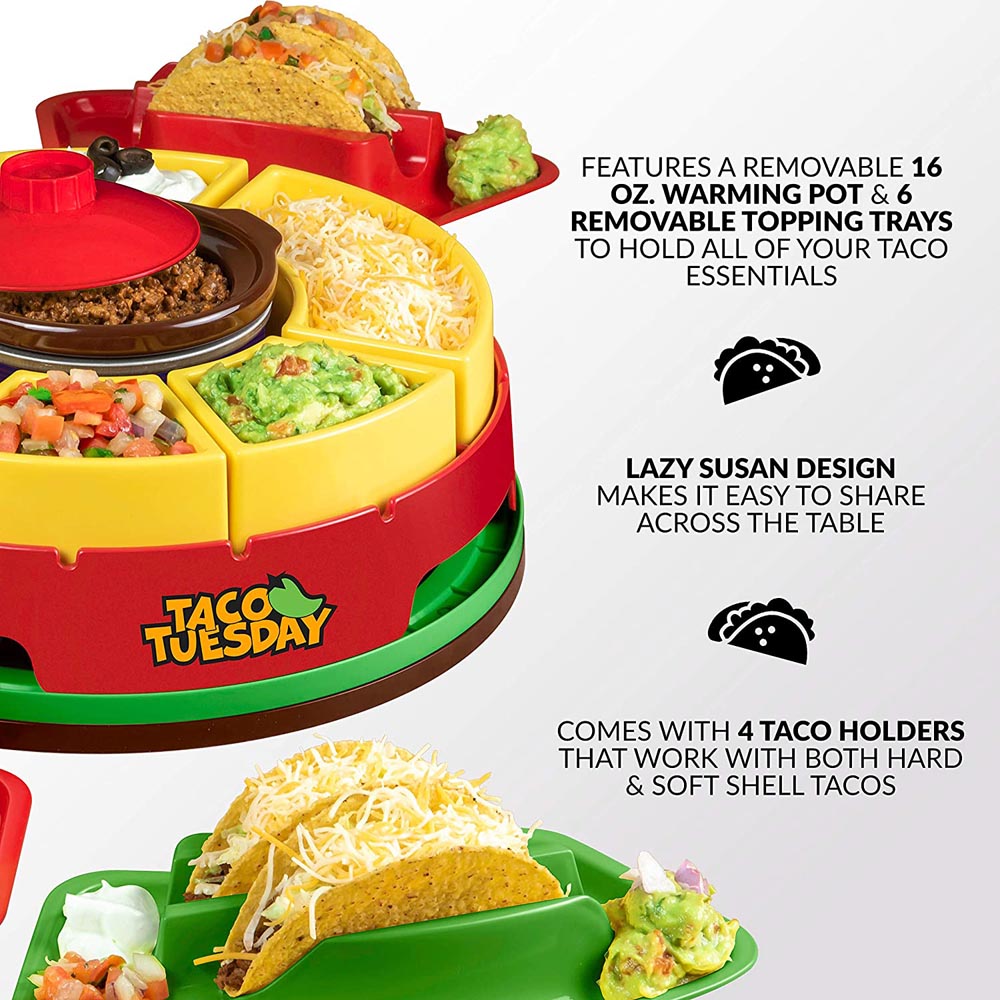 [buy on amazon]
9. Rotating Taco Bar Serving Set
Large round base holds 6 removable bowls: red, orange, yellow, green, blue, purple. You can freely place these bowls according to your needs. The rotating base allows you to quickly access items without getting stuck when turning, and there is a non-slip mat on the bottom.