The use of natural stone has continued to be a popular trend in kitchens, bathrooms, and other areas of the home. Natural stone is beautiful, durable, and can add value to any property. To ensure that your stone counters and other parts of the home remain in good condition and looking their best, keeping them clean and well-maintained is very important. One way to do this is by using natural granite cleaners from time to time. As you are looking for granite cleaner, there are several options to consider.
Rock Doctor Natural Quartz and Granite Cleaner
When looking for the best natural granite cleaner 2021 continues to provide a variety of options. A top option to consider continues to be the natural quartz and granite cleaner provided by Rock Doctor. This is a custom formula that is designed to seal and clean the surface of your stone countertops. The Rock Doctor cleaner is often considered the best option as it contains no ammonia, bleach, or other chemicals that could cause damage to the stone over time or be health hazards. Instead, you will be left with clean counters that shine and will look great for years to come, while also doing what is best for your local environment.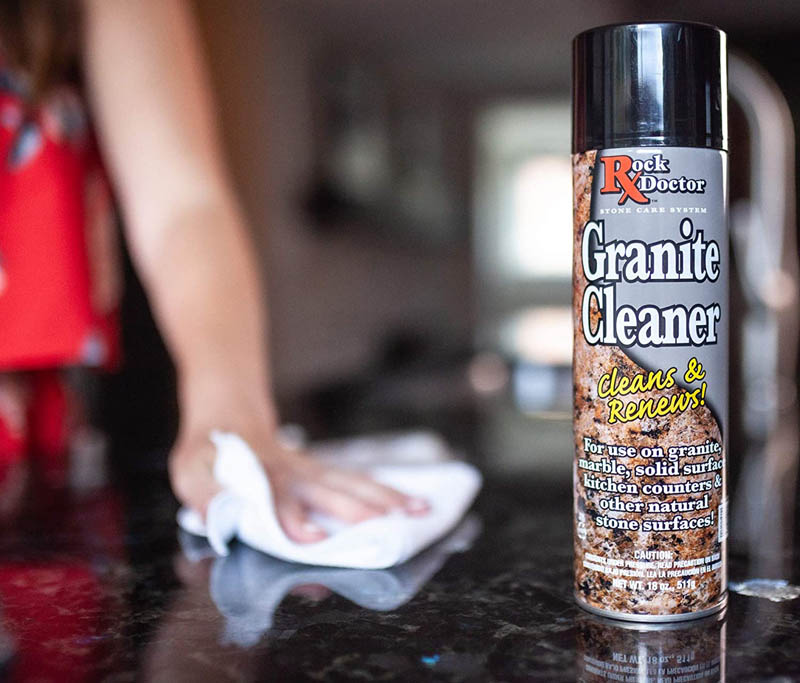 Weiman Disinfectant
Another great product that can help you keep your granite and other stone surfaces clean is Weiman Disinfectant. This product can kill over 99% of all bacteria and other germs on your counters. Through the use of the product, you can also help to make your counters smell their best and you will see a great shine when the job is done. The Weiman disinfectant works well for granite counters, but can also be used for a variety of other surfaces and including slate, limestone, and marble.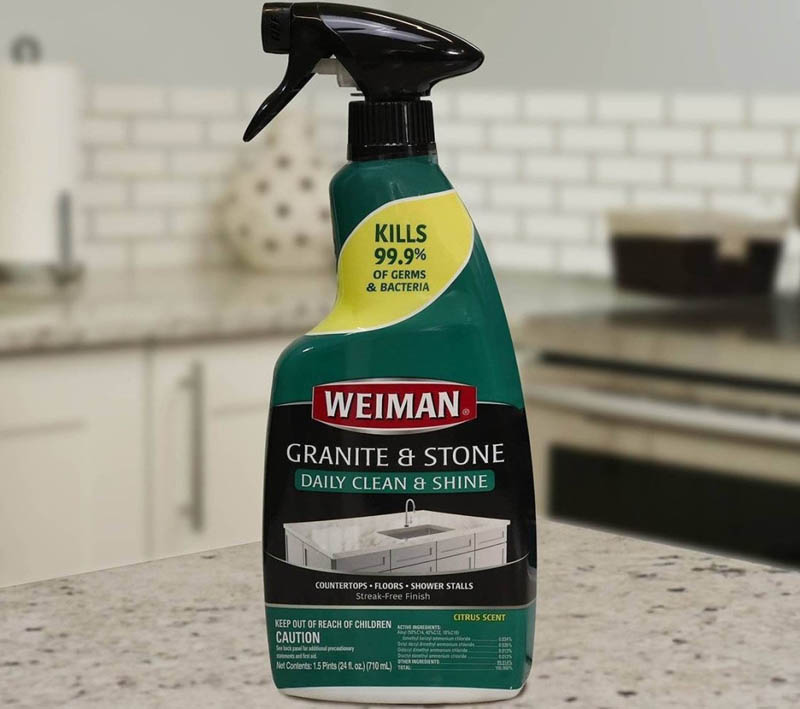 Formula 409
Those on a budget will find that Formula 409 is a good option to consider. This is a stone cleaner that is designed to be used on granite, marble, and other stone countertops. It is an easy-to-use product that comes in a spray bottle and can be wiped up quickly with a sponge. It is effective at killing off all bacteria and germs and will help to maintain and protect your counters going forward.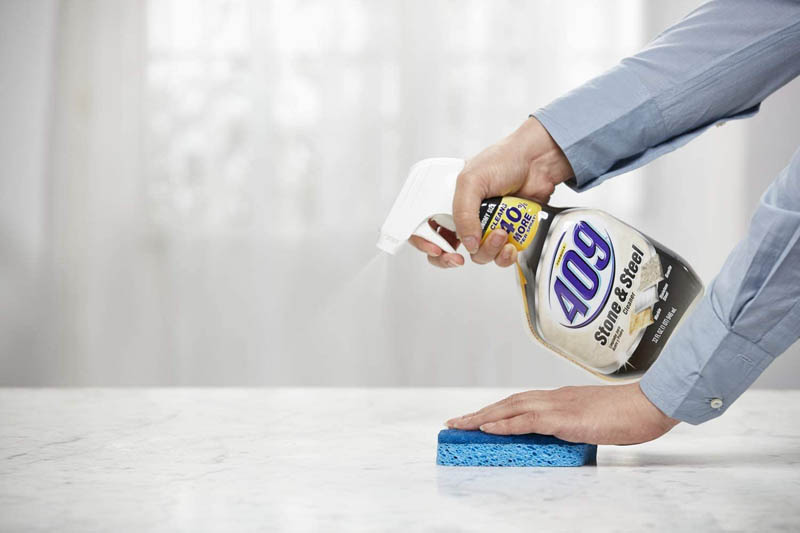 Stone Care International
The granite counter cleaner provided by Stone Care International is also a good option to consider. This is a unique stone cleaner, which is recommended to be used as frequently as once per day. It is a great option to use each time you are done using your counters for dining, food preparation, or other activities that take place during the day. It can help to remove dust, bacteria, and other germs and is designed to prevent streaks from accumulating on the counters.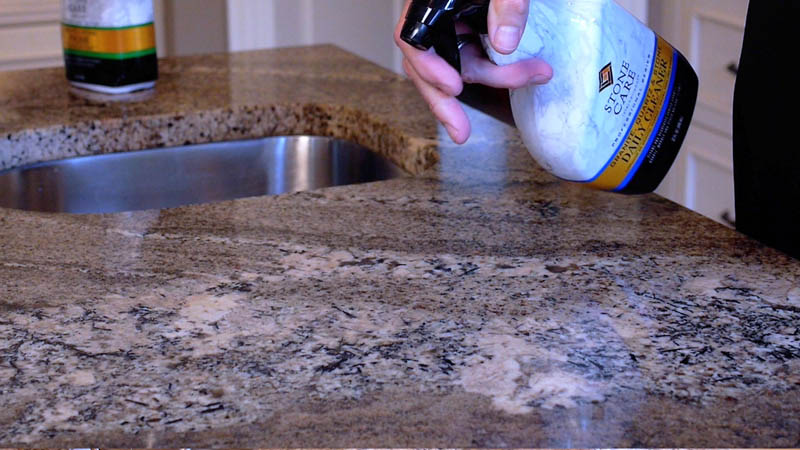 Black Diamond Stoneworks
When it comes to granite and other stone counters, the risk of the sealant coming off should not be underestimated. As this is a consistent risk, picking a product that can also provide a sealant is a good idea. The Black Diamond Stoneworks cleaning spray is a good product to consider as it comes with a built-in sealer, which can also be used to protect your counters and prevent some types of damage. It also can be used to kill bacteria and germs on your counters and will provide a streak-free shine when you are done using it for the day.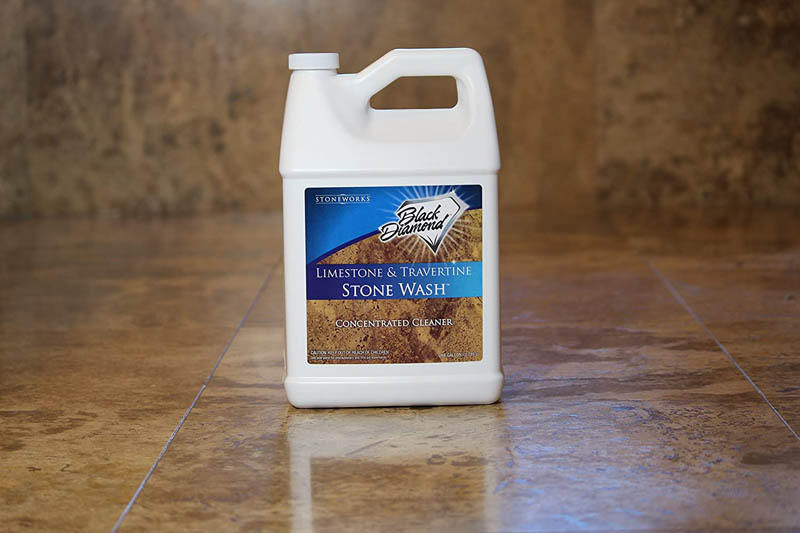 There are various natural stone cleaners to consider when looking to clean and maintain your granite counters. While each is designed to provide great care for your counters, the Rock Doctor granite cleaning solution continues to be a leader. This product is effective at cleaning, sealing, and polishing your counters without using any harmful chemicals or additives.