If you are one of the regular visitors to designswan, you will notice we usually talk about photography on Wednesday. And as the first Wednesday of 2017, we would like to show you some wining photos for animal portrait from 2016 National Geographic Nature Photographer Contest. In below collection, we will see some shocking, stunning and amazing photos of animal. Don't ask me how those photos were taken! Just let's thank those photographer who bring us these incredible images.
1. Moving At A Snail's Pace… – Photo and caption by Samira Qadir
While enjoying the sights of Chicago's Garfield Conservatory found this unlikely traveler taking a closer look at this Bromeliad. Sometimes you have to slow down to appreciate the tiny wonders right in front of you!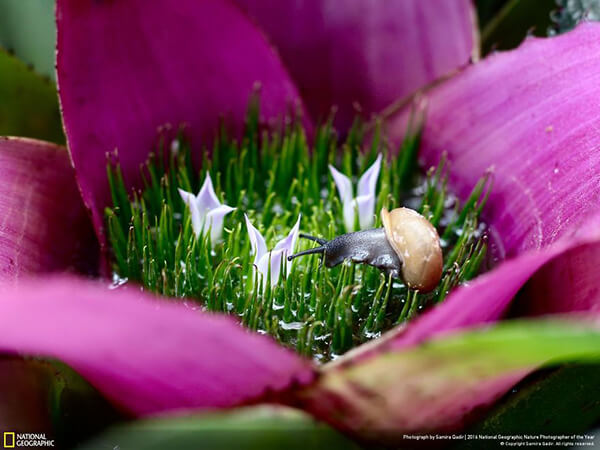 2. DRAGGING YOU DEEP INTO THE WOODS! – Photo and caption by varun aditya
A morning stroll into the blissful forest ! Ceaseless drizzles dampening the woods for 12 hours a day; The serene gloom which kept me guessing if it was a night or a day. Heavy fog, chilling breeze and the perennial silence could calm roaring sprits; And there I spotted this 20cm beauty the Green vine snake ! I wondered if i needed more reasons to capture this with the habitat; For I was blessed to see this at the place I was at. I immediately switched from the macro to the wide angle lens.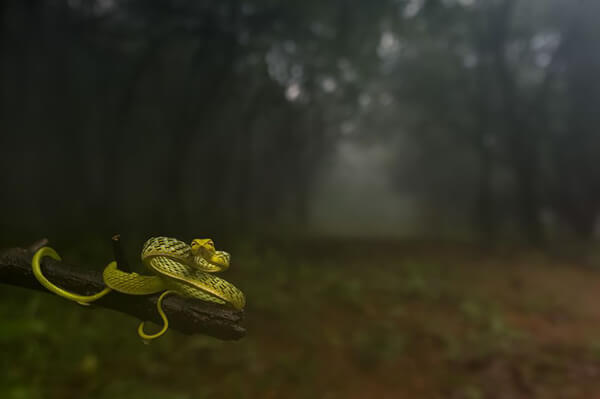 3. Proud Momma – Photo and caption by Michael O'Neill
Fry of a Peacock Bass hover around their mom for protection against predators. Peacock Bass, part of the Cichlid family, exercise excellent parental car and will protect their young against any threat that approaches them. This tropical species from South America was intentionally introduced in South Florida during the 1980s to control the African Tilapia, another invasive species.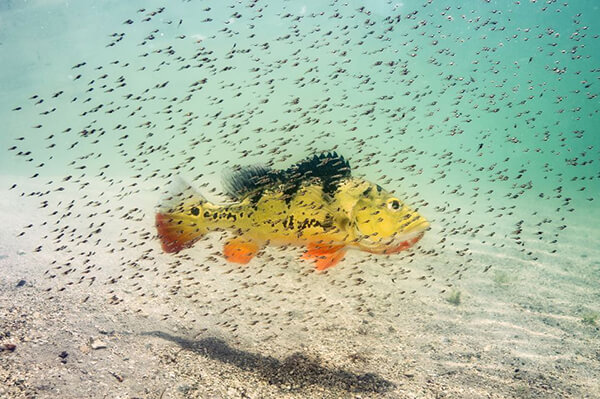 4. Friendship knows no color – Photo and caption by JOSE PESQUERO GOMEZ
'Friendship knows no color, nationality, race and social level,
 friendship knows no age and gender,
 friendship knows no distance' -quoted by Luis A Ribeiro Branco-. This way must be. And this images perfectly could represent that message. Two Empusa Pennata which seem to play a game on the thin plant. Wildlife image and absolutely uncommon to see a couple of this specie together.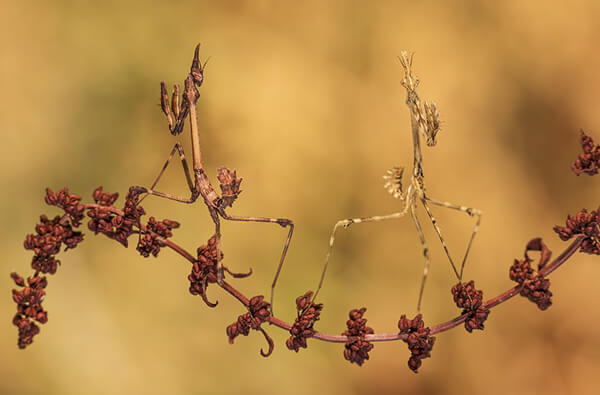 5. Puffin studio – Photo and caption by Mario Suarez Porras
This image was taken last summer on Skomer Island, Wales. It is well known for its wildlife, the puffin colony is one of the largest in U.K.The photo shows a detail or study of an Atlantic puffin resting peacefully under the rain. As Skomer is inhabited, puffins do not feel afraid of humans, and so people can be close to puffins and the photographer can think about the right composition and take this kind of intimate portraits. Also that morning the conditions came together: rain and light.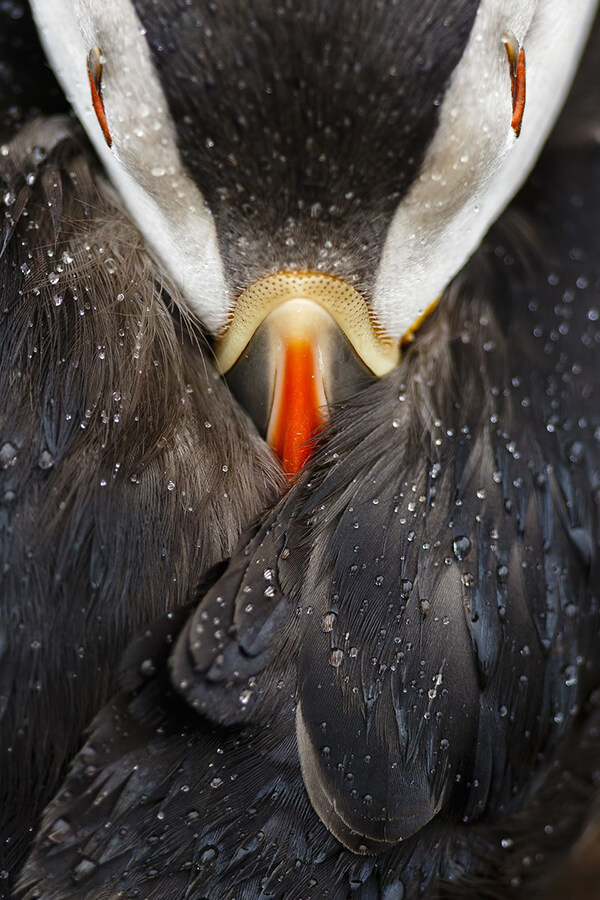 6. Crow chasing Puffy Owl – Photo and caption by CHIA BOON OO LAWRENCE
The Crow saw the Puffy Owl resting and decided to chase away the Owl from its territory.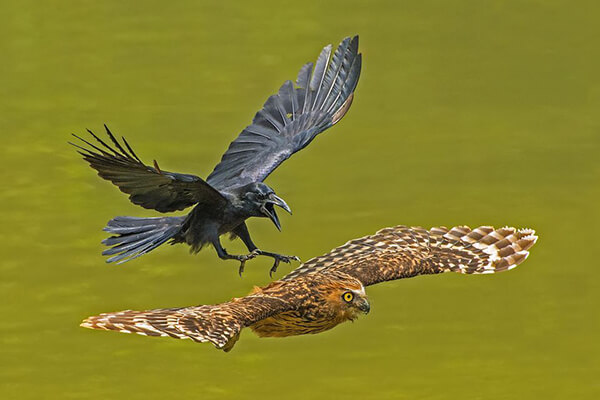 7. Hummingbird – Photo and caption by Emily Riley
A baby humming bird found his way into my home. He was a bit stunned so I let him recoup on our front porch. While waiting for his nectar to cool I captured a few images of him as he came back to his own.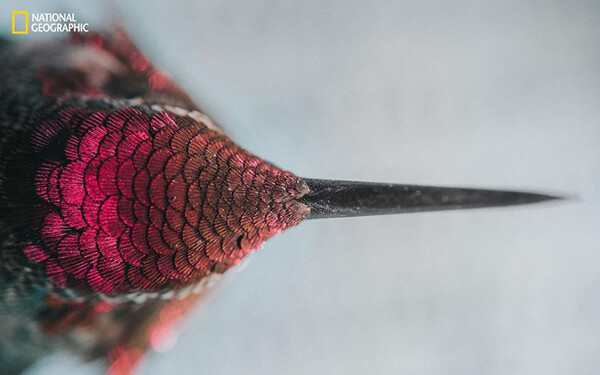 8. Dancing In The Rain – Photo and caption by Vladislav Kamenski
Fox caught in action under the rain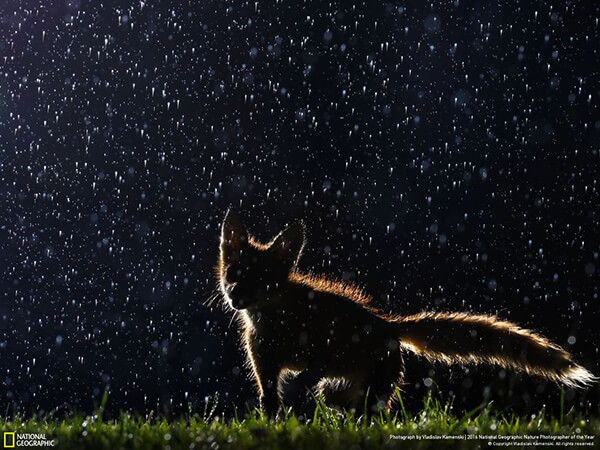 9. Ocean Guest – Photo and caption by Mike Korostelev
Every autumn walruses swim to this rookery place in the North of Russia (Chukotka, Vankarem cape). One day, walking along the beach away from the rookery, I came across a lone walrus, who was sleeping on the shore, its tusks sticked in the sand. I carefully crept up to it and photographed it with a wide-angle lens. At some point it woke up and noticed me.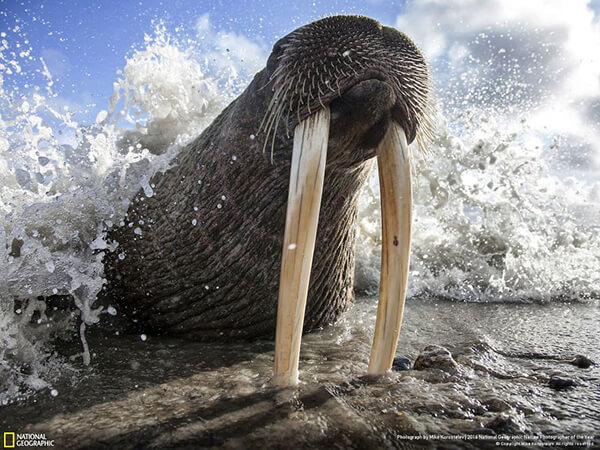 10. Crocodile Waterline – Photo and caption by Brett Lobwein
An American Crocodile on the surface in Gardens of the Queen, Cuba.