Visualizer: Kateryna Titova
We all know color plays important role in interior designs. But for the sake of safe, most of us intend to choice subtle colors. However, creatively colorful and oozing with style, easily making home interiors make an eye-catching statement.
This color-saturated home interior favors two contrasting colors to zone an open-plan living space with bold pizazz. With a contrasting moss green and dusky pink decor scheme, a modern sofa cuts through the colorful interior with fresh white upholstery,
In the living area, two small wooden coffee tables add a natural element to the room and Walnut laminate flooring complements the tone of the tables. Panel molding brings a neoclassical elegance to the moss green walls of the living room. A linear wall light glows warmly against the green backdrop. A wooden media unit draws a low profile beneath the wall mounted TV. Modern wall art is propped casually on top of the unit in complementary neutral tones. Beveled mirrors make a light-reflective wall, which increases the sense of space in the hallway that runs off the living room.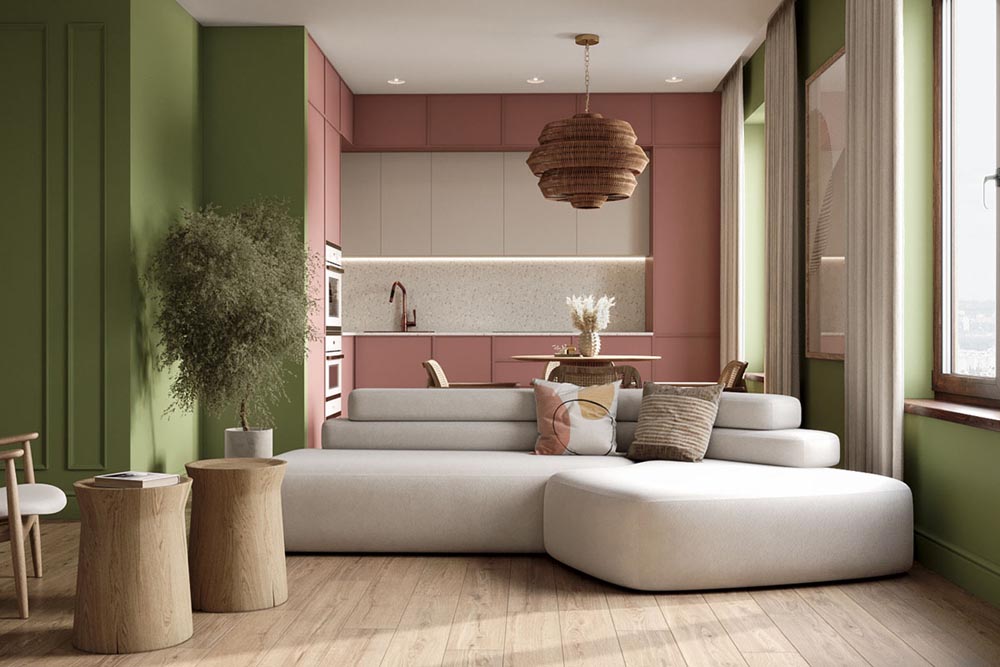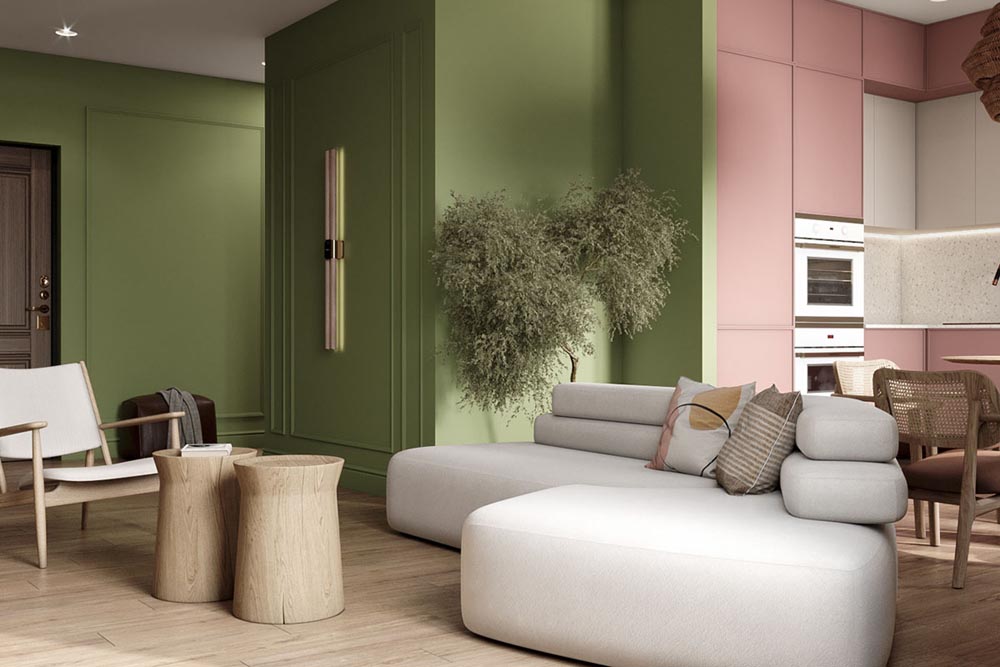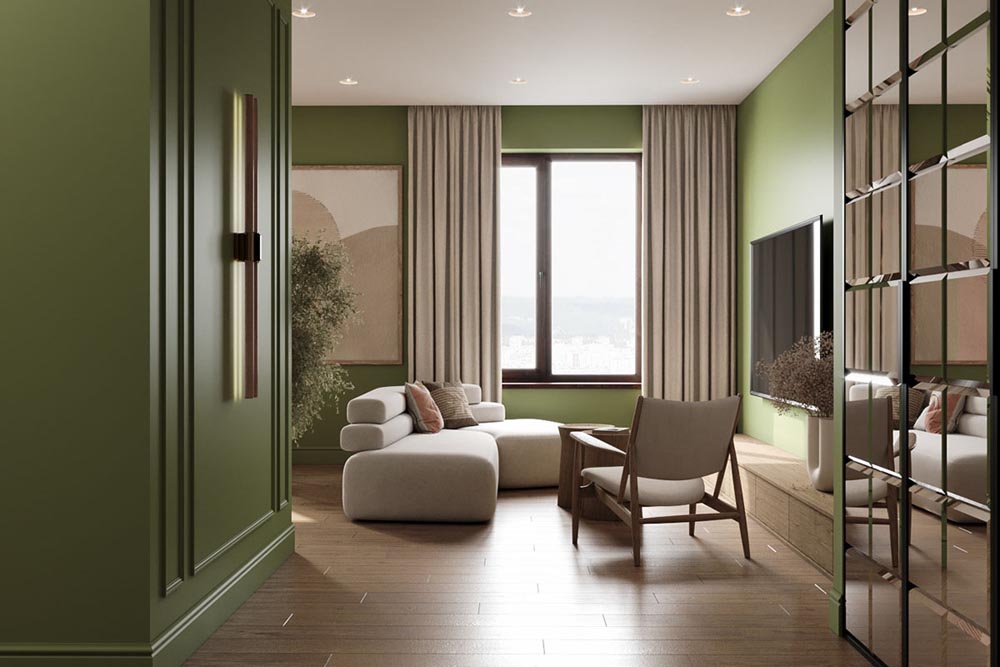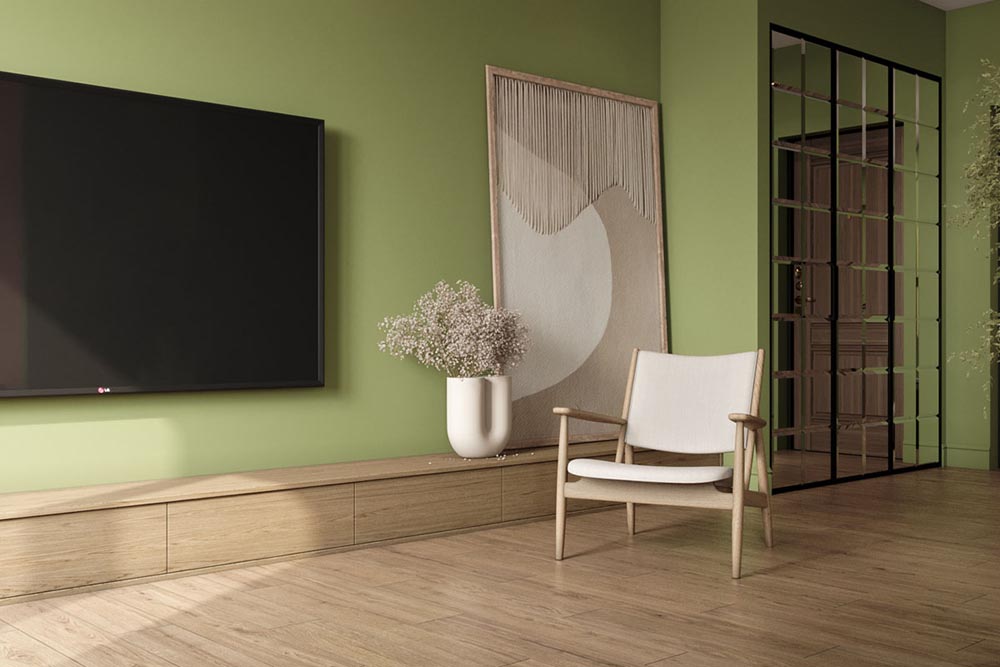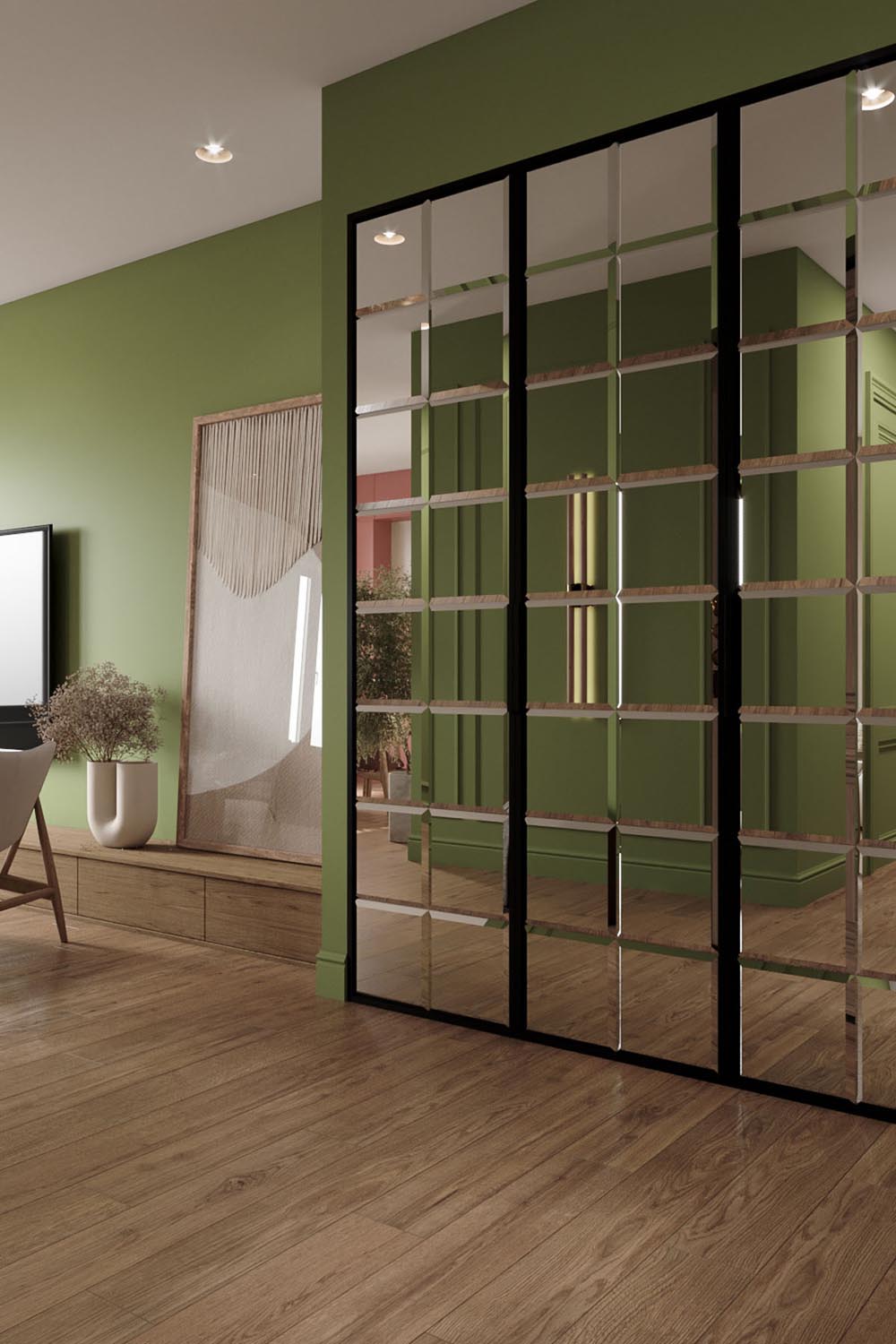 Behind the sofa, a small dining area seats up to four people. Wooden dining chairs complement the round pedestal dining table.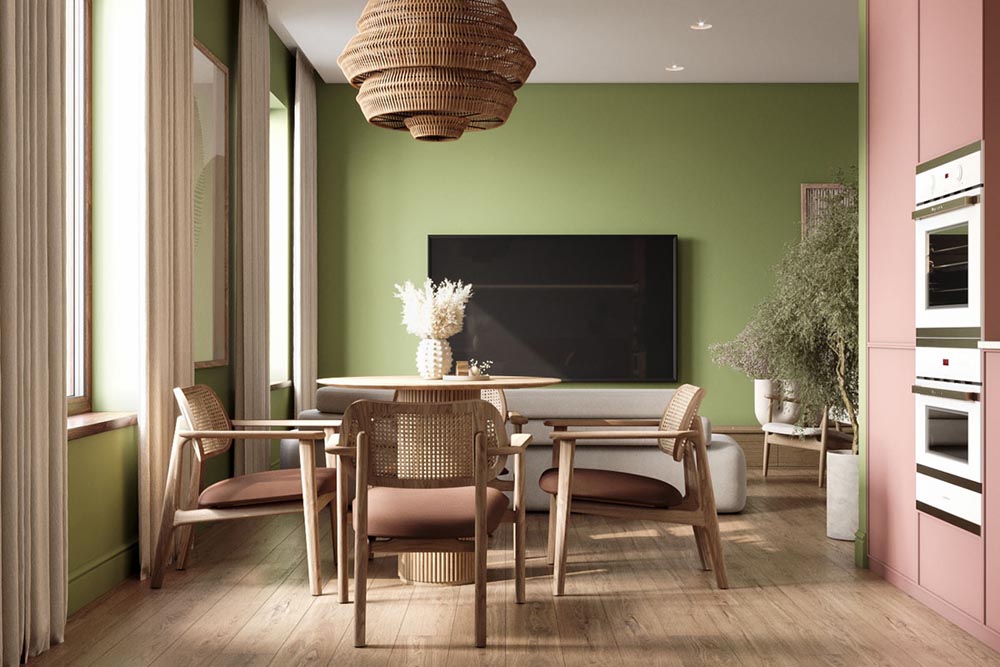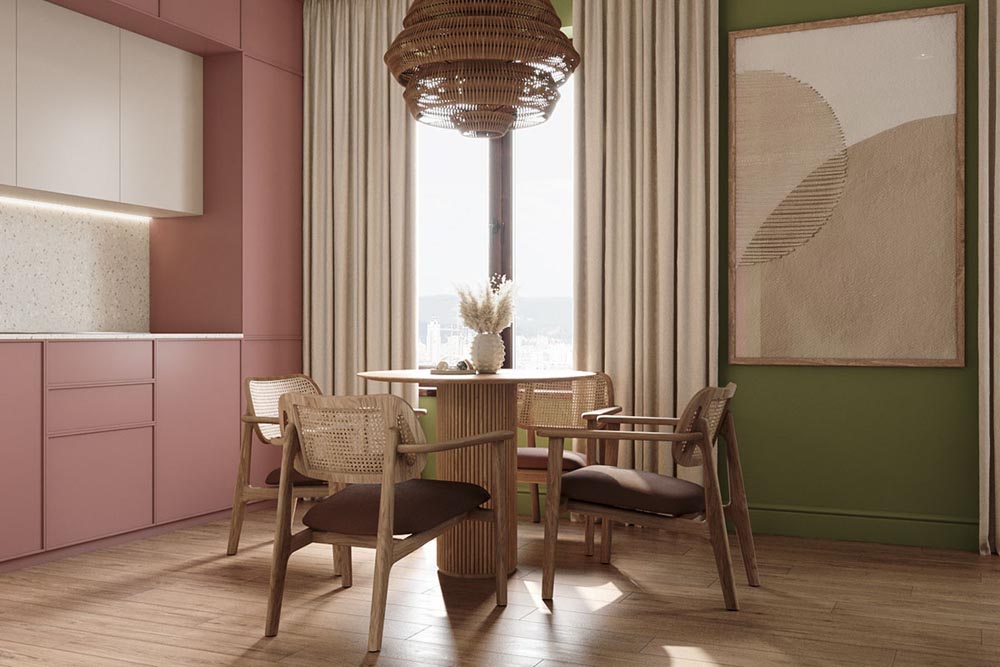 Pink kitchen cabinets bring a playful element to the living room design. Their dusky hue works easily with the moss green wall paint whilst setting a very different vibe. A white countertop, backsplash, and white integrated oven crisply brighten the dusky pink L-shaped kitchen. A row of white wall cabinets keep the kitchen installation looking light and open at eye level.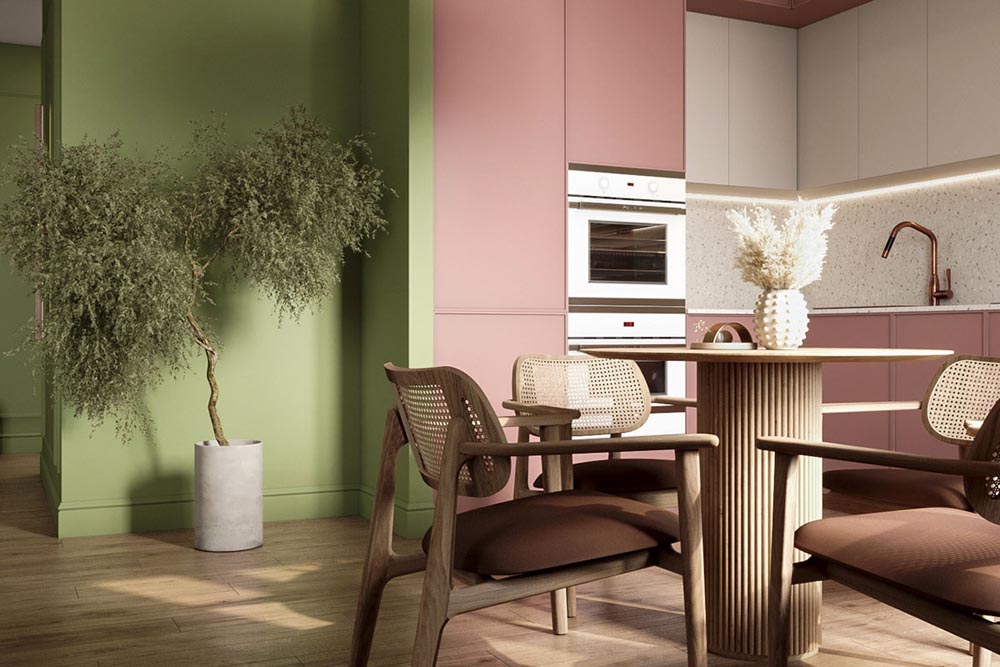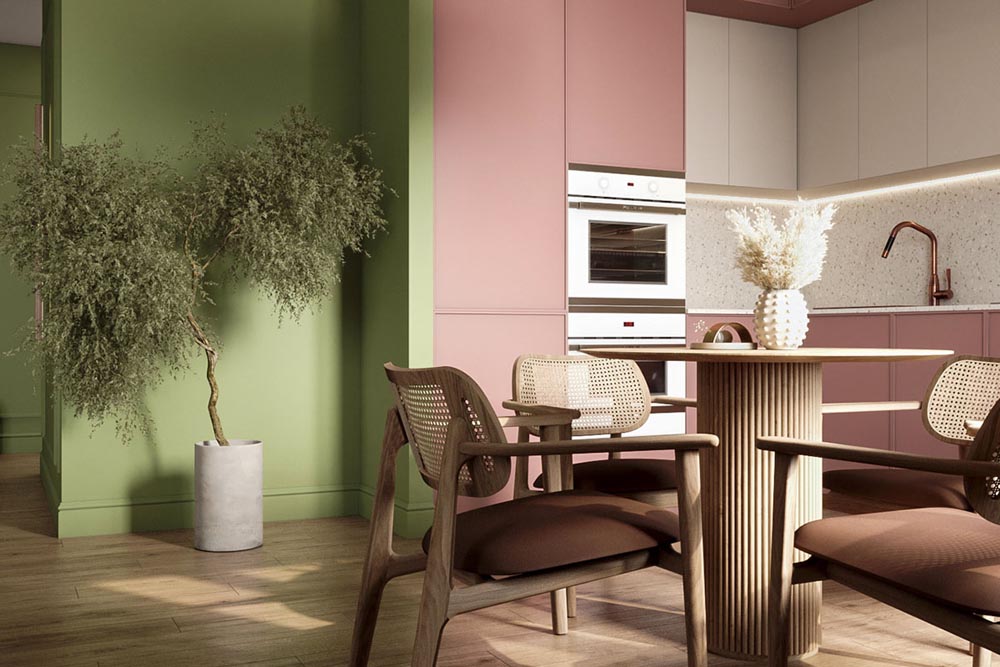 Out in the hallway, a wooden console table draws a fashionable racetrack-shaped silhouette. Another wall of mirrors rises behind the hallway table to create more light where there are no windows. Linear wall lights illuminate the narrow hallway with a cozy glow. The front door stands out in a contrasting dark walnut finish. A brown leather entryway stool smartly matches its hue.