Cute Kids Furniture for your Beloved Little One
Kids room furniture reflects not only your aesthetics sense but provides the right kind of ambiance also. Kids require a lot of storage space to place their toys and playthings. Proper storage ensures safety to the kids as cluttered stuff will hurt them while playing or walking in the room. Here we listed 14 Cute Kids Furniture, all coming with bright color and lovely pattern, which are full of fantasy and wonderful dreams as well as provide enough space for storage. Take a look and hope you get some inspiration of how to decorate your kids' rooms with furniture.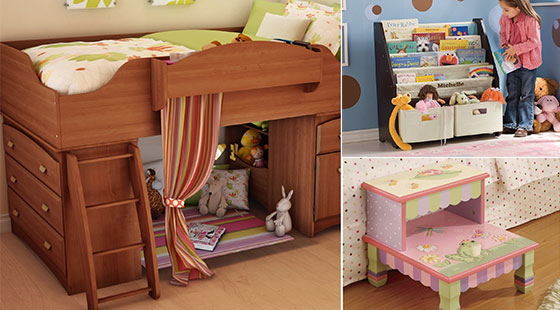 1. P'kolino Tree Table with Zebra and Giraffe Chairs [amazon]
Create a play space where creativity can run wild!
Two chairs are included with the product, but you can always add more.
Suitable for playrooms and bedrooms.
Tested for stability.
Materials: Fiber board with wood veneer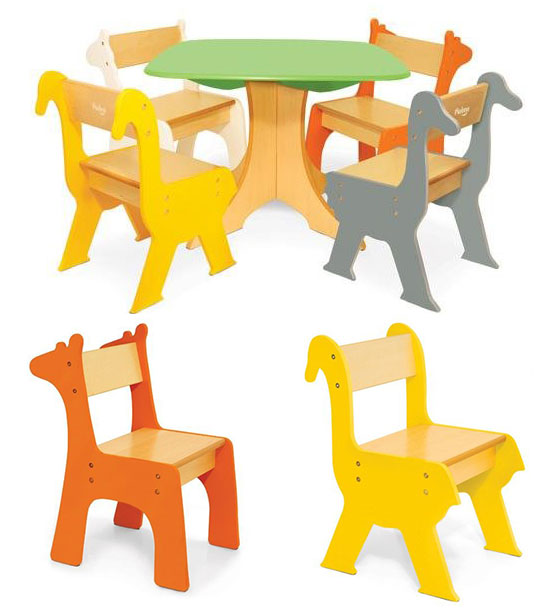 2. Safari Wall Hooks [amazon]
Mounts to wall for hanging coats, backpacks, and more! Colorful, animal silhouettes make for a playful yet sophisticated design. Suitable for playrooms and bedrooms.
Suitable for playrooms and bedrooms.
Tested for stability.
Materials: Fiber board with wood veneer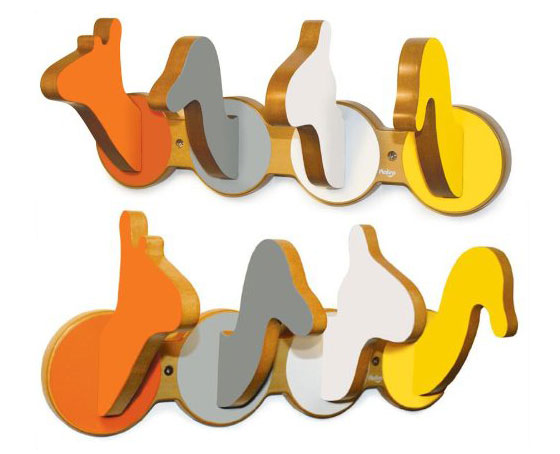 3. P'Kolino Clothes Tree [amazon]
Stylish-functional décor
No-assembly
Branches for different age groups
Very stable
No sharp edges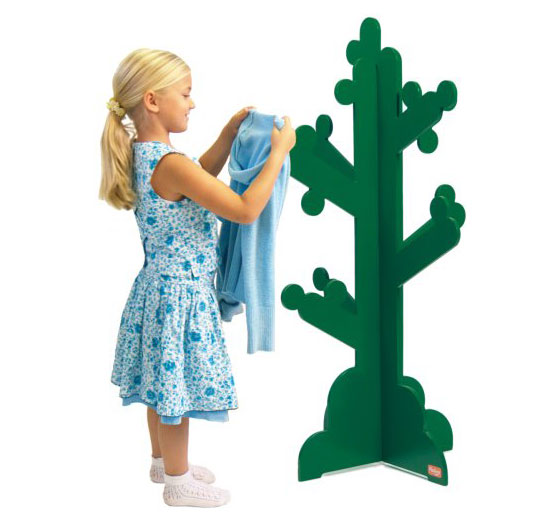 4. Kids' Sling Bookshelf with Storage Bins [amazon]
Encourage a love of reading, with our kid-friendly sling bookshelf! It displays books face front, attracting young readers, and the soft, polyester oxford shelves give little hands easy access. We anchored the shelves so they won't shift and staggered their depth to hold all size books. Plus, we added two roomy storage bins! 29 1/4″L x 13″W x 31″H. For 18 months and up.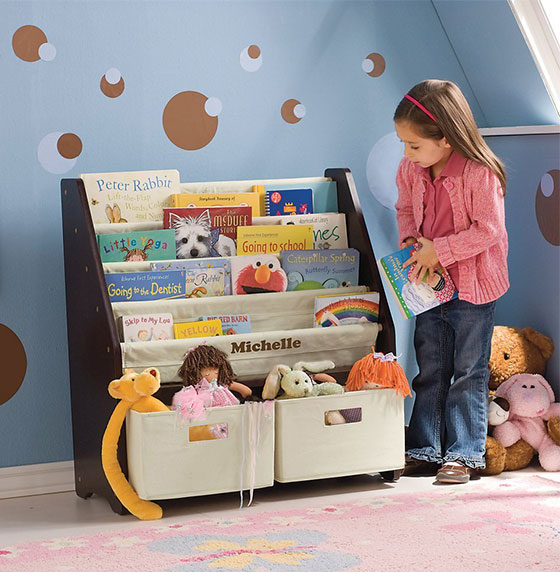 5. Step2 Deluxe Art Master Desk [amazon]
Features large work surface with molded-in compartments and hinged dry-erase writing surface that wipes clean easily and opensto storage area underneath
Item includes one New Traditions Chair
Includes a push-button light, and its raised shelf keeps art supplies organized
Its four large bins hold art supplies within easy reach
Vertical compartments store coloring books and tablets, while its coloring coordinates with playrooms and bedrooms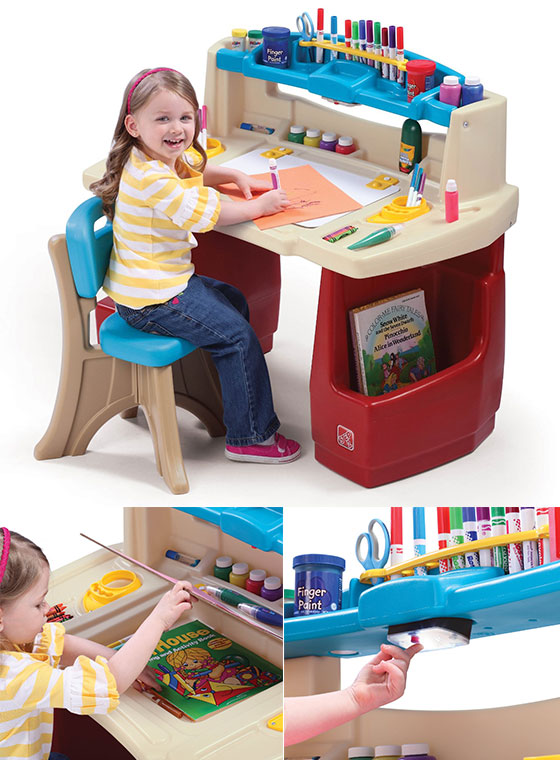 6. Sesame Street Multi Bin Organizer [amazon]
5 fabric storage bins
Cars Toy Organizer has multiple bins that feature your child's favorite Disney Cars characters
Bottom tier is a toy box for convenient storage
Some assembly required, Cars Toy Organizer meets all JPMA safety standards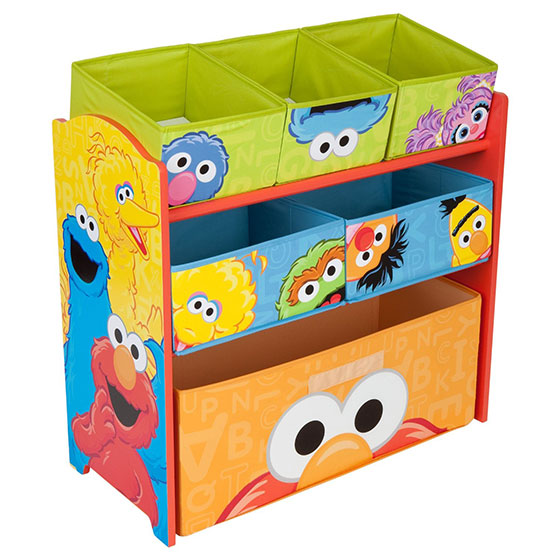 7. Book Shelf – Garden Collection [amazon]
Teamson Kids – Children's Magic Garden Book Shelf. Hand painted. Hand carved. Decorative as well as functional. Coordinates with a set. Sturdy and high quality.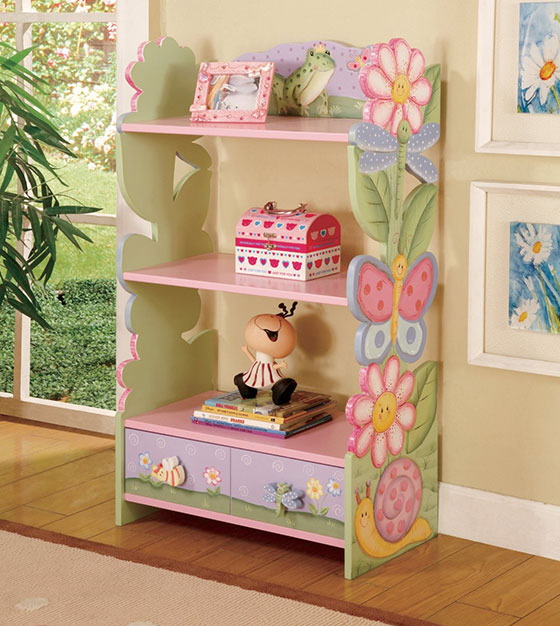 8. Valet Rack including 4 Hangers [amazon]
The Magic Garden Valet Rack is part of an expansion of one of Teamson's best collections – when your children come into their room and get ready to play with their toys, have them hang up their jacket and accessories on this cute hand painted and hand carved valet rack!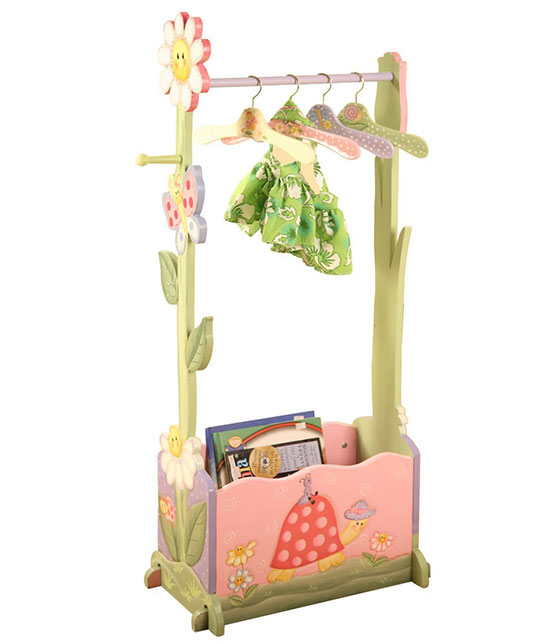 9. Toddler Bed and Chair [amazon]
A toddler bed, a chair, and back again
Perfectly sized for little ones, it fits any standard size crib mattress
Equipped with side rails to prevent rolling out
Constructed of the same quality wood and protected with a clear finish this stylish bed is parent approved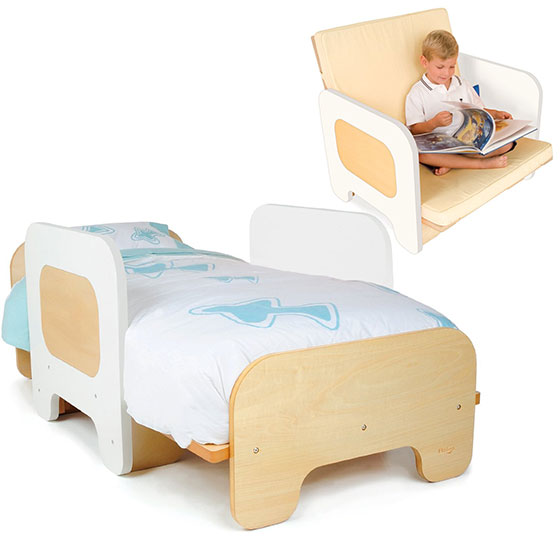 10. Klick Desk [amazon]
This playfully smart children desk and chair set is a "perfect fit". With ample working and storage space, the P'Kolino Klick is perfect for children. With its ability to cleverly minimize, and thus maximize the home aesthetic, it is perfect for moms and dads. The P'Kolino Klick is the perfect desk for children ages 3 to 7. With an ample working space for paper, books and puzzles, it is ideal for project based learning or the budding artist. The padded seat is an optimal 12″ high with enough storage under the seat for the most prolific Picasso.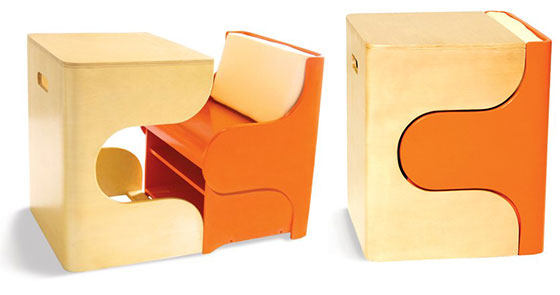 11. Silly Soft Seating [amazon]
This modular Silly Soft Seating is compromised of three soft, sturdy, lightweight pieces that can be configured in a myriad of ways; from seats of varying height to tiny tables.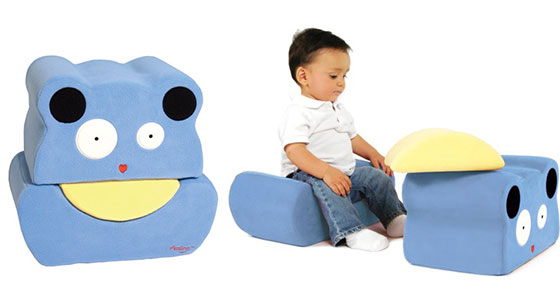 12. Step2 New Traditions Table & Chairs Set [amazon]
2 years & up. The unique "X" design legs provide superior durability and stability while . Includes table and two chairs. Chair holds maximum 75 lbs. Seat height 11″. Minor assembly. Table: 20″H x 30″W x 30″D. Made in the USA.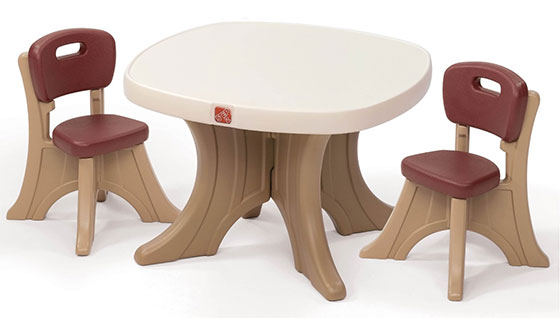 13. Step Stool – Garden Collection [amazon]
Children's Magic Garden Step Stool. Hand painted. Hand carved. Sturdy and high quality. Coordinates with a set. Decorative as well as functional.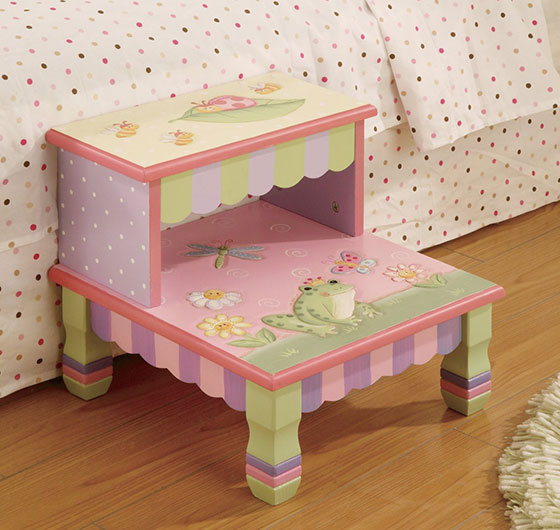 14. South Shore Loft Bed Imagine Collection [amazon]
This loft bed is a great solution for optimizing space in small bedrooms. It has been designed to be both safe and practical, with lots of storage space. It is composed of a 3-drawer chest, a top bed with its ladder, and a storage unit with a door, drawer and a toy box.