Imagine you are a developer. You can make the game of your dreams. And for this, you don't need to pay for programming courses or an internship — you just need to buy a game that teaches you how to make other games. The idea isn't new: we've already taken apart Dreams and impersonated Miyamoto in Super Mario Maker 2, and now, it's time for something new: Game Builder Garage. This novelty from Nintendo allows you to "program" your creations without burdening yourself with the details of game development. Now, you can create new games yourself or play on Game Karma.
An Interesting New Product
This is really interesting because no one knows how to present material as accessible as Nintendo. Ever since the release of the first Mario Maker for Wii U, I've been praising the game's interface, which turned the tedious process of pixel building into something exciting. The same UI, in a sense, can be seen in Game Builder Garage. Pleasant colors, intuitive controls, and a minimum of distracting garbage are really cool, and that's how it manages to lure even those who turn away from games at the first hint that they're trying to teach something. This is where Dr. Kawashima's Brain Training is envious.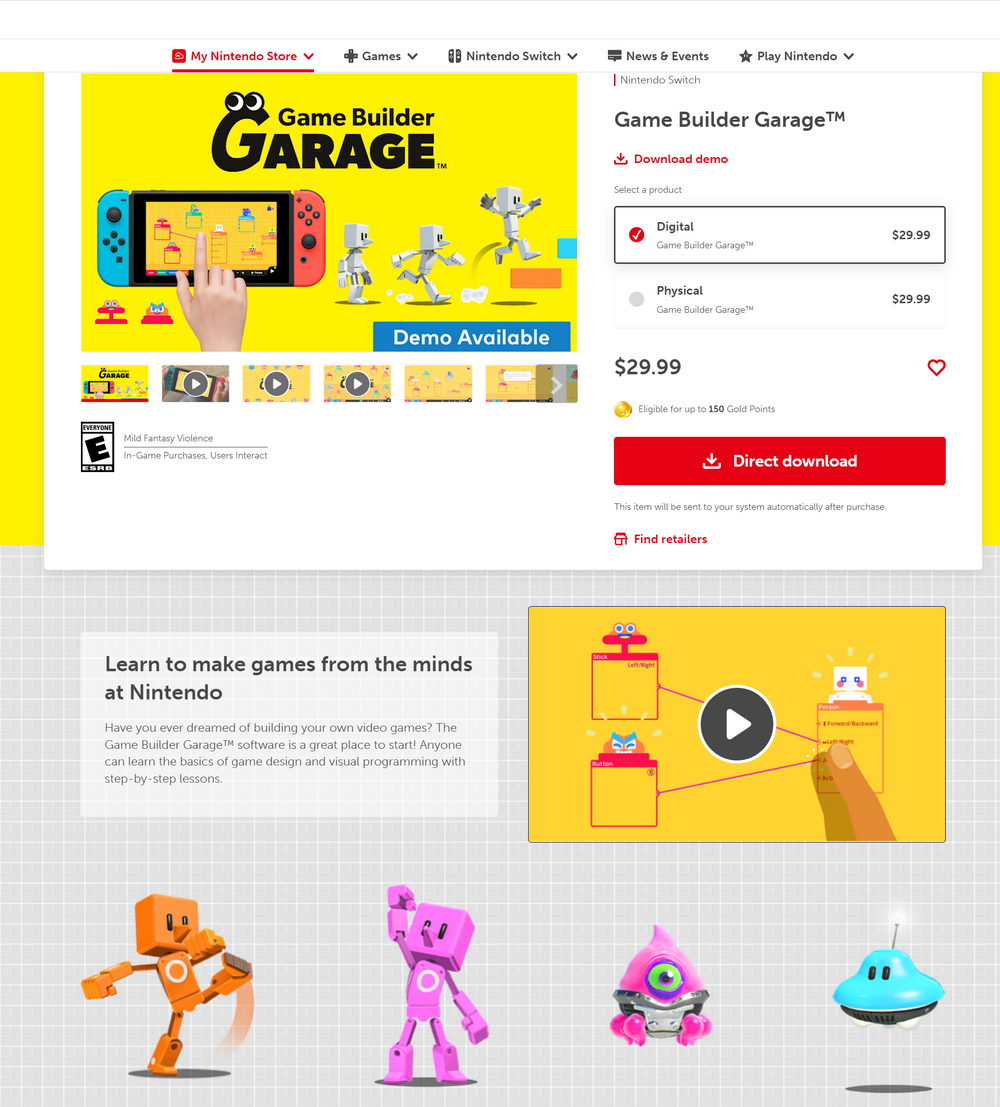 What Is It, This Creation?
Game Builder Garage is divided into two parts: interactive lessons and free programming. In the first one, a certain Bob conducts lessons that gradually allow you to immerse yourself in the world of programming. I think it's no secret that development is a tedious process and even frightening, especially for humanitarians. Therefore, the first hours of the game and the availability of tutorials are very important.
The World of Programming Is Now Open to Everyone
Perhaps, it is difficult to imagine a more accessible introduction to the world of programming. From the very beginning, you will be doing mini-games. No code — only visual learning. There are no mistakes here since you can only edit what is needed. Everything is "on rails," and no one will feel like an idiot. How to learn something here? Repetition is learning, as they say. In Game Builder Garage, you will do the same thing many times until you remember the whole sequence of actions. Until a platform of the right color appears and your dummy learns to move in 3D space. Or until the car goes on the track. Or until the space shuttle takes off into the sky. Do whatever you want. And, most importantly, study.
Well, lessons are lessons; this is nothing more than an introduction. But "free programming" opens true freedom of creativity. If the tutorials seemed childish and too simple to you, this is where you can leave. There is a sea of possibilities here, much more than I expected. Here, you can even try to make your own textures! However, in other places, there is no freedom — for example, it will not be possible to make your own character model.