If riding a motorcycle doesn't make you stand out on the street, now you can wear these unique Predator style motorcycle helmets to really turn some heads on the highway. Inspired by the look of iconic creature from the Predator movie, this incredible looking are handcrafted out of composite materials and carbon fiber by company called Nitrinos in Russia. Not sure about how good protection it offers, check the video at the end of post and find out how they product it. And here are some general information.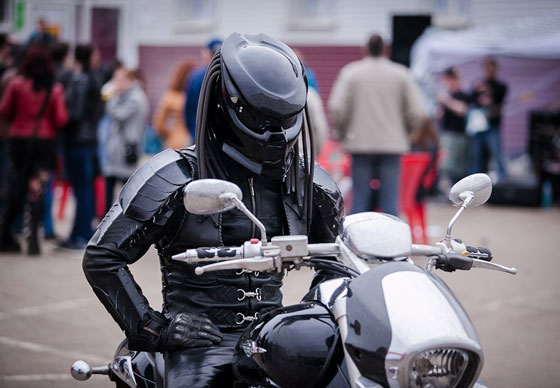 Here are some specification of it:
A helmet is made of composite materials strengthened with carbon fiber.
The inner damping layer is borrowed from IXS 540 Helmet.
The shield is replaceable and it could be changed for tinted and also specular shield.
The two-channel adjustable ventilation is implemented into the "Predator 2"as it deals with head cooling.
The weight of the helmet with dreads is 1 790 g.