Best Swimming Pool Designs, Tips and a Whole Lot More
Pools are more than just an oasis of fun and splatter for you and for your family. More often than not, it can also be a place of retreat, self-expression, and relaxation. If you are reading this, you probably agree with everything that's said so far. And chances are, you already think what your next project — a swimming pool — would look like.
Well, while a little ad-libbing here and there is not bad, undertakings like these are better off planned because it would be too costly to make changes in the middle of the project. After all, you don't want to be looking at your backyard and shake your head in dismay every single time.
Here are some tips to keep in mind before designing your pool: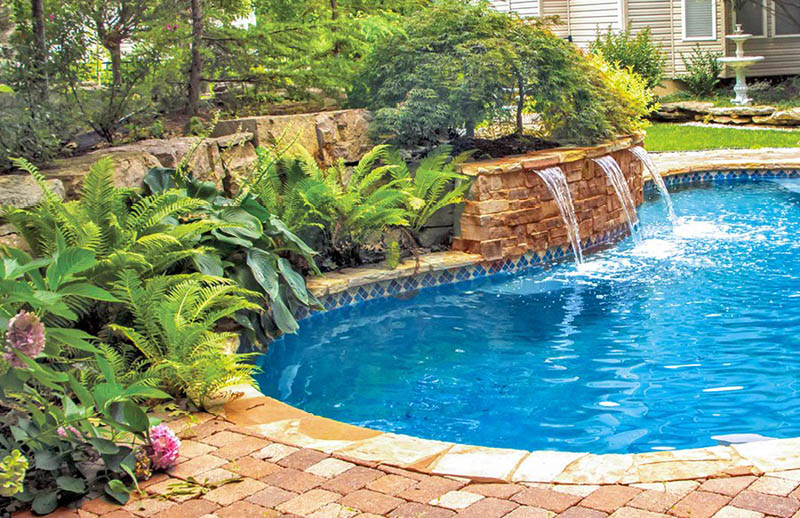 Tips for Pool Design According to Professionals
1) Show off your swimming pool
As for the location of the swimming pool, it's better to think of it as part of your landscape. As such, you want it to be the center of attention, perhaps making it visible from your house. Aside from being the centerpiece, it should be located where there's plenty of sunshine and where it can be seen as an "accessory" even when it's not in use.
2) Consider what the purpose of the pool is
As mentioned at the outset, families view their pool in different ways. Some simply like to lounge, others as part of their exercise routine, and many consider it as a hangout for the kids and family. Whatever the purpose of the pool is, it should be designed as it should. This way, you can brainstorm with your contractor if you'd need a bench, how shallow the pool should be in the middle, etc.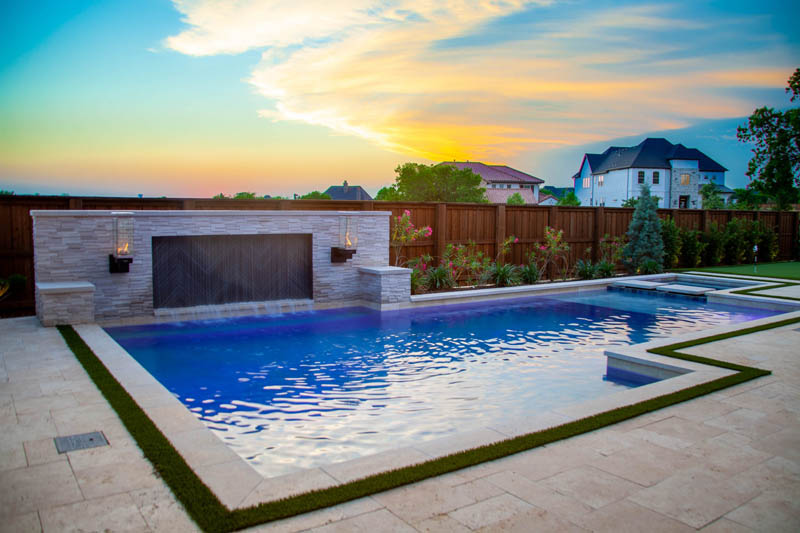 3) Choose deck materials that remain cool under the heat of the sun
The best spot for a swimming pool is under the sun, so it's better to choose deck materials that stay cool. The lighter the color shade is, the lower is its heat retention. You don't want to sit on a swimming pool deck and burn your butt and back, do you?
4) Choose cheap and sturdy pool furniture
As far as pool furniture goes, practicality is the name of the game. This is not where you spend an insane amount of money for things that you'd left sitting outside. Plus, a pool crowded with furniture can take away the relaxing aura. Choose furniture that's cheap, strong, and low-maintenance. There's no need to be fancy here; just go with something simple and classic.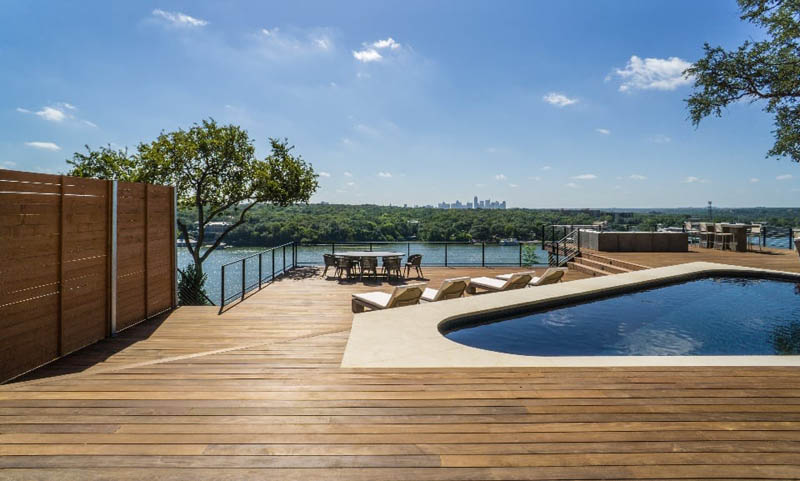 5) What should be the shape of your pool?
Architecturally speaking, the best pool shapes are rectangular. It's easy to incorporate into the landscape, and it works best for swimming laps, playing games, and so on. While certain shapes could work depending on the backdrop, the rule of thumb is not to get too fancy with it.
Another advantage of rectangular pools is that it's easy to clean using a robotic pool cleaner such as the Dolphin pool cleaner. This detailed source should be helpful to know the best pool cleaners according to your needs and budget. Some of these robotic pool cleaners work well enough to navigate around pools that have an unusual shape, but to be on the safe side, "rectangle" is the choice.

6) Chlorinated vs Saltwater vs Bio Pools
The pool water system of choice for many is using chlorine. Although some complain of its strong chemical scent, the system has considerably improved over the years. Moreover, it is easy to maintain, relatively inexpensive, and may still work on colder summer days,
Saltwater systems do not actually use seawater but utilize a process called electrolysis to convert salt into chlorine. This system only allows enough chlorine to be converted to clean the water, so it's generally devoid of that heavy chemical smell and is much gentler on the eyes and skin. The downside of a saltwater system is that it requires a higher initial investment, and if something goes awry, only a licensed technician could repair it.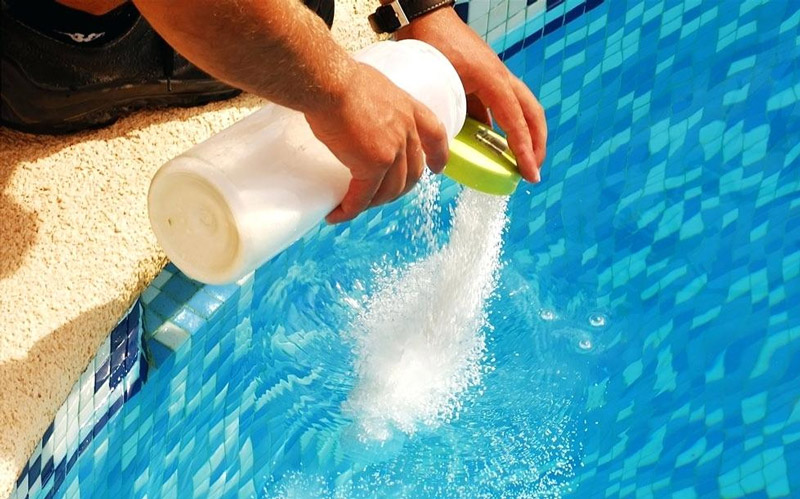 Lastly, natural pools are imitations of freshwater bodies found in nature, such as a pond. It is more environmentally friendly and easier to maintain, but you may have difficulty finding a contractor to build you one because it's an unusual setup. And like a saltwater system, it takes a higher initial investment before you can see the benefits of low maintenance.
Whatever you decide on, be sure that you are informed of the pros and cons of each water system.
7) Choice of Plants to Put Near a Swimming Pool
It's not entirely wrong to put plants around the swimming pool. Only, you have to choose the right type. It is advisable to use ornamental grasses such as fountain grass or foxtail grass. They do not generally contribute debris to the pool and their billowy nature adds a touch of art to the surroundings. Do not put spiky plants or trees with big leaves that drop endlessly into the pool.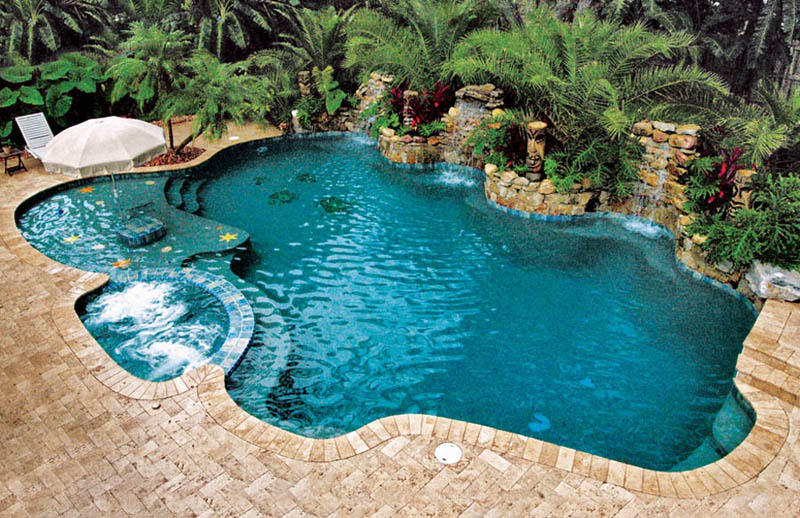 Other Pool Shapes and Styles
Infinity Pools. Infinity pools are breathtaking. Some of the world's most fabulous pools boast this design. For instance, some of the best hotel pools, such as the Marina Bay Sands of Singapore, follow the infinity pool style. The Marina Bay Sands infinity pool overlooks 500 feet of dizzying city view.

But, and it's a big BUT, it does not work with everything. Infinity pools are best for homes that overlook natural scenery such as mountains and oceans or are located on a rooftop, as in the case of the Marina Bay Sands. If your area is located in the lowlands, there really is no point to it.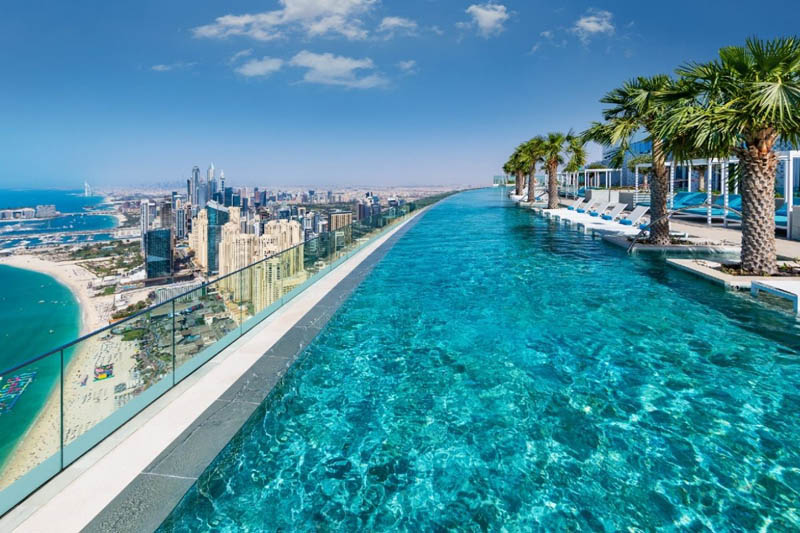 Freeform Pools. Freeform pools are shapeless and can have contours that defy geometrical laws. Since
this pool shape is basically formless, it is best for tropical or rustic surroundings that mimic a pond or a property with an asymmetrical area. If the said area is already developed, the swimming pool contractor could just build it based on what's already there.

Geometric Pools. Let's differentiate a geometric pool from the aforementioned rectangular pool. When we say a "geometric" pool, it refers to the pool's overall theme. It has definite corners and no contours. Its common features such as edges, bubblers, and spillages are either rectangular, triangular, or something based out of a multi-sided shape.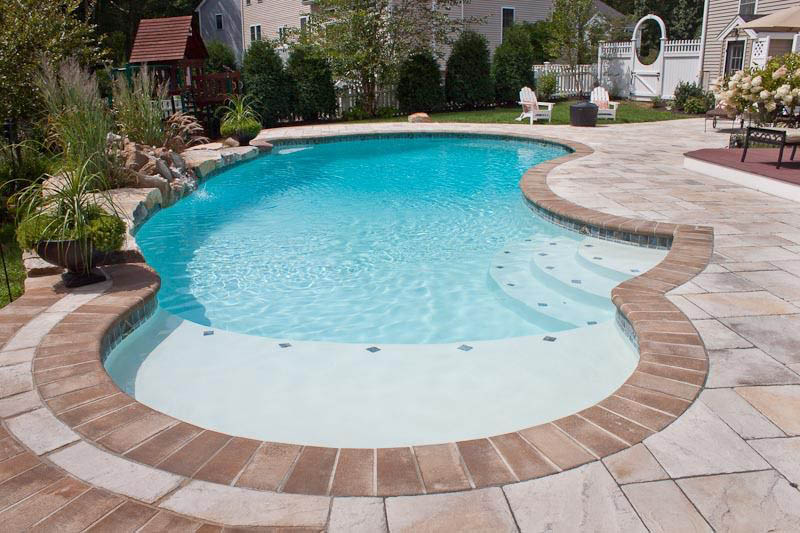 Kidney-Shaped Pools. Kidney-shaped pools have gained popularity over the years, and why not? It also
goes well with different architectural styles and looks good as an indoor pool design.
Greco-Roman Pools. Greco-Roman pools are just rectangular pools going nuts. Its foundational shape
is a rectangle, but the edges branch out in styles that make it completely unique. More often than not, the corners of the Greek-style pools are modified while the Roman-style rounds out almost the entire edge.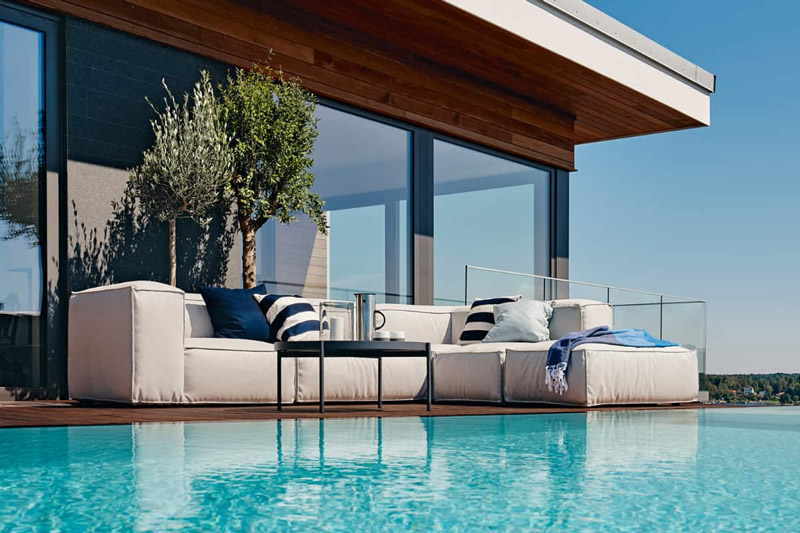 Conclusion
Swimming pools are a wonderful investment for you and your family if you can afford one. There are endless designs that match your preference, architecture, and budget. If you put a premium on convenience, you can also choose a style and shape that works well with most robotic pool cleaners. Whichever you choose, be sure to make a choice that puts a smile on everybody's faces.