Get ready to spice up your hotdog game with these incredible hotdog gadgets! You might be wondering, "Why do we need gadgets for hotdogs?" Well, hold onto your buns because these innovative tools are about to take your hotdog experience to a whole new level of deliciousness. From slicers that create perfect toppings to grill rollers that ensure a juicy bite every time, we've rounded up eight amazing gadgets that will make you the ultimate hotdog hero. Say goodbye to boring old hotdogs and get ready to unleash your inner culinary maestro with these must-have hotdog gadgets!
SLOTDOG – Hot Dog Slicing Tool
he Patented SLOTDOG slicing tool slices perfect criss-cross slots into your Hot Dog that expand while cooking. Smoke and Grill Flavor penetrate deeper. Juicy diamonds with crispy caramelized edges grab hold of toppings, seasoning, rubs and sauces for a flavor infused experience. SLOTDOG has Durable Precision Steel Cutter Blades and it's easy to clean.
Curl-A-Dog BBQ Spiral Grilling Hot Dog Sausage Slicers
The Curl-a-Dog is the best New way to do hot dogs. This spiral slicer creates grooves in your dog that keeps your toppings locked in place and also gives you nice, evenly charred edges for that perfectly grilled taste.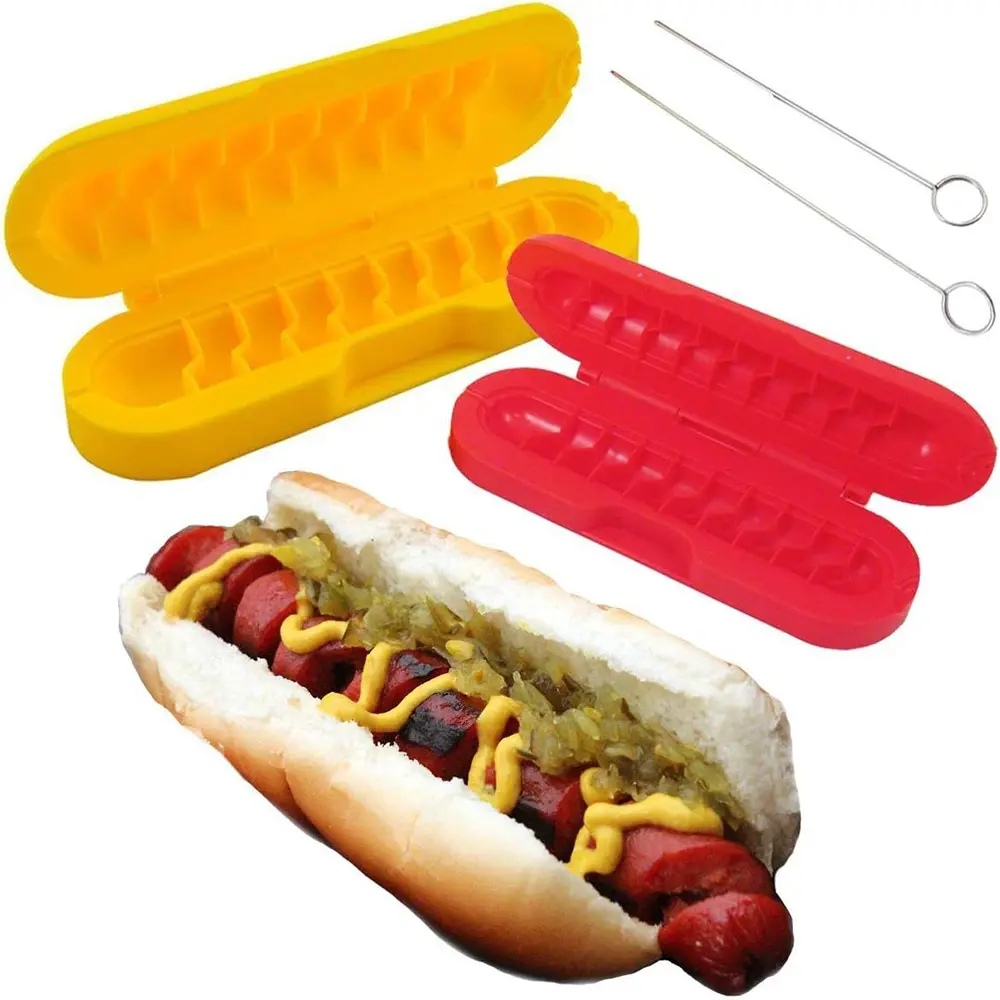 [buy on amazon]
2PCS Spiral Hot Dog Slicers
This clever tool slices any wiener into a perfect spiral, allowing for speedier, more even cooking. Just slide them over your favorite sausages and twirl for that perfect slice. Whether it is bratwurst or frank, your dog will turn out crispy and perfectly garnished. Set of 2 with different size, Suitable for cutting most sausages available on the market.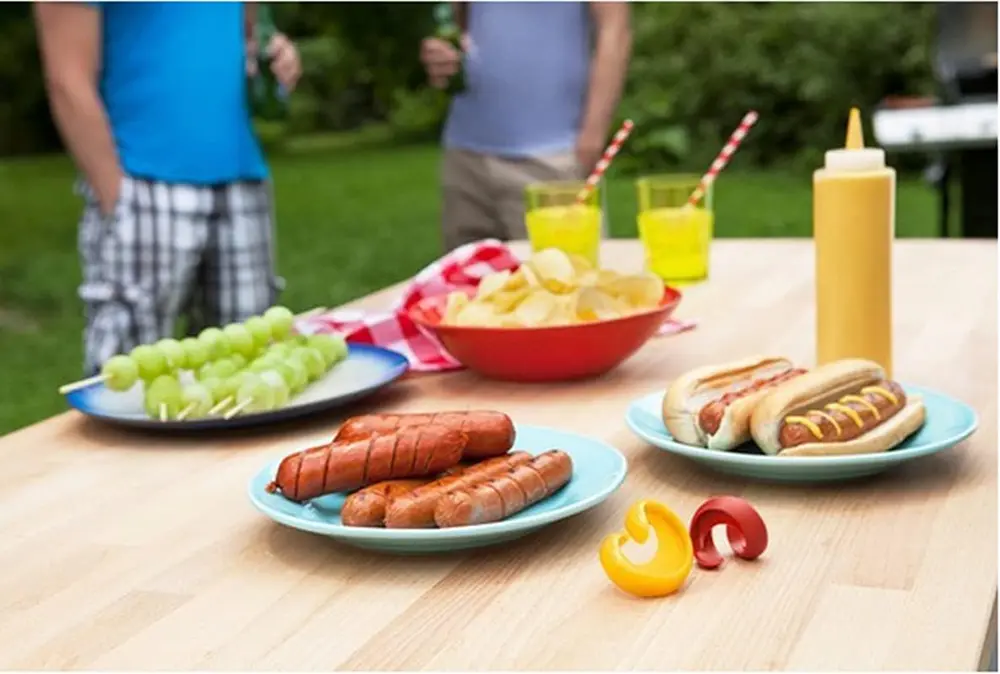 [buy on amazon]
Hot Dog Metal Mesh Baskets
Made of durable NiCr finish iron for long-lasting use and easy to clean, and heat resistant wooden handle provides a safe and comfortable grip. Grilling grate locks food in place and enables easy flipping of grilled food. Grill rack is a must-have in grill accessories, perfect for the backyard, camping, party, picnics, etc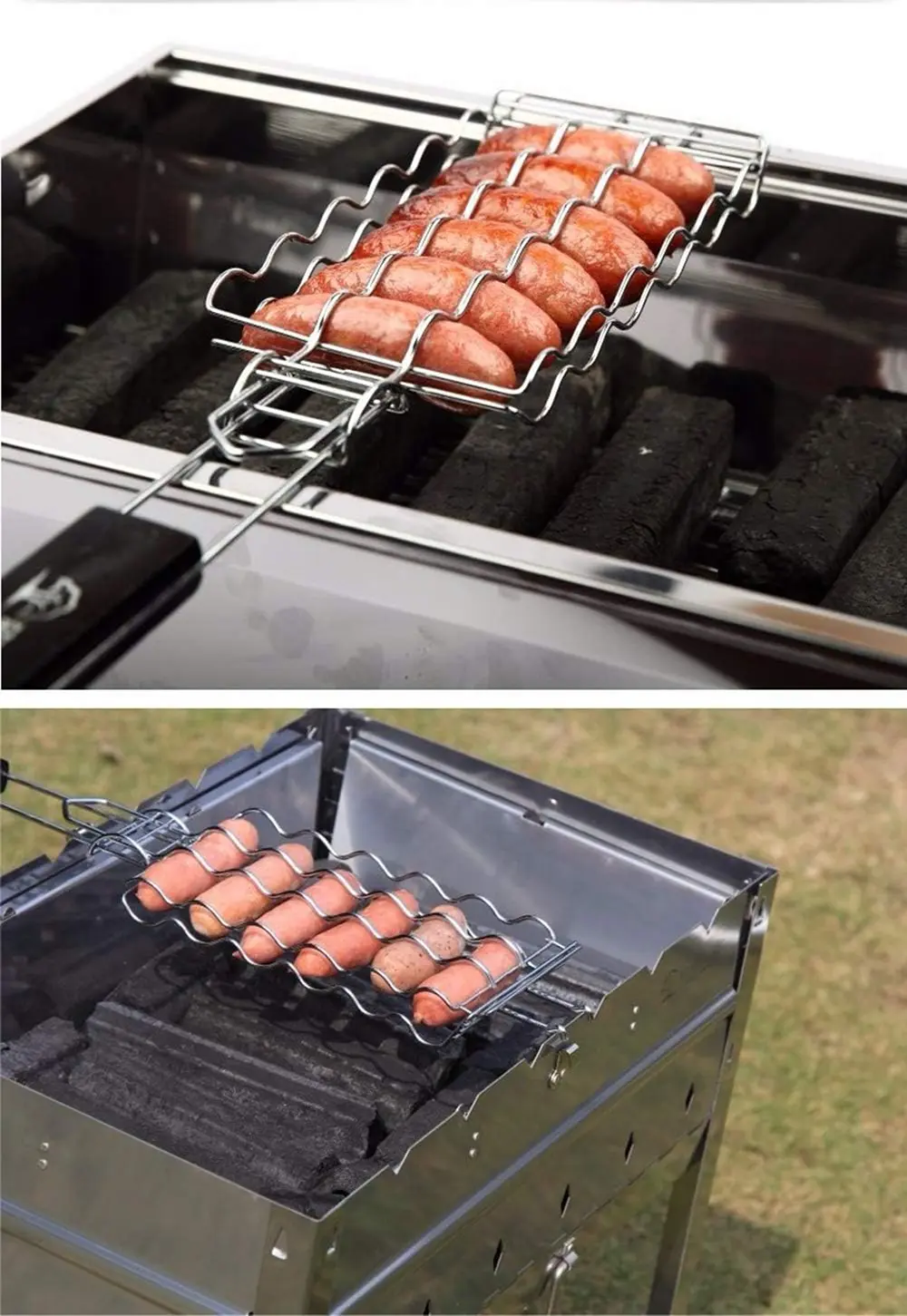 [buy on amazon]
Hot Dog Roller for Grill
With our BBQ Hot Dog Griller, you can cook up to 5 hot dogs at once, evenly. The rolling design and long handle make it effortless to turn your dogs and get them evenly cooked.

[buy on amazon]
Hot Dog Slicing Hot Dogs Cutter
This hot dog slicing tool made of sturdy plastic material, it's convenient to clean and not hurt you hands.The case is very hard and durable ,15 rows of sharp blades can cut hot dogs easily . Latest practical gadgets, adds a lot of fun to your life.
Hot Dog Bun Driller
The Hotdogger has cutting edges designed to drill a hole in a bun, rather than cutting it with a knife. Full size: 1.6" x 7.6". Drilling Surface: 1.1" x 4.5". Not ideal for small buns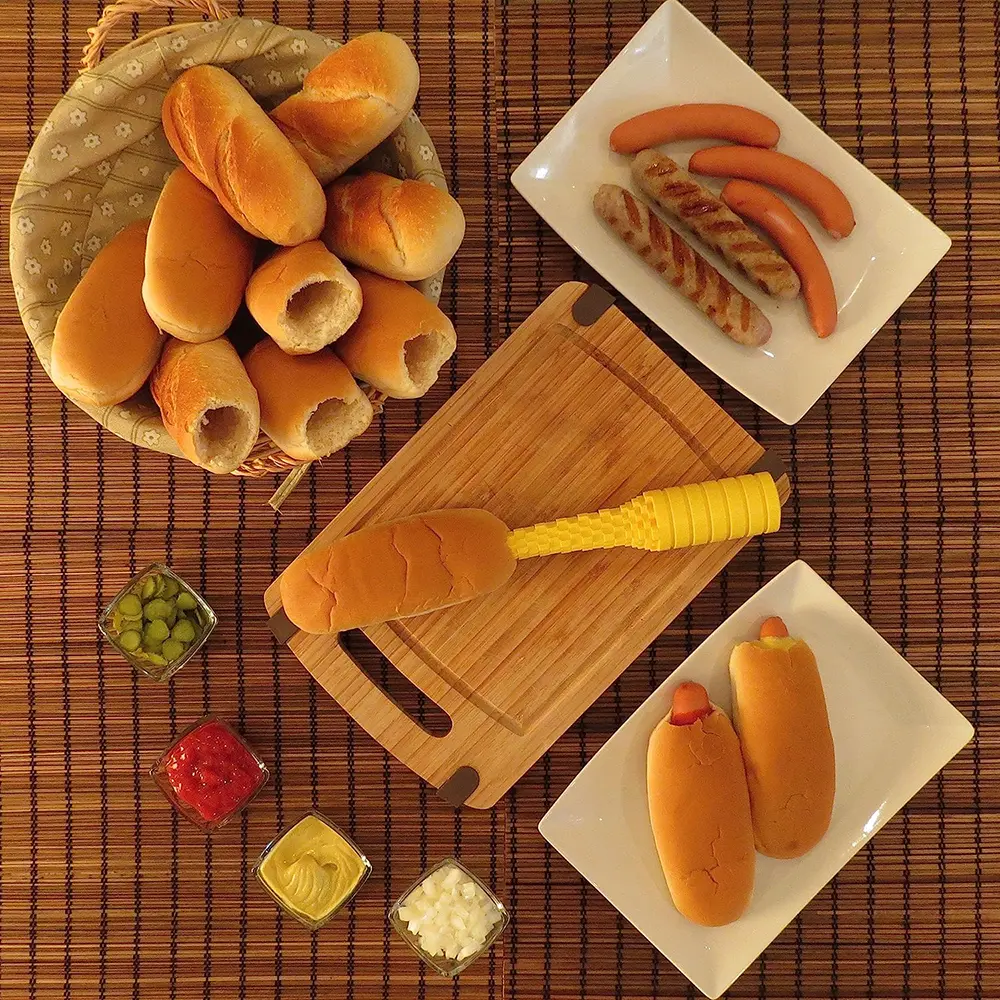 [buy on amazon]
Hot Dog Holder and Slicer Snacks
Easily create fun bite-size pieces in an instant with this kids hotdog slicer. All-plastic construction; no sharp blades. Fits most standard hot dogs and sausages.