Step into the world of Omarama, a breathtaking attic apartment nestled in the heart of Innsbruck, Austria. Commissioned by a client with a passion for faraway travels, NOA, renowned for their fusion of alpine charm and international allure, embarked on a journey to create a light-filled retreat that showcases the stunning views of the Alps.
The 135-square-meter space presented NOA's team with an exciting canvas for their creative vision. With a quadrangular layout and a central service area leading to a roof terrace, the possibilities were immense. Leveraging the apartment's abundant natural light from its three-sided exposure, the team meticulously organized the living areas to follow the trajectory of the sun, resulting in a harmonious flow throughout the space.
Founder of NOA, Lukas Rungger, explains, "This project held an additional personal aspect, as it involved curating the client's cherished memories. Paintings, statues, and handcrafted objects were carefully displayed, enhancing their significance within the setting."
As you navigate the sunlit path, your eyes are drawn to the centerpiece of the living area—a modern sectional sofa, the Tufty-Time by B&B Italia. This integration of design elements from diverse cultures not only evokes cherished memories but also creates a cozy sanctuary for relaxation.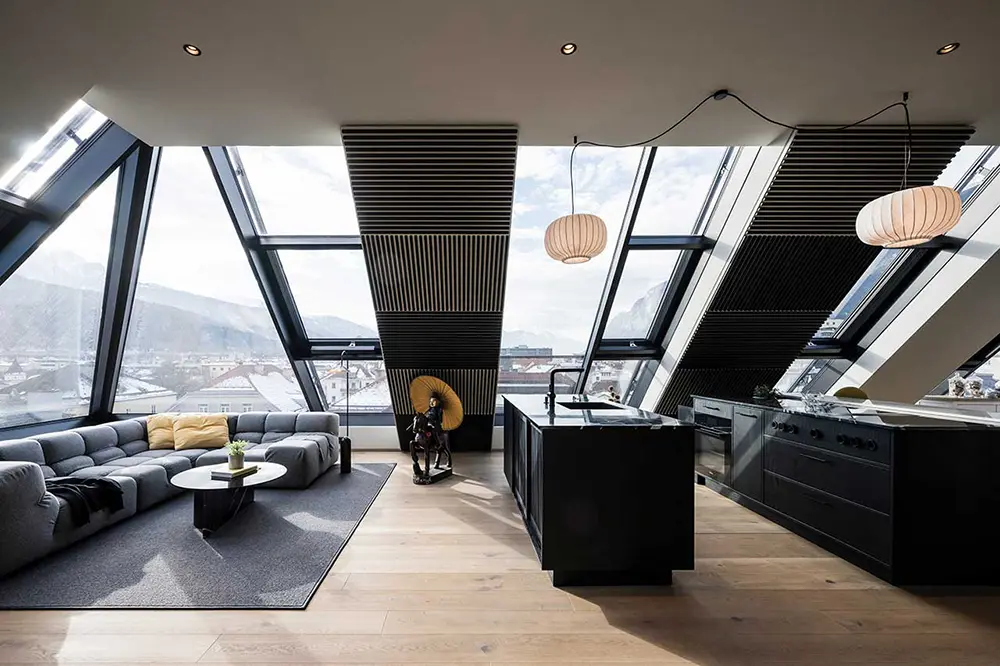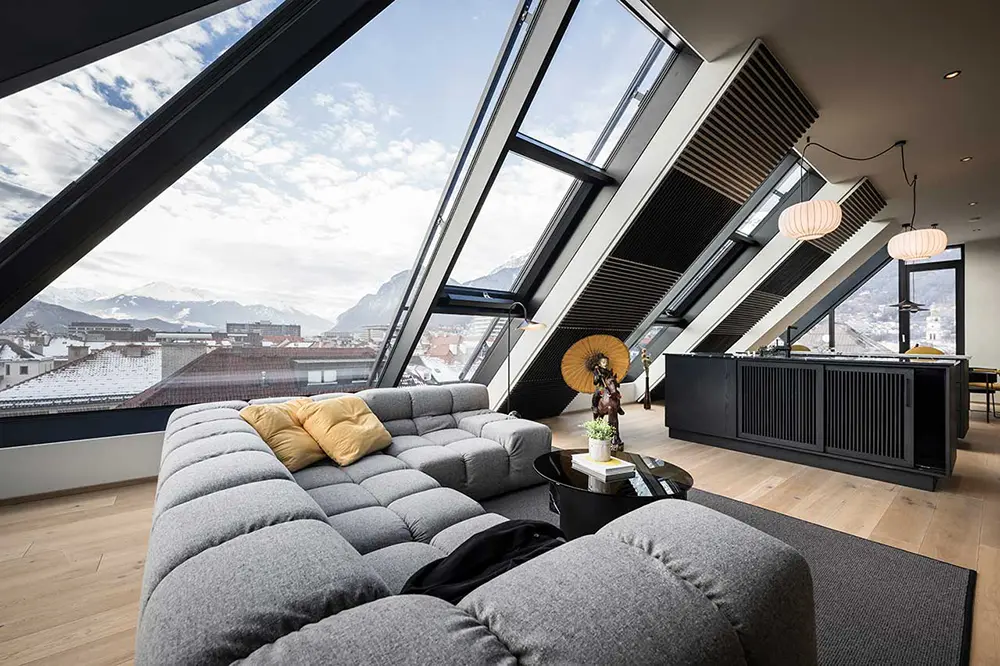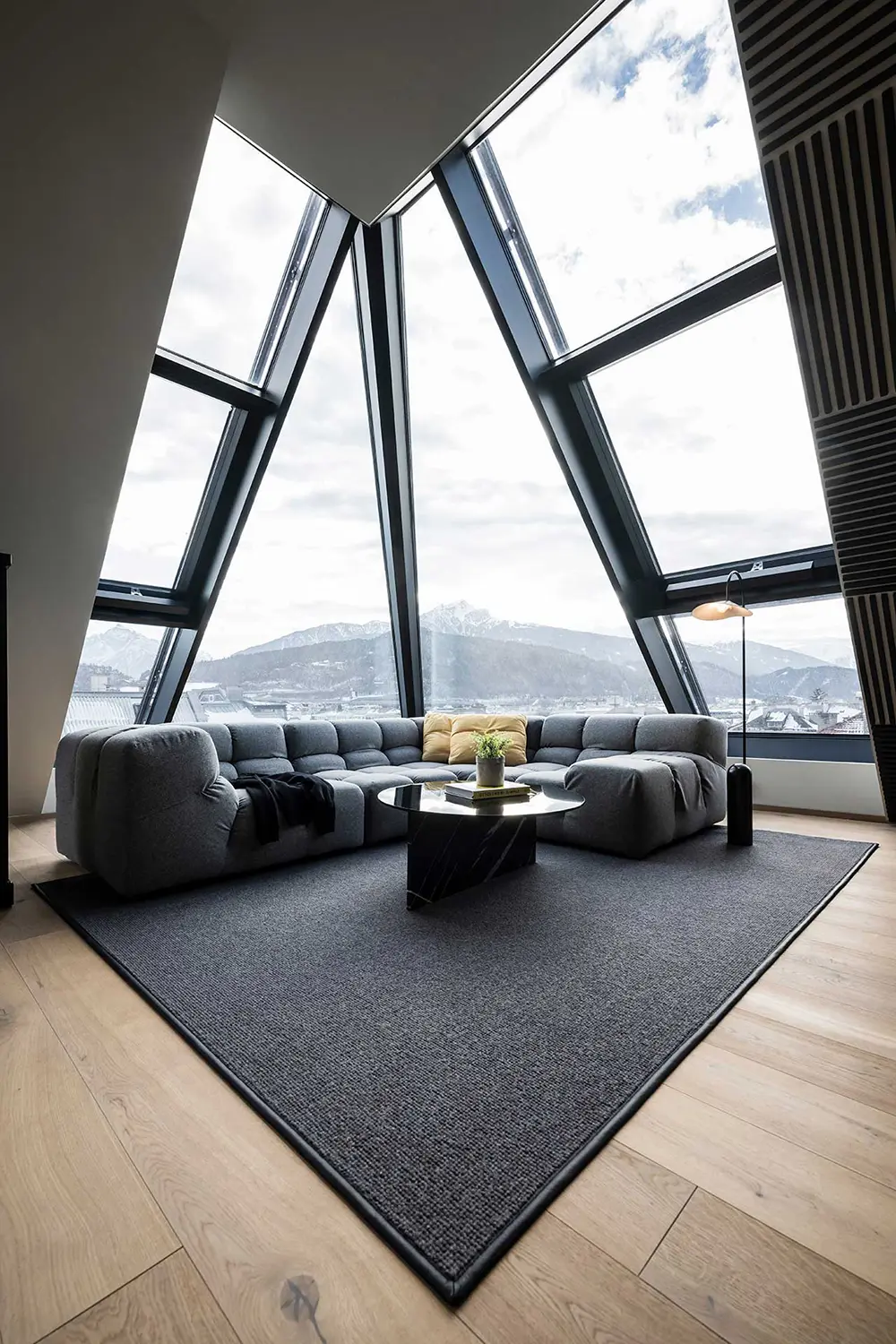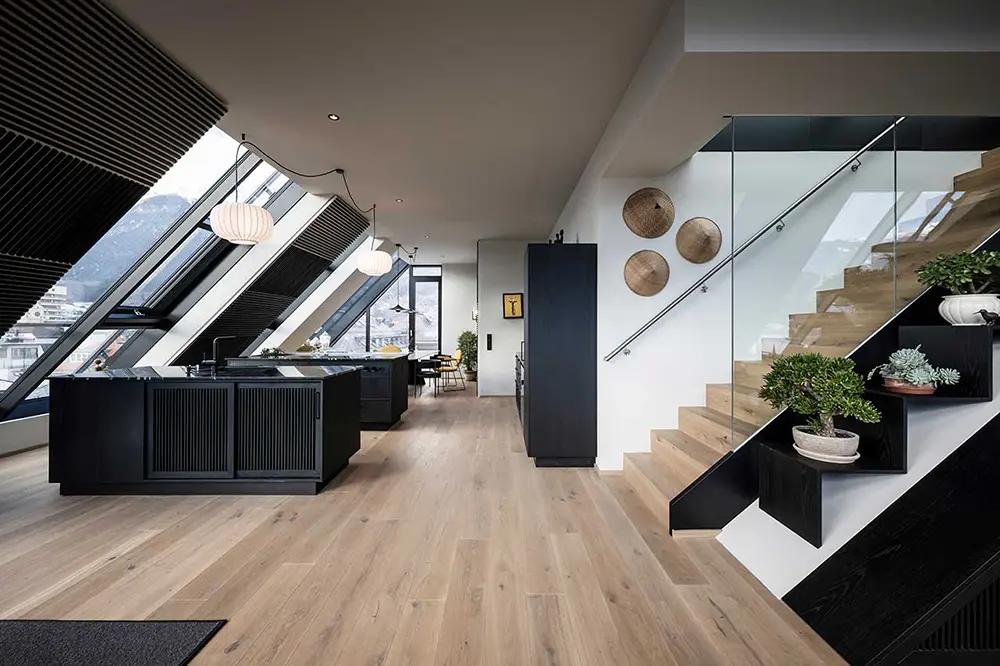 The apartment's design embraces a minimalist color palette of black and white, accentuated by vibrant touches of saffron yellow, paying homage to the essence of light. Its name, Omarama, derived from the Māori language meaning 'space of light,' reflects the client's connection to New Zealand's indigenous population. Dark tones, including black quartzite, painted oak, and metal, serve as a captivating backdrop, allowing the breathtaking views of the Alps to take center stage alongside the homeowner's curated selection of treasures.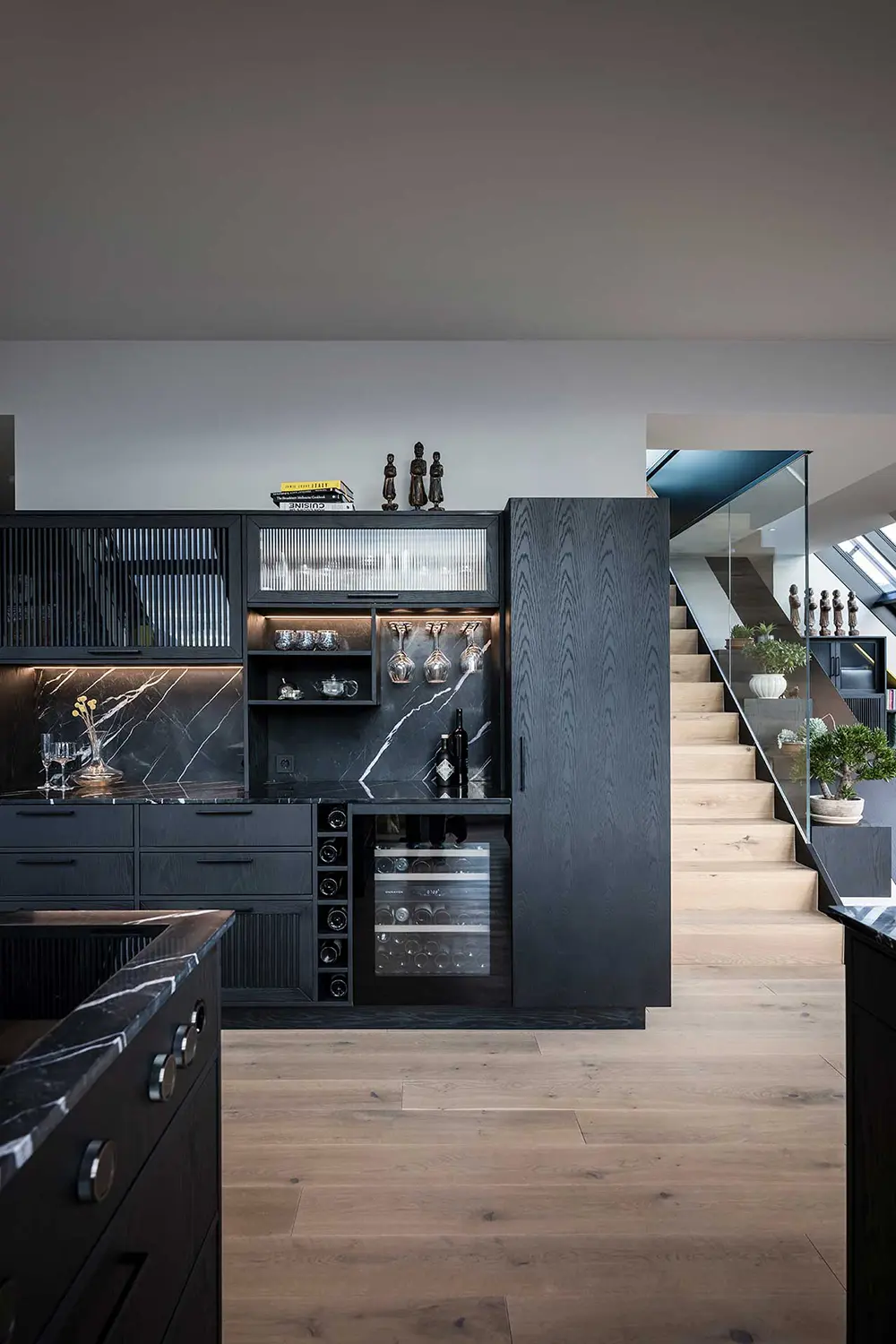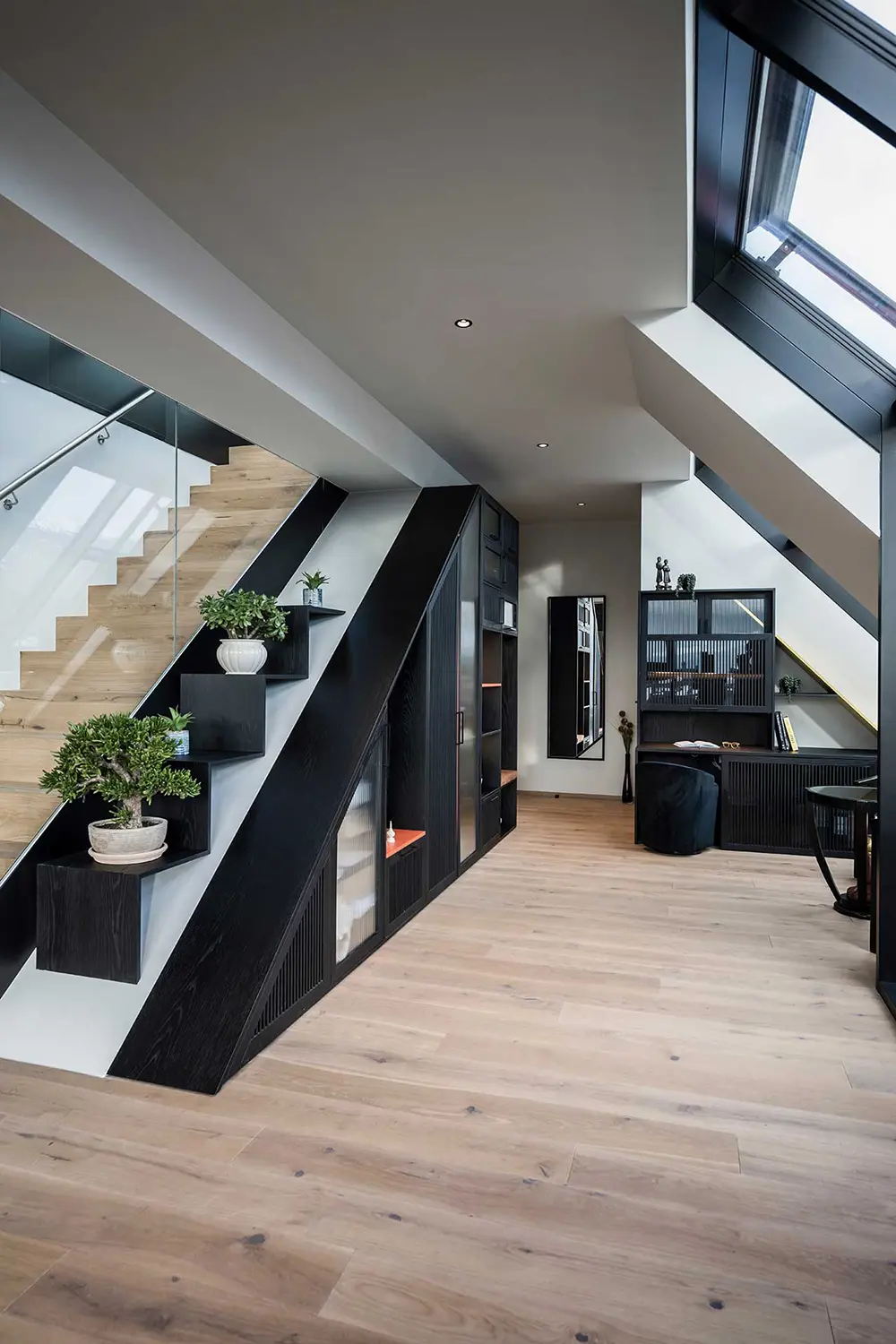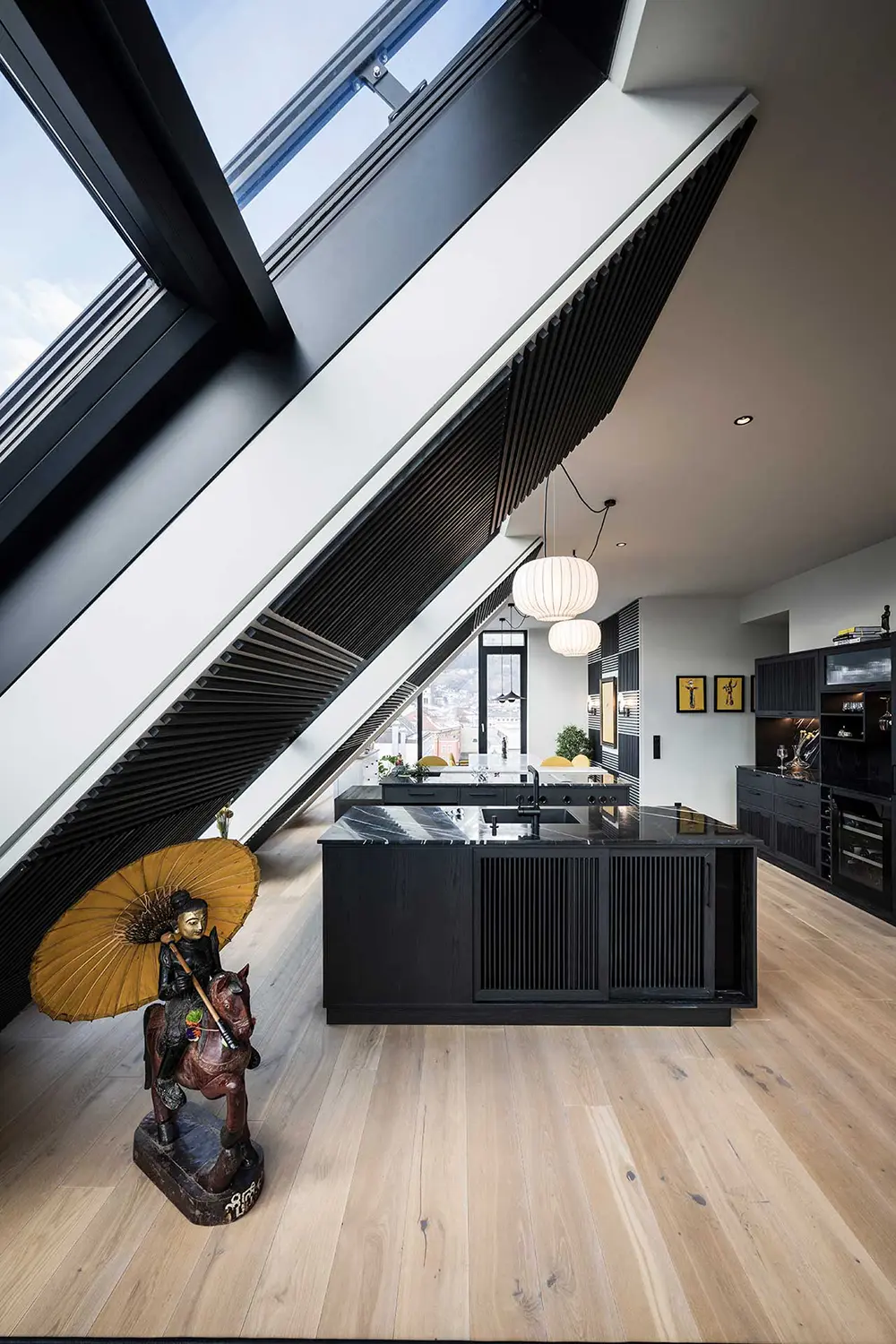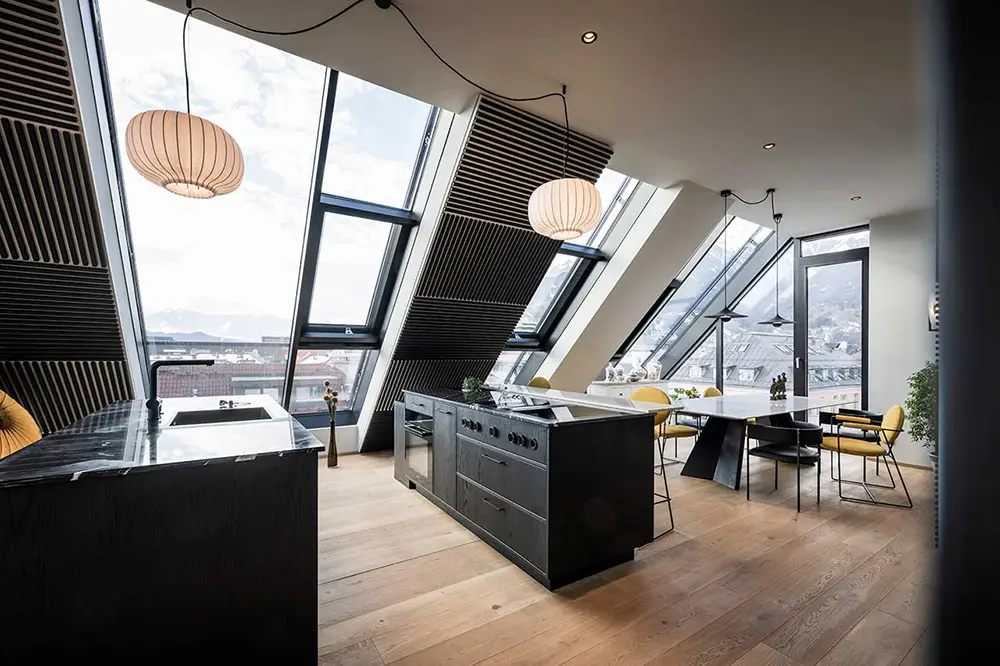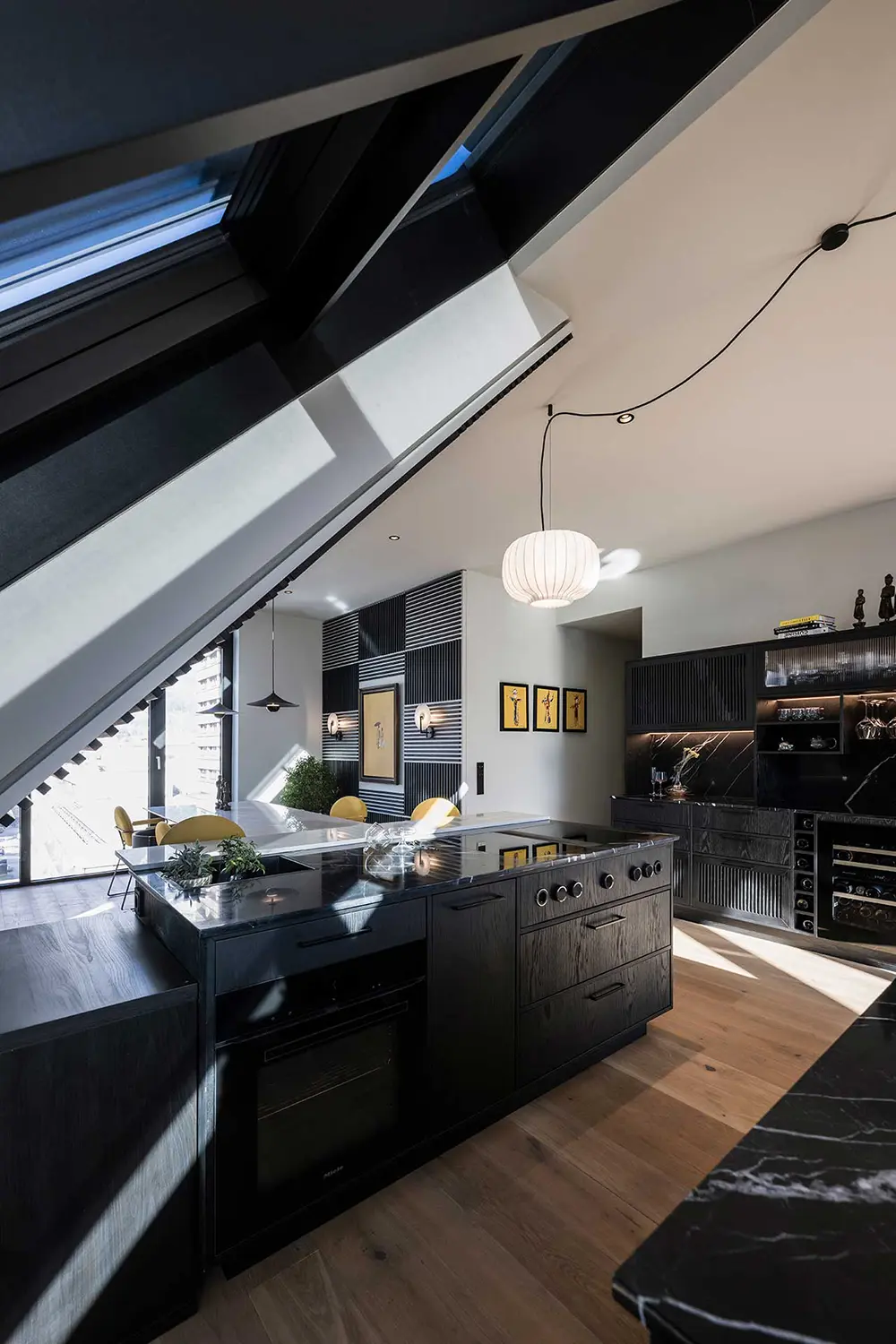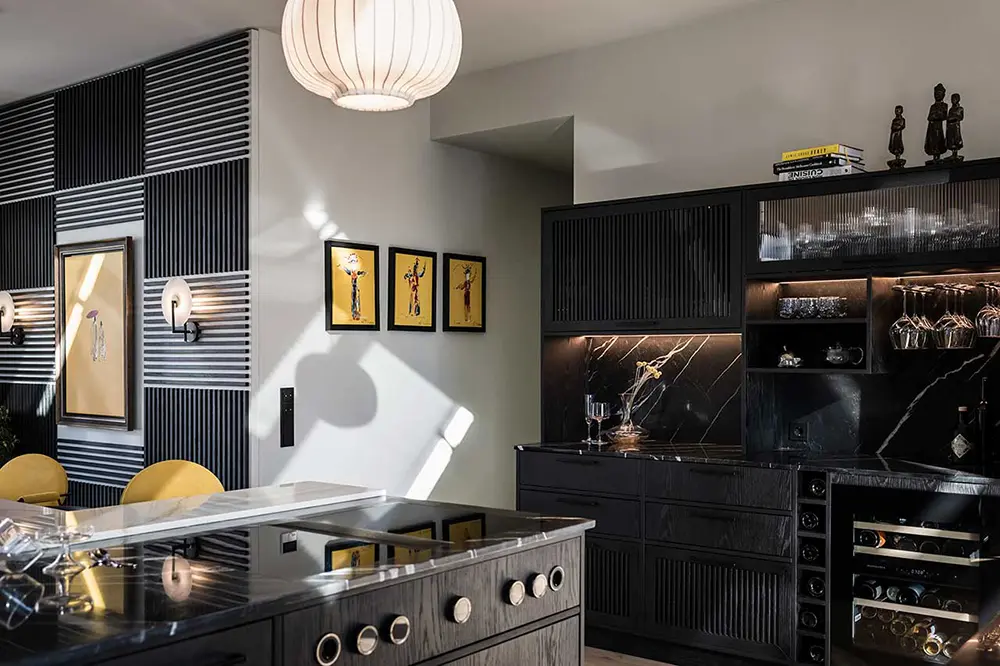 To the east, the entryway and home office bask in the soft glow of morning light. NOA's ingenious use of space comes to life with a triangular bookshelf and a staircase shelf adorned with select potted plants, adding touches of greenery and charm.
Beneath the dramatically sloped walls and windows, two sleek black islands define the kitchen space, offering both functionality and a gathering place for guests. Above each island, white Paper Pendant rice paper lamps from Vipp illuminate the space, creating a stunning contrast against the surrounding black surfaces.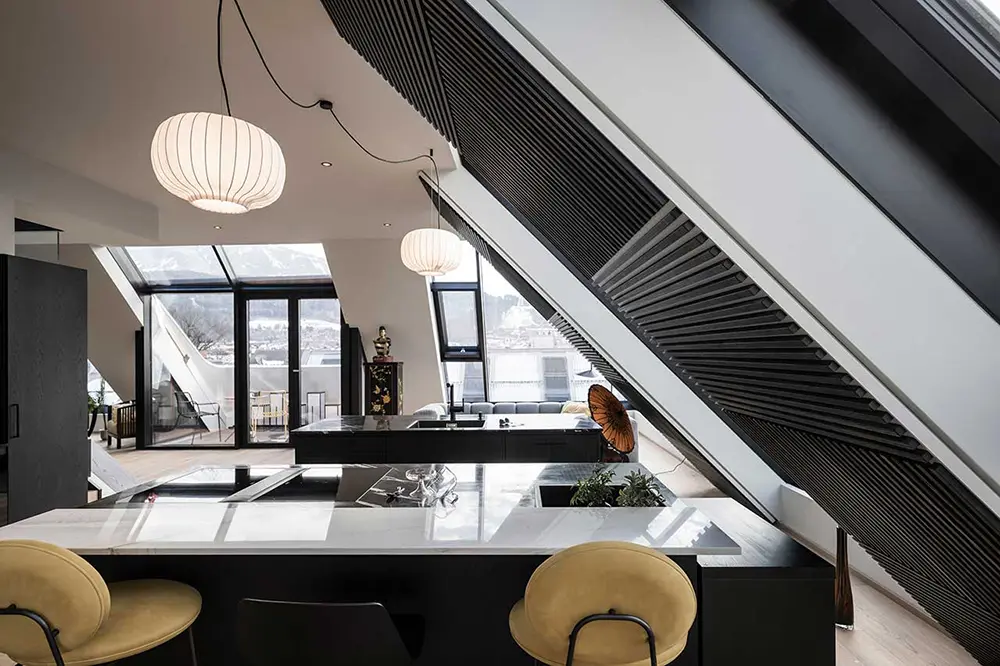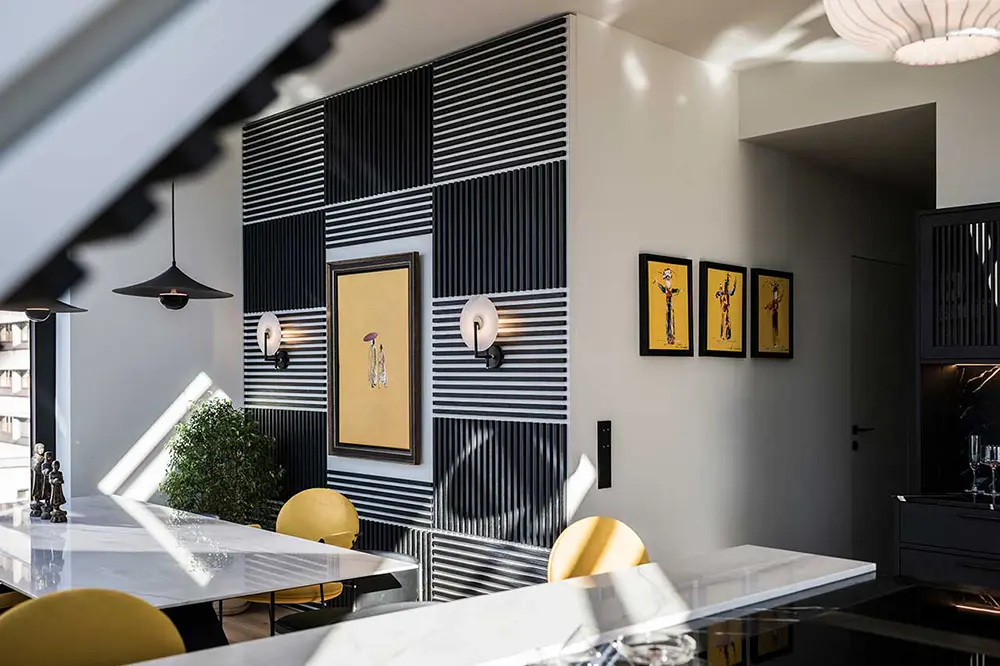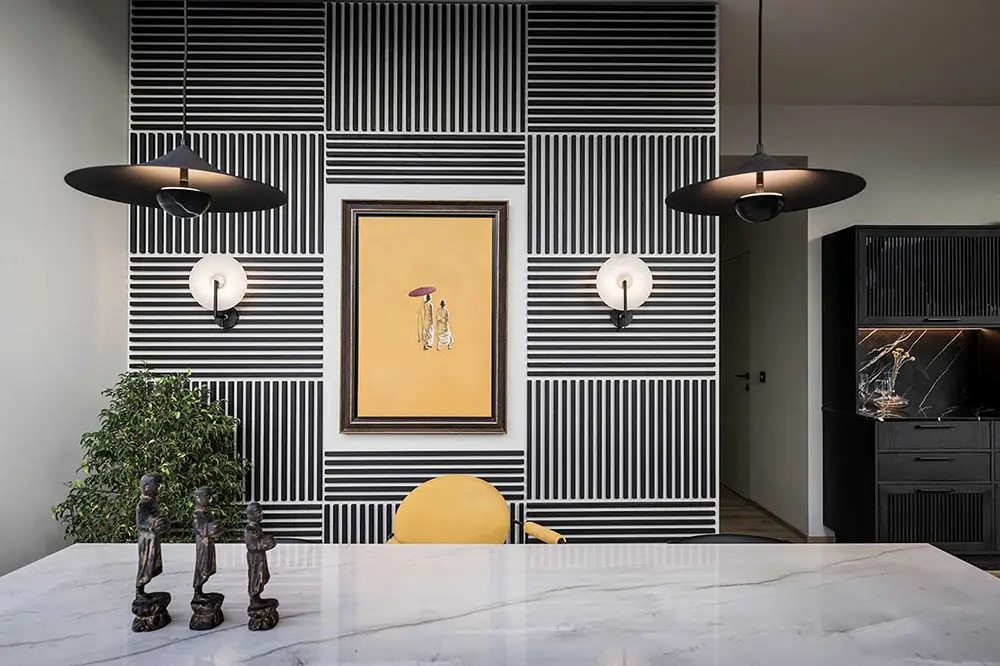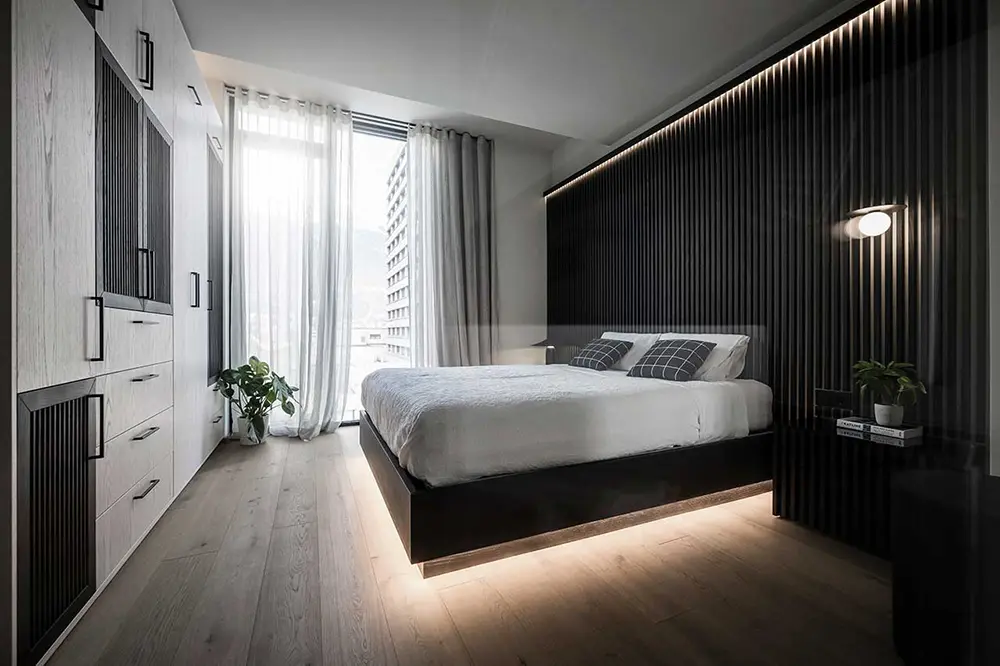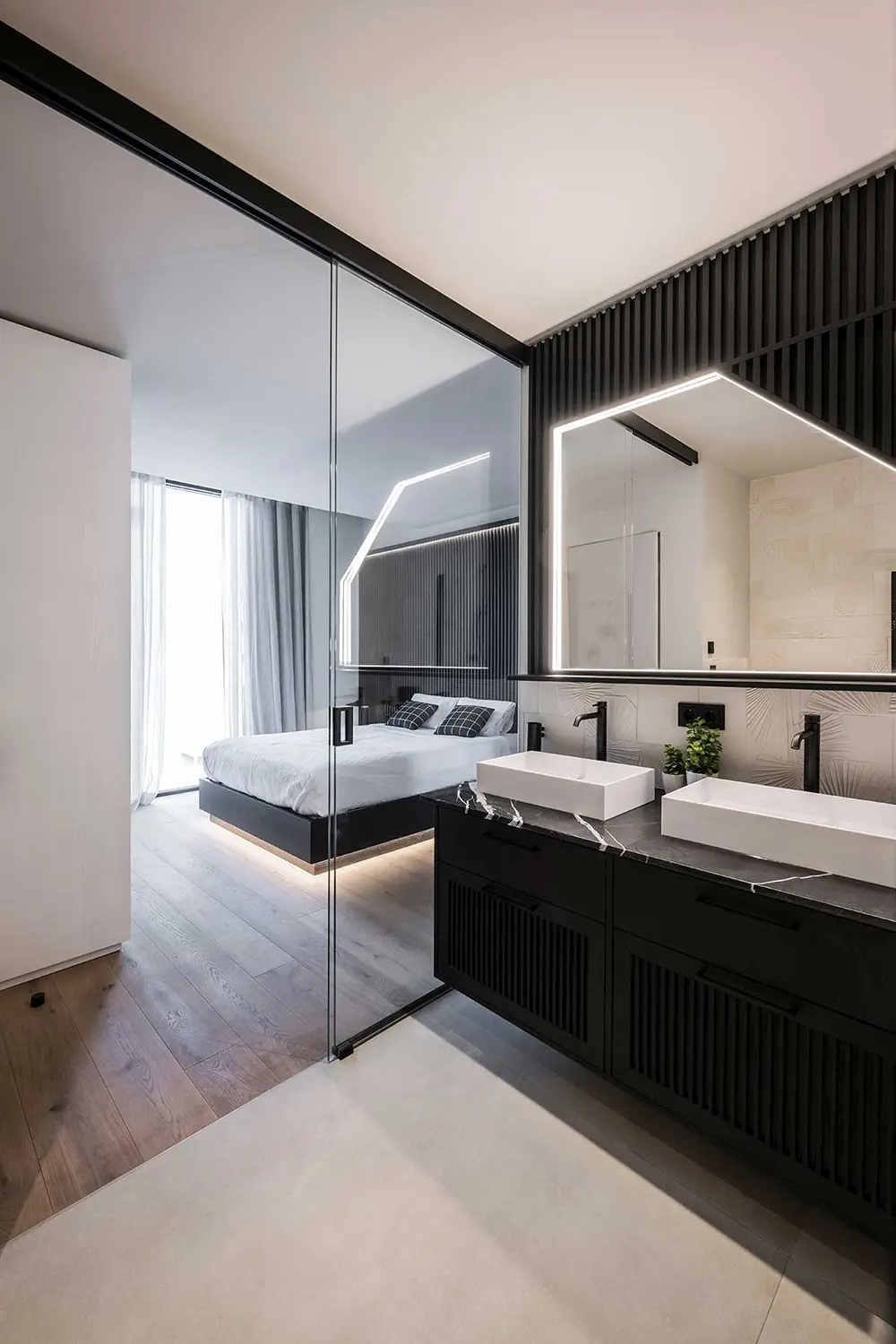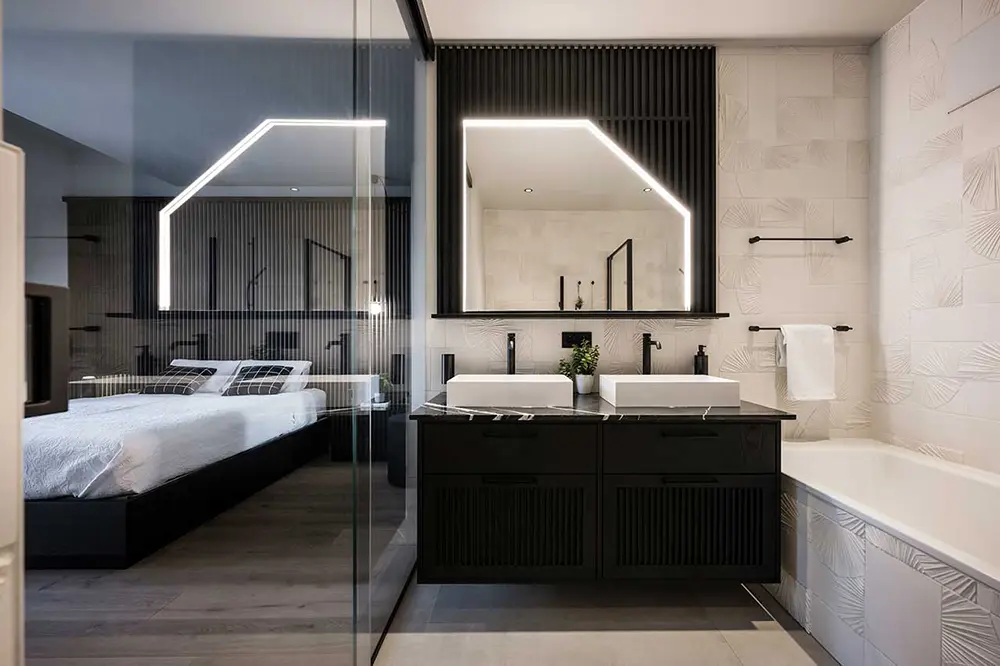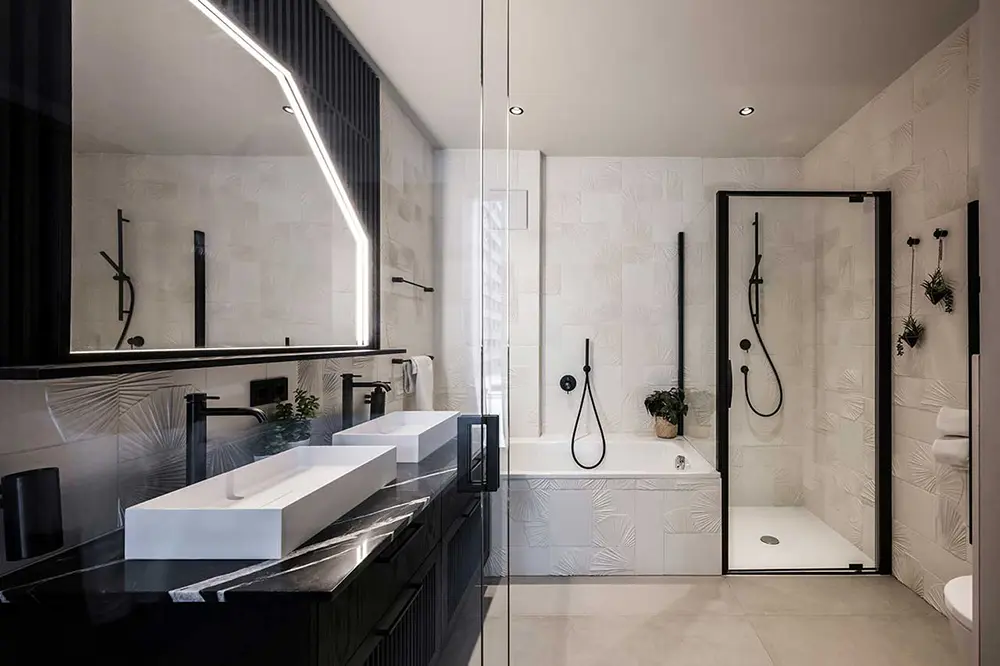 To add a touch of artistry, black slats are meticulously placed perpendicularly on two of the slanted walls and in the dining area, introducing a mesmerizing linear pattern to once bare surfaces.
Omarama is a testament to NOA's artistry and their ability to seamlessly blend light, nature, and curated treasures. This remarkable attic apartment stands as a testament to the harmony that can be achieved when design embraces the beauty of its surroundings and the unique stories of its inhabitants.