For true car lovers, automobiles are not just a transportation method, but a true passion. If you are an auto enthusiast, you are probably looking for ways to show the world how passionate you are. One of the best ways to do so is by incorporating automobile elements in your house. And truth be told, the means you can do so are infinite. All you need is a bit of inspiration, some craft skills and a visit to the local car cemetery.
You have probably seen countless hotel rooms and bars with customized furniture and décor pieces made to please the car lovers out there. Why not bring some of that inspiration in your house? Below is a list of ideas that you can customize to make your house look like a true automotive museum.
Office chair made out of an old car seat
If you have a desk at home, what better way to customize it than to pair it with an office car built from an old car seat? There are plenty of tutorials online that will guide you through every step of the building process. All you need is an old car seat, which you can find at the junkyard for a quite small price and a stand. Again, you can get the stand from an old office seat fond in a thrift shop or from your previous office chair.
You will need some strong adhesive to make sure the seats are secured on the stand and some spray paint if you need to cover up some rust. If the seats are too damaged, you can always cover them up in synthetic leather, but it does require some skills to do so. Then, all you need to do is fix the seat on the stand with a piece of plywood as the base and you are done. And while you will need an sr22 insurance if you are caught on the driver's seat without a license, you won't have this type of worry when getting comfy on this chair.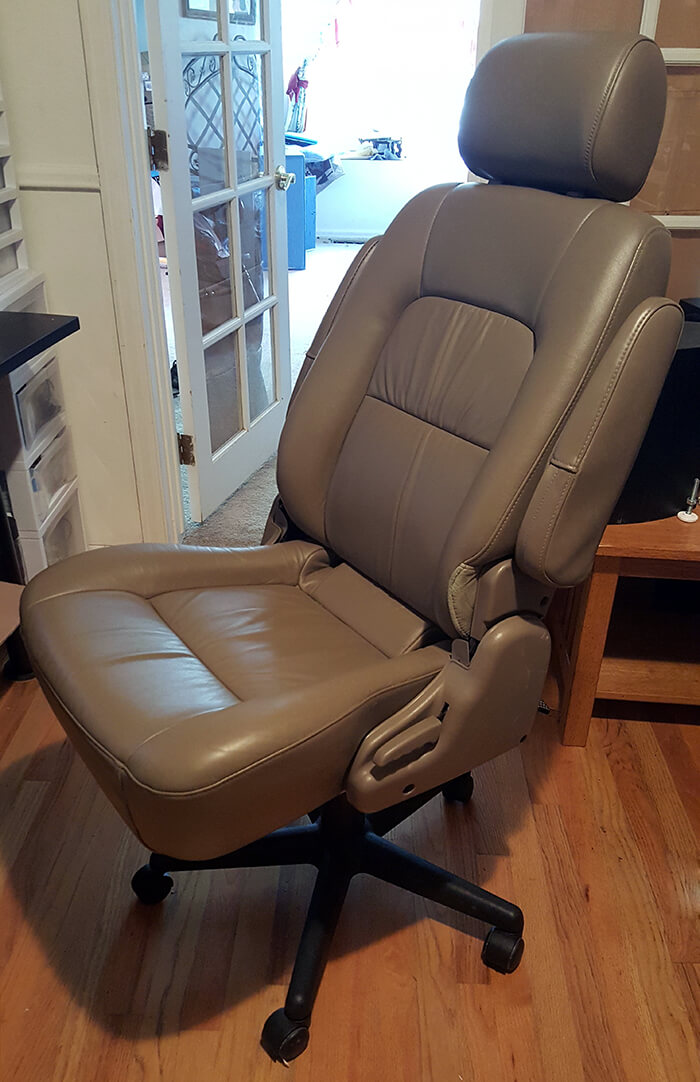 Car-inspired table
There are countless ways to customize a table to reflect your passion for cars. First, you can use an old engine and attach a piece of wood on top, for an interesting coffee table. All you need is an old engine and a piece of glass of wood, which you can have cut to your desired dimensions. Wash the engine to clear all the dirt and spray-paint it with metallic silver or black. This is going to be your base. Then, with the help of a strong adhesive, attach the top of the table to the engine and you're done.
Another interesting, but more expensive idea is to purchase a ready-made car inspired desk or pool table. You can find them online on specialized websites, but you will have to take some money out of your pocket to buy one.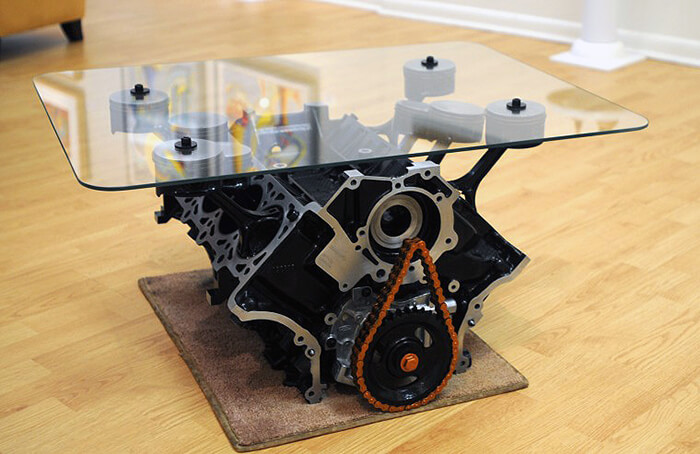 Turn an old car bench into a sofa
Another project that all your car-enthusiastic friends will love. You probably think that the easiest way to turn an old backseat into a couch is to simply throw it out in the back yard. And while it is the simplest way, it will not be as eye-pleasing as customizing it a bit. Again, go to the junkyard and find a backseat that you like, preferably from an old car that has a more couch-like aspect. A vintage backseat will look much cozier and more luxurious and put-together and will be the centerpiece of your living room for sure.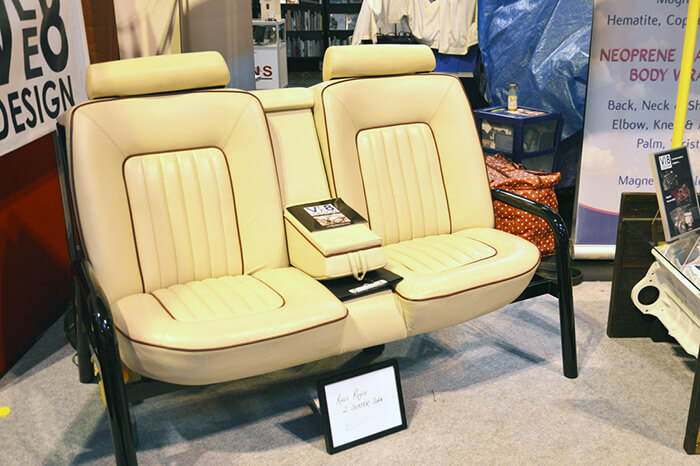 Then, you will need to build the base of your couch. Look online for tutorials and you will find plenty, depending on the materials you want to use. You can add metallic or wooden legs, cup holders on the side or in the middle and many other accessories to make it feel like a genuine back seat. For a complete effect, make sure to keep the seatbelts, in case you need your guests to feel more secure.
Decorate with car parts
If you don't want to go over the top with displaying your passion, you can always choose small pieces of décor which are just as effective. You can choose a display board and make an interesting wall art out of various car logos from your favorite automobile brands on it. This is a great way to display all your favorite brands without going overboard.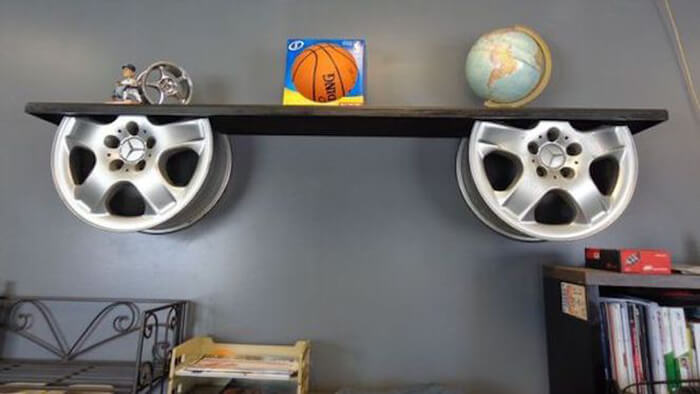 Another great idea is to print out some patent sketches of your favorite cars and have them framed. This will make for a minimalistic wall décor piece which will go well in any room. Want another do-it-yourself project? How about a wall clock made out of gears? All you need is a gear large enough to use as the base and a simple mechanism which you can take out of an old clock.
For yet another wall clock idea, purchase a sports tire rim and customize it into a unique wall piece. Again, all you need is a rim and a clock mechanism.
Customize with tires
Tire DIY-s are everywhere and really, with this, the sky is the limit. You can turn them into coffee tables, by adding a piece of wood in the middle and sticking some table legs on the bottom for an interesting piece to go with your couch. Or, you can go ahead and turn some small tires into ottomans, to help you relax after a long day of work.
If you are looking for wall décor, you can turn tires into mirror frames, interesting shelves where you can display your miniature car collection and even flower pots.
Want something for your four-legged friend? Turn an old tire into a dog bed with some cushions and spray paint to customize it. Your dog will love it and you will be able to share your passion with him.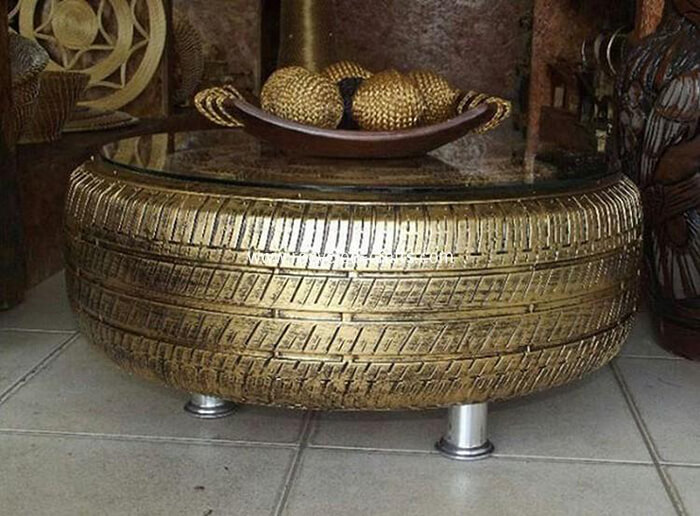 For another great idea, purchase three tires in different sizes, secure them on some beams and turn them into an interesting rack for your living room.