I have been told about the transparent toilet long time ago. Not have a chance to use it and even not know how is that working. Most time I saw on the internet is a see-through toilet on the street, like this: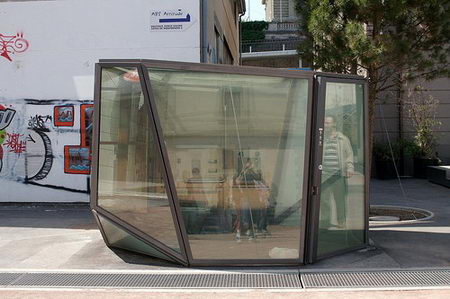 I swear I won't take a try until I know how it works (em… maybe not even after I know.) But, anyway, spent sometime search on the company who invented it, I got some brief idea of it… just shared with you guys so when you actually see this transparent monster on the street, and you really need to use it. There is no need worrying about the transparency.
This toilet is invented by a company called oloom. Eleven glass sides for this toilet whose walls are partly made of liquid crystal glass. Under electric tension, the glass is transparent and the toilet shows its clean and functional inside/interior: the user feels safe and sound. Out of tension, they become opaque: the place is now occupied and the users intimacy guaranteed. An innovative concept to deal with insecurity problems whilst playing with transparency.