I once wrote a blog about transparent animal, today, I am to present you some interesting transparent gadget design.
Transparent Canoe-Kayak [link]
What makes this Canoe-Kayak hybrid special is its ultra-strong transparent polymer hull, which offers its user a glimpse of the underwater world as he rows along. Its aluminum frame makes it very light and very transportable and its wide construction makes it more stable and better balanced. And at the same time, you can enjoy the beauty of the submerged landscapes formed by exotic plants, rocks and corals. Or, watch the fascinating rituals of fish and other aquatic life without ever leaving your boat. Also aids in keeping watch for sharks, piranhas, electric eels, and such. Pretty cool design.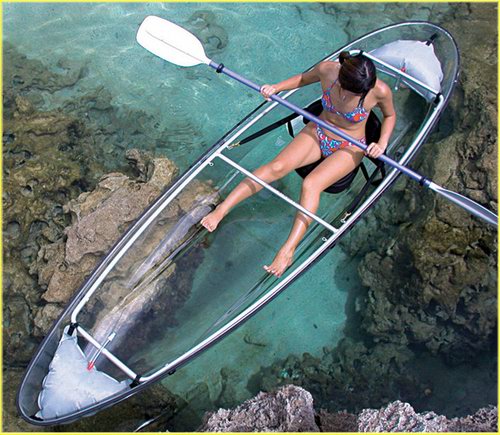 Ferguson Hill's transparent speakers [link]
The FH001 is a new design from Ferguson Hill that produces 3 to 50 watts. It was made of clear acrylic and have a ultra high efficiency design. The FH001 transparent speakers are not cheap.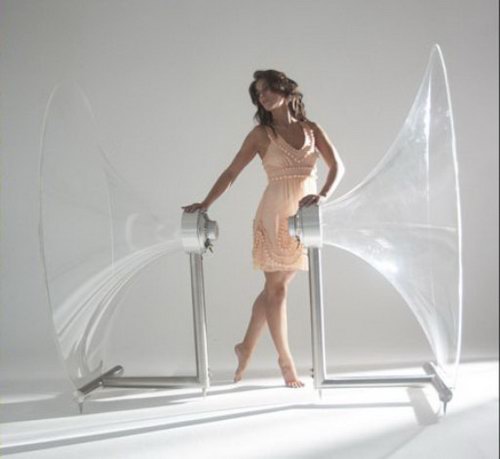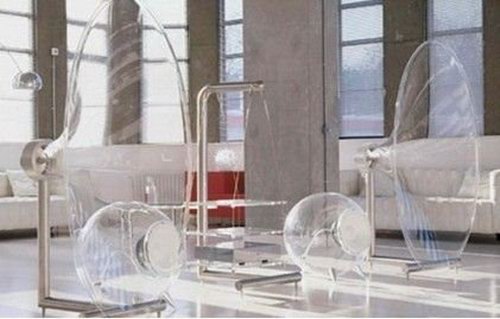 Vain Watch – Cool Transparent Watch [link]
The 'Vain Watch' concept takes the traditional concept of a wrist watch to a whole new level in technology. His liking for everything with LEDs is again brought to fore with vain watch. The hollowness in trying to keep abreast of time is reflected with all the technological brilliance. The time is displayed on the skin rather than on a tangible surface. The watch is also designed to reflect time with changing colors and different levels of brightness. And for those with an ability to tell time in Chinese, there's an option to do so as well. All in all a really cool concept by the designer.

Transparent Violin and Piano house [link]
This is piano house in Huainan, Anhui Province, China. Inside the transparent violin is the staircase to the house upstairs. Apparently, the building has been built by the local government to draw interest to the newly developed area, but from what we can see, it almost looks like it was built in the *sshole of nowhere.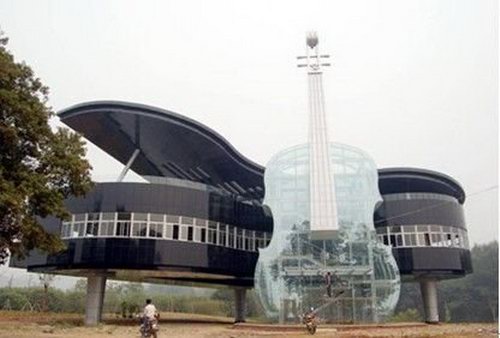 Transparent Mobile Phone – LG GD900e [link]
LG GD900, comes with a very interesting transparent keypad that adds a lot of style points to the overall design. The LG GD900 has a thickness of just 13 mm and the keypad slides out and it is see through. This mobile phone simply looks very cool and keep in mind that this keypad will also glow in the dark. There is no mobile phone that is cooler than the LG GD900 at the moment in terms of design (well, that is just our personal opinion).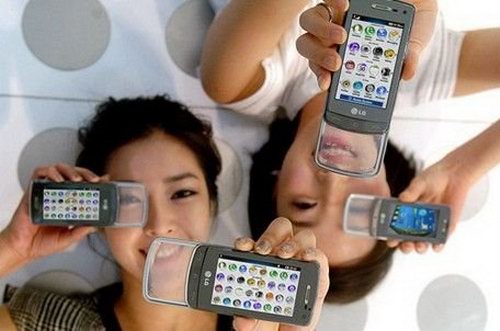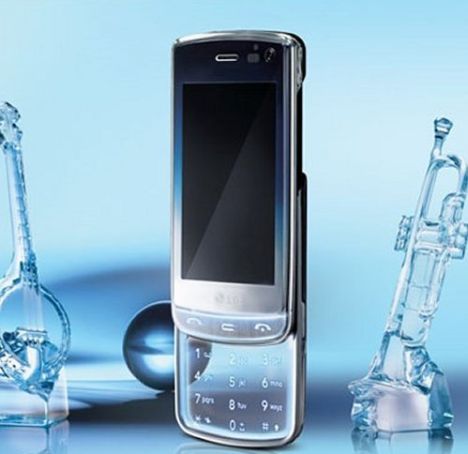 Transparent Bus Stop In Italy
High-tech bus stops so cool they might actually entice you to take a ride will be installed next year in Florence, Italy.The EyeStop is a touch-screen bus shelter that monitors environmental conditions and real-time bus movement and also provides information and communication tools that can interact with your cell phone.It has touch sensitive e-Ink screens as well as LEDs, features a bus map plotting locations in real-time, e-mail and Web access, tools for planning a best route and getting directions, a community bulletin board, and, of course, a place for silent video advertisements. It will also use sensors to monitor and display local air quality.
Riders can choose to have their local EyeStop bus stop sync with their cell phone. The EyeStop you normally frequent, for example, could twitter you that your usual bus is running late that morning.
Intended for tourists as well as locals, the EyeStop tools will be accessible in several languages.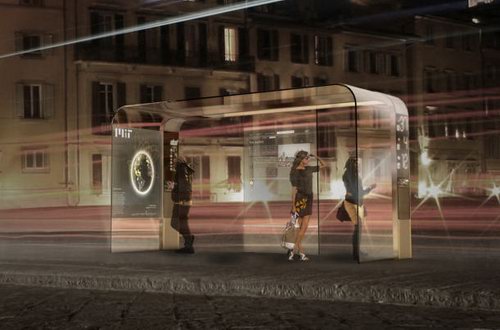 Transparent Bag from Chanel [link]
Is this the bag to conquer all bags? Fresh from the Chanel AW09 catwalk this transparent case bag has the beautiful trappings of the iconic quilted Chanel bag with the function of a compact case. Admittedly, with all your makeup and gadgets on display it's enough to warrant your bag being snatched from right under your nose. Usually, plastic always tends to equal tacky, but oh I do love it so!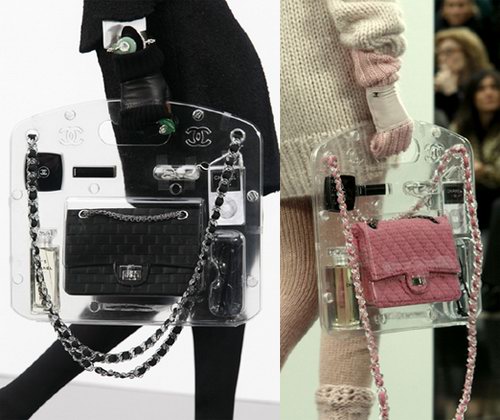 Montblanc Transparent 333 Fountain Pen [link]
The Montblanc Transparent 333 fountain pen has a transparent barrel and on that is encrusted a skeletonized platinum and white gold cover. The nib is in white gold and is rhodium-plated. The best thing is the exclusive Montblanc symbol, the star chiseled in mother of pearl adorning the cap. Only three hundred and thirty three pieces of this collectible are available. For possessing these, you really need to be rich-in imagination and taste.