According to Leni Calas of Ward 5 Design, "Japandi design is the combination of Scandinavian functionality and Japanese rustic minimalism to create a feeling of art, nature, and simplicity." As two countries both focus on simplicity, natural elements, and comfort, there is no wonder to see more and more interiors follow that trend..
The modern home features in this article is a perfect example. The combination of Scandinavian and Japanese décor elements conjures a welcoming atmosphere that's sprung from warm neutrals and natural materials. Practical layouts are designed to serve and enhance daily life at home, ensuring easy functionality and overall tranquility.
Visualizer: Manh Duy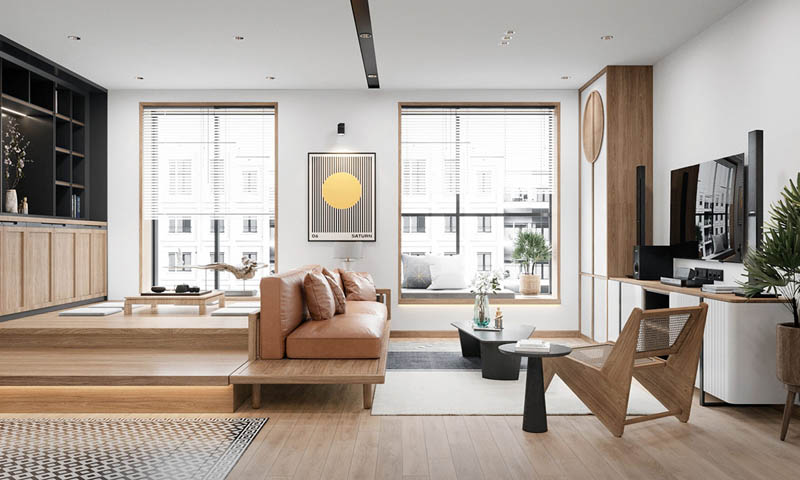 Full of natural light and soothing wood tone, this family residence successfully creates a feeling of positivity and wellbeing. The wood platform base of a Japanese sofa aligns perfectly with the raised floor section to build one sleek line. A Chabudai table and Zabuton floor cushions occupy the elevated position, with a stylish bookcase providing an attractive and useful backdrop. The brown leather sofa melds warmly with a plethora of natural wooden elements in the room. White walls and bold black accents break up the wood tone in fresh Scandi-style contrast.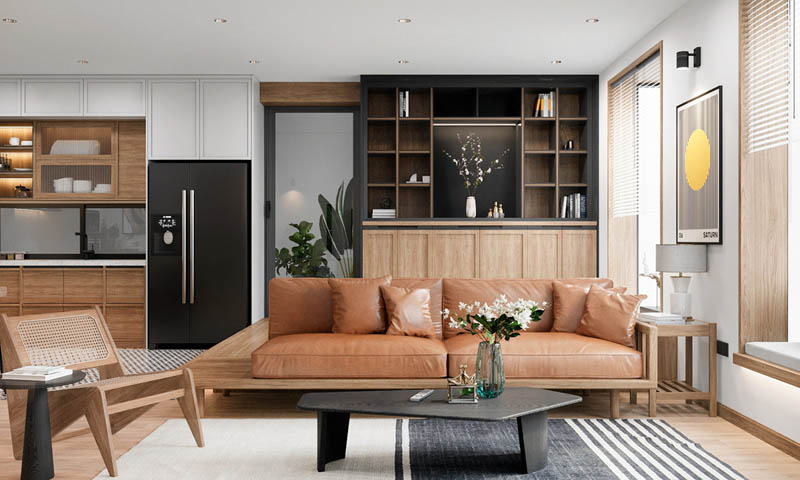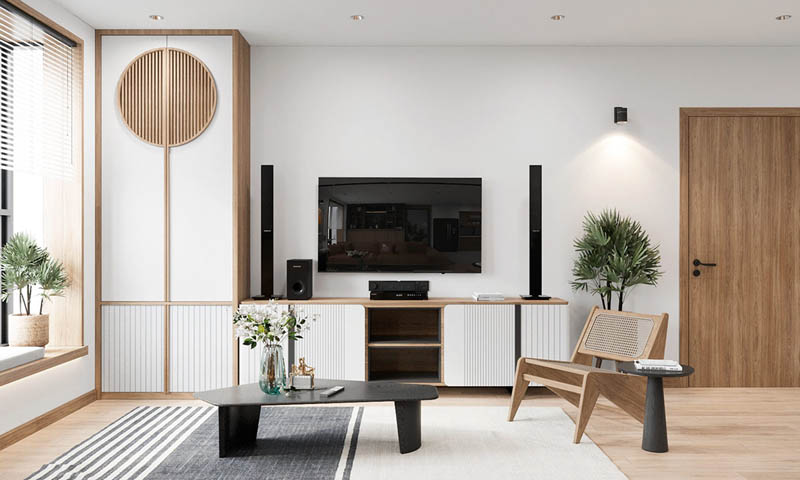 The open layout lounge flows into the kitchen and dining area. White and wood cabinets make up the L-shaped kitchen arrangement. The two-tone design visually breaks up the kitchen's bulk into lightweight, floating volumes. The dining table is a built-in design that incorporates a large planter, bringing greenery to the indoors. Small dining stools furnish the opposite side of the table to allow clear access to the oven housing unit.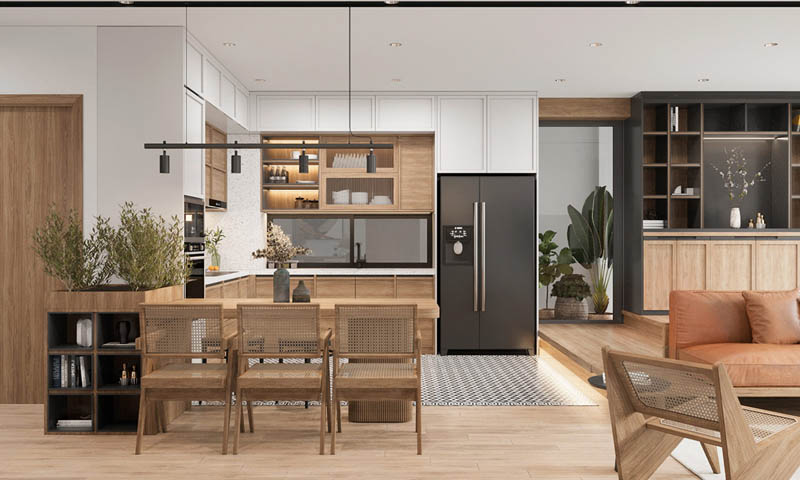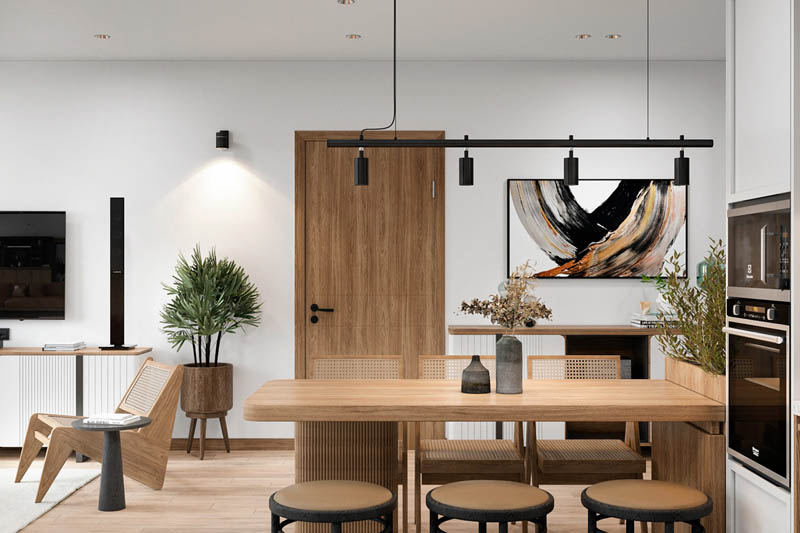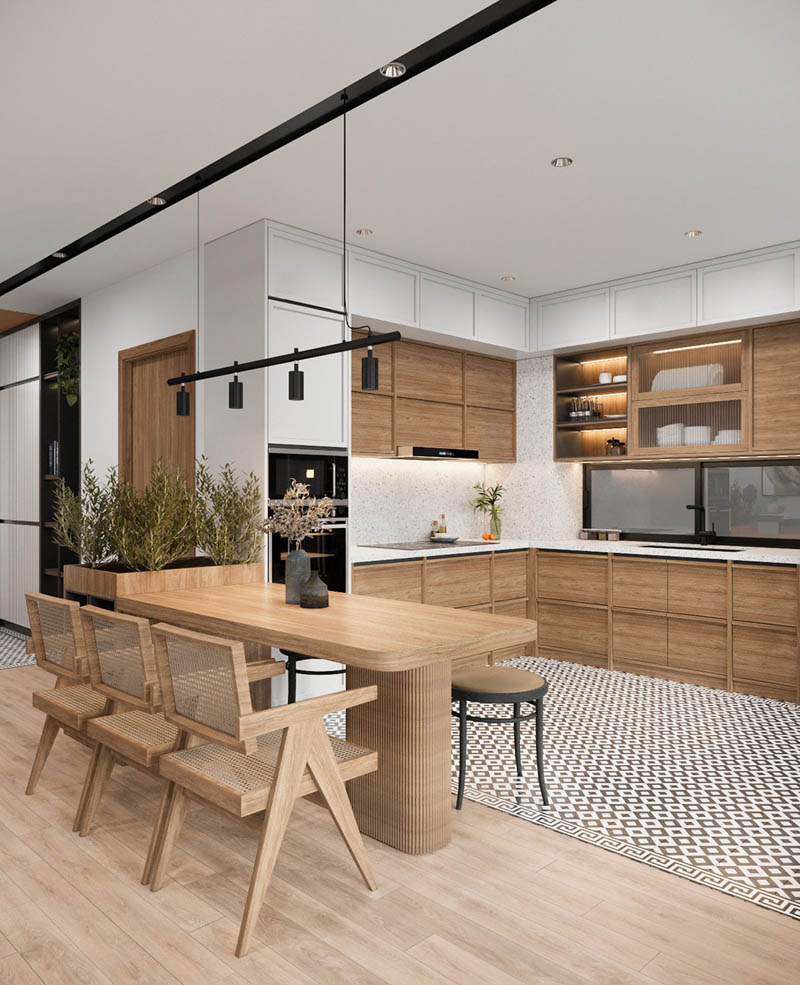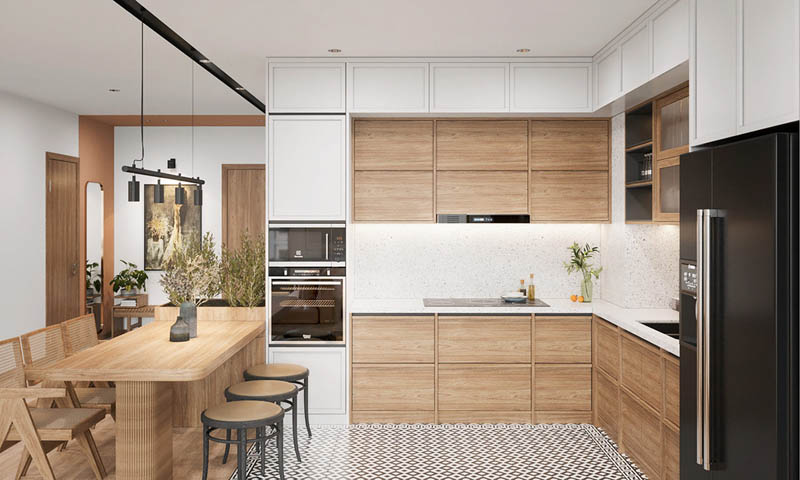 A change in flooring defines the home entryway from the rest of the open concept. Striking black and white tiles lay pattern beneath a wood slatted entryway bench and a welcoming "Home Sweet Home" mat.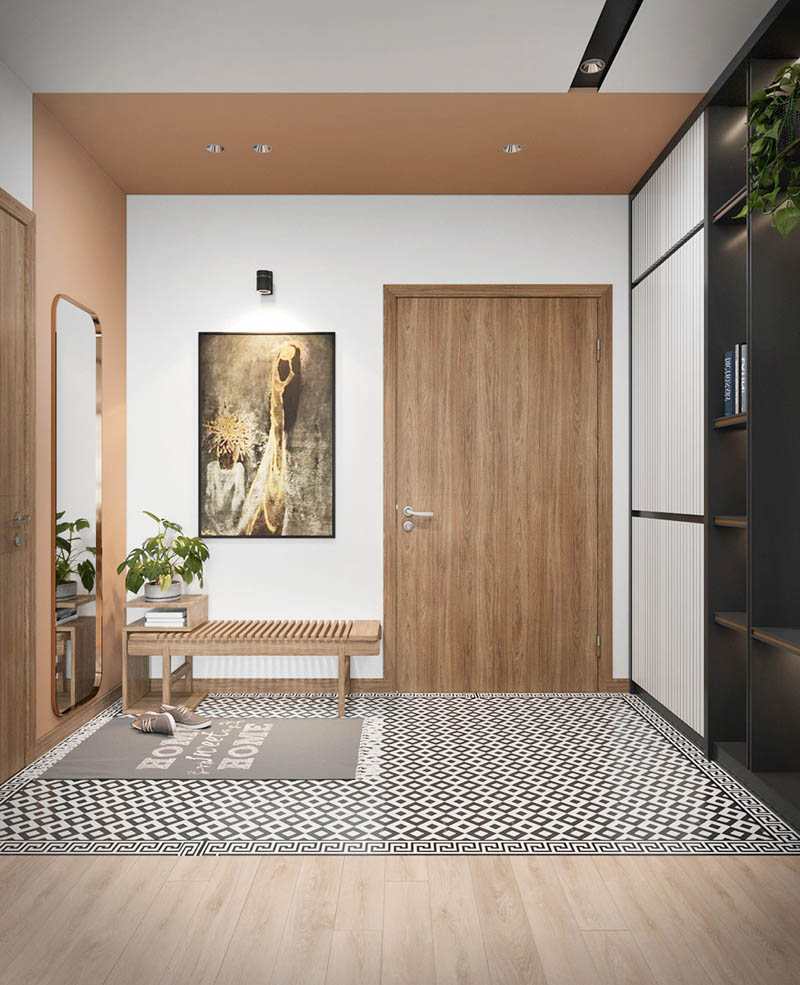 The shared kids' room is a compact space that has been maximized with custom-built furniture. The kids' beds share a platform with toy storage underneath. Closets are bumped up onto the elevated bed base, where they tie in with a sweet pink décor palette. A shared kids' workspace completes the opposite side of the room. A pegboard wall provides adjustable shelving above the kid's study for light décorc pieces, whilst a large bookcase on the adjacent wall does the heavy lifting.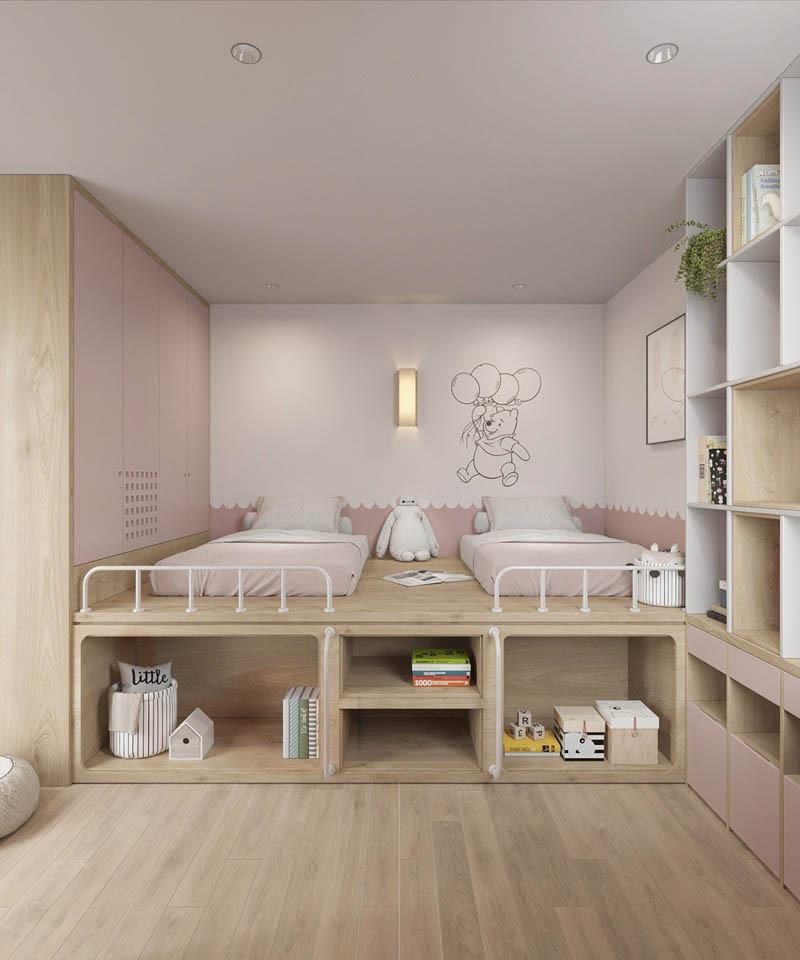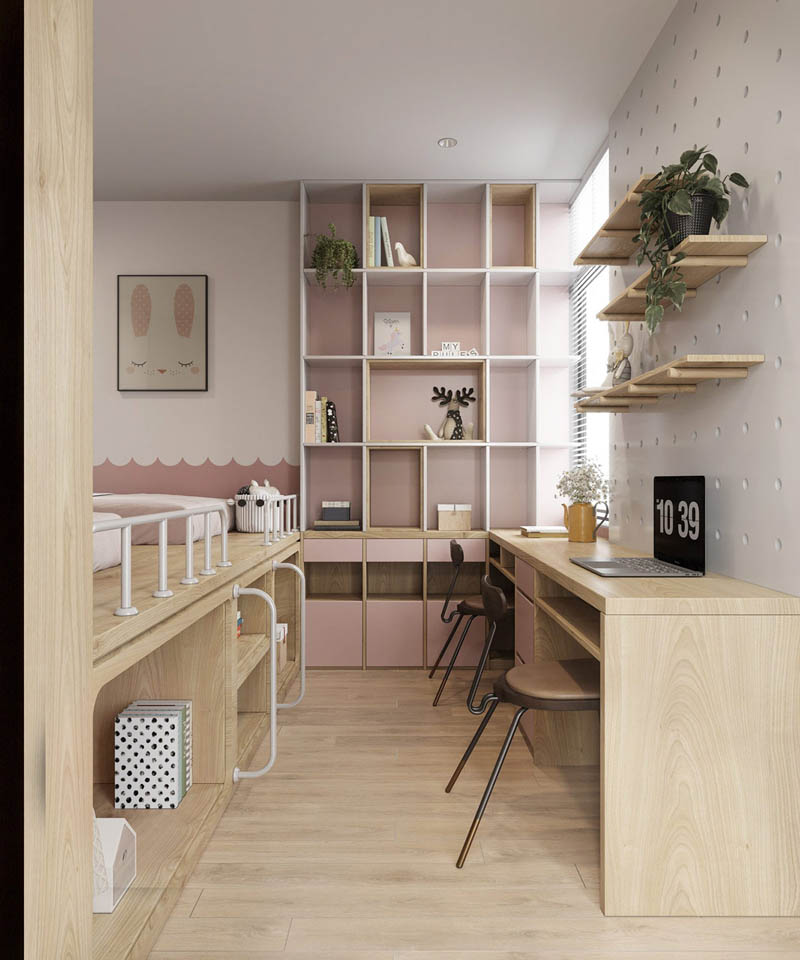 The master bedroom is a serene getaway from family life. Inside the master walk-in wardrobe, the vanity table is positioned to look out through a wood slat partition wall into the bedroom. Illumination from the walk-in closet adds soft mood lighting to the calming white bedroom scheme.