Sleep Under the Stars: Exotic Treehouse in Lion Sands Game Reserve
Most of us live in the crowded city life and dream about exotic uncivilized life. The Lion Sands Game Reserve, located at the Sabie Sand Reserve in South Africa might be the prefect escape, where you can observe amazing wildlife like lions, hippos, and giraffes in their natural habitat, all while staying in comfortable treehouse with spectacular view.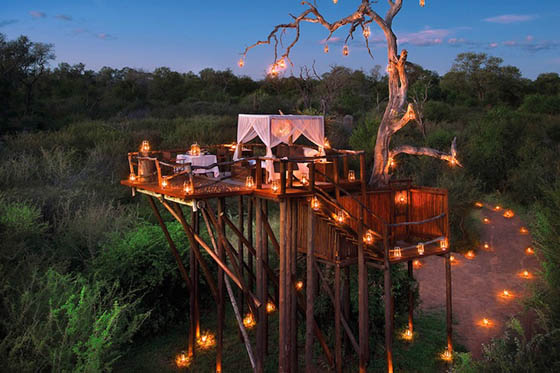 There are three treehouse in Lion Sand, chalkley treehouse, tinyeleti treehouse and kingston treehouse, each offering its own unique experience. The tree house is a secure and lavish platform under the African stars, with all the comforts that you can experience at a five star safari lodge. The hours of African dusk can be enjoyed relaxing and absorbing the vastness of the bushveld as it transforms from day to night, before turning in for slumber beneath the incredible night sky. Sounds like a dreamland.