Private apartment: 25.7 sq.m
Location: Australia / Melbourne
Visualizer: Denis Svirid
Nestled in the heart of Melbourne's historic center, this unassuming unit in the coveted South Yarra district defies its compact size of just 25.7 square meters and a ceiling height of 245cm. The challenge of creating a comfortable living space for a young homeowner was alleviated by the abundance of windows, including a full-height window leading to a balcony, which flood the interior with natural light.
A brilliant solution to optimize space is found in the bespoke sofa bed design that cleverly occupies a quarter of the square floor plan. A swing arm wall lamp serves as a marker for the lounge area at the foot of the bed, creating a cozy and functional space. The bed base, positioned at its highest point, features storage areas underneath the entire volume, with drawers integrated into the sofa section. A brass-framed coffee table in front of the sofa adds a touch of elegance, while an area rug helps define the living room area.
Prior to the redesign, the apartment was stripped bare, allowing the designer to reimagine the layout from scratch. One of the key considerations was to keep the area next to the largest window unobstructed, promoting a sense of spaciousness and openness.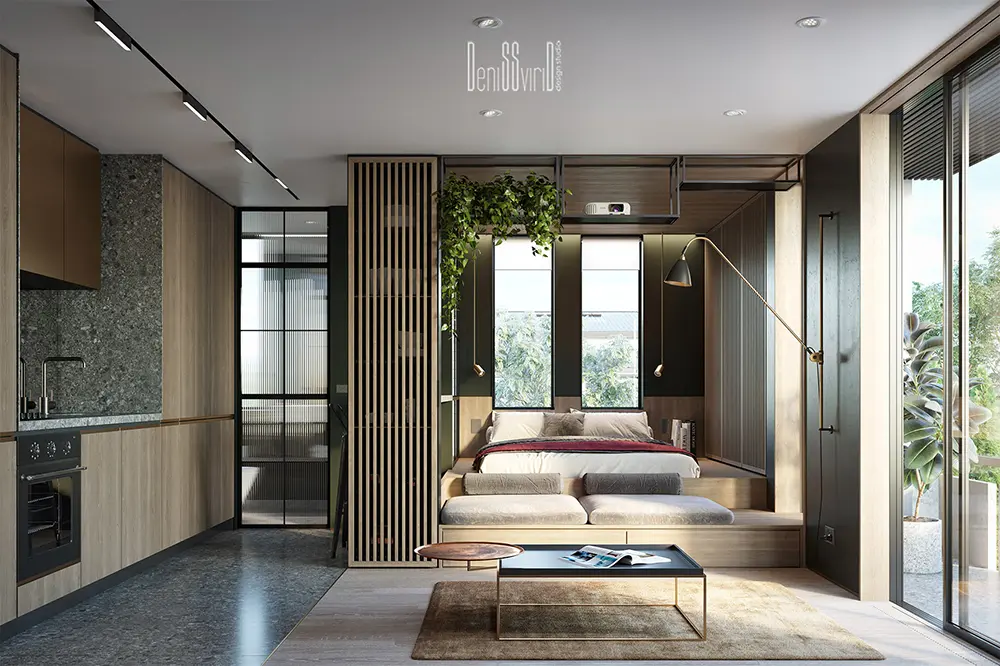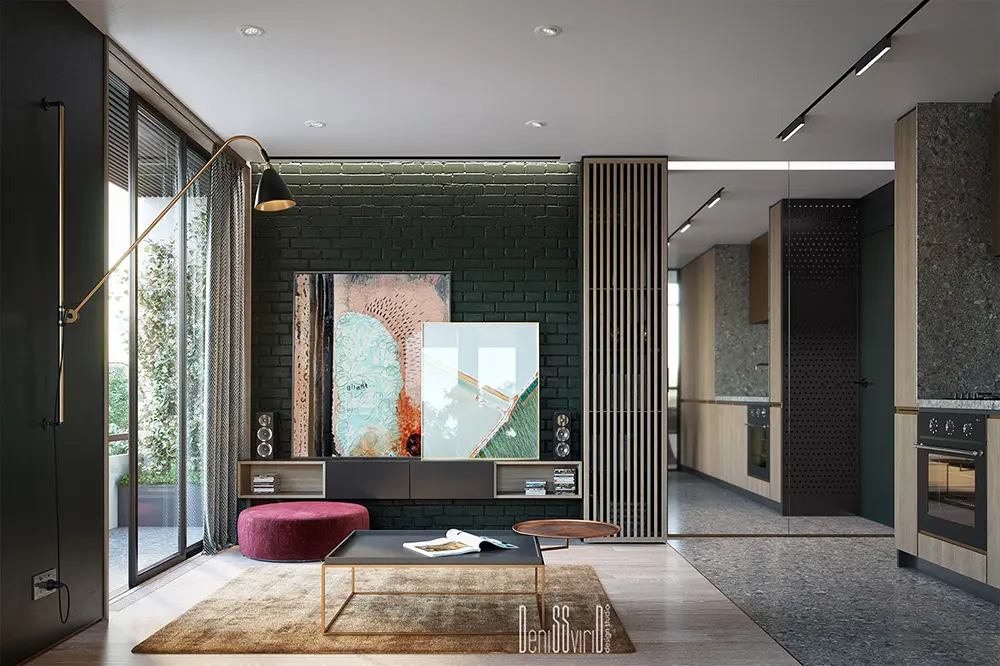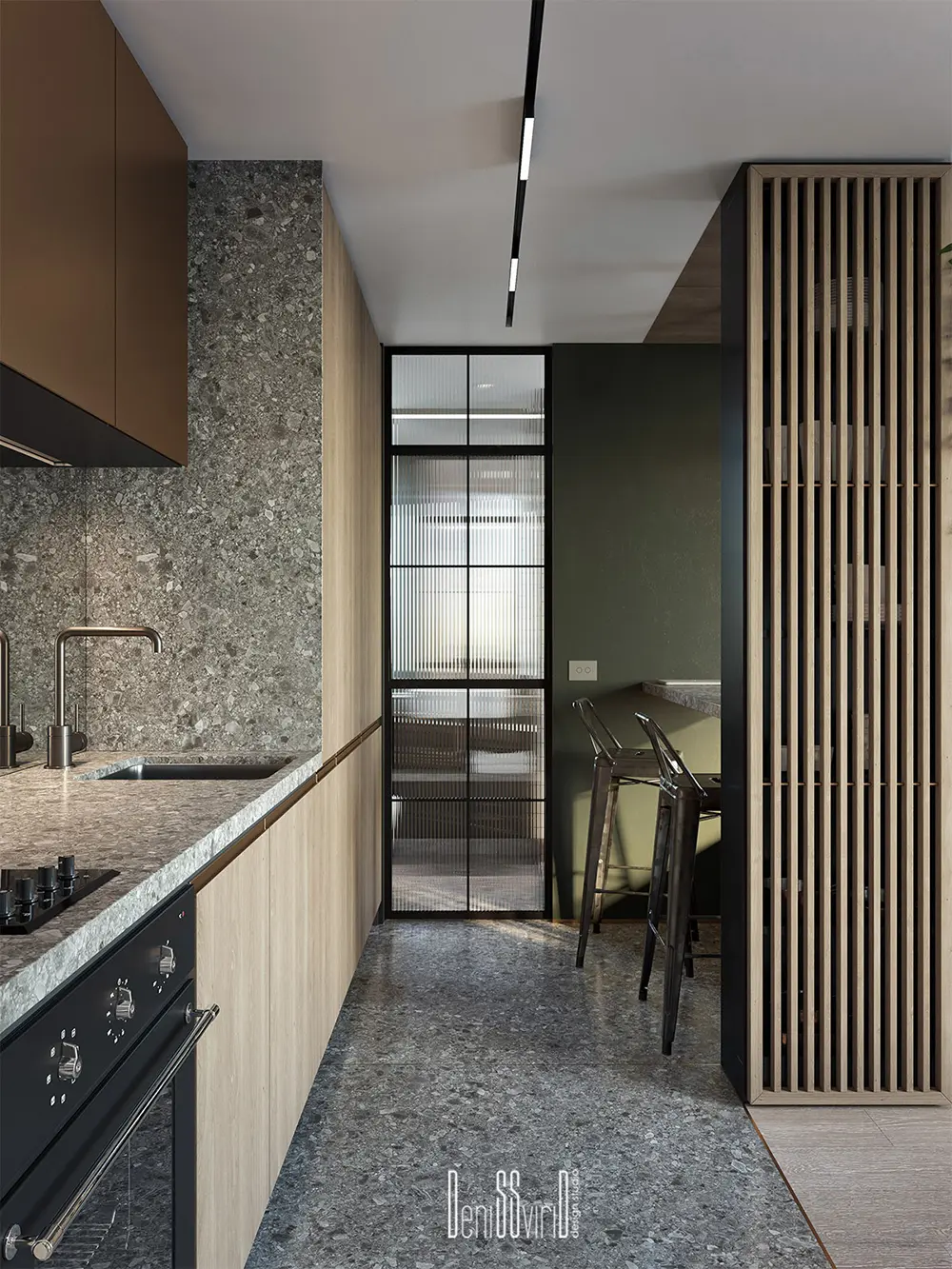 Adjacent to the bespoke platform bed, an eating area seamlessly flows. The bench, set at a comfortable height of 90cm to match the kitchen countertop, serves both as a dining surface and a practical space for food preparation. A textured glass wall discreetly separates the bedroom from the shower room, providing privacy without compromising the overall sense of space.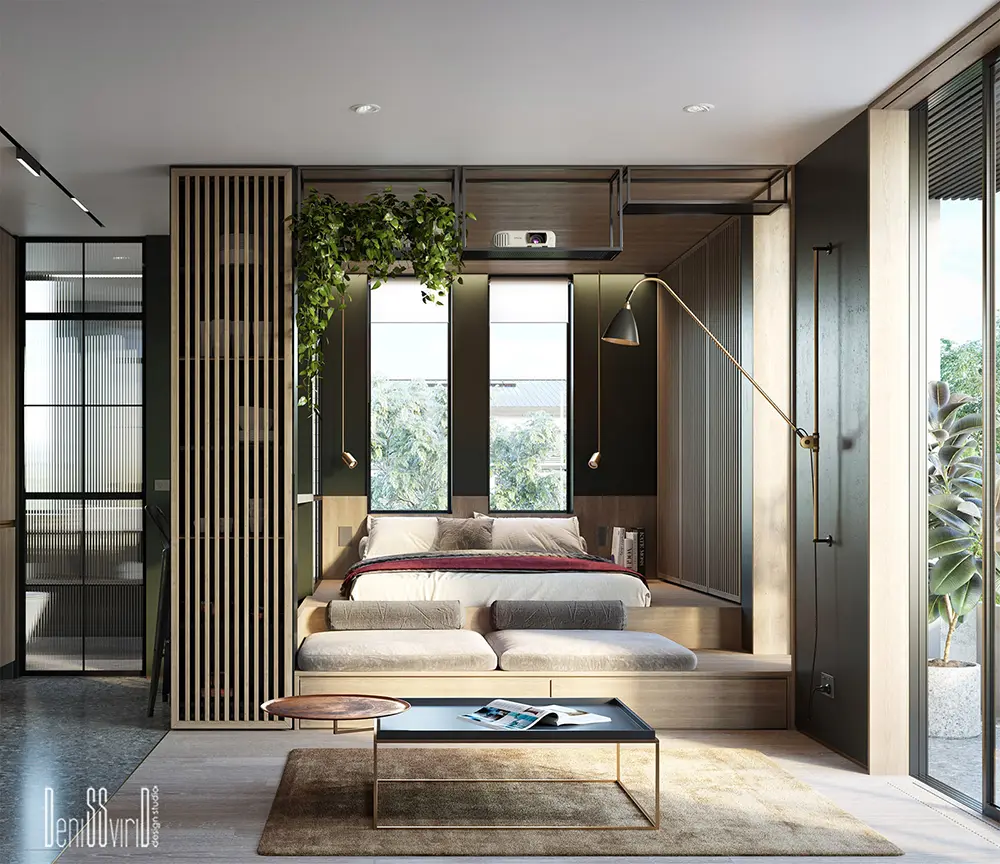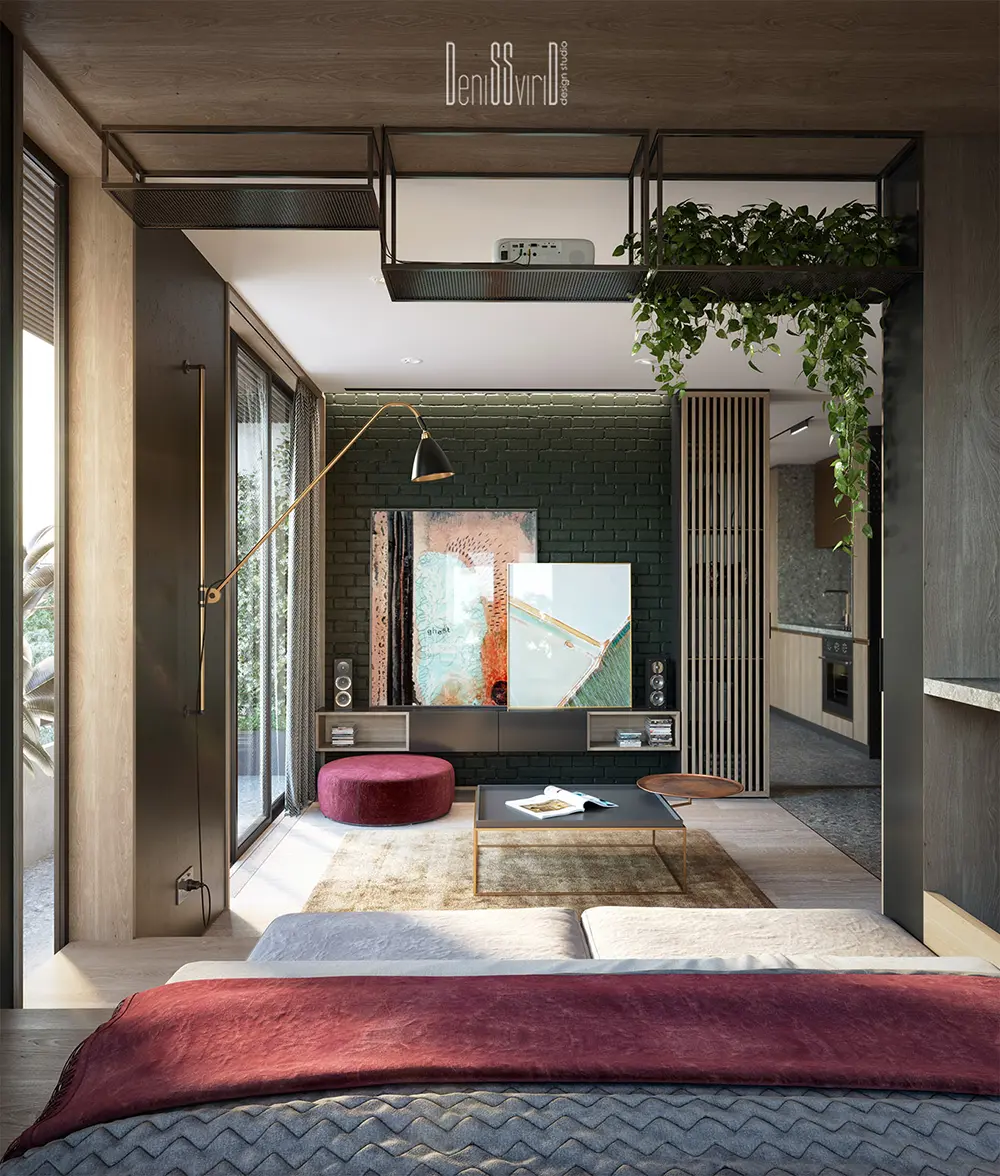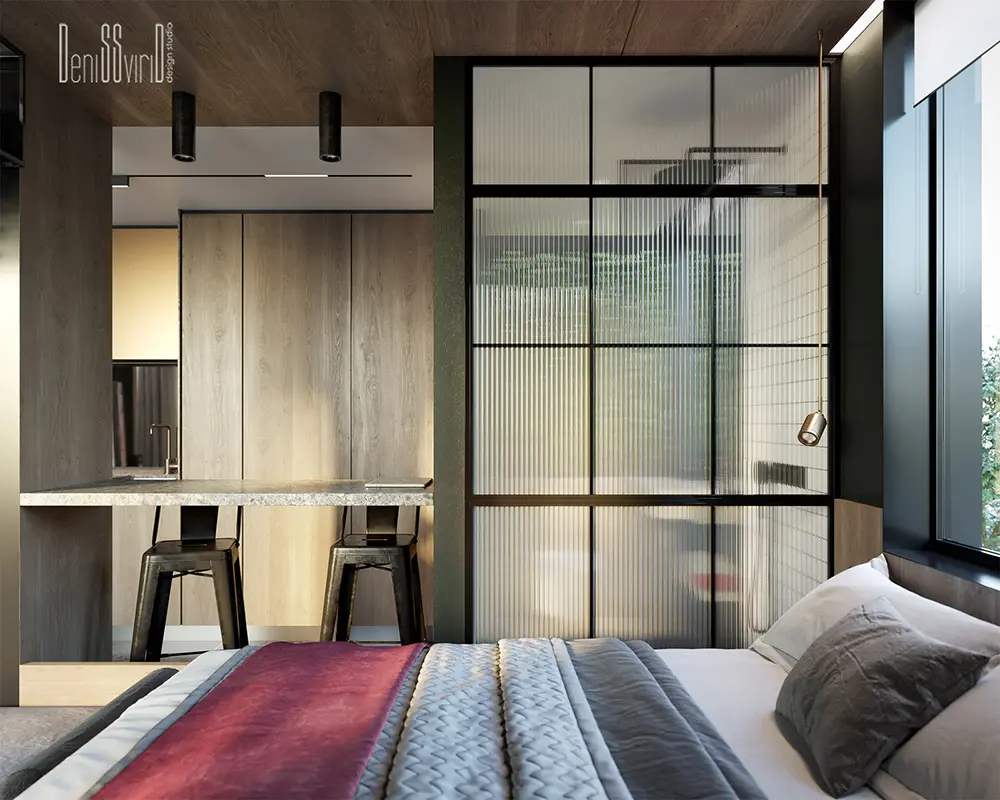 Access to the bathroom is through a textured glass door located off the kitchen dining area. A full-height mirror strategically placed at the end of the one-wall kitchen enhances the perception of space and amplifies the flow of natural light throughout the unit.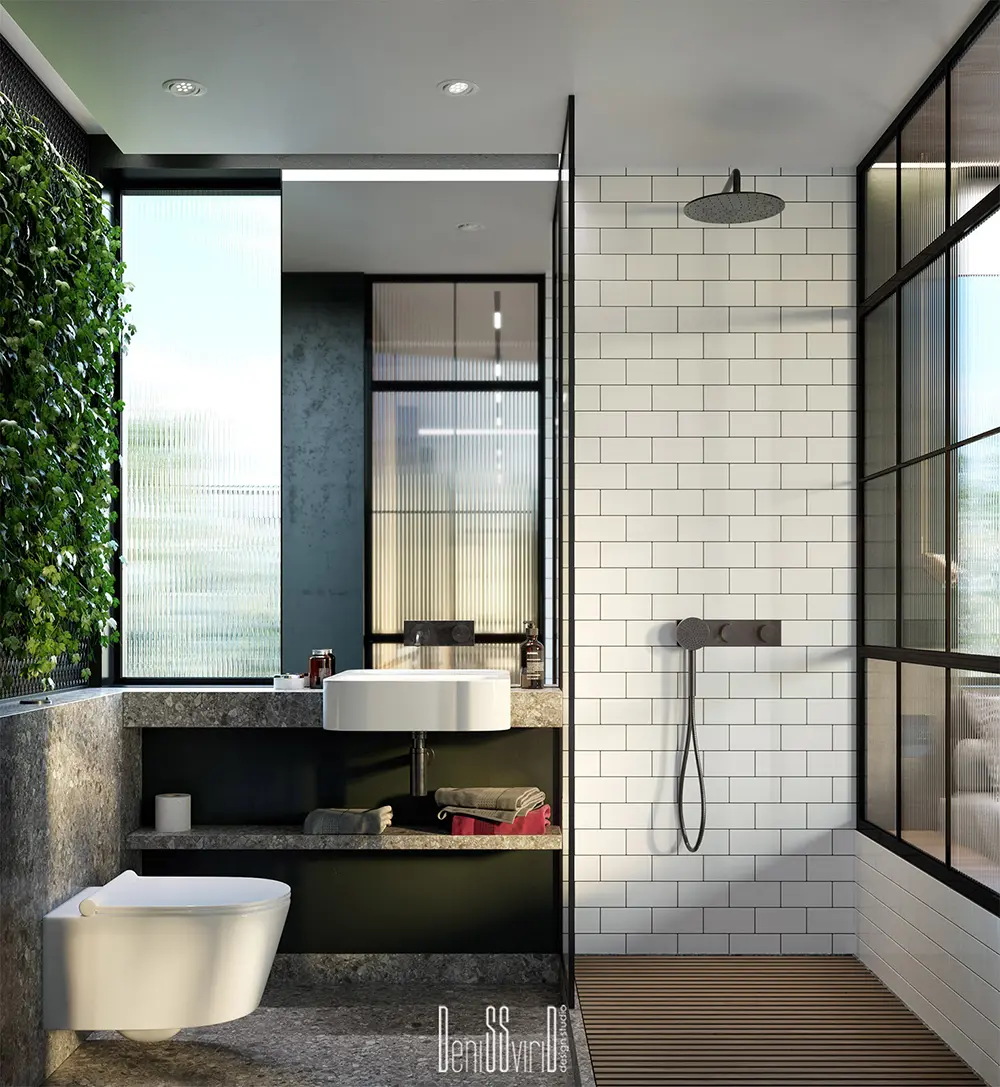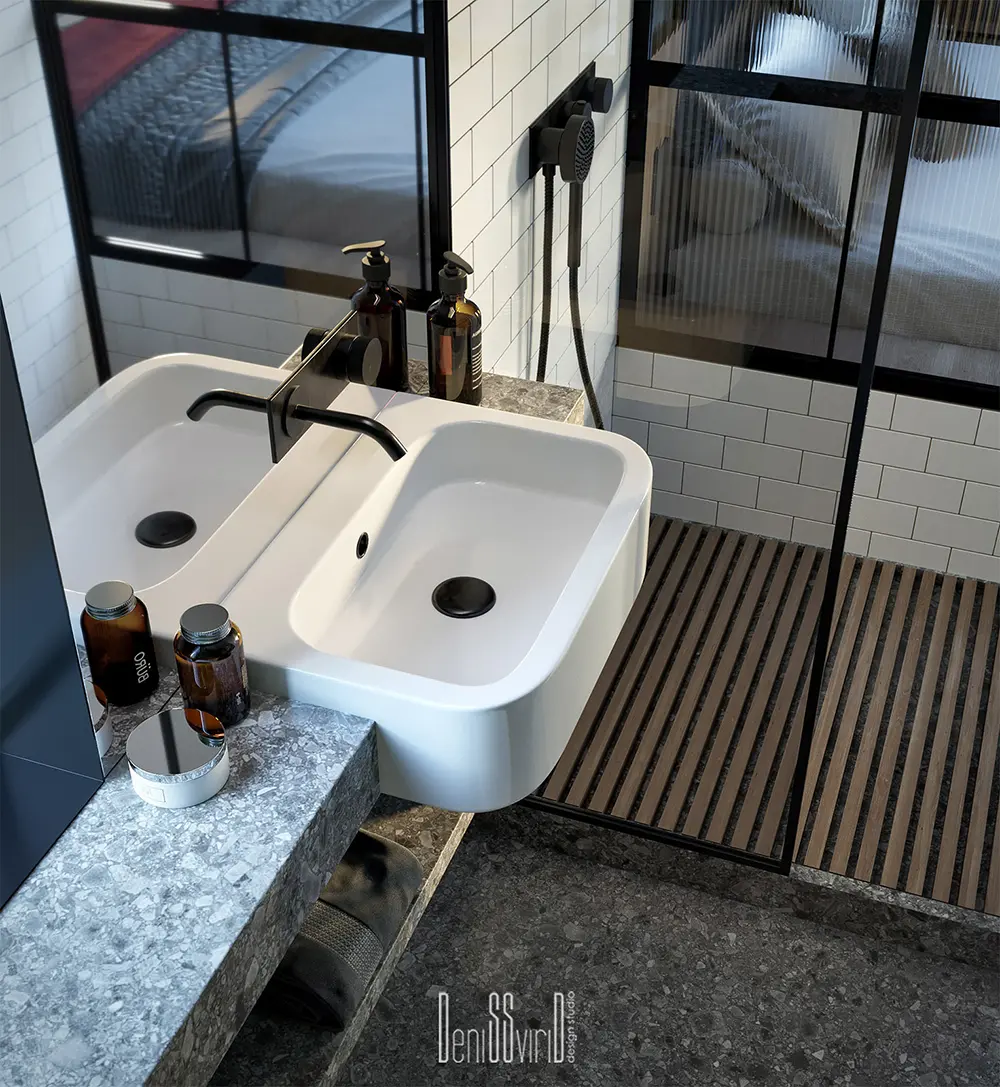 Within the compact 2.6 square meter bathroom, a wall-mounted toilet bowl creates the illusion of increased floor space. To add a touch of greenery and visual interest, a vertical garden wall has been cultivated above the toilet. The washbasin, cleverly designed with a semi-embedded style, sits atop a narrow vanity shelf, optimizing functionality without sacrificing style.
This Melbourne unit exemplifies how thoughtful design choices can transform even the most modest spaces into stylish havens. Every inch has been carefully considered, creating a harmonious blend of functionality, comfort, and aesthetic appeal. Through clever utilization of natural light, strategic placement of furniture, and smart storage solutions, this compact unit showcases the boundless possibilities of interior design, demonstrating that size is no obstacle to creating a truly inviting and inspiring home.