Regarding enhancing your outdoor space, porch stair railings play a crucial role. They offer several benefits, like showcasing your style and providing an aesthetic look and feel to your outdoor living space. But the first and foremost benefit is the security they offer.
Stairway falls lead to over 1 million injuries annually. They are the second most common cause of accidental injuries. Shockingly, stairway accidents also result in 12,000 deaths each year.
Therefore, you must take great care of the porch stair railing.
Outdoor Stair Railing Ideas
Now, let's dive into the detailed ideas here…
Play with a Variety of Textures
Combine different textures for a welcoming front entrance. Dark metal porch stair railings against a white door, porch ceiling, and stone facade create a polished and sophisticated look.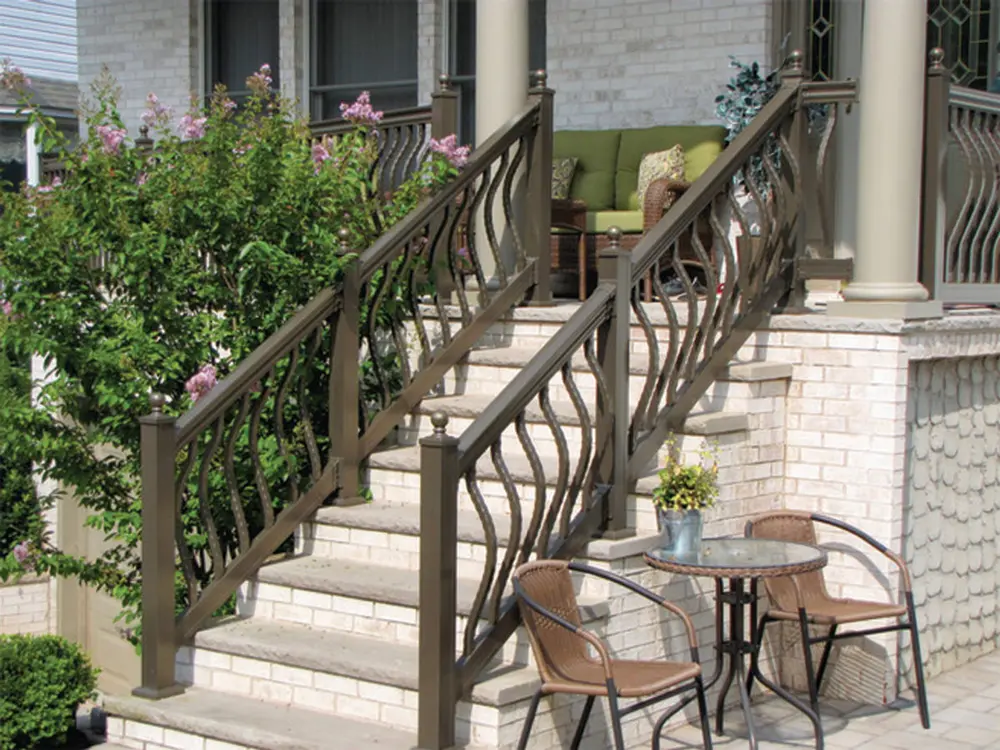 Keep It Simple & Chic
Go for a sleek black aluminum railing with a wrought-iron aesthetic. The black powder-coated finish contrasts elegantly with a stone porch and crisp white tapered column wraps. It delivers a chic, minimalist feel to a Craftsman-style porch.
Make It Modern
Embrace modernity with the classic drink rail. Customize the top rail to match your deck surface, add a contrasting hue, and incorporate a stainless steel cable infill for durability and a contemporary edge.
Go With Cool Curve
Elevate your porch's visual appeal with a uniquely modern curved stair design and white composite railing. The curve transforms the stairs into an elegant transition point from the deck to the patio.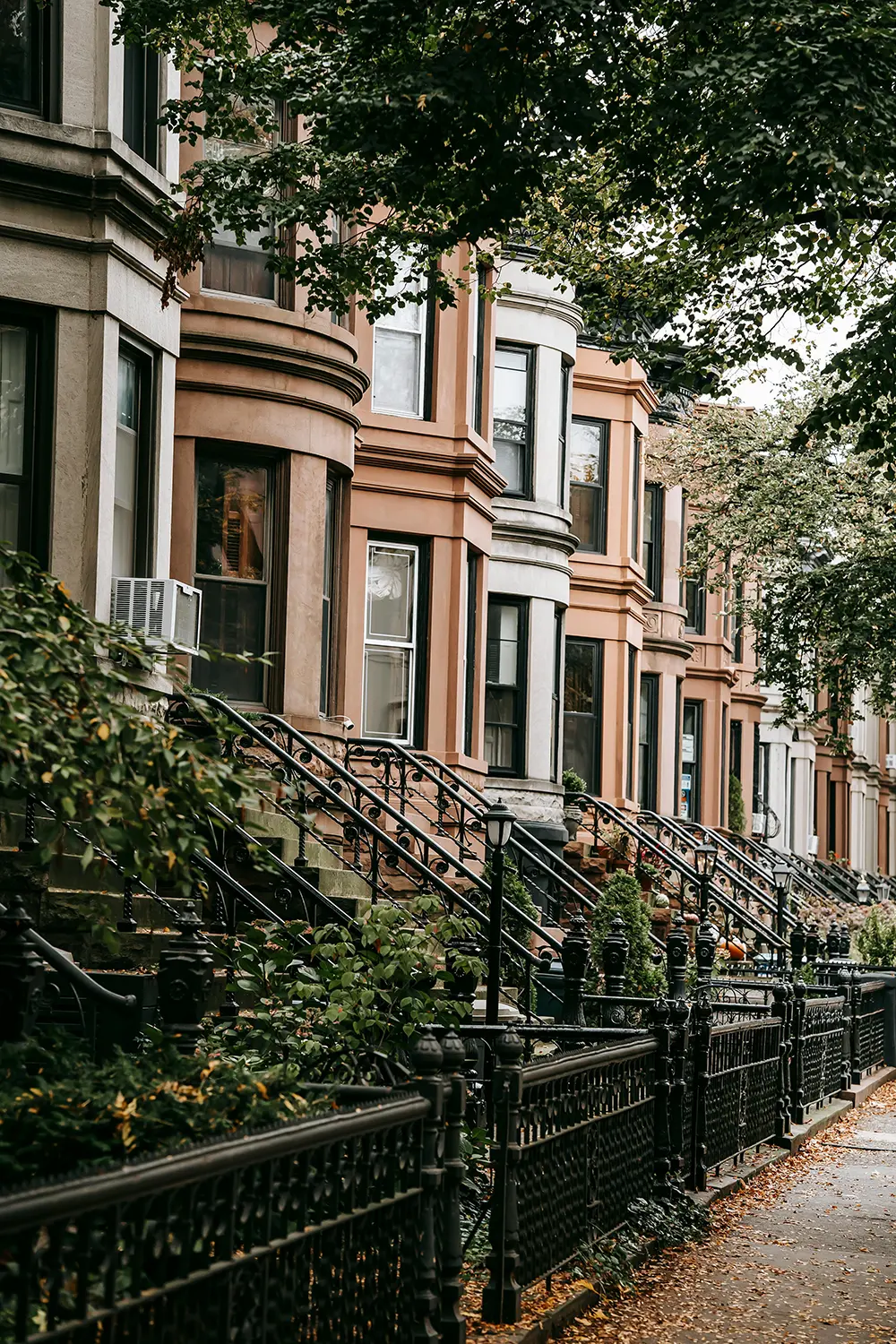 Set the Mood with Lighting
Enhance the atmosphere with outdoor lighting incorporated into the railing design. This adds charm and dimension and improves safety by providing additional visibility.
Opt for Clean Minimalism
Embrace a minimalist look with unobstructed views using glass panel infills. Impression Rail's sleek, narrow profile and glass panels create a railing that exudes chic, contemporary style.
The mix of materials between the deck, railing, and a stone-clad home gives this design a decidedly mid-century modern feel.
Embrace the Blues
Experiment with shades of blue for a fresh and inviting look at your home's entrance. Incorporating different tones, from navy to sky blue, can create a visually appealing and welcoming facade.
Opt For Flower Box Railing
Instead of a traditional railing, consider installing flower boxes along one side of the porch. This adds color and enhances your outdoor space's natural, lush feel.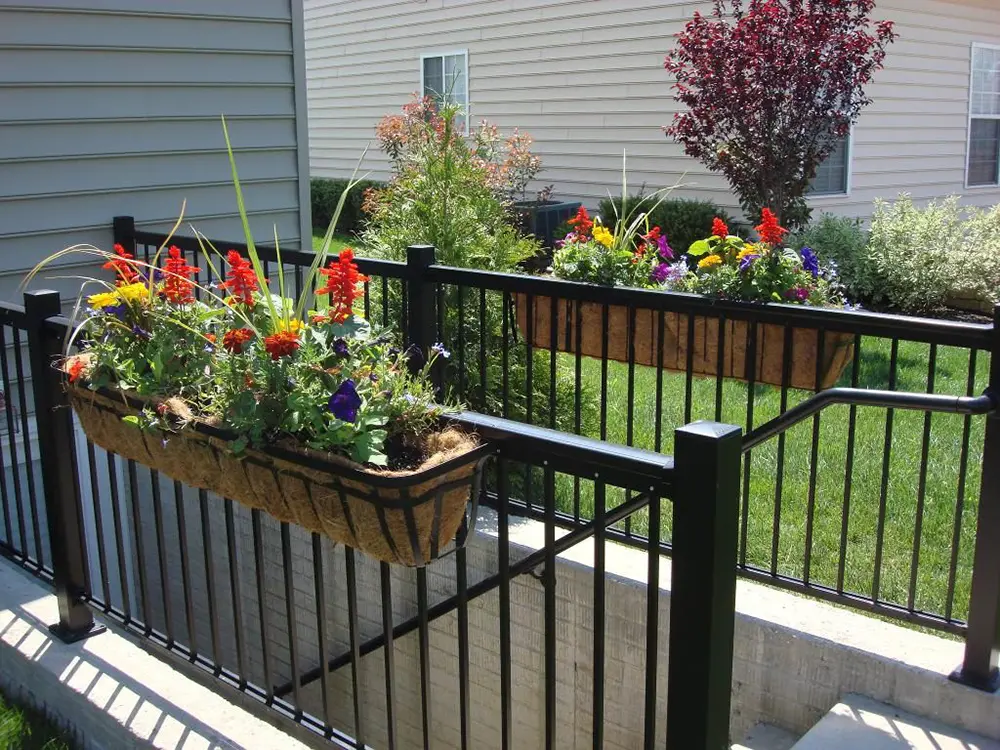 Classic Red and White Design
Create a classic look by pairing a white porch railing with red accents on the ceiling and porch swing. This timeless combination adds interest and curb appeal to your home.
Opt For Rustic Minimalism
Achieve a blend of rustic and minimalist styles by opting for a cable porch railing with a simple design. The addition of a wood handrail introduces a touch of warmth.
Incorporate Symmetry
Opt for a wrought iron porch railing with a symmetrical design for a grand and timeless entrance. When treated, wrought iron provides durability and a classic look.
Go Geometric
Blend traditional and contemporary styles with a porch railing featuring a geometric design. This adds visual interest and makes your porch feel more spacious.
Combine Wood and Metal
Explore the combination of wood and metal in your porch railing. This clean, modern look provides plenty of natural light and a stylish contrast.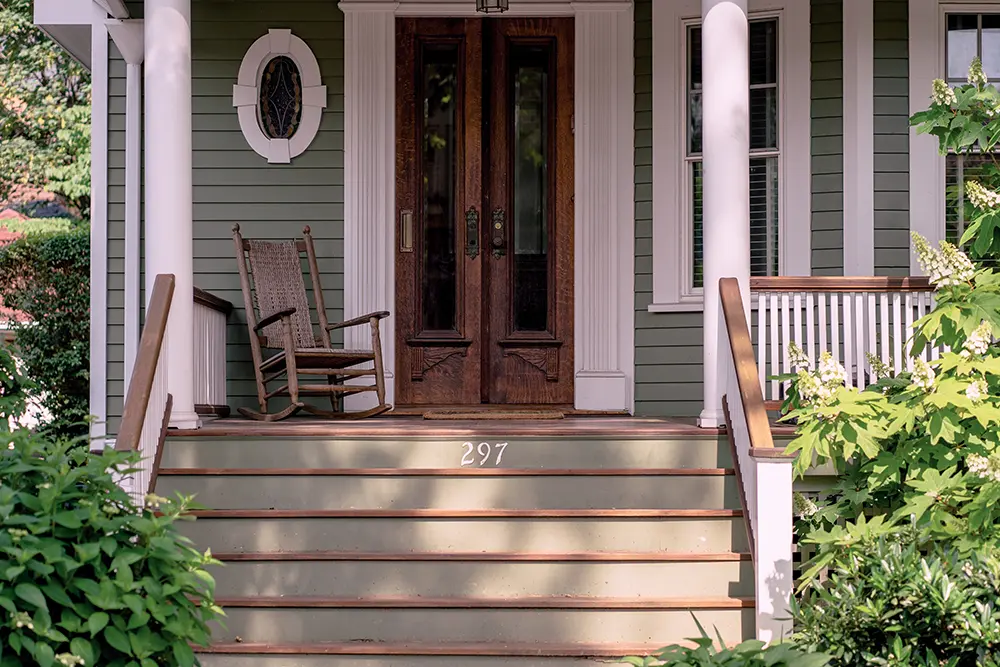 Keep It Natural
Integrate natural elements using the home's exterior as a porch railing and pillars for traditional white columns. This cohesive look exudes polish and sophistication.
Add a Whimsical Touch
Soften the look of a small porch with a thick wood railing by adding a sheer white sheet with twinkle lights and candles. This whimsical touch creates a relaxing and enchanting space.
Combine Brick and Wood
Highlight with classic white wood railing against brick pillars. This combination enhances the brick's charm and adds a timeless touch to your porch.
Considerations Before Choosing a Design:
Before delving into the myriad porch stair railing designs available for 2024, it's essential to consider a few key factors:
Design Options
Outdoor stair railing ideas encompass a range of choices, from color and material to infill and overall style. Explore these options to find a design that complements your home's architecture and taste.
DIY or Professional Installation
Assess whether you can tackle the installation as a DIY project or if it's advisable to enlist professional help. Factors such as code compliance and the complexity of the chosen design may influence this decision.
Code Compliance
Local building codes often dictate the specifications for porch and deck railings. Check with your local buildings department to ensure the chosen railing design meets compliance standards.
Conclusion:
As you explore porch stair railing designs for 2024, remember that the perfect design complements your home's architecture and reflects your style.
Lastly, don't forget to balance aesthetics with safety considerations to ensure you get the best of all worlds.