Step into the captivating world of this impressive luxury home design, envisioned by Alexandru Ionita. Let's embark on a journey through meticulously curated spaces that exude modern elegance and sophistication. The interplay of grays, matt black, warm white, and wood tones establishes an atmosphere of moody grandeur, while rugged rock elements showcase nature's raw beauty in contrast to smooth contemporary aesthetics. Amidst this captivating arrangement, boho design details emerge, celebrating artistic expression. Join us in exploring the allure of this high-end haven, where chic decor and a magical ambiance intertwine to weave a design narrative that captivates the discerning eye.
Living Room:
A large and luxurious living room welcomes you with a soft sanctuary provided by a light gray sectional sofa. Its inviting L-shaped arrangement creates a cozy conversational setting that wraps around the room's perimeter. A stunning modern chandelier illuminates the space with a golden sparkle, adding a touch of glamour.
Abundant natural light pours in from windows on either side, infusing the moody gray, black, and white living space with uplifting brightness. 3D-effect living room wall decor complements the rugged gray stonework backdrop, adding depth and visual interest.
The open-plan living room seamlessly flows into a formal dining area and a high-end kitchen design. Modern black dining chairs elegantly accommodate up to eight people, while a cohesive visual theme is achieved with a modern dining room chandelier that matches the light fitting in the sitting area.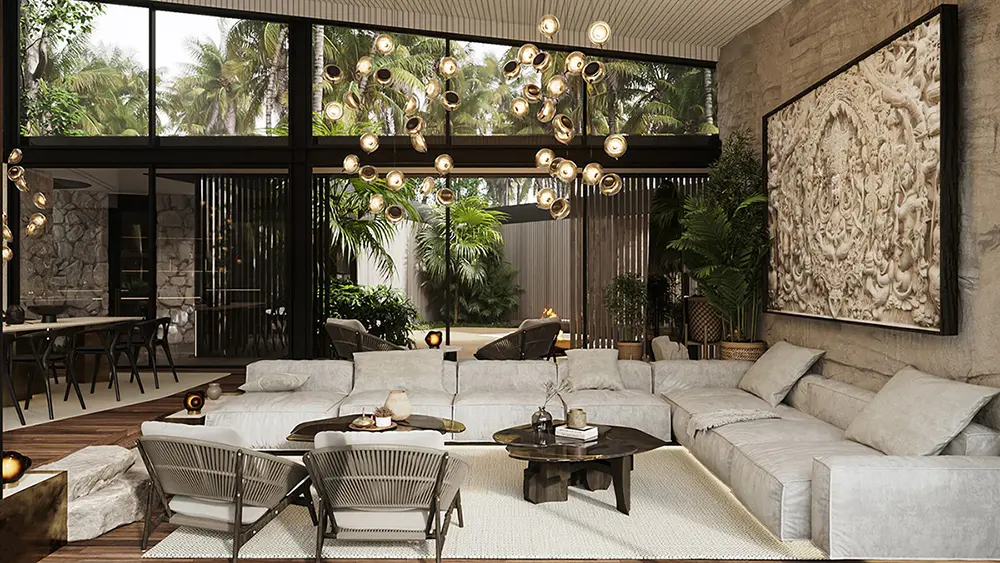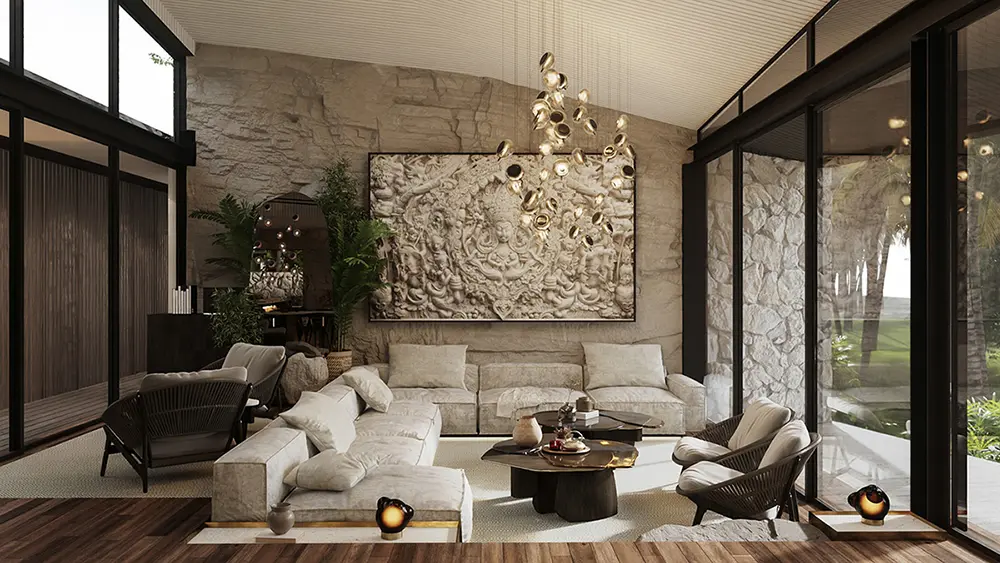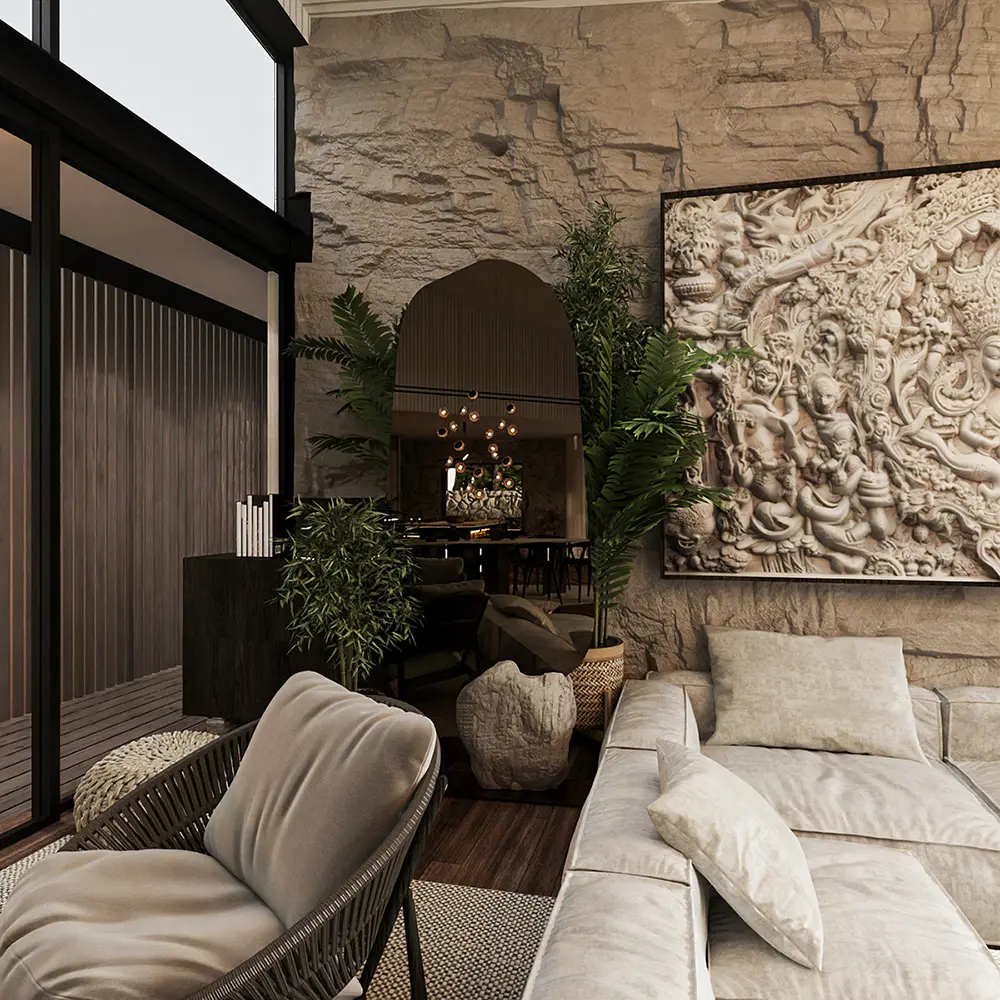 Dining Delight:
A unique dining room rug outlines the eating area geometrically, harmonizing with the angular design of the dining table. The large kitchen island doubles as a casual breakfast bar, comfortably seating six diners. Striking LED ribbons highlight the exquisite kitchen island design, drawing attention to its finely carved stone sections. Gold light fittings above the island enhance its grandeur.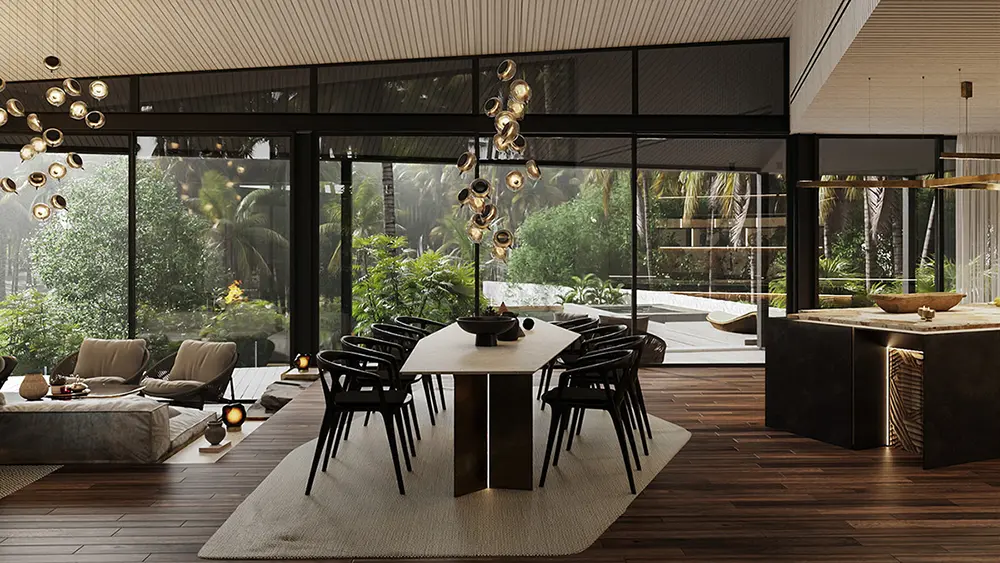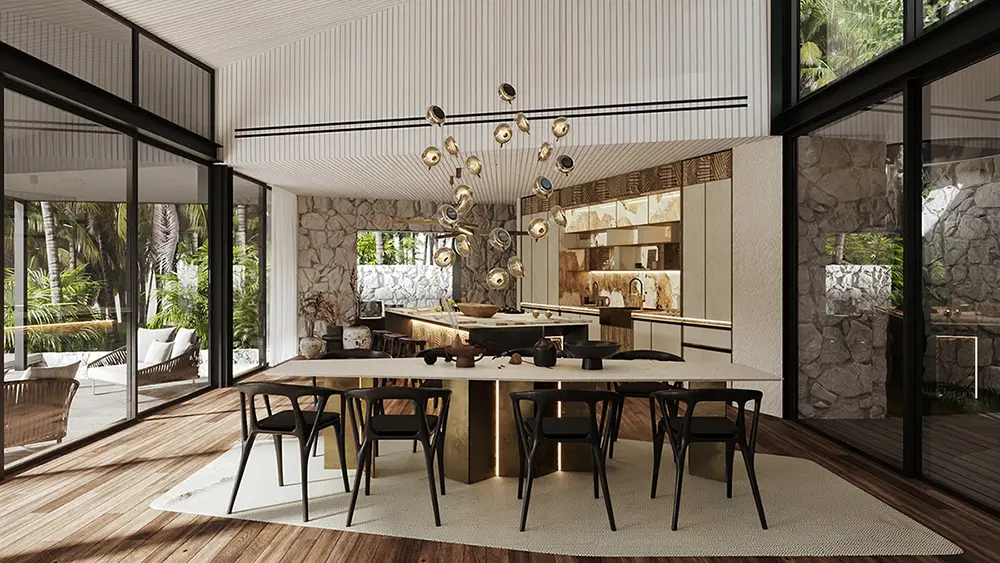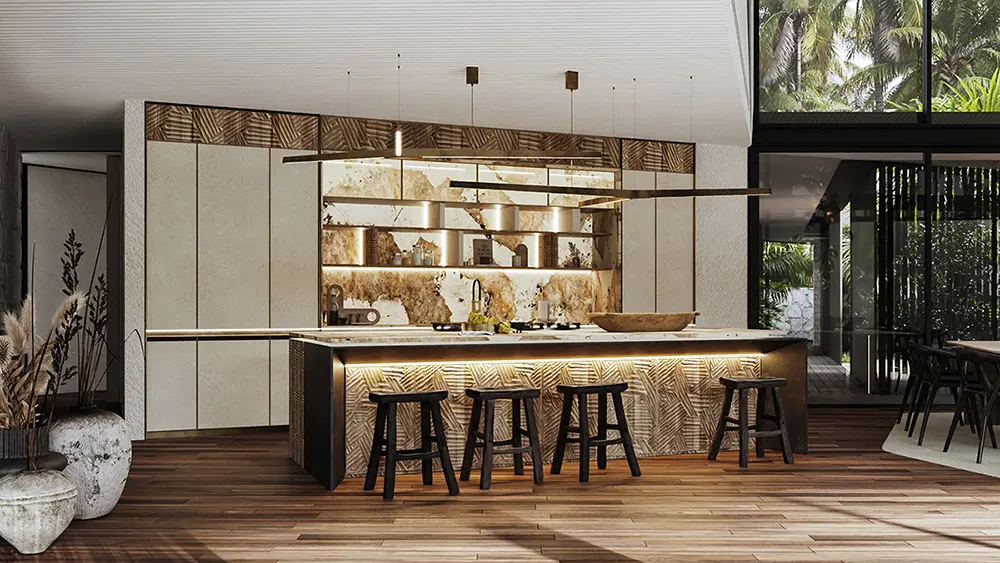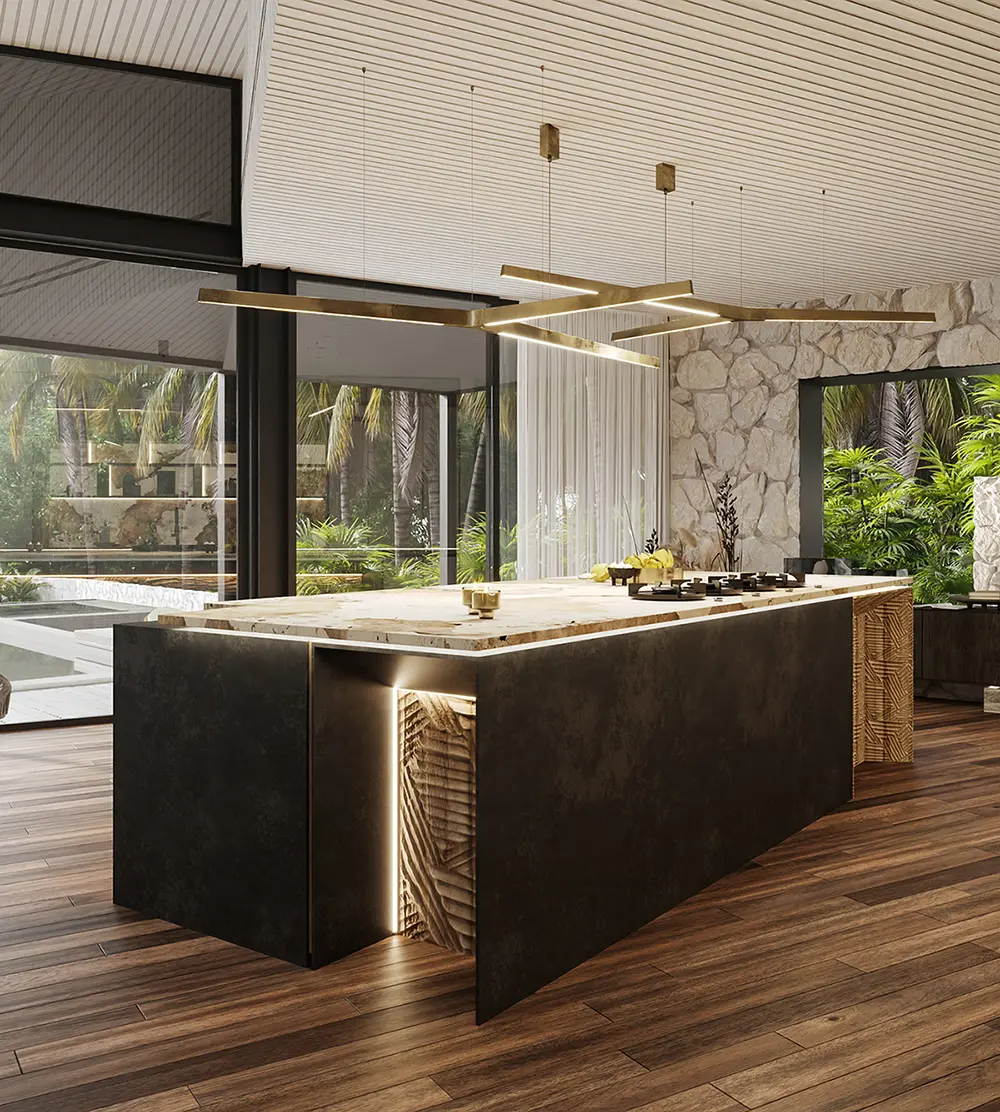 Bedroom 1 – Modern Elegance:
Upon entering the first bedroom, a sense of modern elegance envelops you. Dark walnut wardrobes serve as a striking backdrop for the contemporary gray upholstered bed. A cluster of pendant lights gracefully illuminates one side, while unique floor lamps cast a warm glow on the other. The cleverly designed winged headboard incorporates built-in nightstands, creating a seamless and organized layout. The sleeping area is thoughtfully separated from the dressing area by the wraparound headboard design. A ceiling fan with light ensures a comfortable ambiance, perfect for both dressing and peaceful sleep.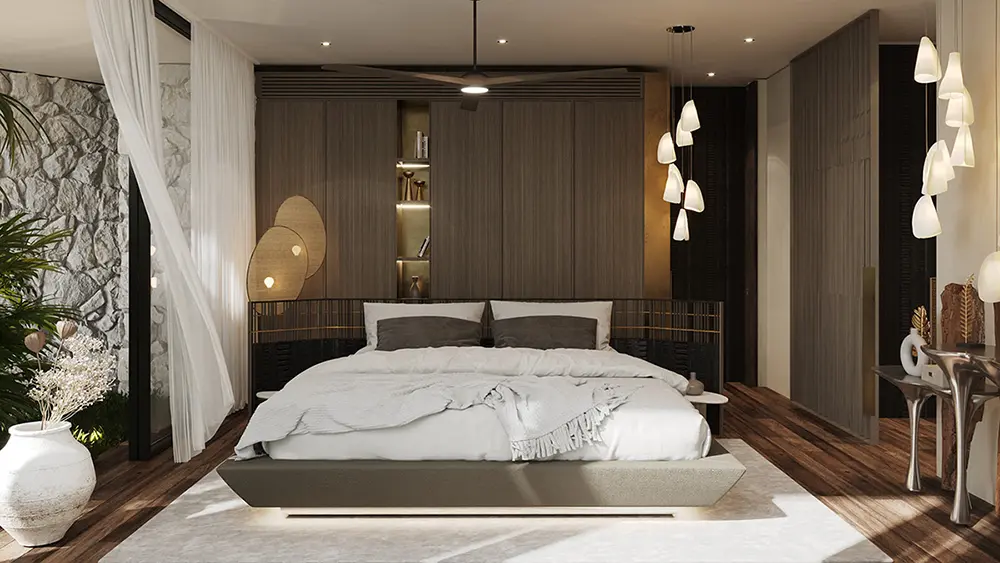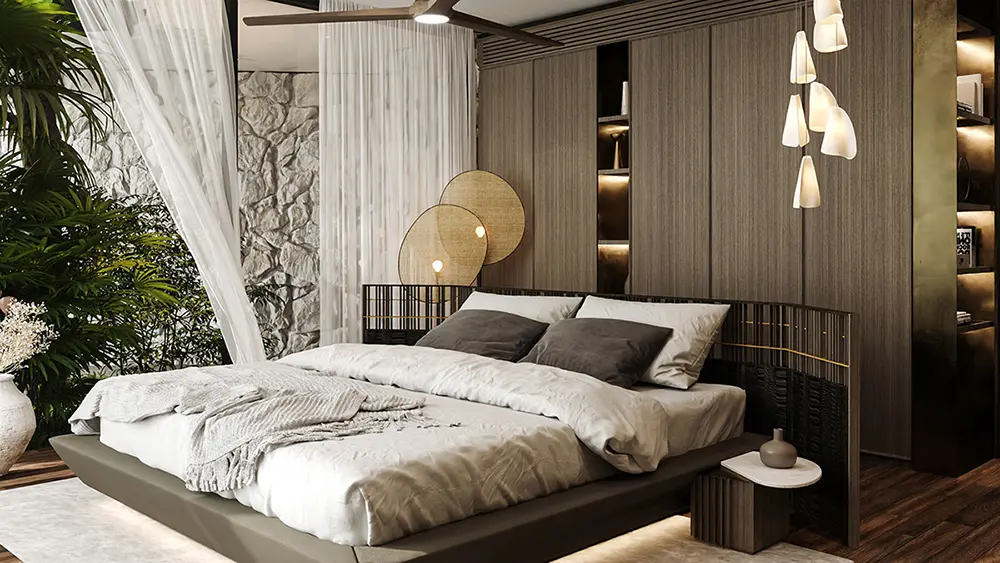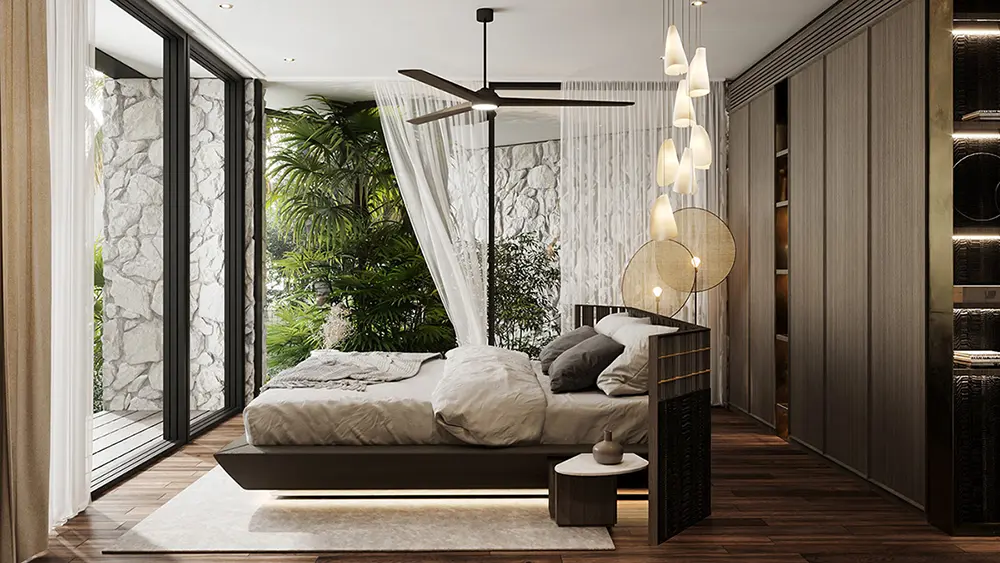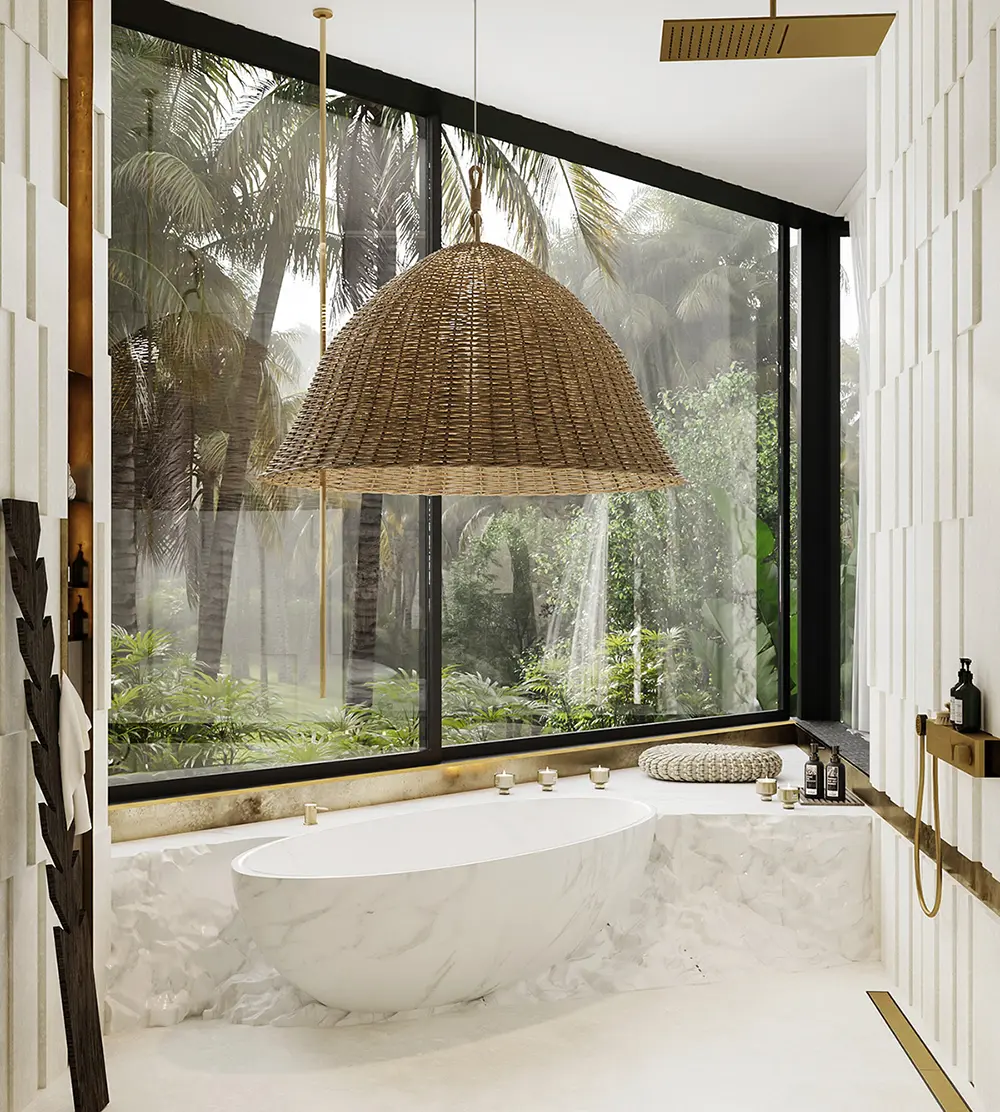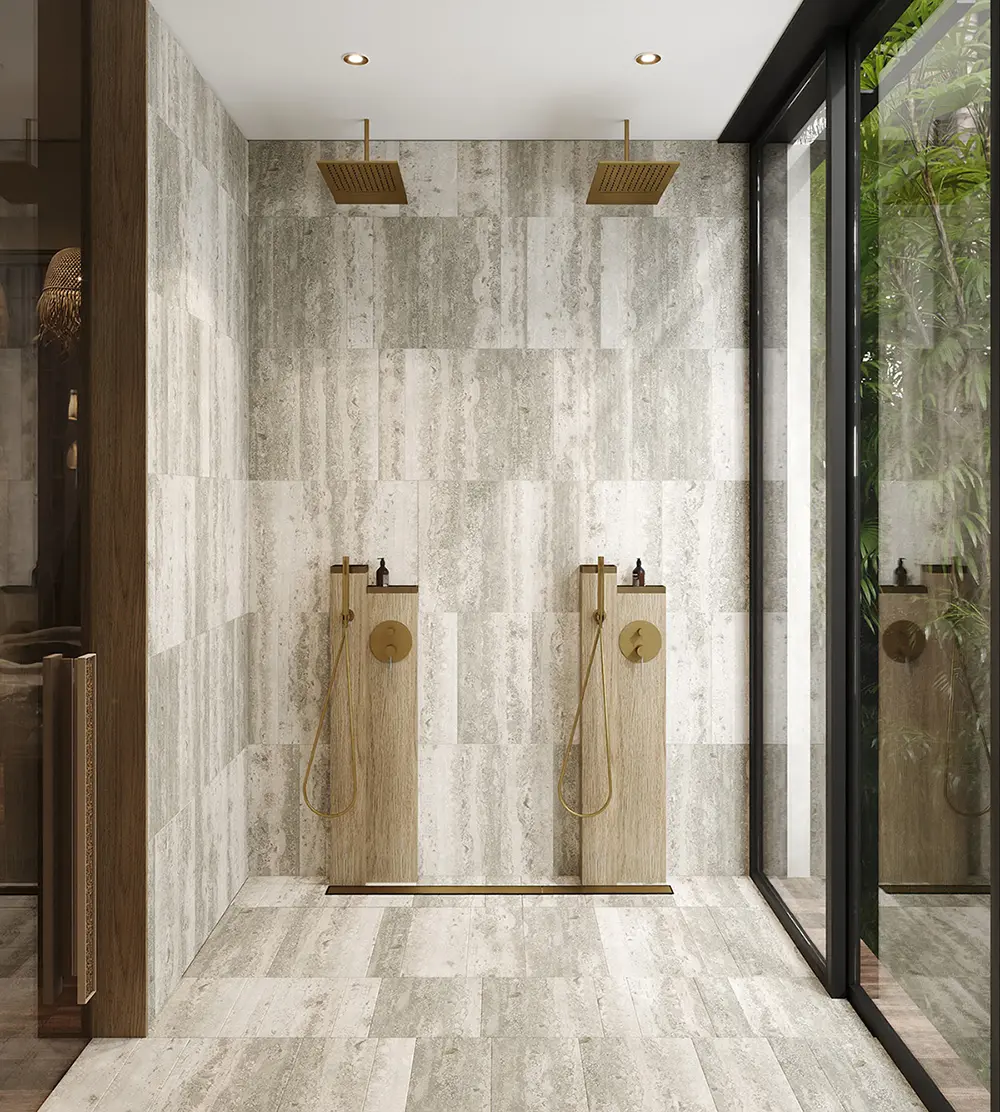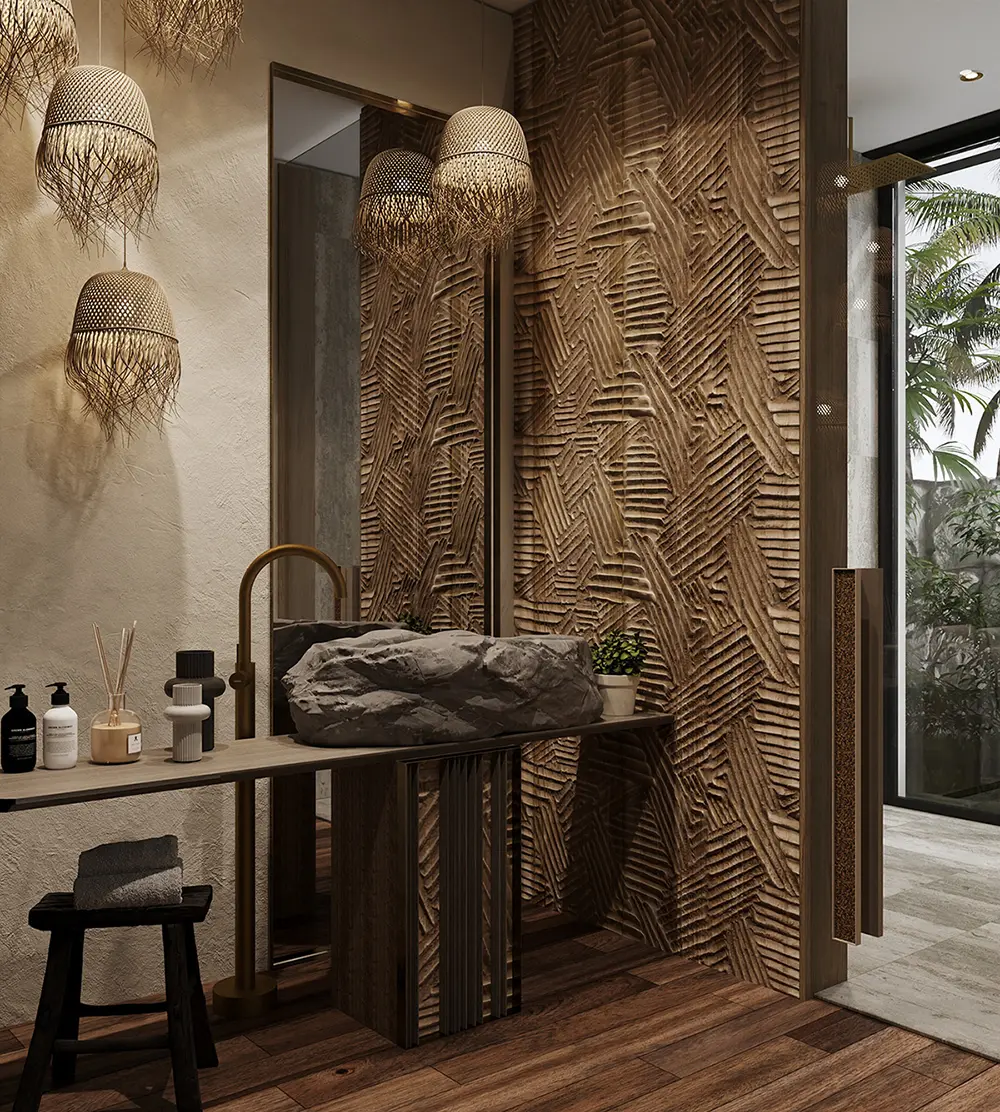 Bedroom 2 – Textured Retreat:
Moving to the second bedroom, a captivating stone wall adds a layer of texture and depth to the decor. An upholstered bed with a winged headboard design takes center stage, complemented by a light-permeable room divider that elegantly divides the space into sleep and dressing zones. A wooden end-of-bed bench harmonizes with the bed's brown upholstery, creating a cohesive and inviting atmosphere.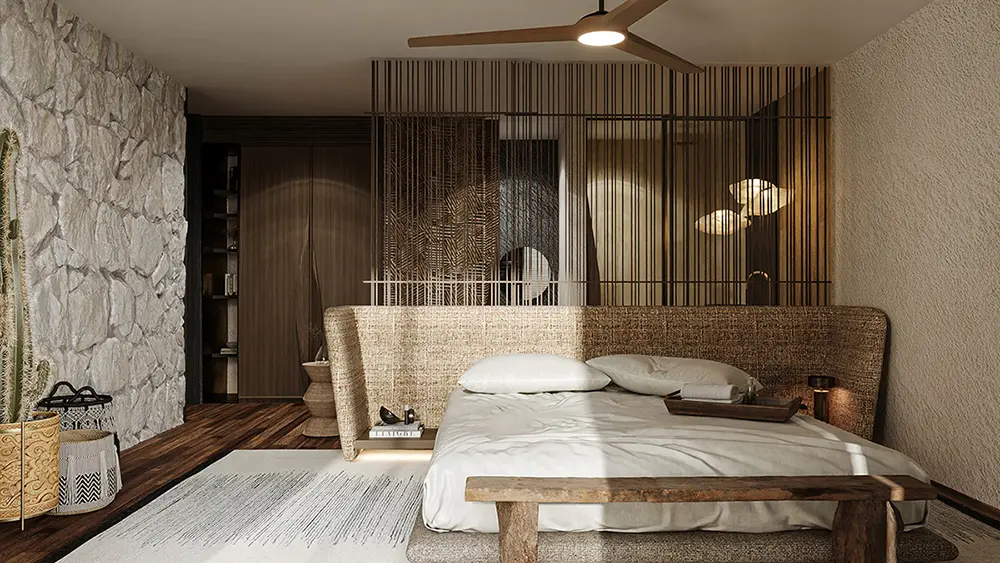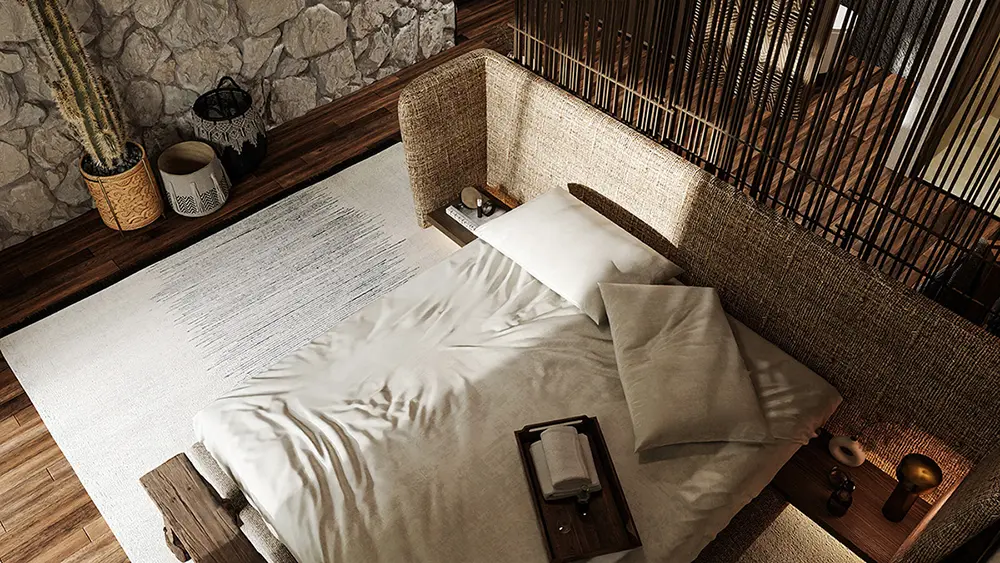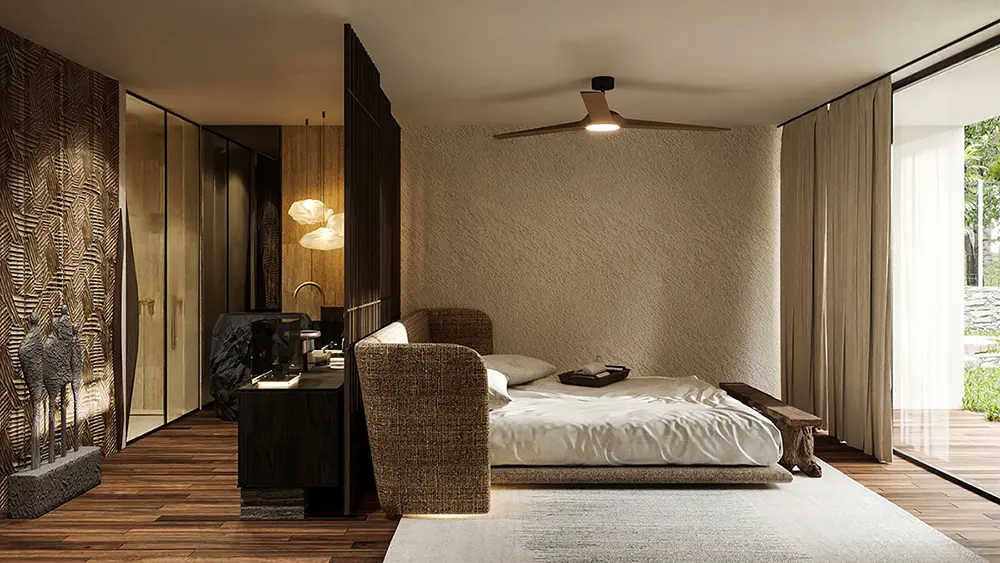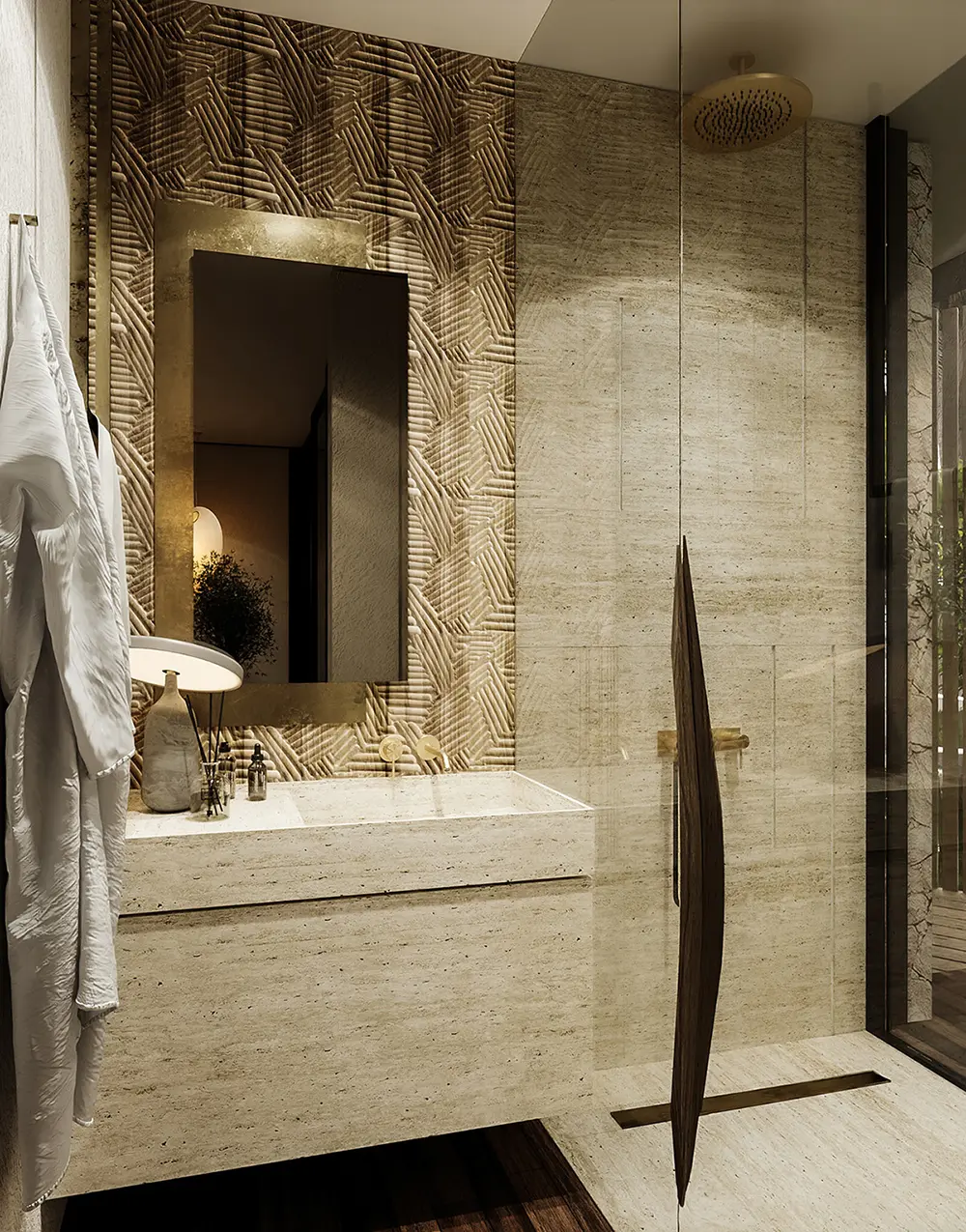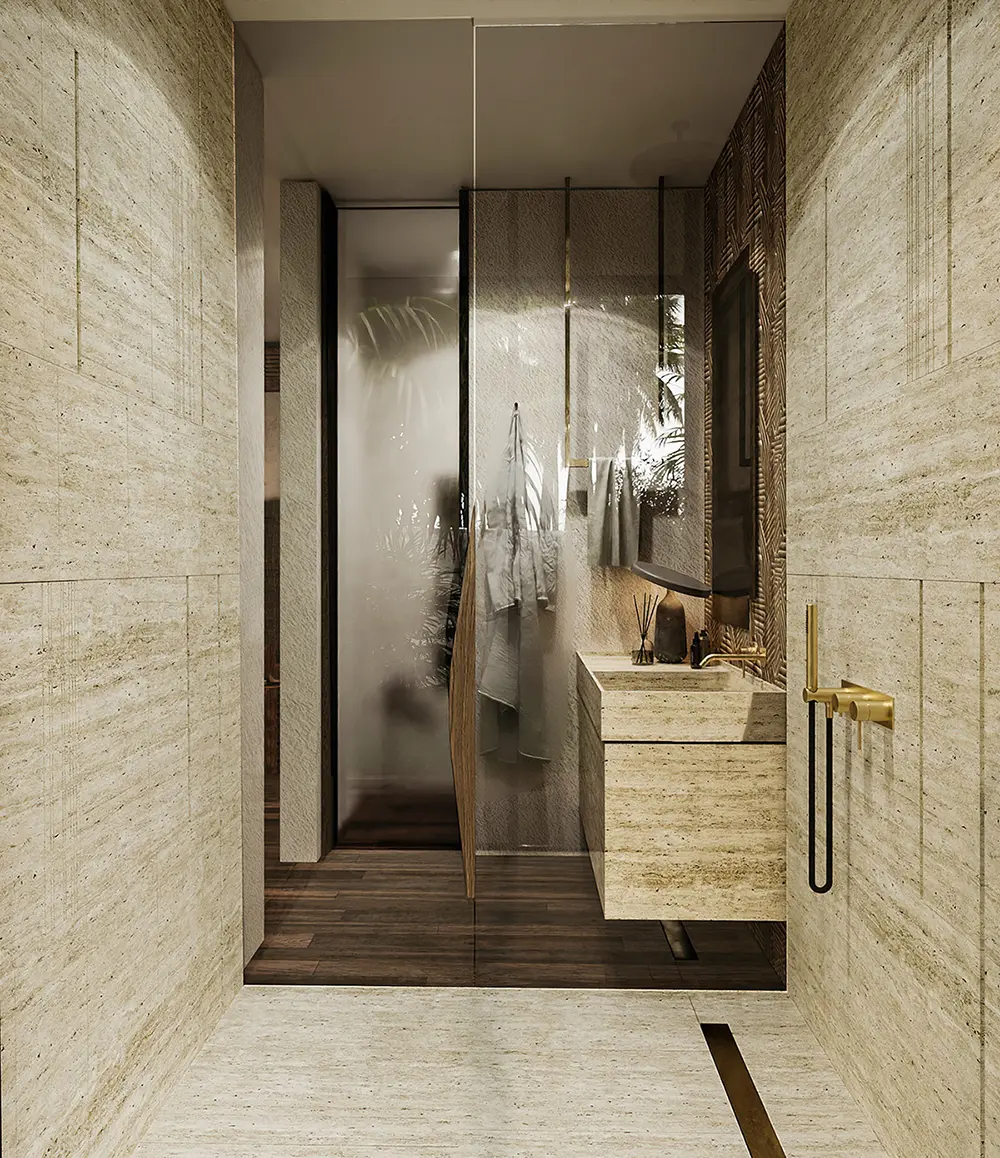 Bedroom 3 – Tranquil Gray Hues:
The third bedroom offers a serene retreat with soft gray tones setting a calming mood. An elongated upholstered bed with a matching gray sofa invites relaxation and comfort. Wooden wardrobes introduce a touch of warmth and texture to the decor. A naturally beautiful addition graces the space with a plant-filled terrarium positioned behind the headboard. A macramé wall hanging, mounted on an exposed stone wall, adds artistic flair to the room. Sheer white voiles gently billow at the edge-to-edge window, infusing the space with a romantic ambiance.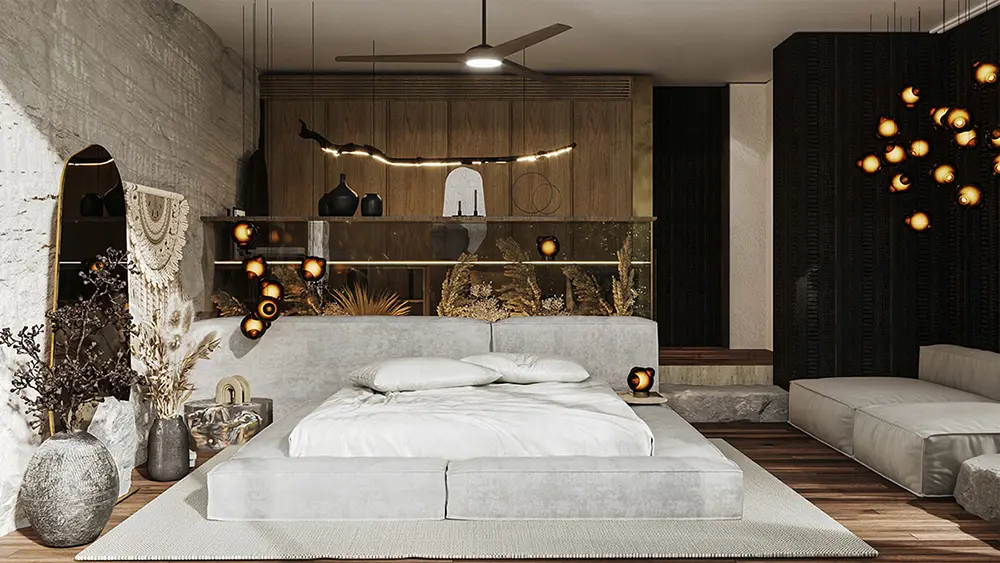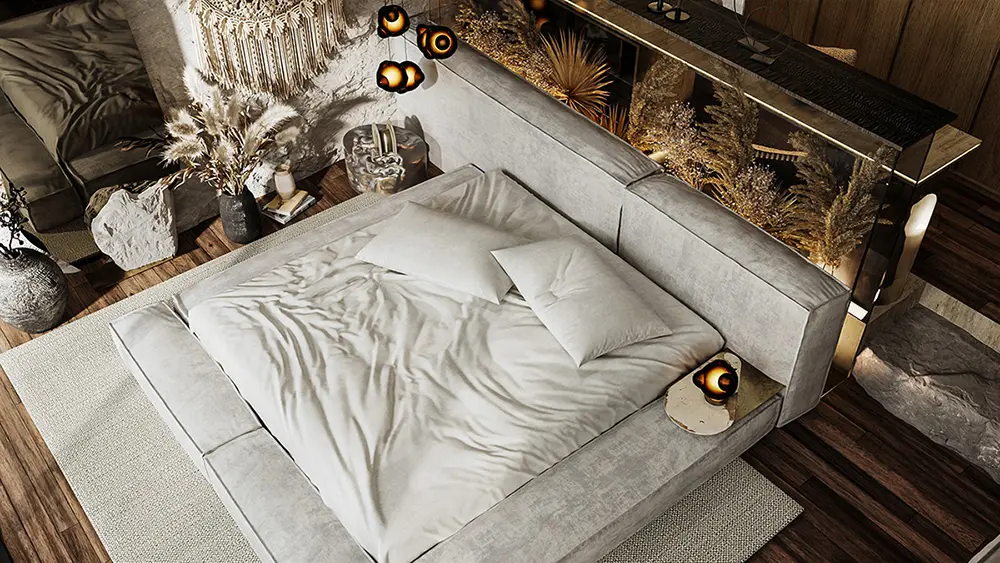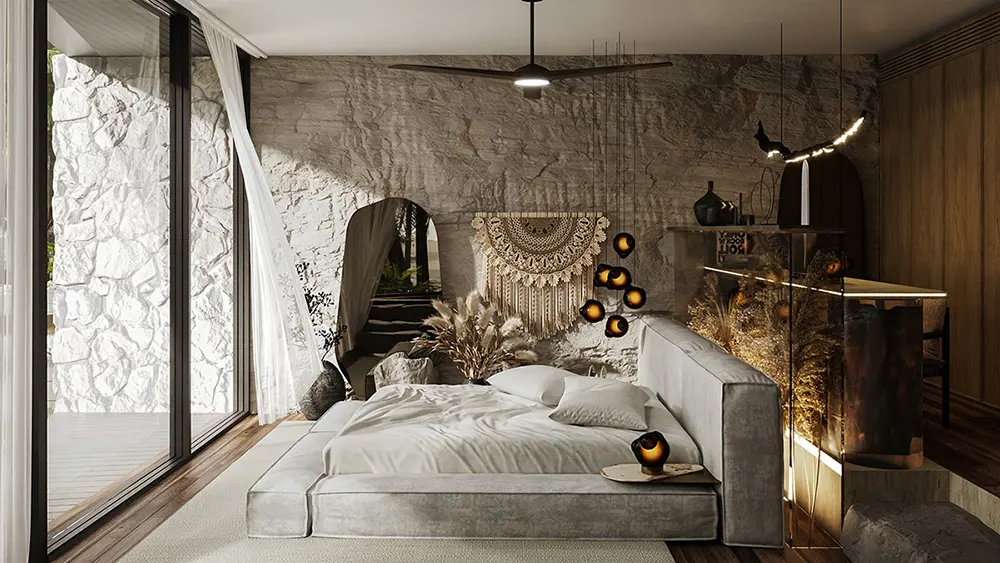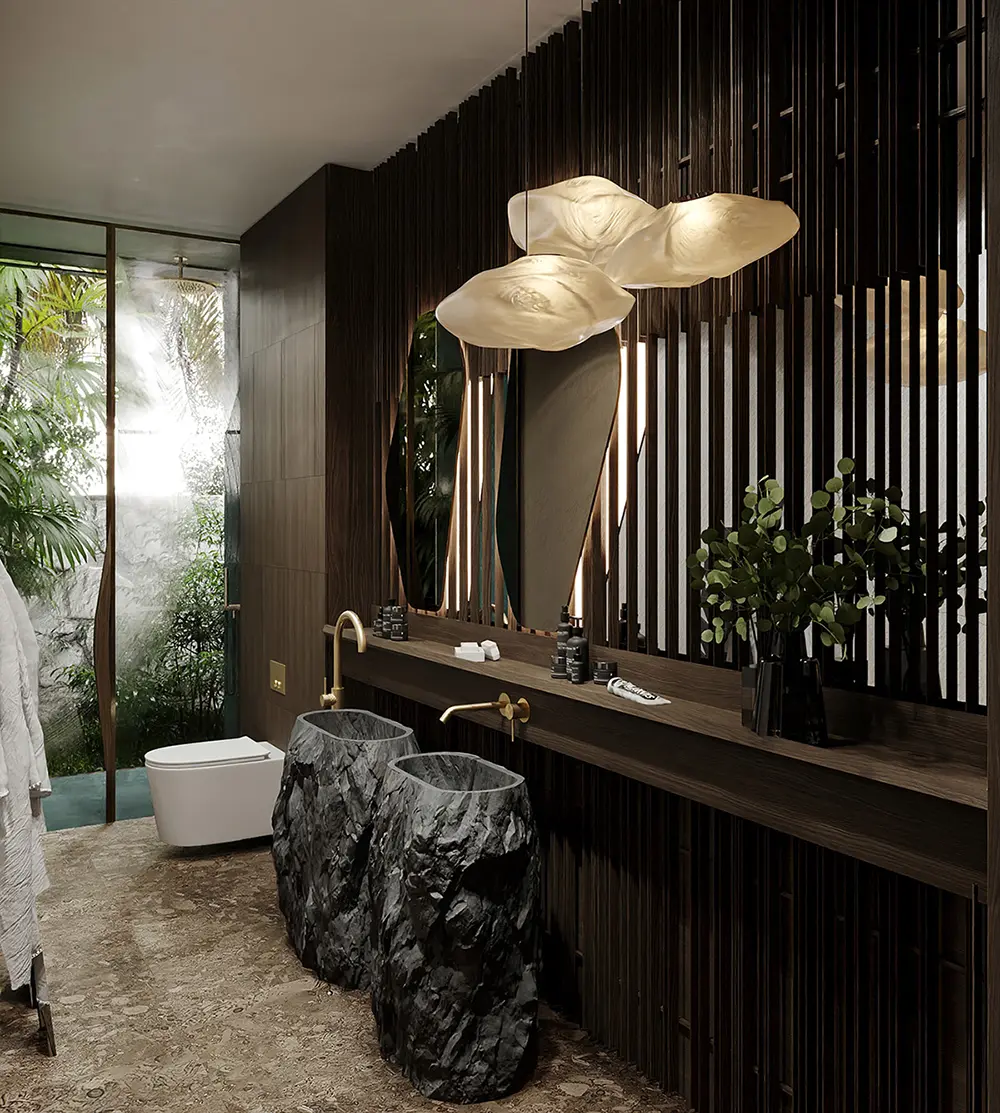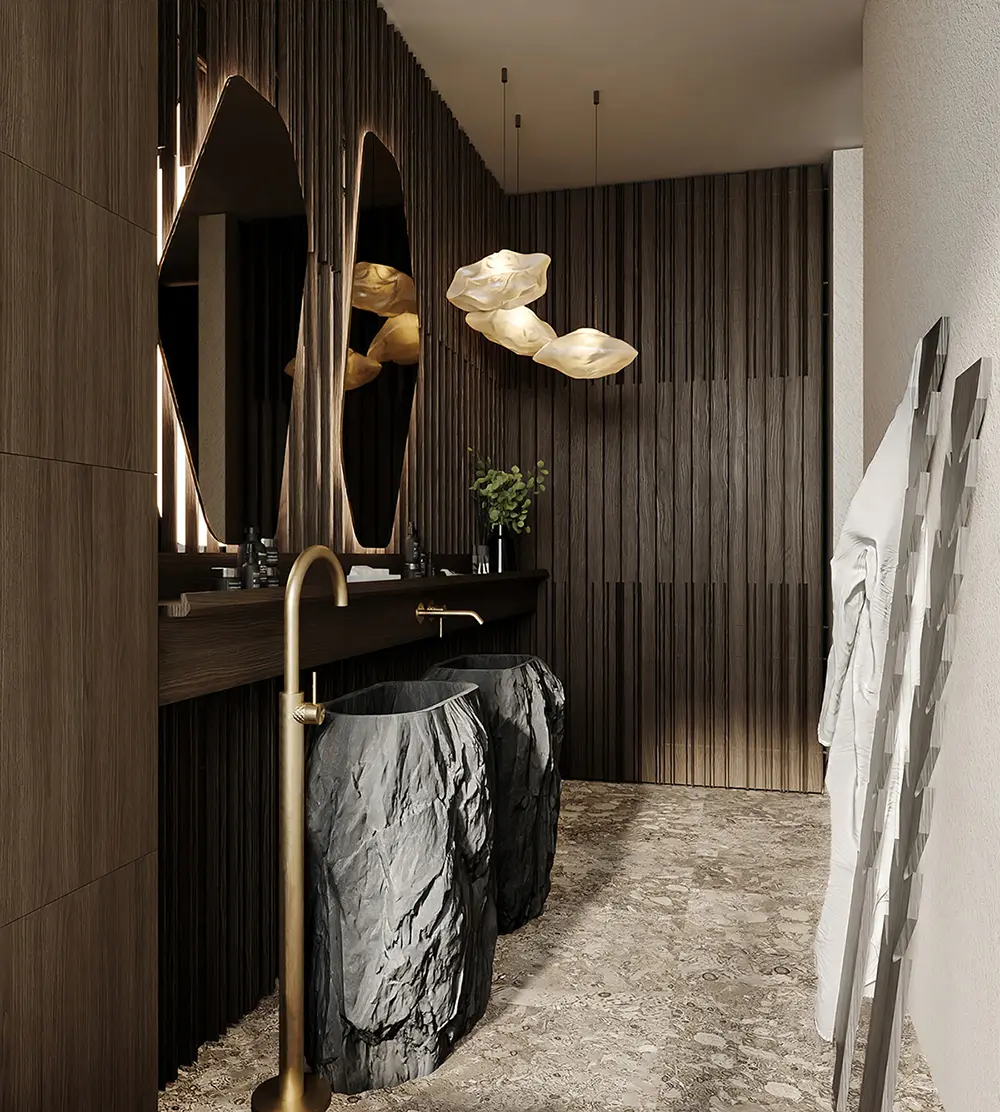 Bedroom 4 – Botanical Oasis:
The final bedroom presents a botanical haven, seamlessly blending nature and design. Indoor plants thrive in a planter positioned behind the upholstered headboard, creating a refreshing and vibrant atmosphere. Uplighters delicately spotlight the living botanical feature, adding a touch of enchantment to the room. Glass-fronted wardrobes offer a glimpse into an organized collection of clothing, while an array of open shelving showcases decorative knick-knacks, adding a personal touch to the space. The WC, discreetly separated by an oblique wall construction, enjoys both privacy and natural light. The toilet cistern concealment wall doubles as a shelf for small plants and a reed diffuser, infusing the air with a fresh and inviting scent.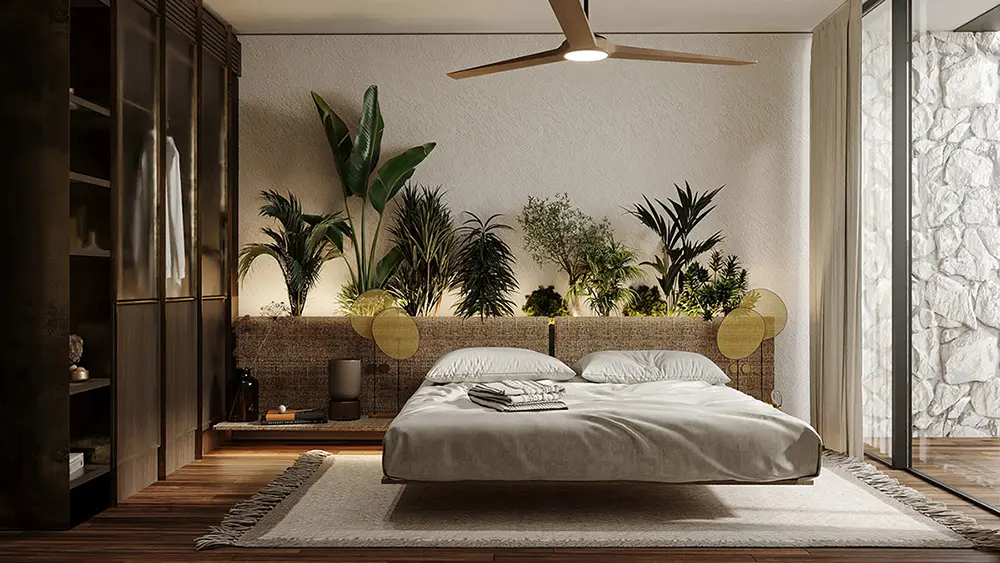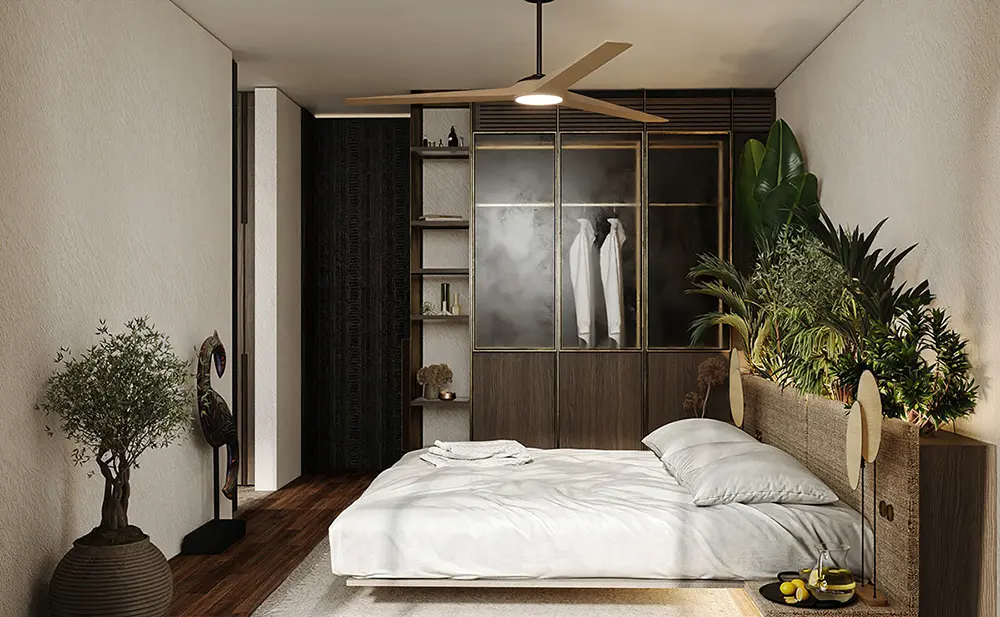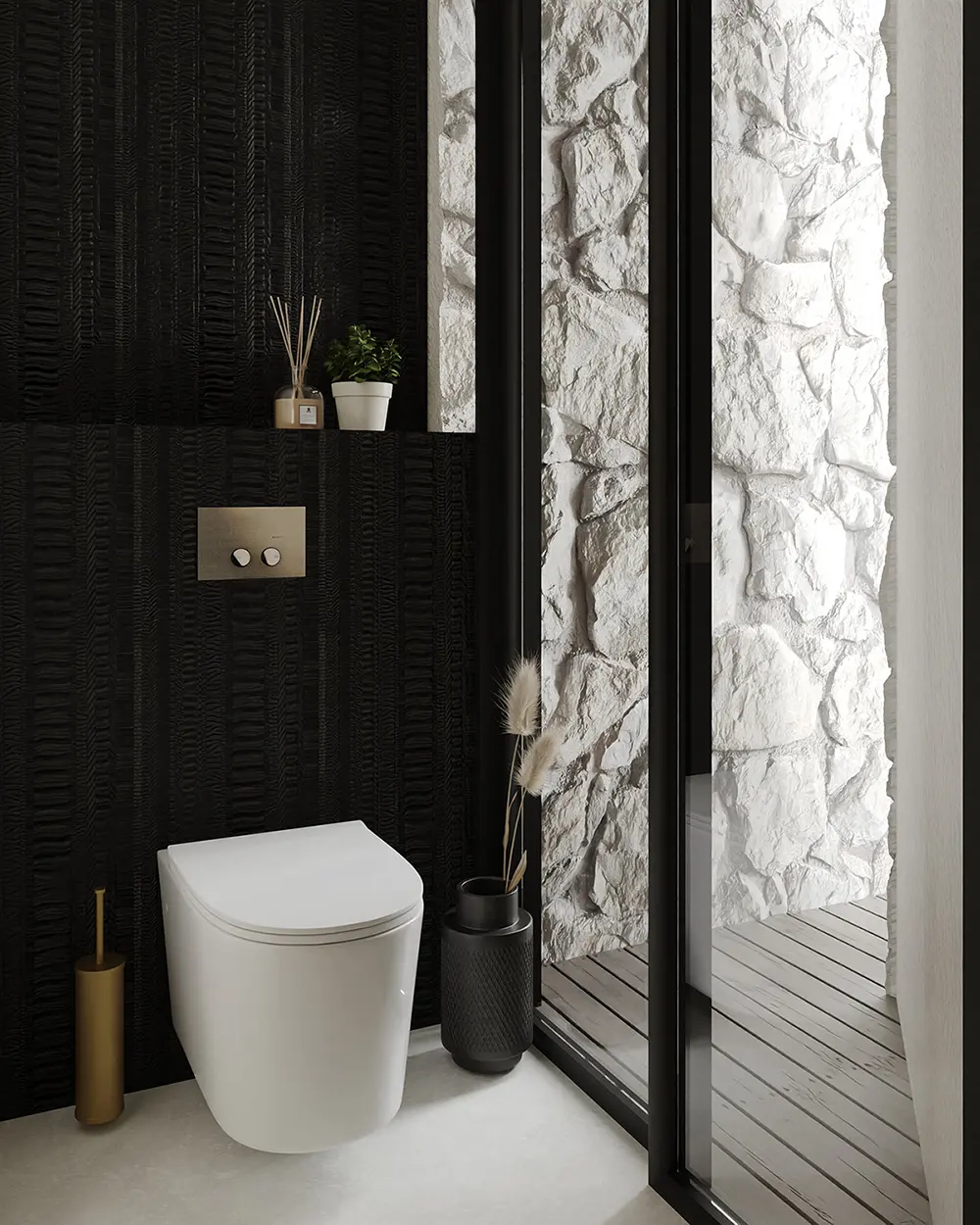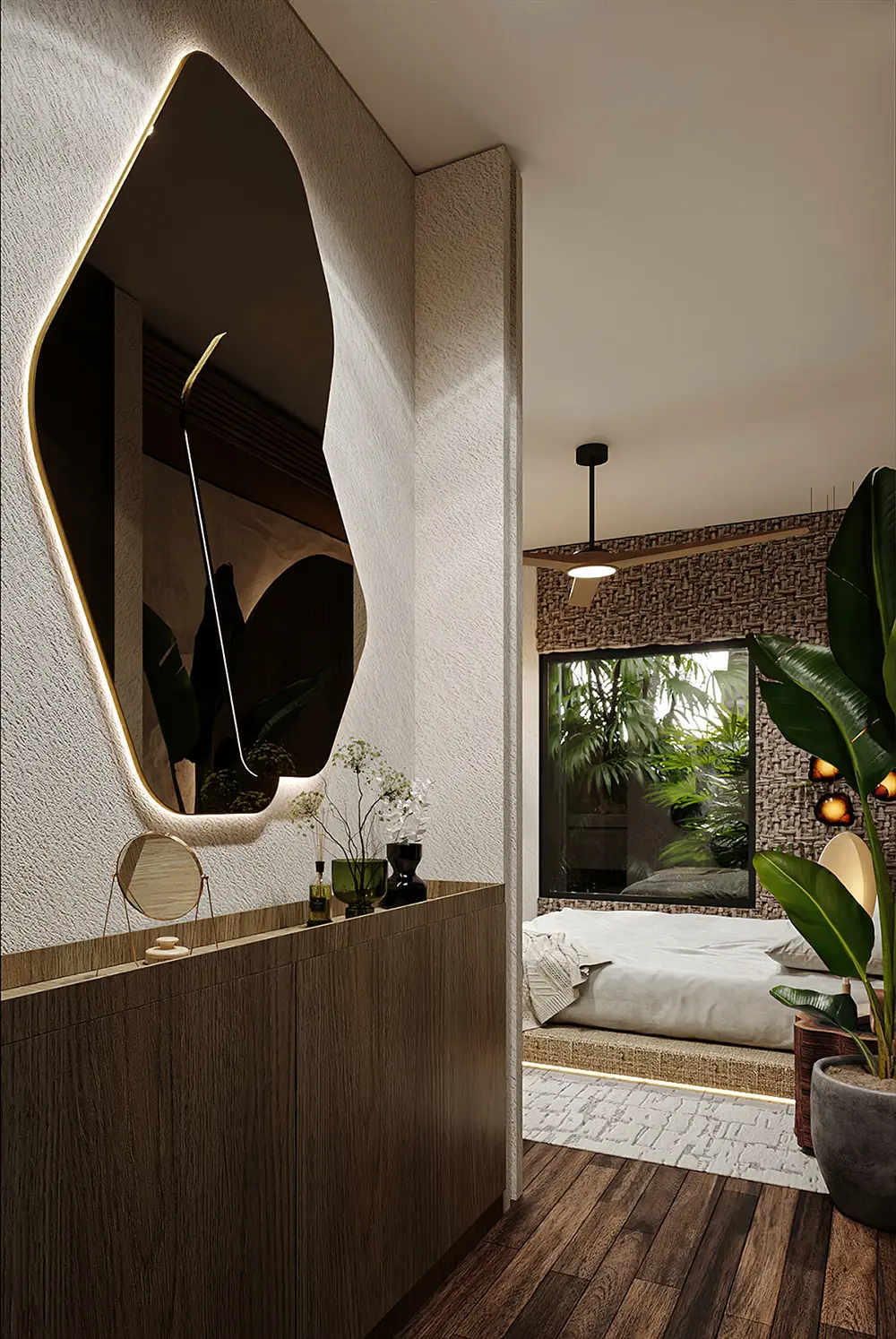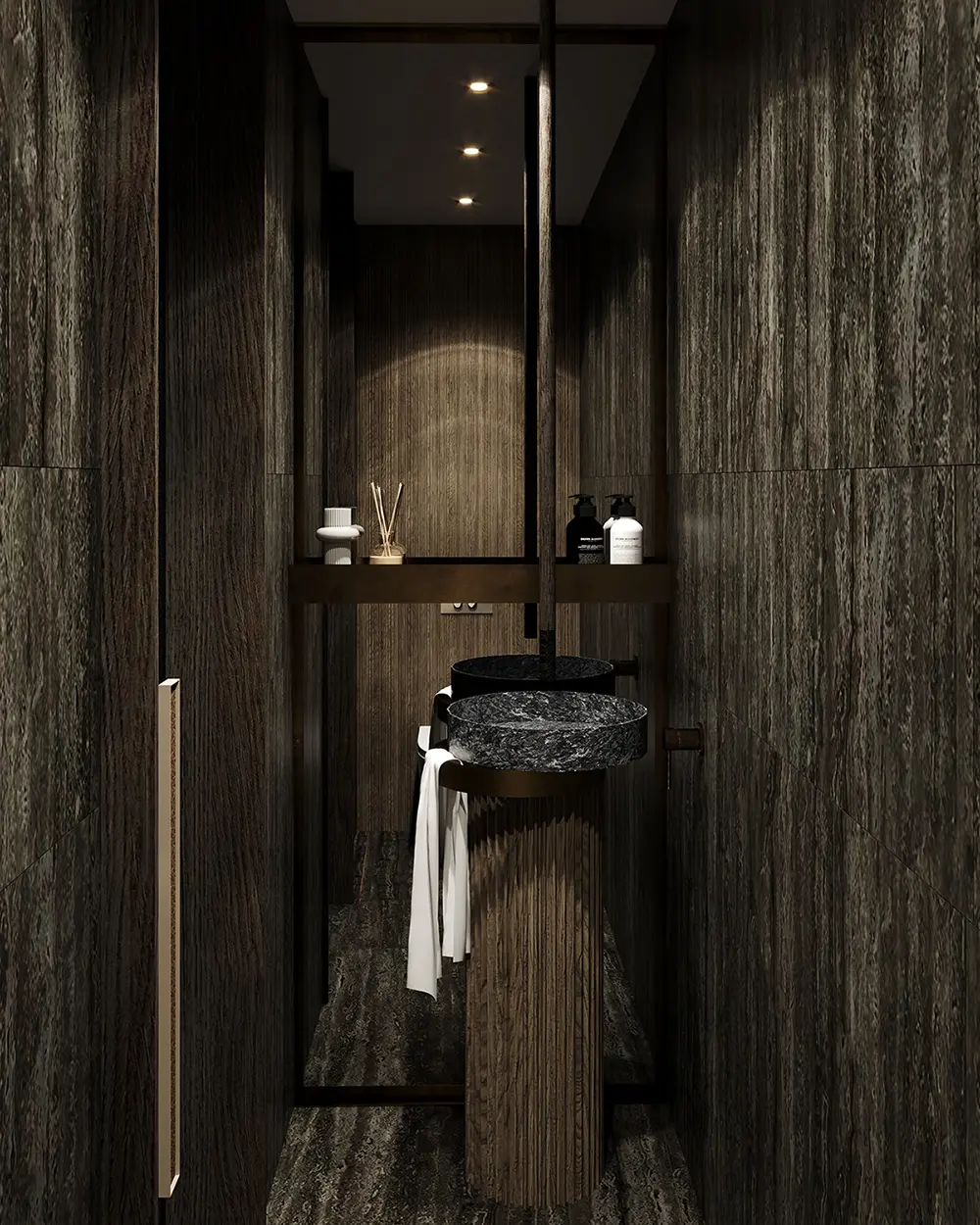 This luxury boho home design intricately weaves together diverse elements to create a harmonious and captivating living environment that delights the senses and appeals to the discerning eye.