Adding a deck to your home is a fantastic way to increase your outdoor living space and enjoy the outdoors while entertaining family and friends. These structures are a big commitment and a significant home investment, usually costing tens of thousands of dollars.
The last thing you want to do is go to the trouble and expense of building a deck without getting everything you want and need from the space. So before settling on a deck design, consider these questions to determine what you should include in your new deck.
How will you build your deck?
The most critical question you must answer is how or who will build your deck. Some people are brave enough to take on a DIY deck project, while others prefer to lean on the expertise of handy friends and family to get the job done.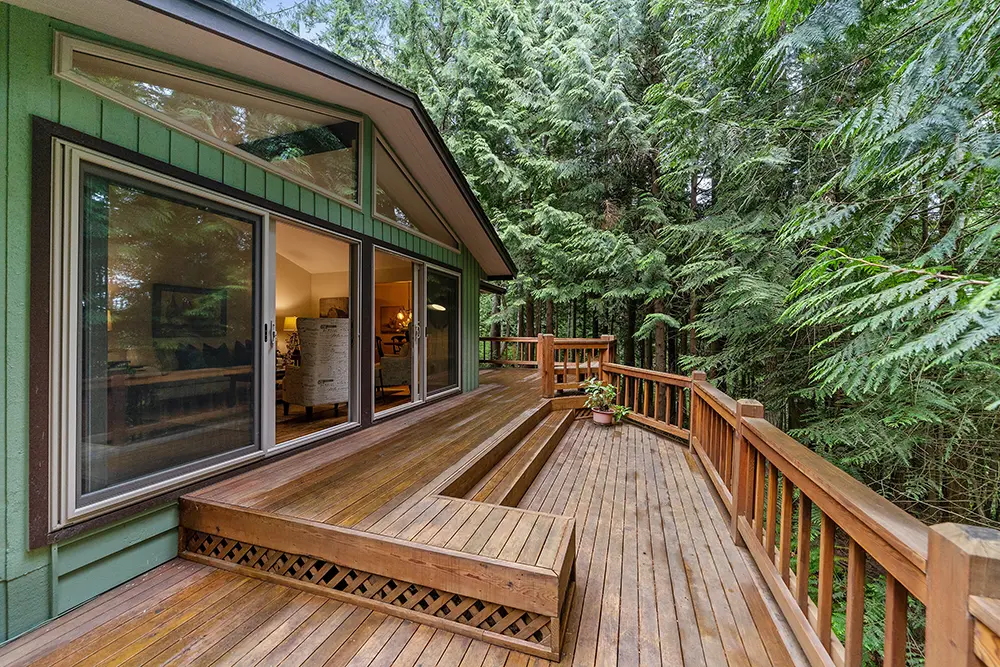 If you're looking for a top-of-the-line structure you'll love, use one of the many qualified deck builders to create your outdoor oasis. These professionals can help with everything from design to finishing touches and usually build decks quickly and efficiently.
A deck builder will work with you to identify what you need to include in your deck design, help you set a reasonable budget, and many can help with hardscapes and outdoor kitchens, too! If you want the job done right, use a professional.
How do you plan to use your space?
One of the first things you should think about is how you plan to use your deck. Most Americans, 90%, believe outdoor living space is more important than ever, but everyone uses outdoor space differently. Thinking about how you plan to use your deck will help you identify features to fit your lifestyle.
For example, do you want a place to hang out, eat, or both? Do you have young kids you need to consider in the design, or maybe elderly family members you want to entertain in the space? What about storage? Do you need places to stash toys, outdoor cushions, and firewood?
Knowing the answers to these questions will help you develop your must-haves for your deck project.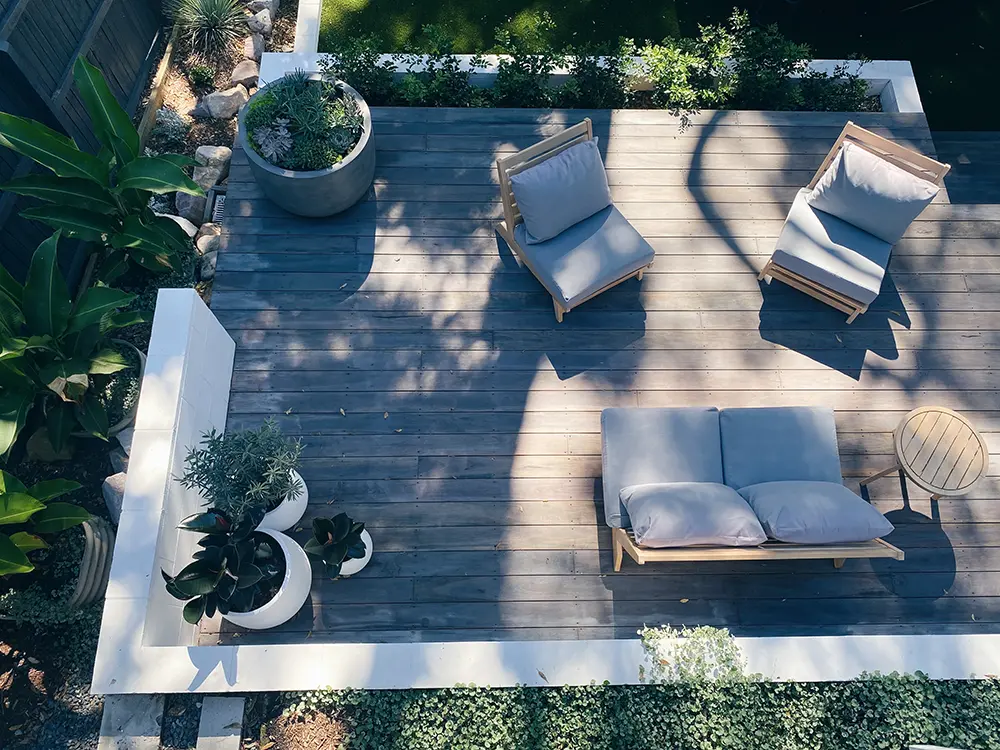 How does your deck fit into your home?
In almost every case, your deck will be attached to your home. Deciding where and how you want to connect your deck to your house is absolutely essential during the planning process.
For example, if you plan to create an outdoor dining room, you'll probably want deck access off the kitchen, with a flat walkout and no steps. This way, your food is never far from the table, and you have a short, safe walk to serve your guests.
Some situations may allow multiple access points for your deck, which is an excellent way to maximize your use of the space. This could include more than one level that goes from one floor of your home to another.
Privacy is another essential factor when thinking about how your new deck will fit into your existing home. Position the deck so it's not facing neighbors or other structures. If that's impossible, include privacy screens or landscaping in your design to keep your space secluded.
How much space do you need?
This is a question every homeowner asks. The challenging thing is there's no correct answer. The size of the space depends on how you plan to use it. So a space intended for dining alone won't need to be as large as a deck with areas for living and dining.
Think about the zones you want to create on your deck. The more zones you have, like hanging out, eating, and cooking, the more deck space you'll need.
If you still aren't sure, measure out the footprint of your proposed structure and use small stakes to mark the space. Then, tie strings between the markers to get a feel for how much space you're working with.
If you're still struggling to conceptualize the area, take a piece of graph paper and make a scaled-down model of the deck. Cut out scaled pieces of construction paper to move around the room. This will help you assess just how much space you'll have when there's furniture on the deck, too.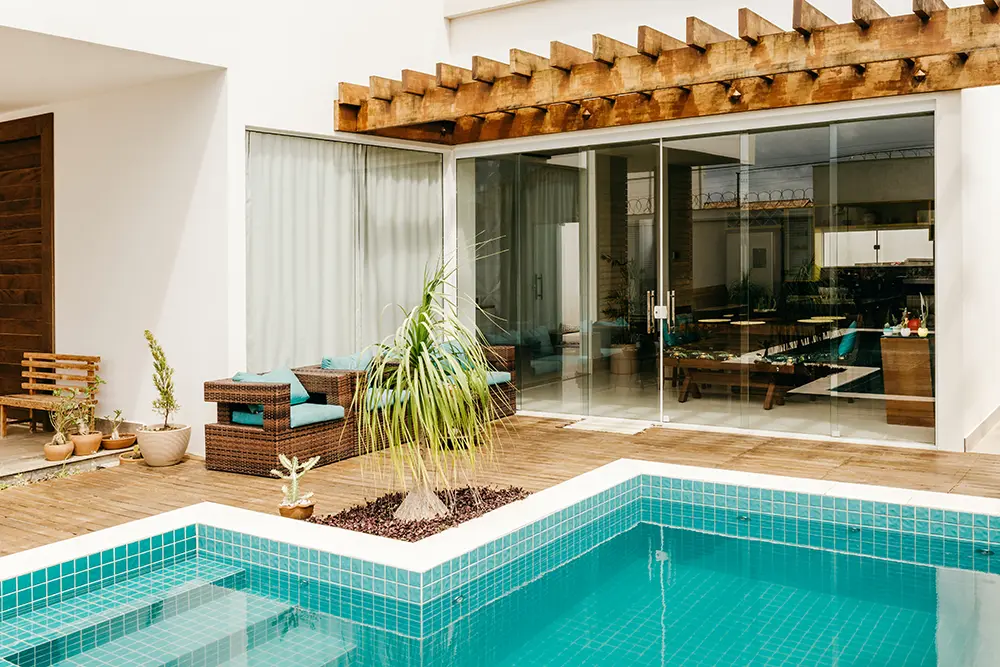 What is the climate like in your area?
The weather in your area should impact many of the decisions you make about your deck. Fail to factor in these variables, and you'll miss opportunities to enjoy your deck.
For example, you should include a covering in your deck design if you live in an area with excessive sun, rain, or heat. The covering could be a roof, sunshade, or even a pergola. Either way, you need to provide a refuge from the weather so you can enjoy it no matter what the sky looks like.
Insects can also be an issue. If you live in a buggy area, screens can help you get more enjoyment from your deck while keeping the bugs away.
Do you need an outdoor kitchen?
Outdoor kitchens are a relatively new concept, having only become mainstream in deck design in the last ten years. Interestingly, 41% of design experts say outdoor kitchens are paramount for most homeowners.
Outdoor kitchens can range from a simple built-in grill to a full prep space with a sink, cold food storage, and even specialty cooking equipment like a smoker or pizza oven. If you want an outdoor kitchen added to your deck, you'll need to plan ahead for utility access, like gas and water.
Do you want a fireplace or other heating element?
Fireplaces are another popular feature many homeowners opt to add to their space. These are excellent sources of warmth and style, even on the hottest summer days.
If you're thinking about adding a fireplace to your deck design, there are a few things you should think about. First, do you want the fireplace to be gas or wood? Gas is much lower maintenance and cheaper to install, while wood provides a more authentic outdoor experience.
You could also install a hybrid gas/wood combination with a gas starter that burns wood on top. This allows you to simultaneously enjoy the convenience of gas and the ambiance of wood.
What kind of tech do you want outside?
Even though they're technically outdoor spaces, decks can be outfitted with all types of tech. Lighting is probably the most important, but speakers, TVs, and other smart devices are commonplace on many new deck builds.
There are endless opportunities with lighting, too. You can add strip lighting to illuminate everything from stair treads to deck rails, decorative lighting to jazz up a covered porch, and even ceiling fans for sizzling summer days.
But what about speakers and TVs? Outdoor-safe options can withstand everything from rainstorms to intense winds and heat. Due to their rugged durability, these models are usually more expensive than their indoor counterparts.
What are your local zoning rules?
Zoning rules can make or break your project. Before you set your heart on a specific feature, like a fireplace or outdoor kitchen, check with your local government to ensure they're allowed. If so, learn about the rules for adding them to your home.
Building codes are usually very nuanced, and you should comply with all permit parameters when building your deck.
Adding a deck to your home is an exciting yet daunting prospect. But with the proper research and preparation, you can create the outdoor living space of your dreams!