Whether you live in a small apartment or in a big house, there is one important thing that you should possess, which is a home bar. If you are a true connoisseur of luxurious alcohol, the home bar is a must-have for you because it would be such a place of inspiration for making your own drinks, where you could keep all your bottles and other necessary tools. Although you may not even be fond of alcohol and don't drink at all, but still you might need the home bar so that you could offer a cocktail to your guests. Moreover, a home bar may not only be a practical thing but also an element of the design.
Today, there are a lot of different home bar options which will fit any interior. If you want to organize your mini-bar and don't really know how to do that because of being new in that sphere, here is our guide to help you. There you will find some ideas for a home bar furniture, which you can buy at room service 360.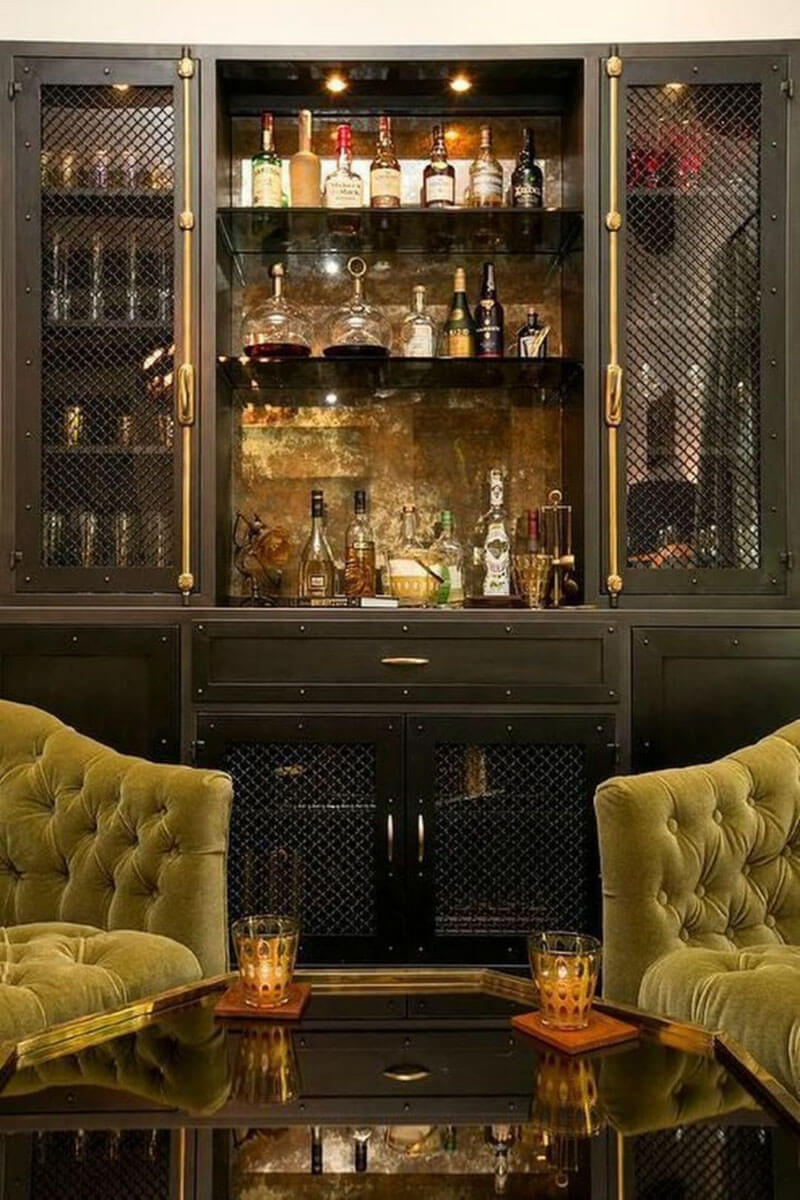 Source: Pinterest
High cabinet
It is one of the most popular pieces of furniture chosen for a mini-bar. It will be the best option for a spacious room in a classic style because a high cabinet will perfectly fit into the atmosphere of the room. In such a cabinet you can place several shelves for bottles and a separate shelf for glasses.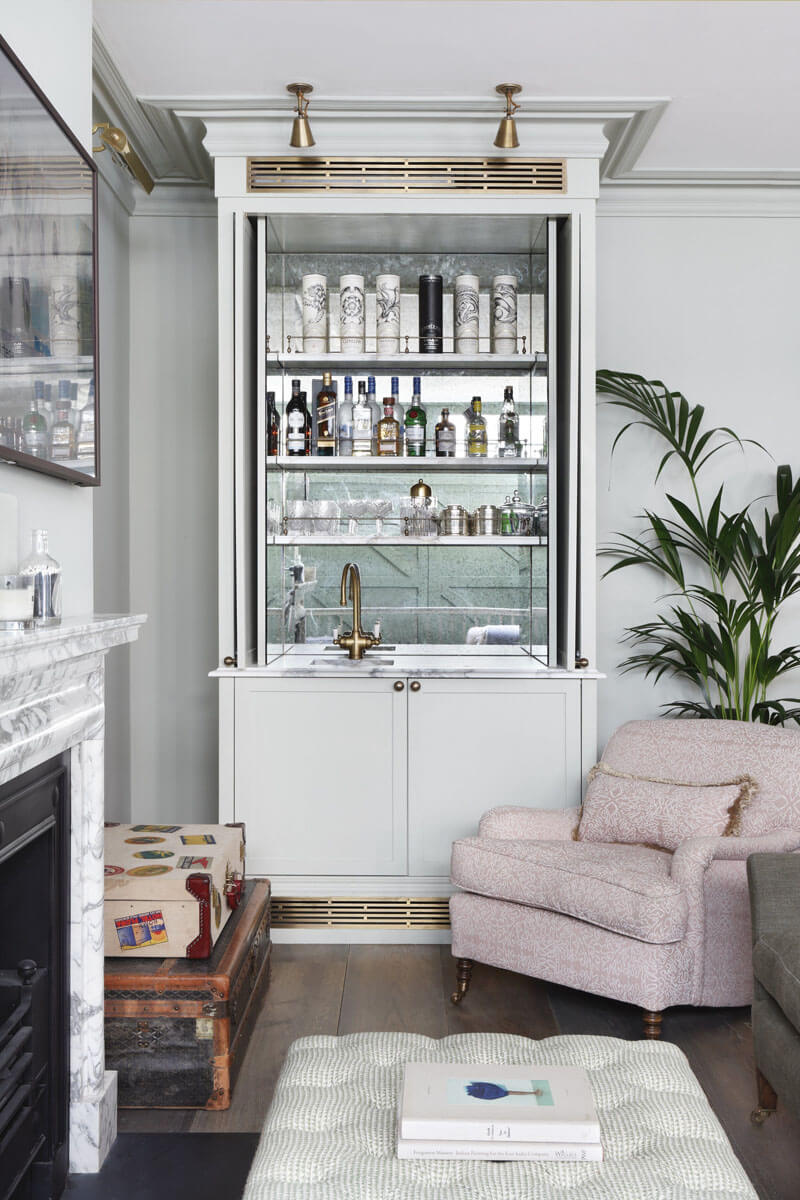 Source: Pinterest
Cube for bottles
A cube for bottles is a useful and beautiful home bar attribute, which will be an excellent option for a minimalist living room. This piece of furniture is made in the form of a cube with holes for bottles. The whole structure rests on strong low legs. Its upper part can be used for open storage of glasses. If you choose furniture in a similar style, this mini-bar becomes a harmonious part of the interior.
Old piano or TV
This option is definitely for those who love experimenting and tend to choose unusual and original interior elements. A home bar out of an old piano or TV will be a retro style perfect decoration for a living room, which, at the same time, will look fashionable and contemporary.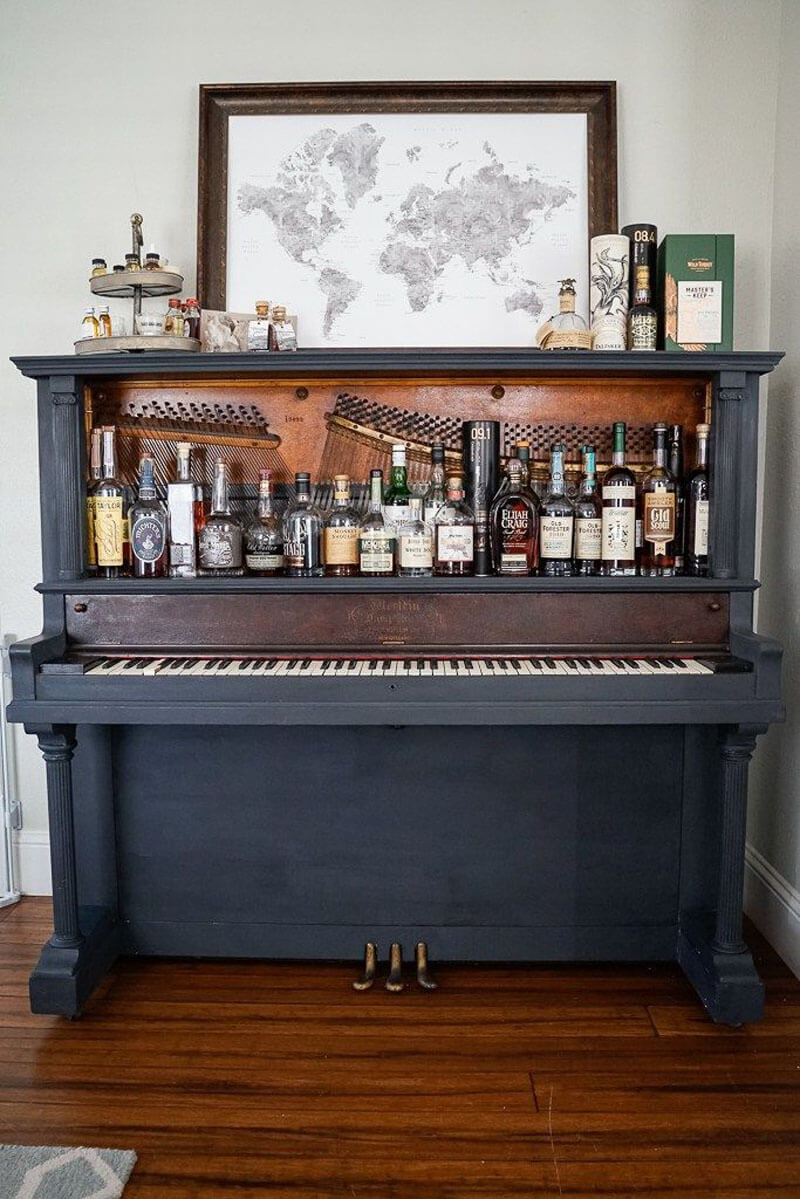 Source: Pinterest
A Bar Cart
That is another commonly chosen variant for a mini-bar. It is movable and doesn't take much space. Hence, if your room is small, a cart will be ideal for your home bar and add chic to your interior. However, remember about organizing items on it so that there won't be a mess there. Here you can find some interesting bar cart styling ideas.
An element of the living room
A lovely home bar can be integrated into the interior of the living room. To do this, you will have to make a niche in the wall, so this solution is not suitable for every home. As a niche, you can use the space of a wardrobe, if there is one, but here you already need to weigh, which is more important, a wardrobe or a bar. Such a home mini-bar can even accommodate a refrigerator and a small sink.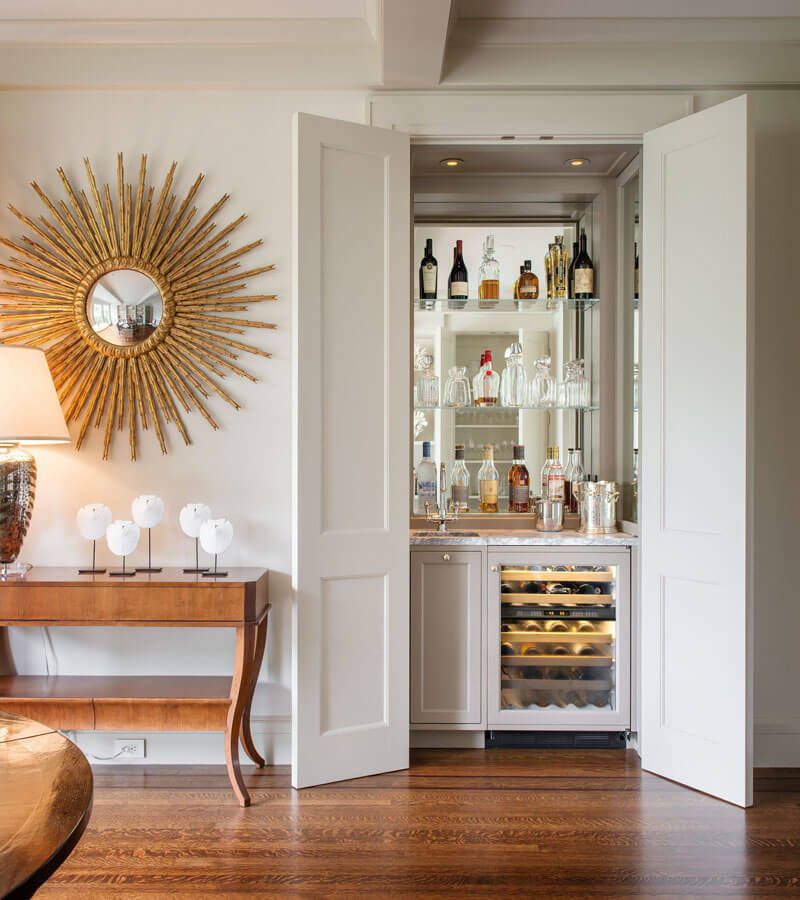 Source: Pinterest
Separate cupboard in the kitchen
In the kitchen, you can make a home bar out of a cupboard. In this case, the lower drawers may be converted into a refrigerator, and if there is room left, additional shelves may be organized there. The upper drawers are reserved for glasses and other dishes. Additionally, you can place the illumination from the LED strip above the working area of the minibar.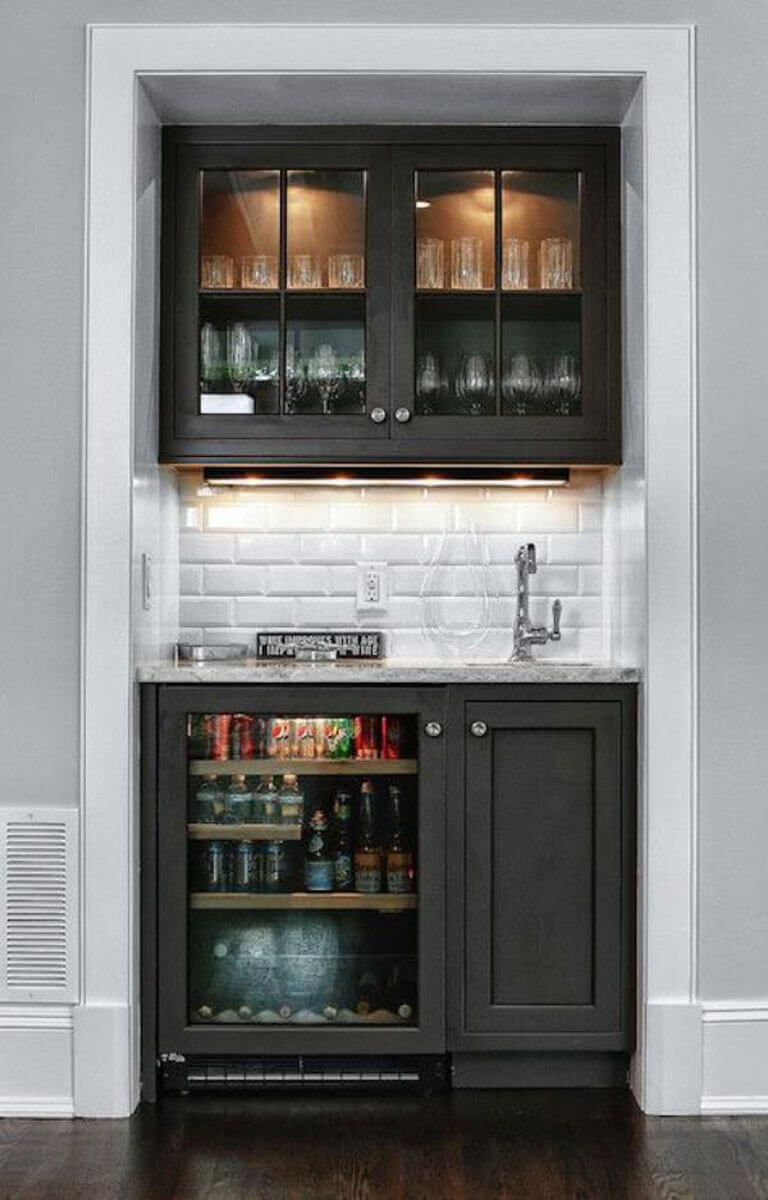 Source: Pinterest
Space under the stairs
In private homes, there is often space left under the stairs that no one uses. It can be used for a home bar. There you can place:
wall shelves;
several refrigerators;
drawers for dishes and other accessories.
The brick wall behind the minibar looks good as it adds brutality to this corner. Do not forget to think over the lighting – the bottom lighting looks beautiful on the shelves under the bottles.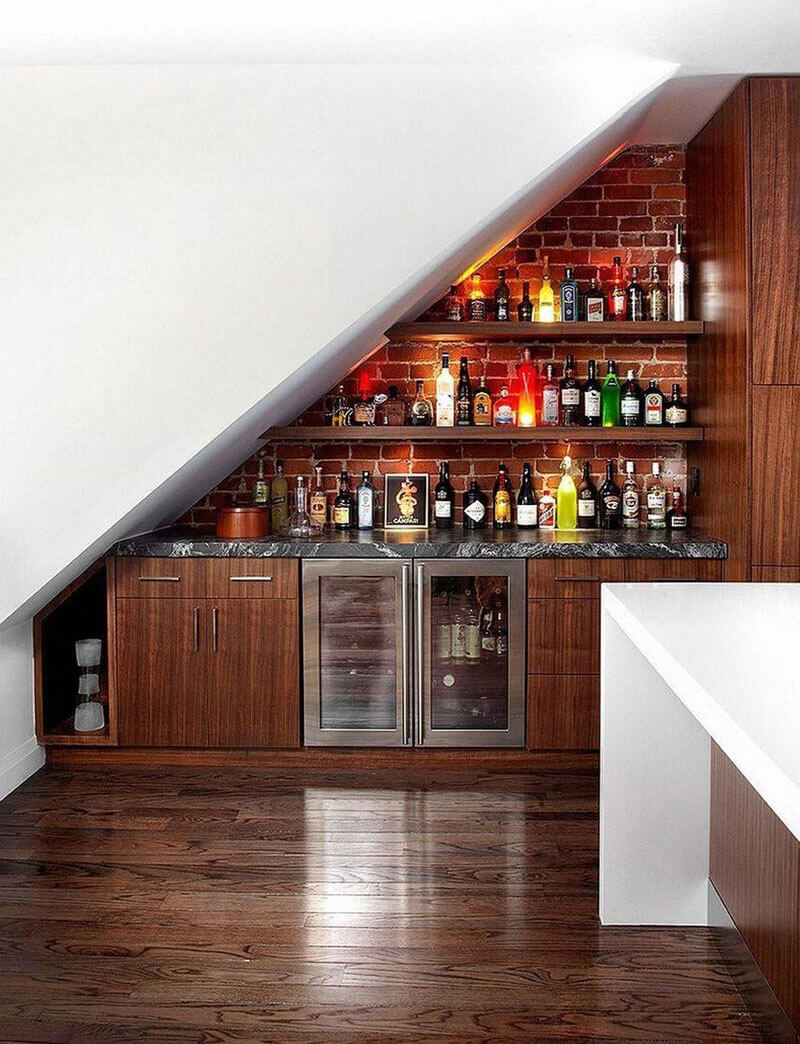 Source: Pinterest
Wooden structure
It is the most preferable option for lovers of natural materials in the interior. This piece of furniture is suitable for chalet and country styles. Moreover, artificially aged wood as a material will add charm and solidity.
Part of the table
If the dimensions of the room do not allow you to put a full-fledged mini-bar, do not be upset, a small multi-tiered table can easily replace it. Glass tables with a metal frame look beautiful. This solution is suitable for both classic styles and modern ones. By the way, to make your minibar look more solid and attractive, you should install a large mirror on the wall behind it. This will visually increase the size of both the room and the bar. The upper shelf can be used for accessories, while the lower ones will already house wine glasses and bottles.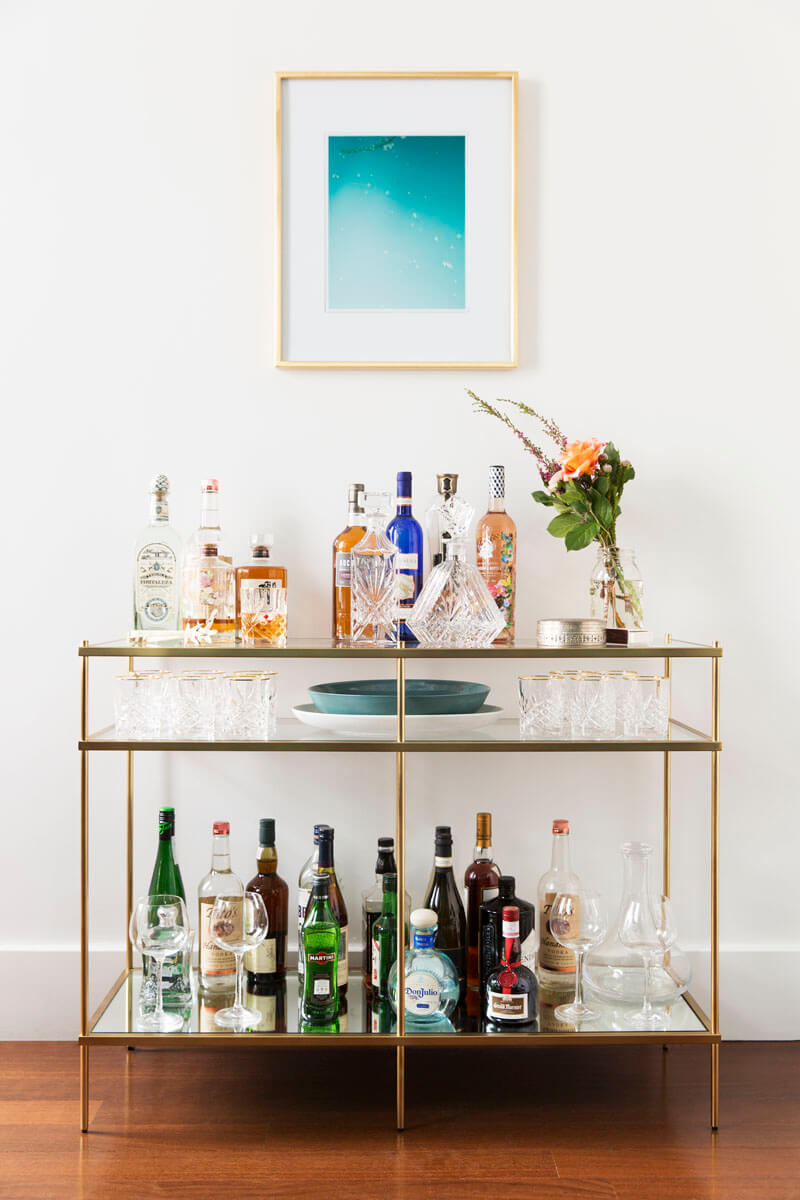 Source: Pinterest
Thus, a home bar is a perfect addition to your décor. No matter which one you choose, it still looks stylish and luxurious. Owing to the fact that there are so many various ideas for organizing mini-bar, the issue of choice may create problems. Our beginner's guide to organizing your home bar is a helping hand. It will make it easier for you to make a good choice of the best option which will meet all your expectations.