A well-designed outdoor space can significantly enhance your property's overall appeal and enjoyment. When it comes to creating a unique and inviting outdoor environment, the possibilities are endless. This blog will explore some of the most unique design ideas that can transform your outdoor space into a personal oasis.
Embracing Nature
One way to create a distinctive outdoor space is by incorporating natural elements. By integrating plants, trees, and flowers, you can create a lush environment that seamlessly blends with the surrounding nature. Consider using a variety of plant species to add texture and color to your outdoor space. Additionally, incorporating natural materials like wood, stone, and bamboo can further enhance the overall aesthetic appeal.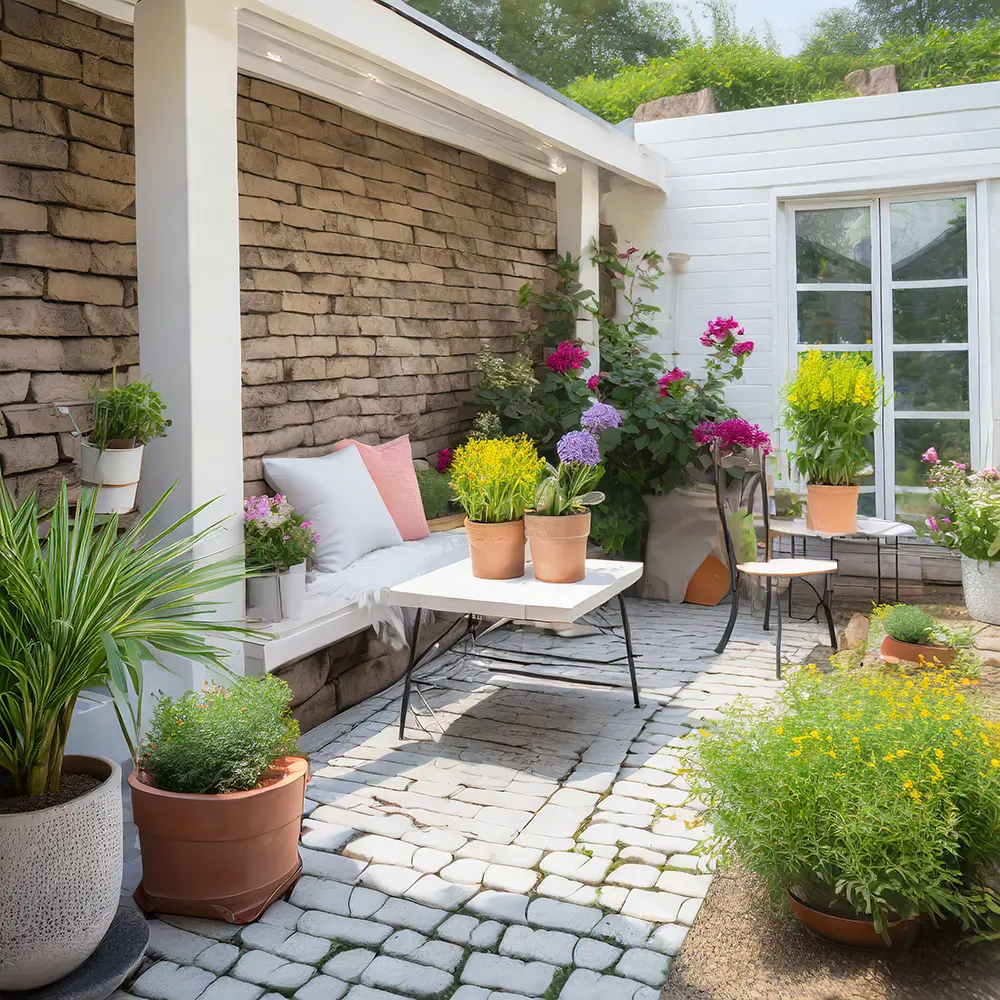 Another fantastic way to create a focal point in your outdoor space is by adding water features. Whether it's a pond, fountain, or waterfall, the soothing sound of water can instantly create a serene atmosphere. For those looking for a more luxurious touch, integrating a swimming pool or hot tub can provide the perfect spot for relaxation and entertainment.
Outdoor Living Areas
Outdoor living areas are a fantastic way to extend your indoor space and create a comfortable and inviting environment in your outdoor area. One essential aspect of outdoor living areas is the outdoor dining set. Well-designed outdoor dining sets can transform any outdoor space into a perfect spot for enjoying meals with family and friends. Whether you prefer a cozy bistro-style set or a large dining table with plenty of seating, there are numerous options available to suit your style and needs. When selecting an outdoor dining set, consider durable and weather-resistant materials, such as aluminum or teak. Additionally, choose comfortable cushions and fabrics that can withstand various weather conditions. You can create a beautiful and functional space for outdoor entertaining and dining with the right outdoor dining set.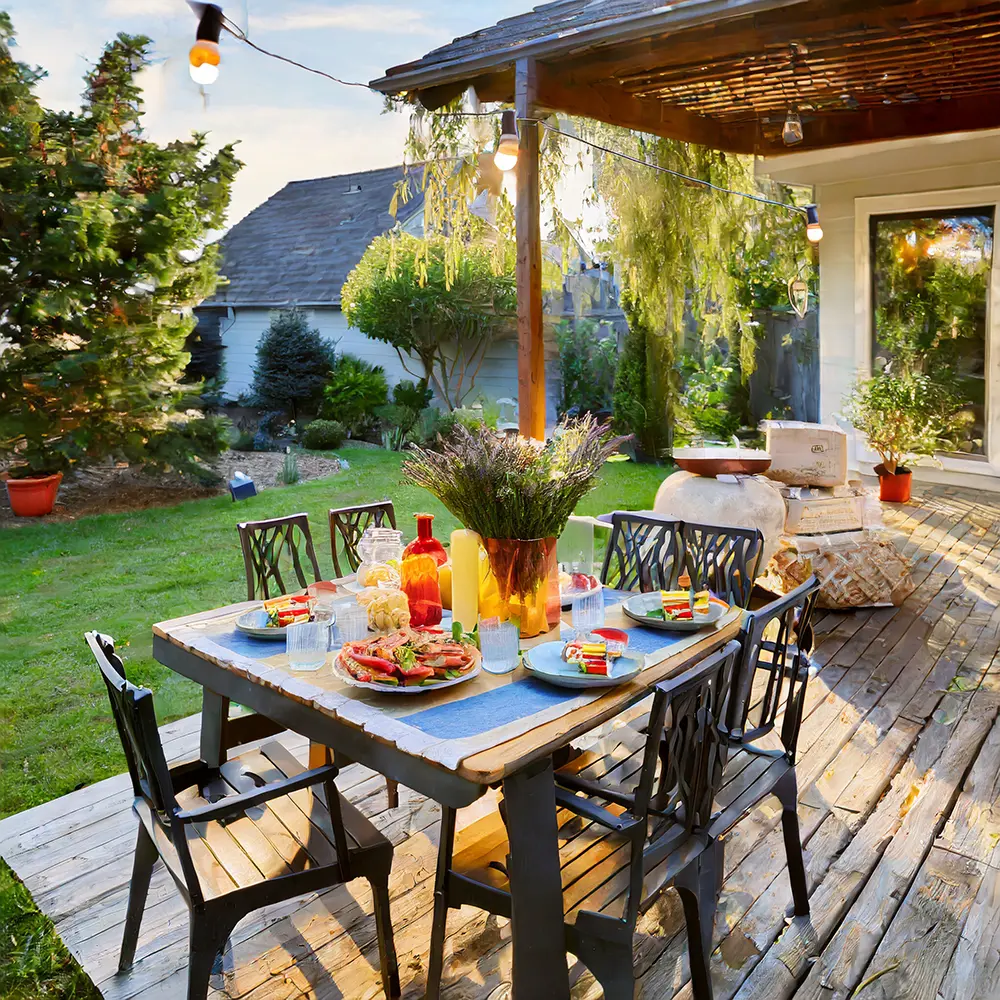 Unique Lighting Ideas
When it comes to creating a unique and mesmerizing outdoor space, lighting plays a crucial role. Unique lighting ideas can transform an ordinary outdoor area into a captivating oasis. One popular option is to use string lights and lanterns. These charming lights create a warm and inviting atmosphere, perfect for cozy evenings outdoors. Hang them on trees, pergolas, or fences to add a magical glow to your space.
Another innovative lighting idea is solar-powered lighting. This sustainable and energy-efficient option allows you to illuminate your outdoor space without the need for electricity. Solar-powered lights can be placed along pathways, in garden beds, or around seating areas to create a beautiful and eco-friendly ambiance. With a wide array of designs and styles available, you can find solar-powered lights that perfectly complement your outdoor aesthetic while minimizing your environmental impact.
Creative Landscaping
Consider incorporating vertical gardens and living walls to make your outdoor space truly unique. These innovative designs maximize space while adding a visually striking element to your outdoor area. Vertical gardens allow you to grow herbs, flowers, or even vegetables, bringing both beauty and functionality to your space.
Adding sculptures and art installations can also bring a touch of creativity and personality to your outdoor space. Choose unique and eye-catching pieces that resonate with your style and interests. Sculptures made from various materials such as metal, stone, or wood can become conversation starters and focal points in your outdoor area.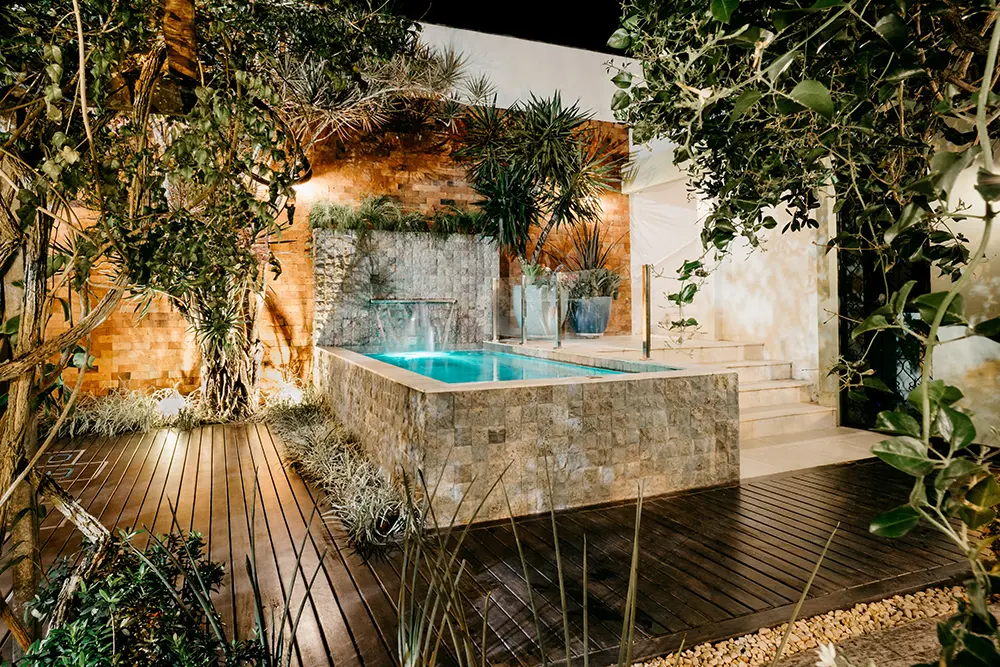 Outdoor Entertainment
Consider installing an outdoor theater if you enjoy watching movies or hosting outdoor gatherings. Set up a projector and screen, and add comfortable seating and blankets for a cozy movie night experience under the stars. An outdoor theater creates a unique and memorable entertainment space for family and friends to enjoy.
For those who love games and activities, creating a dedicated gaming area can be a great addition to your outdoor space. Build a mini-golf course or a putting green for golf enthusiasts. Set up a bocce ball court or cornhole boards for friendly competitions. These recreational additions provide endless hours of fun and entertainment for everyone.
By exploring unique design ideas for your outdoor space, you can transform it into a personal oasis that reflects your style and personality. From embracing nature and incorporating natural elements to creating outdoor living areas and exploring innovative lighting options, there are countless ways to make your outdoor space truly one-of-a-kind. Don't be afraid to let your imagination run wild and unleash your creativity to create an outdoor space that you and your loved ones will enjoy for years to come.
Remember, the key is to personalize your outdoor space and make it a reflection of your preferences and lifestyle. So go ahead, embrace nature, get creative with landscaping, and build unique outdoor entertainment areas – the possibilities are endless! Start today and watch as your outdoor space transforms into a haven of beauty and relaxation.