When it comes to planning one of the most important days of your life, you're likely thinking about umpteen different things at once. You want your day to be memorable with a huge ceremony and a unique theme. Often, people want their weddings to be different, but sometimes, different can come off as corny or tacky, and no one wants that!
Love is a gamble, so why not use that as inspiration for your wedding with a casino-themed event? Bring the Las Vegas Strip home to your wedding reception and say your vows the entertaining way with the casino wedding of your dreams. Here's how to throw a lavish casino-themed wedding you won't forget.
Photo by Unsplash, Licensed by CC0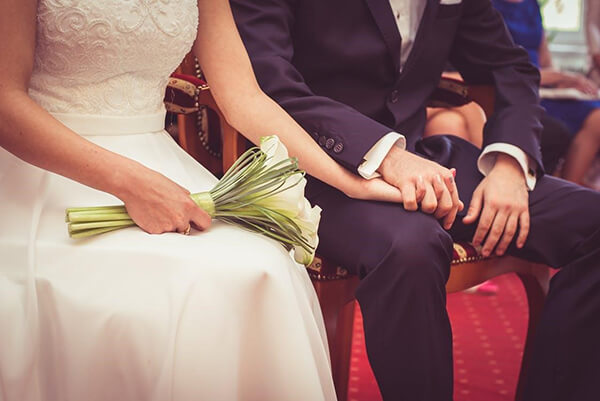 If love is a gamble, I'm going all-in on you.
Think Classy, Not Trashy
You know the saying, "what happens in Vegas, stays in Vegas"? Your wedding isn't that kind of shindig! Most times, casinos get a bad rap. So, set the tone for your wedding by letting others know just what type of party it's going to be! Start with the more intricate details, such as the type of invitations you'll send out and what your guests will wear. Don't go for the over-the-top red and black that you always see in casinos. Instead, opt for maybe black and gold. Inform your guests that it will be a glamorous black-tie affair. Everyone loves to get dolled up, so your guests will be thrilled to know they are expected to dress their best for your casino-themed event!
Choose Vegas-Style Foods
Host your casino-themed wedding with Vegas-style cuisine. Las Vegas is known for their delectable buffets, so you'll want to include a buffet at your reception. When you think of Vegas, you think of finger foods, such as jackpot meatballs, hot wings, poker chips and salsa, shrimp skewers, roulette ribs and Caesars' Palace salad, just to name a few items. For dessert, of course, everyone will be looking forward to tasting the wedding cake; but you could always have a fruit spread and cheesecake laid out on the buffet for guests to munch on.
As for the wedding cake, the options are endless! You can go with a casino-themed tier cake decorated to your liking or opt for a cupcake tower with each cupcake decorated with something casino-related, such as dice or a playing card. No matter what you decide, you're sure to make a statement!
Photo by Unknown, Licensed under Public Domain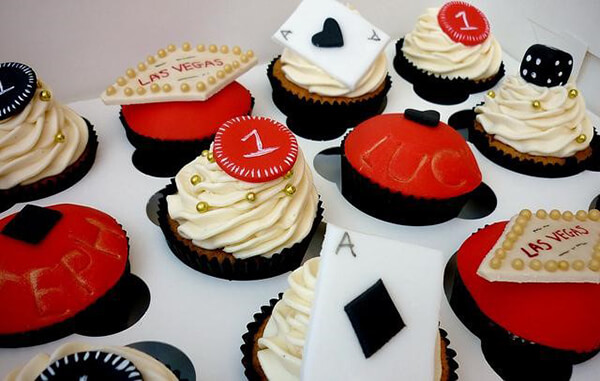 Vegas-inspired cupcakes are sure to please!
Live Up to the Casino Theme
There are some must-haves to make this a casino-themed affair. Hire several trained dealers with poker tables and maybe even consider getting a few slot machines. If you're not too keen on your guests playing with real money, you could always opt for monopoly money and fake poker chips. You could also set up a section where guests can get their poker fix online while others are engaging in Texas Hold 'Em or Blackjack.
Photo by Unknown, Licensed under Public Domain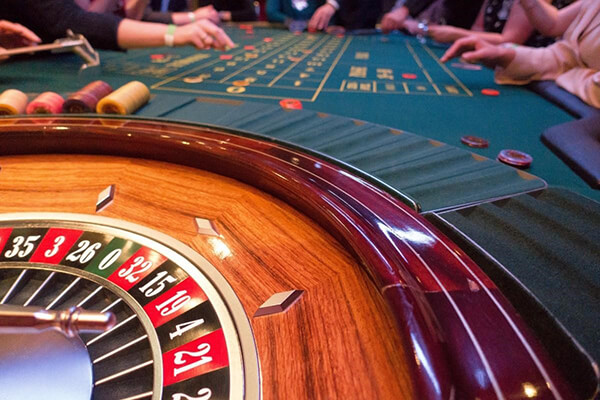 Guests are sure to be entertained with Roulette
Keep Your Guests Entertained
Of course, your wedding day is all about you, but you still want your guests to be entertained! With the poker tables and slot machines, your guests are sure to be busting at the seams with excitement. Take it a step further, and hire a DJ that plays hits consistent with the casino theme going on. Rent a photo booth and be sure everyone gets a chance to take photos in their Sunday's best dress. Also, for those who don't engage in any poker games or slots, consider getting a few arcade games. Everyone has a little kid in them! This will be an event that your guests will talk about for years to come!
Don't Forget the Wedding Rituals
Photo by 888Poker, Licensed under Public Domain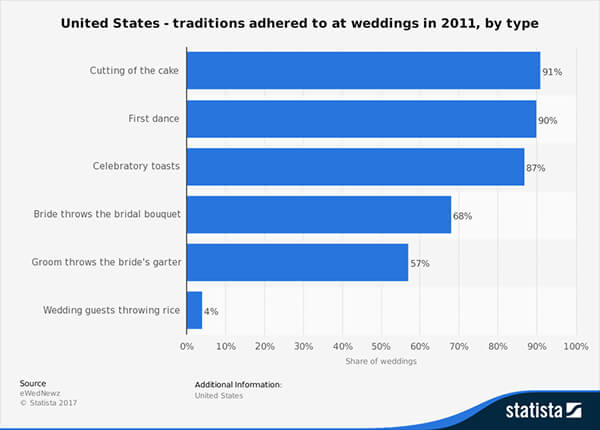 Wedding traditions vary throughout the U.S.
Different cultures have different wedding rituals included in their ceremony as a part of their traditions. Don't forget to include your traditions in your wedding ceremony. Some examples of wedding rituals from around the world are jumping over a broom in the African American community, brides throwing the bouquet during the reception to a bunch of unmarried women in the United Kingdom and guests pinning money on the bride and groom in traditional Greek weddings. The latter would be a perfect ritual to include at a casino-themed wedding so guests could pin some newly won money from the poker table on the happy couple!
Remember, It's Still a Wedding
Although the casino wedding theme is unique and entertaining, you still want guests to remember that it is a wedding. You don't want guests to become competitive or get too caught up in playing slot machines or online poker that they forget what they are there to celebrate. You want everyone to have fun but remember that this is a joyous occasion for celebrating love and the joining of two people. Bring everyone back down to earth by having a toast or a speech discussing how grateful the two of you are for everyone coming together to celebrate your love. If everyone plays by the rules, your casino-themed wedding will be the talk of the town and will make for one memorable and fun-filled occasion!