Designed by HD m2, this unconventional apartment design, is situated high above the city of Kyiv, Ukraine. There are many cool features in the design. We'll take a look at an open plan kitchen diner and lounge combination that contains a relaxing day bed and hammock window nook. The open concept in a master bedroom that melds fully with its ensuite, which is not a common design. The kid's room is also equiped with a net play loft, which is pretty cool.
The first impression of this room is spacious. Its minimal and rustic style also gives you more "raw" feeling. The modern sofa offers a double sided sectional arrangement, to establish connection with the adjacent kitchen diner.
Living, kitchen and dinning room design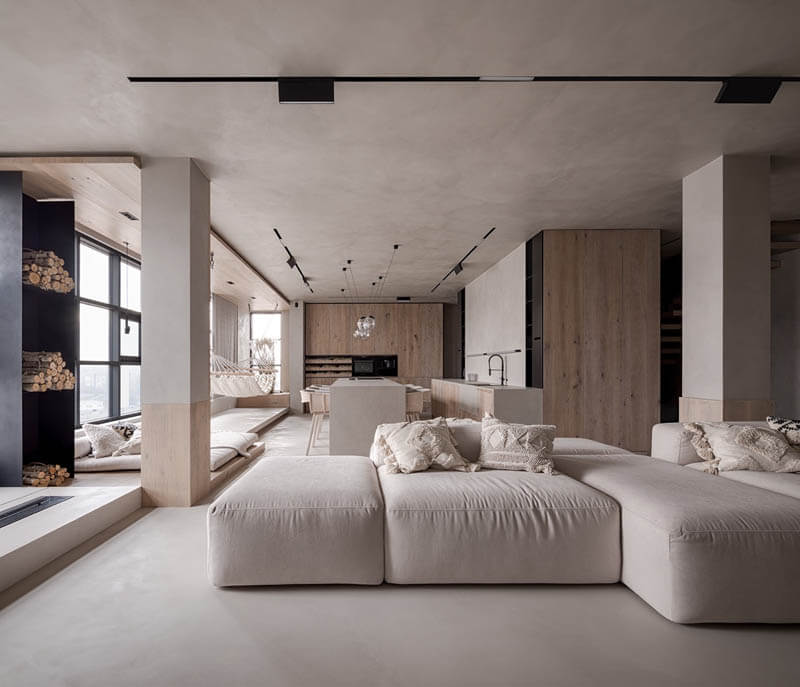 The kitchen pulls around the back of the open layout in an L-shaped installation with a dining island set at its centre. A globe pendant light trio descends over the cooking hob and casual eating spot. Wine storage shelves cut a horizontal line with an integrated oven and coffee machine.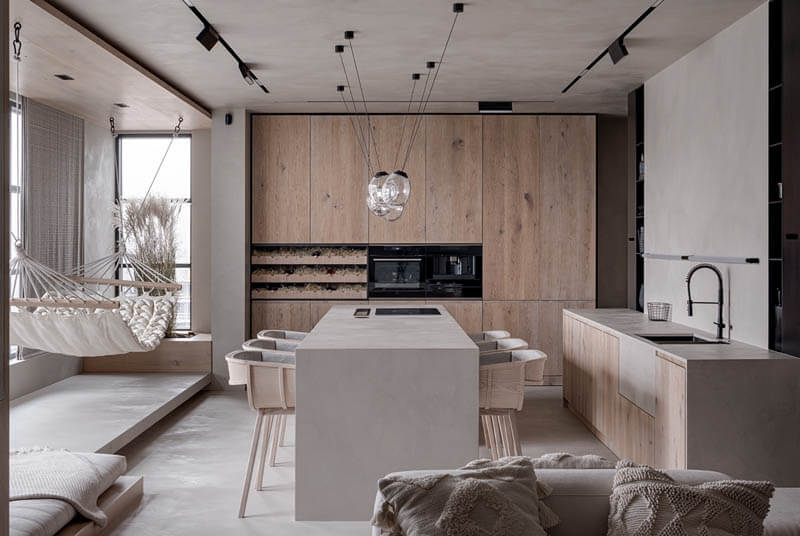 The window wall of the living room has been zoned as a separate relaxation space. Warm wooden ceiling panels and a raised floor clearly define the change in function. A day bed is fashioned into the window platform, snuggled up close to the modern fireplace. A built-in planter grows an indoor garden around the dreamy hammock, creating soft screening to filter out the bustling capital.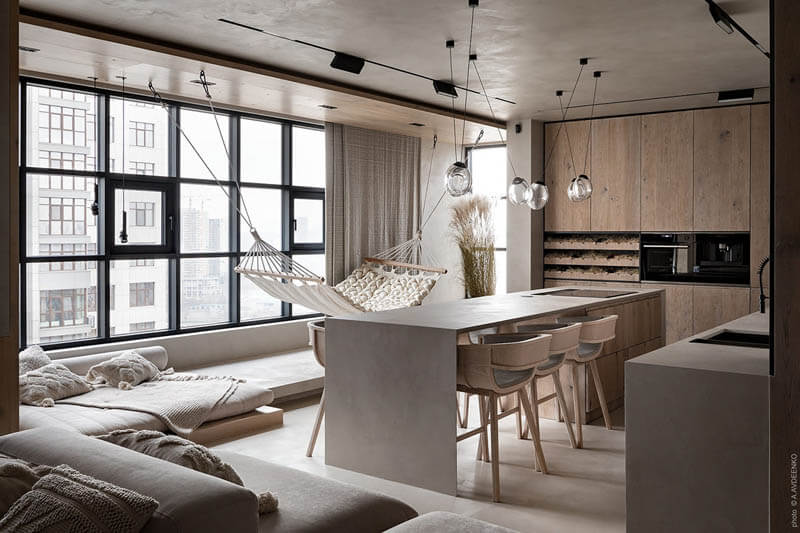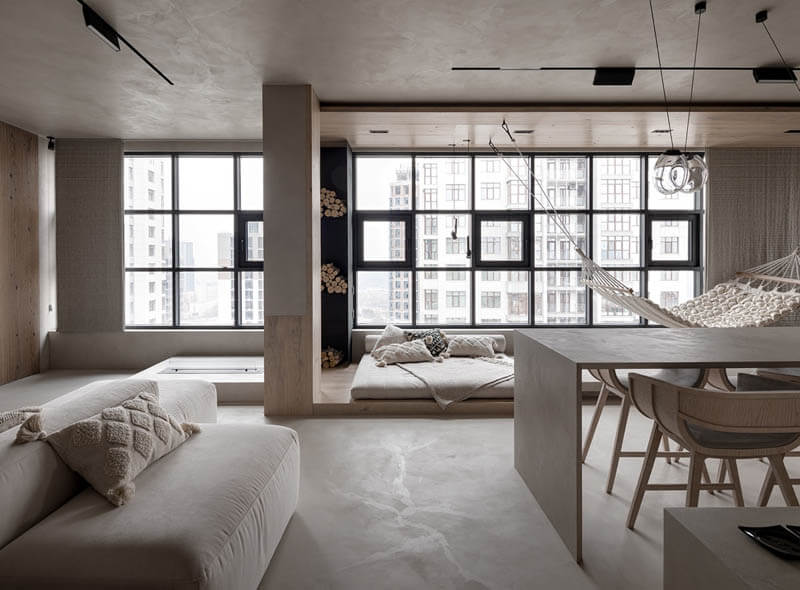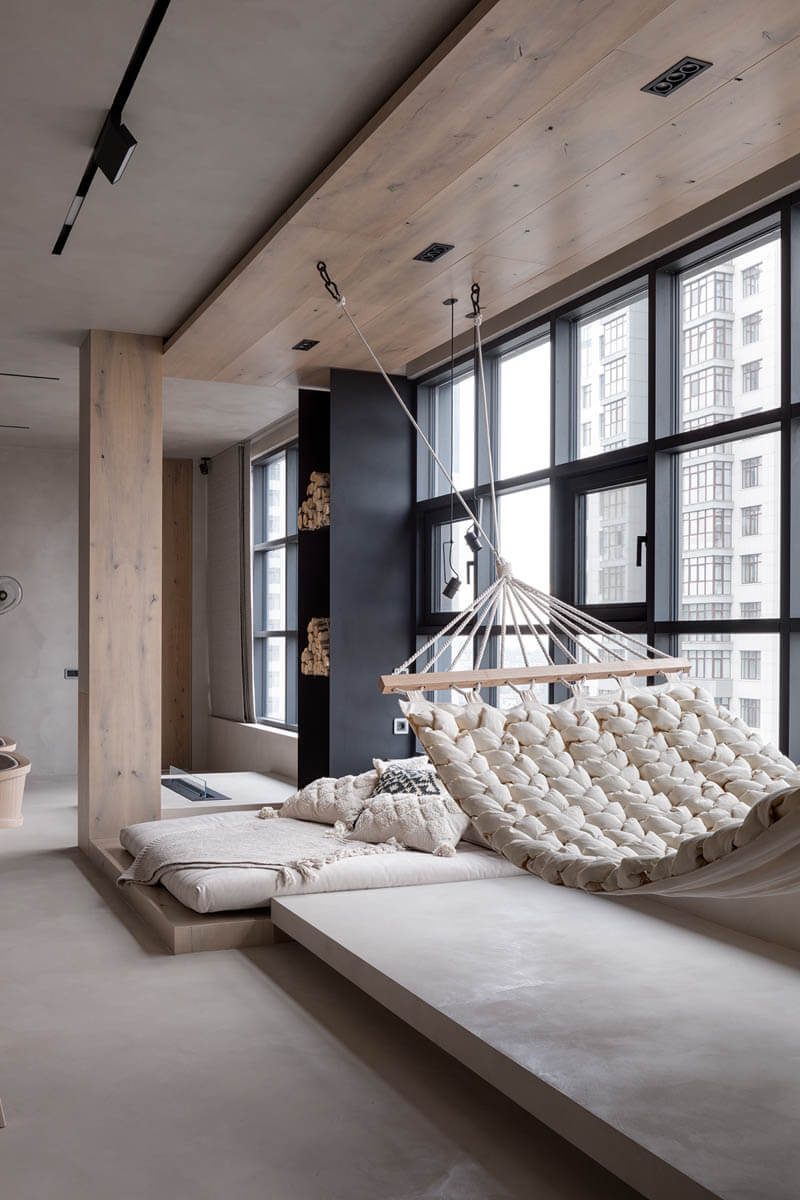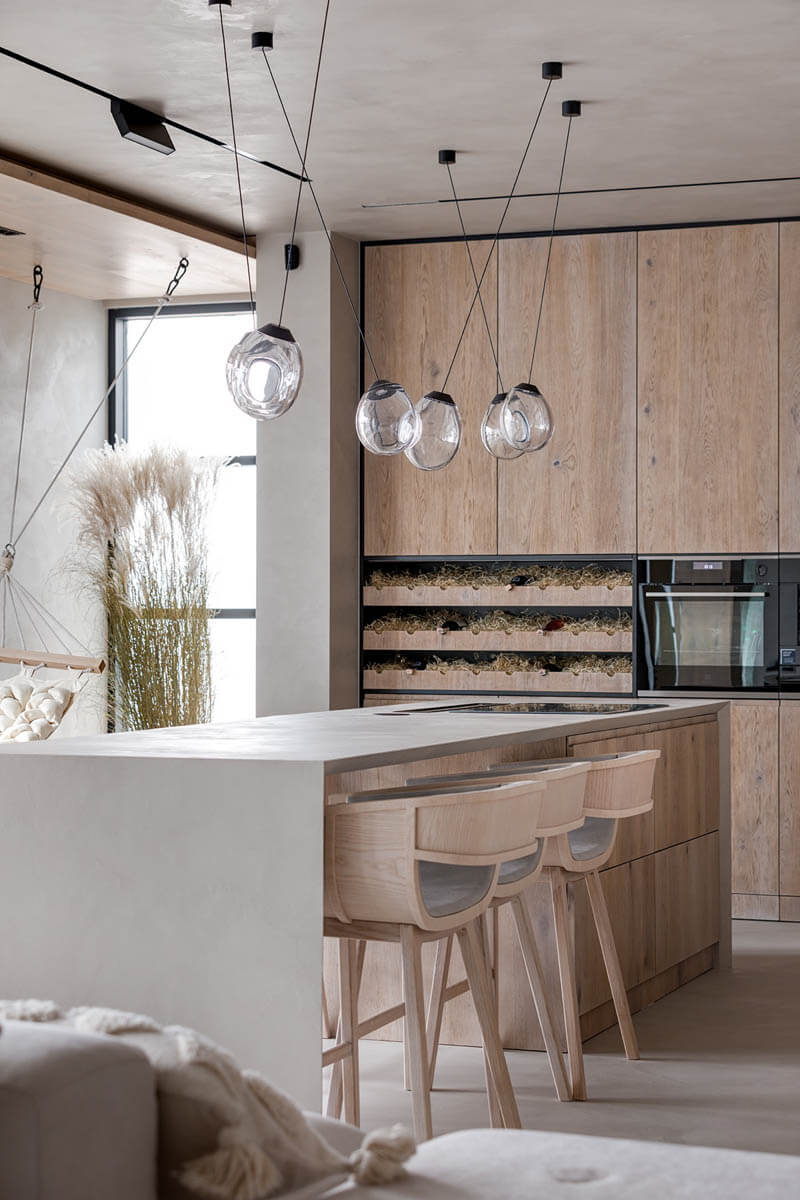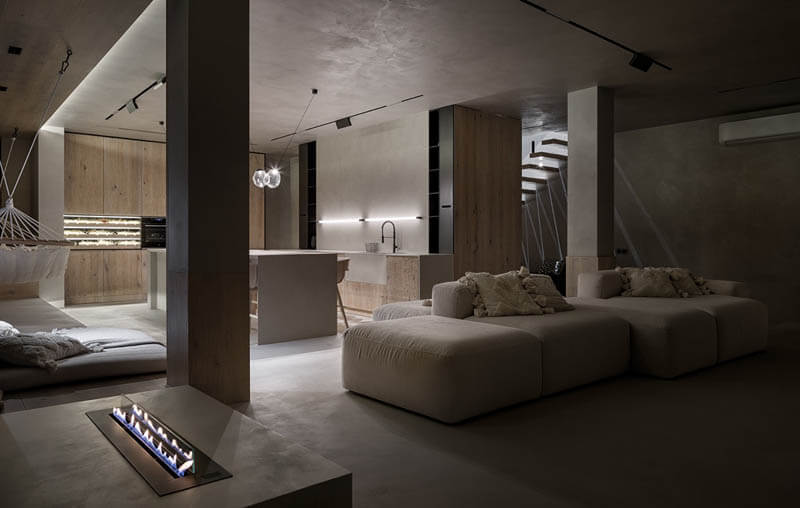 Open risers and glass balustrades give the staircase design a lightweight effect. LED stair lights illuminate the wooden treads. Ribbons of light stream onto a seating area below the staircase ascent. I am not quite sure why put seating there. It feels weird you can see someone's feet on top of your head.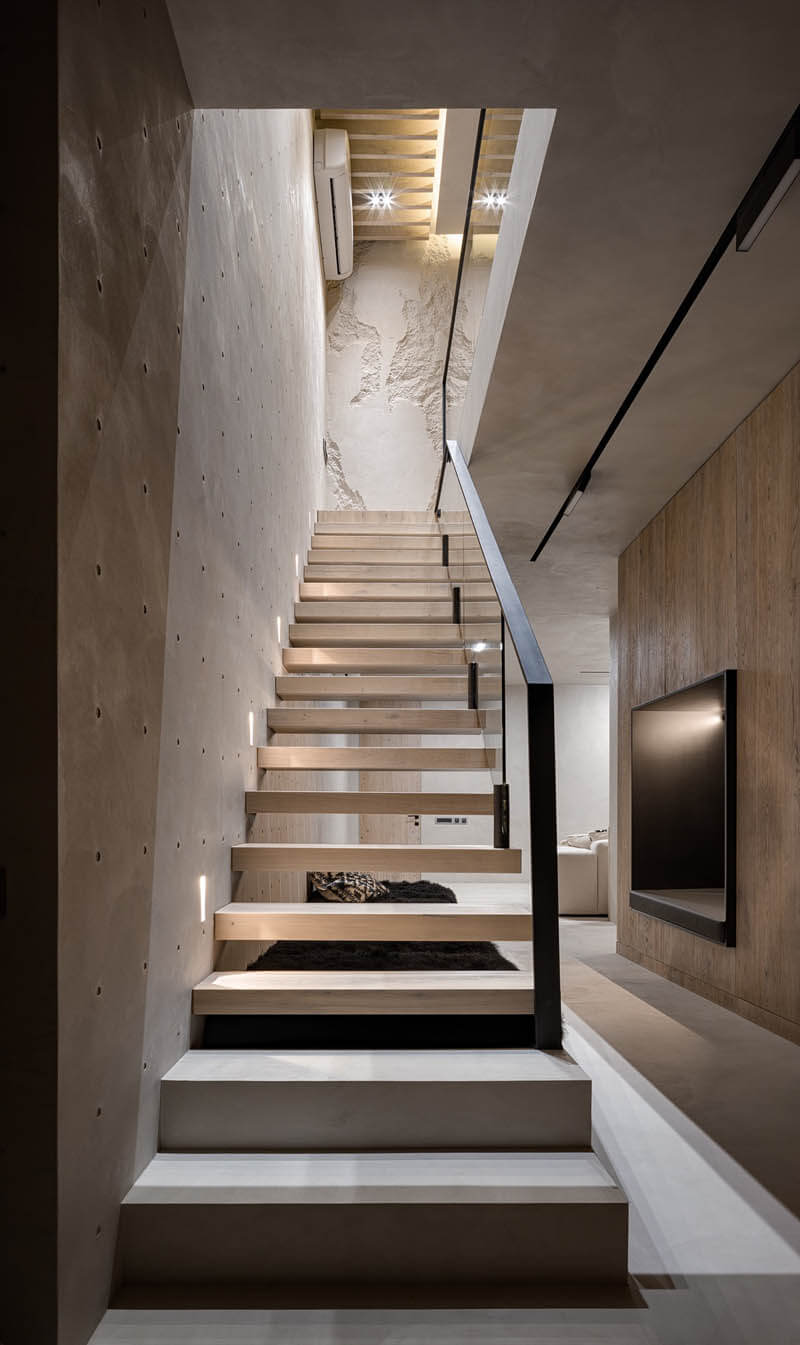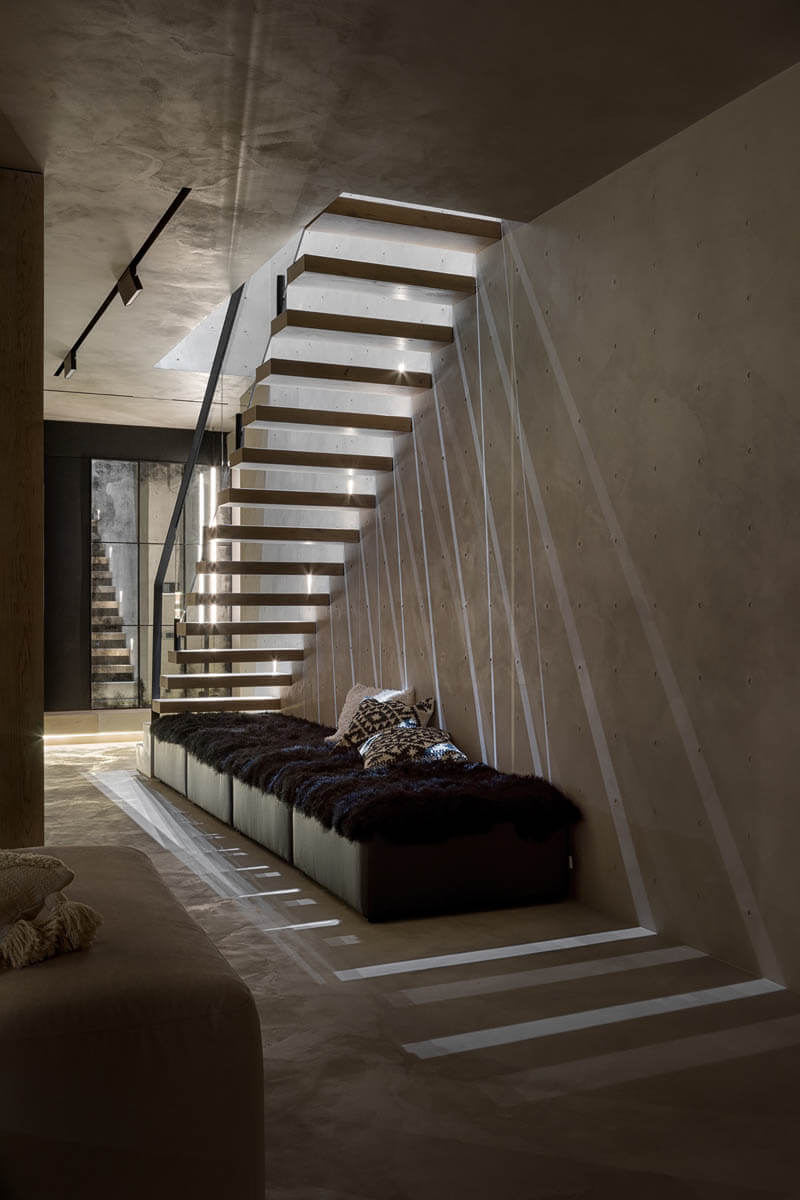 Master bedroom
A slatted wood ceiling beats a rhythm into the vast bedroom design. The distressed concrete bedroom accent wall brings depth, texture and freeform pattern to the airy bedroom scheme. An unusual giant floor lamp adds a dense black accent to the scheme's light palette.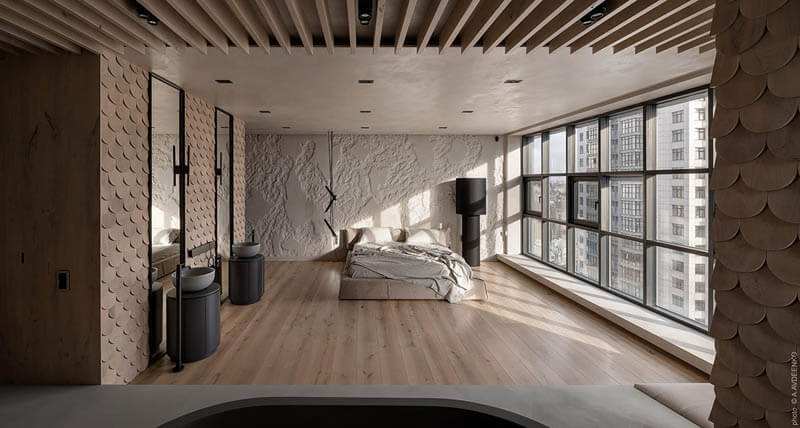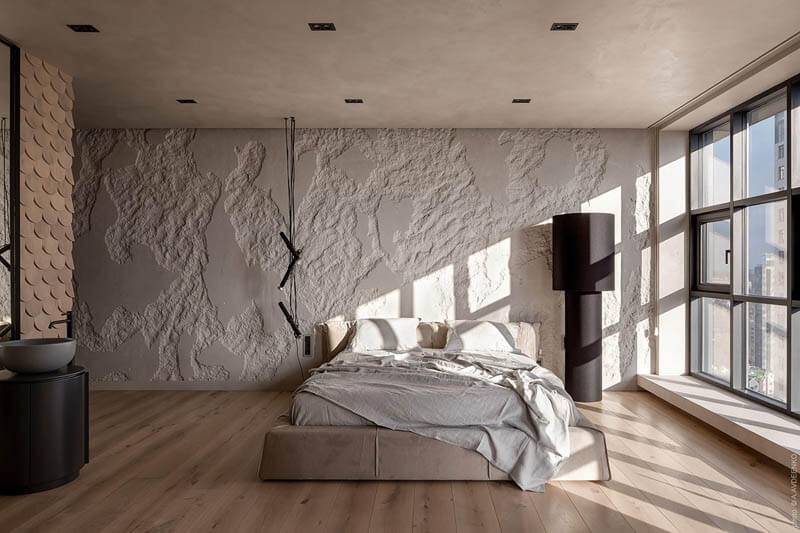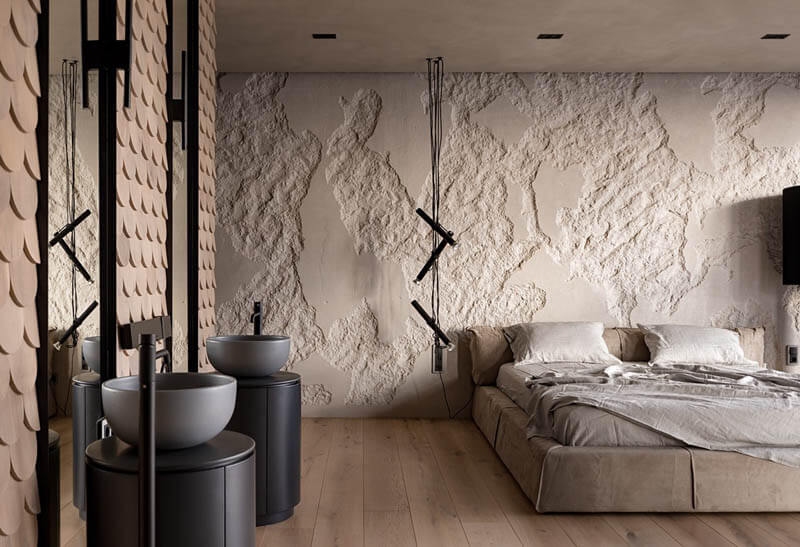 Modern bedroom pendant lights dramatically highlight the industrial feature wall.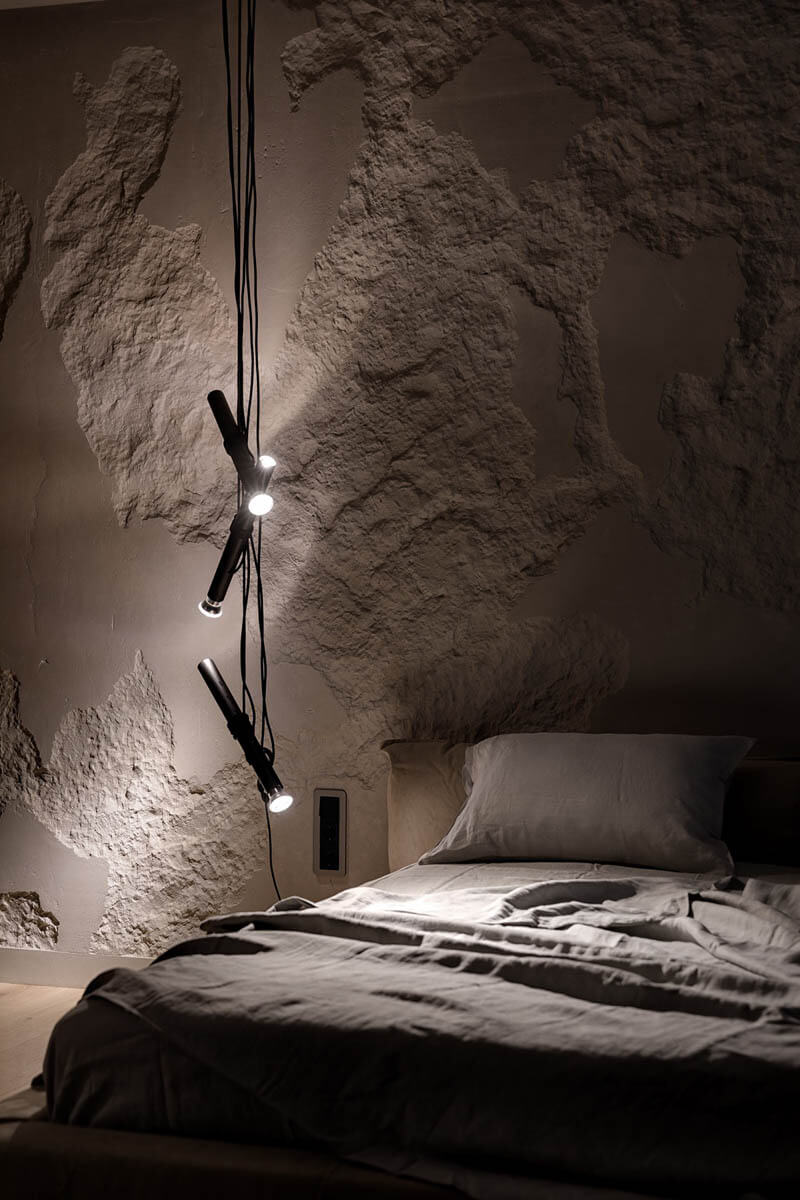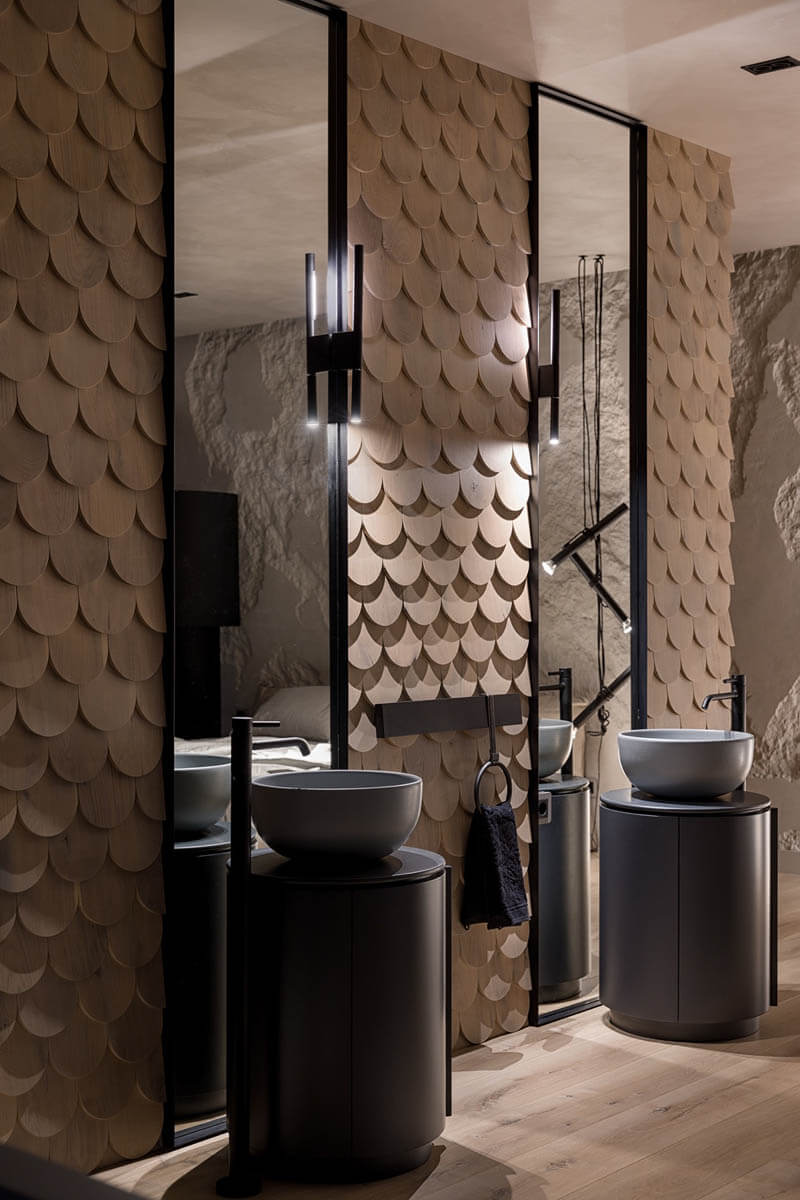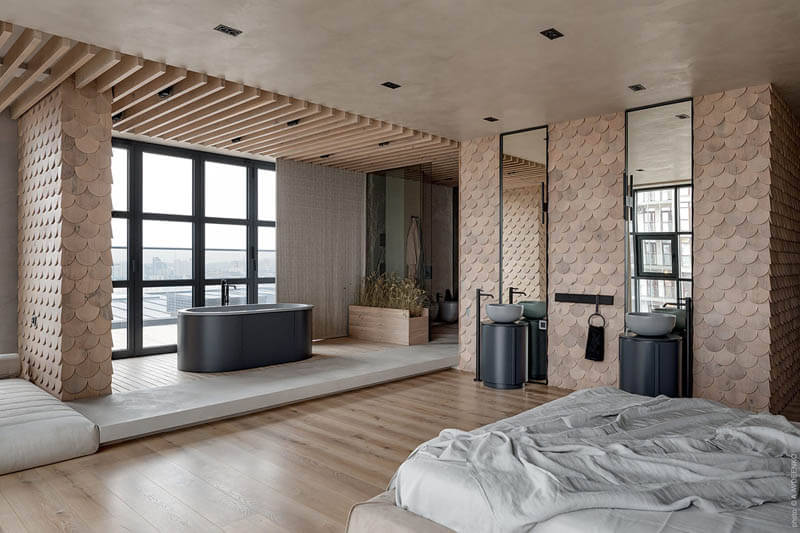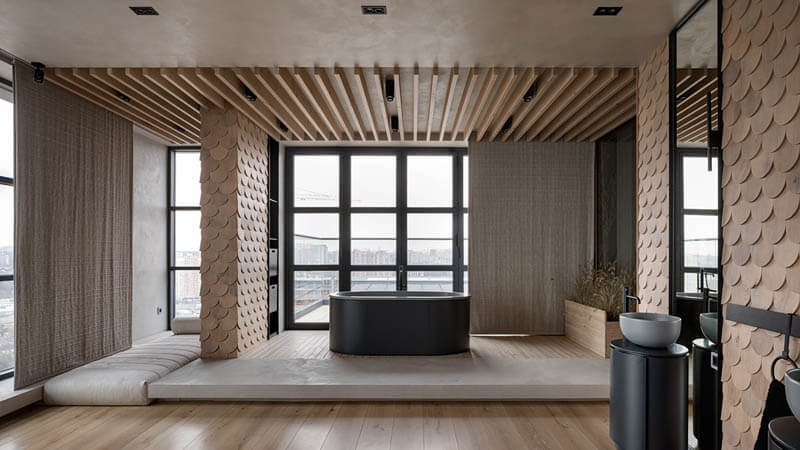 Kids Bedroom
A minty green colour scheme takes hold inside the modern kid's room. A kid's workspace makes use of natural light by the window. The extraordinarily tall room height lends itself to the incorporation of a spacious play loft. A loft net allows natural light to pass through into the raised play area, and creates an adventurous aspect.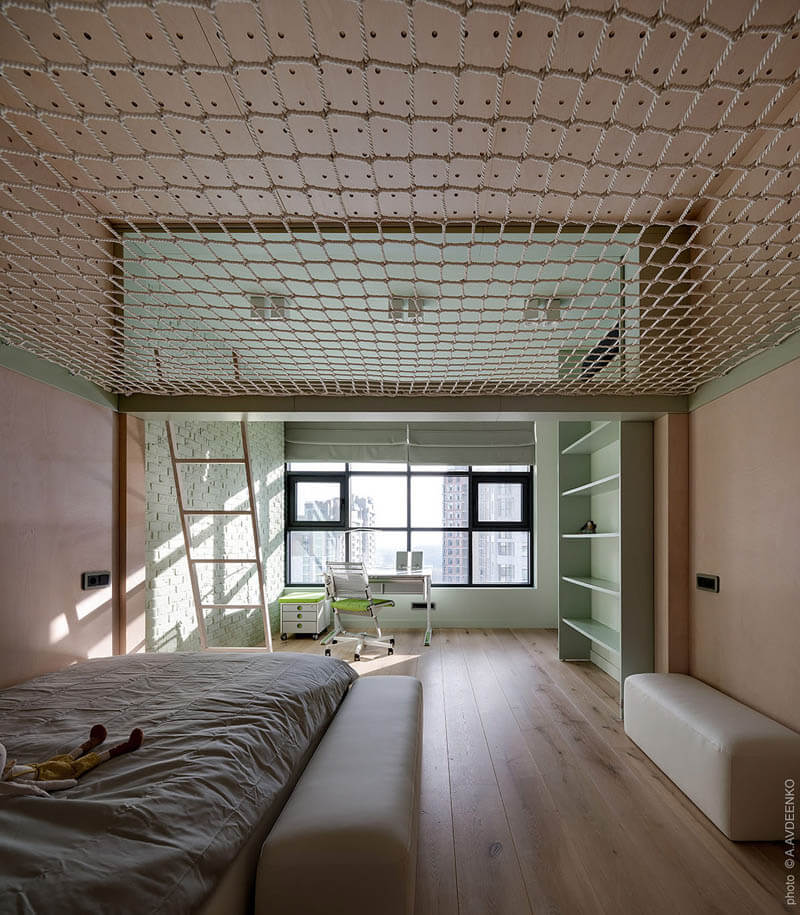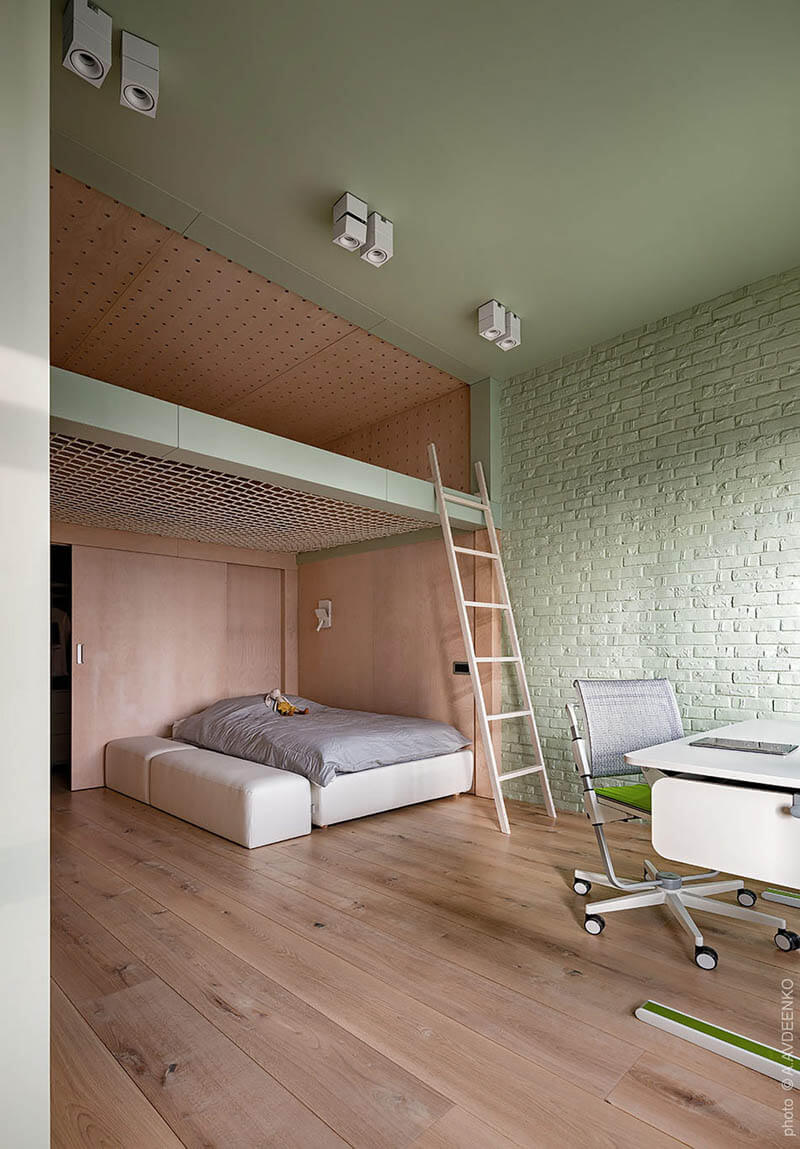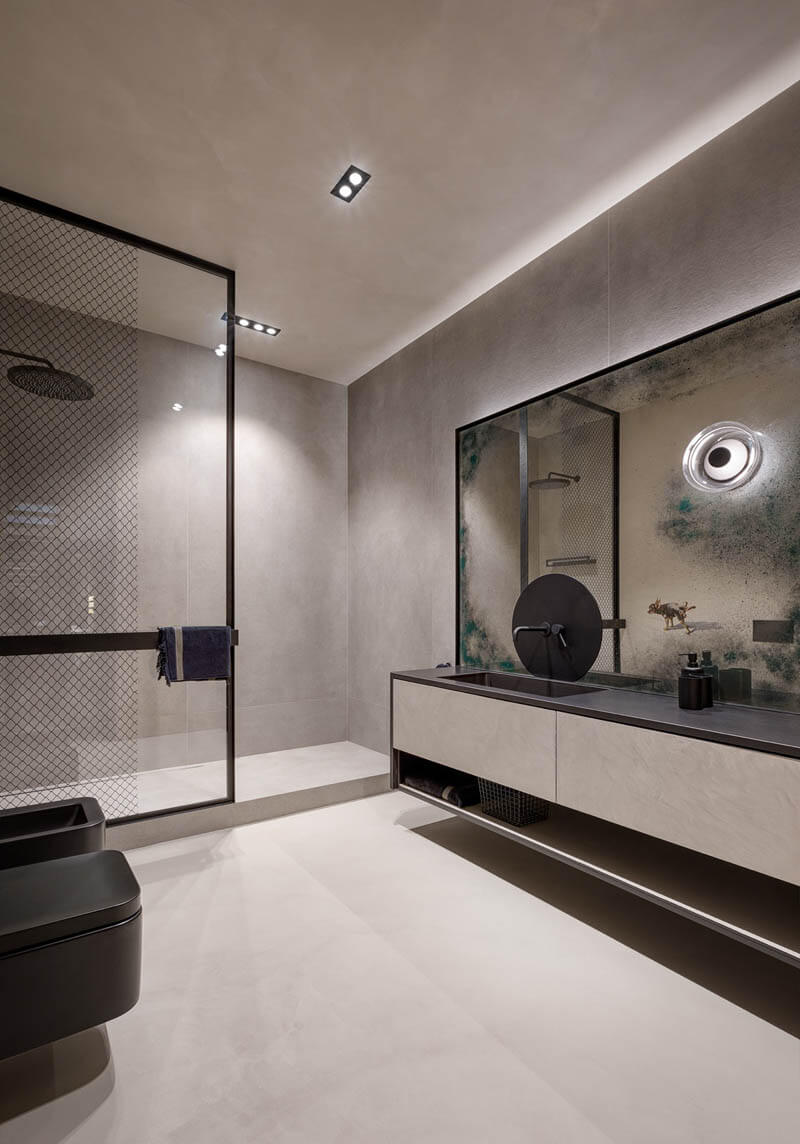 h/t: home-designing.com