No matter how spacious your room is, there never seems to be enough storage space. And sometimes, even you have a plenty storage somewhere, you are not going to put our daily stuff all the way in that place and fetch it everyday. That is the reason those multi-functional furniture that provide extra storage are quite popular these days. It is just nice to have somewhere that you can hide away clutter in style.
Not sure about you, but my coffee tables are always covered in various stuff such as magazines, remotes, coasters, books…). Hence, the one of the requirement I have when I chose my coffee table is it must have storage so I can stow away these stuff when I need to keep it clean and make it presentable. Shame on me. But trust me, it is really helpful if you have such kind of coffee table in living room.
Moreover, in the modern design, storage doesn't means ugly draws. You can have a highly stylish coffee table but still providing extra room for the random stuff. We have hand picked 16 Cool Coffee Tables with storage in this article. Take a look and hope you can find one fits your needs.
1. Safavieh Gina Lift Top Rectangular Coffee Table [buy here]
The Safavieh Gina Lift Top Rectangular Coffee Table boasts clean lines and bold colors that make it a natural addition to any contemporary-style living room. The boxy, rectangular top is crafted from sturdy wood with a light oak finish that retains the wood's natural grain pattern. The top is outfitted with hinges that lift to reveal a spacious interior for storage, perfect for remotes, coasters, and more. Durable squared metal construct the base, which is topped by a bold black finish.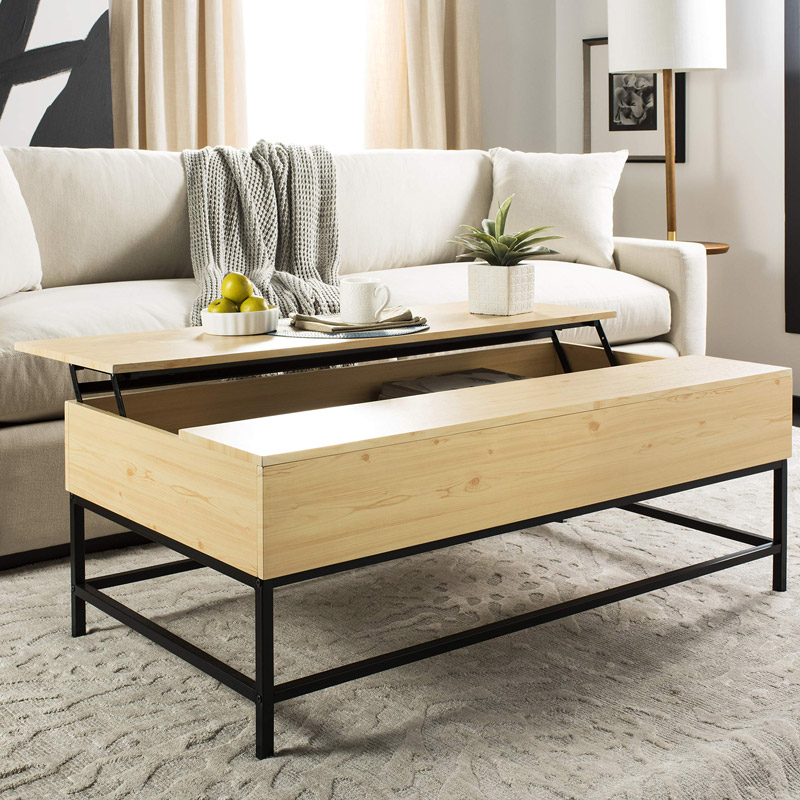 2. Denson Melamine Veneer Wood Hidden Storage Lift Top Coffee Table [buy here]
In a sophisticated twist of design, a smooth lift top action and drawers on both sides of the Denson Melamine Veneer Wood Hidden Storage Lift Top Coffee Table adds flair to this cool and walnut melamine table. With eye-catching lines and a sturdy construction. This piece marries style and substance.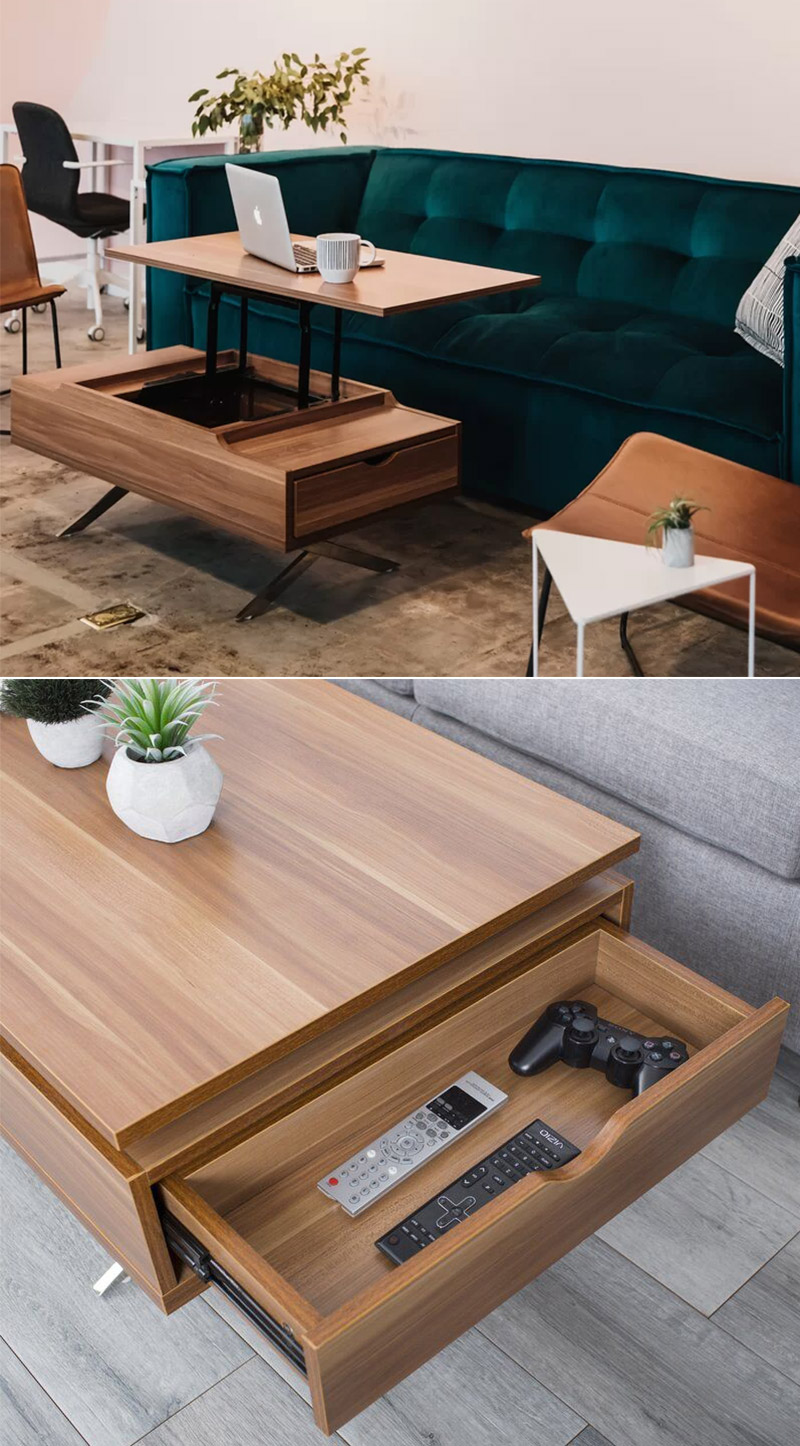 3. Mid-Century Pop-Up Storage Coffee Table [buy here]
Walnut finish is available with a single or double pop-up top.
Dark Mineral: Kiln-dried solid eucalyptus wood and engineered wood with Acacia wood veneer.
Walnut: Kiln-dried solid eucalyptus wood and engineered wood with walnut veneer.
Winter Wood: Kiln-dried solid poplar wood and engineered wood with Ash wood veneer.
All wood is FSC®-certified. Your purchase of this product helps support forests and ecosystems worldwide.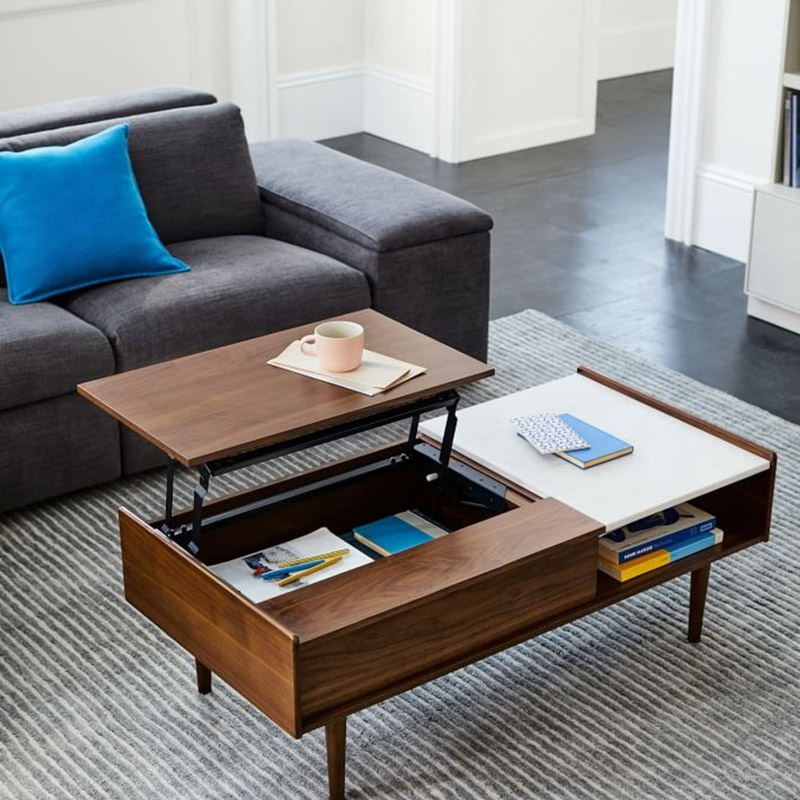 4. Drum Storage Coffee Table [buy here]
This contract-grade item is manufactured to meet the demands of commercial use in addition to residential.
Solid mango wood top in a Café finish.
Spun metal base in Antique Brass and Antique Bronze finishes.
Due to the materials used, slight pitting is to be expected.
Unlined interior storage space.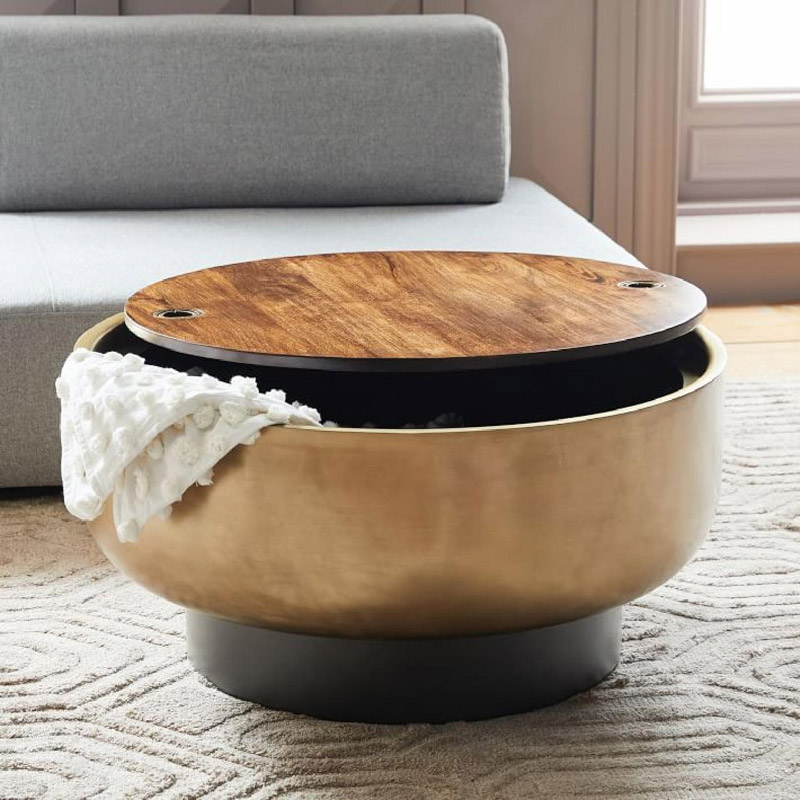 5. Homary Round Coffee Table White with Storage [buy here]
Easy to Upkeep: The modern decor coffee tables for living room can be cleaned easily with a soft, damp cloth.
Smart Storage: Dual rotatable drawers offer ample space for storing tea set, snacks, magazines, remote control, toys and more.
Flexible Usage: Small table can be nested completely underneath the large table or used separately, flexible and practical.
Made of manufactured wood and gold metal, it ensures sturdy construction and steady support.
Lift-Top Design: Lift-top design can be lifted to provide the perfect height.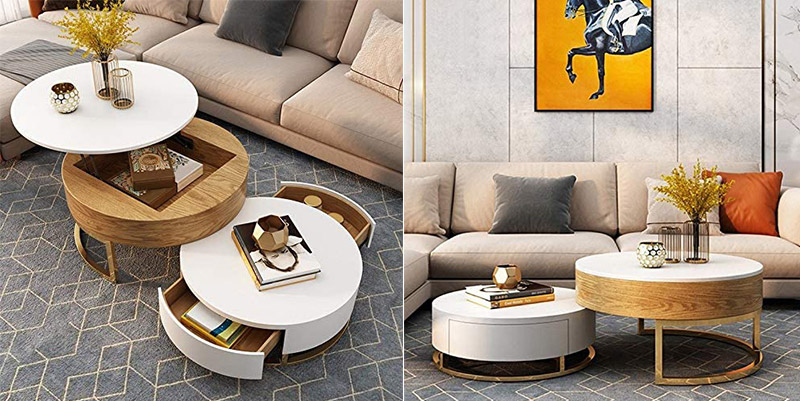 6. Convenience Concepts SoHo Coffee Table [buy here]
Get in the orbit of the SoHo Coffee Table that is perfect for any modern space. Featuring a generous faux white marble top surface to enjoy a drink or two while watching TV. The tempered glass sides catches the eye and makes this table a sparkling addition to any room. This decorative yet practical coffee table has a convenient stylish bottom shelf for plenty of added display and storage. Will provide years of enjoyment.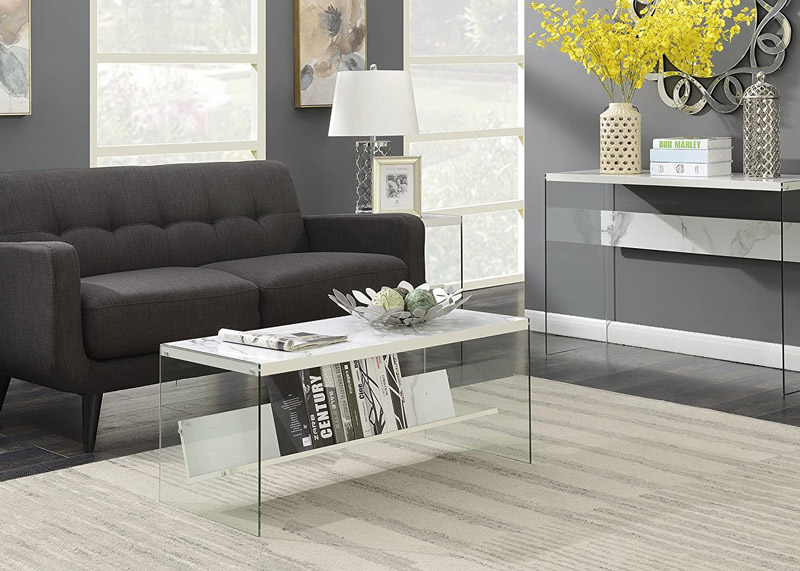 7. Modern Wood and Glass Rectangle Coffee Table [buy here]
Hide all your little secrets underneath the lift-top door of this modern coffee table. Whether it's an embarrassingly large collection of romance novels or sheets of music you've always meant to play, it will be easily accessible with the half-moon cutout handle and soft close hinges that prevent loud slamming. And while you are hiding your hobbies away, you can host sophisticated tea parties or game nights on the sturdy, tempered glass tabletop. With the extra open storage shelf, you can display your family photos or your favorite house plants.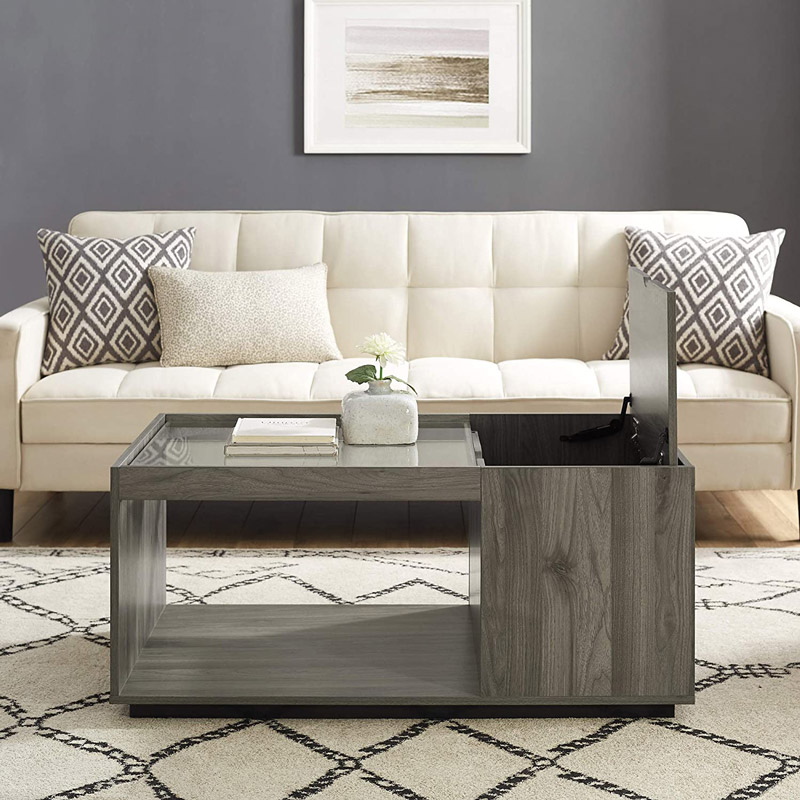 8. Wood Lift Top Coffee Table with Hidden Storage Compartment [buy here]
This coffee table has an extending top that lifts up to provide a floating raised work surface, perfectly matches your needs, ideal for working, dining and extra storage in living room or office.
High quality lift top mechanism enables the tabletop to be lifted up or lowered down effortlessly and noiselessly. And the gas spring could make the tabletop more stable when lifting and lowering without sudden bounces or drops.
Large hidden compartment beneath the tabletop is enough to store your often-used items like laptop, chess, and remotes; Left drawer with smooth slides is easy to open and offers extra space for you.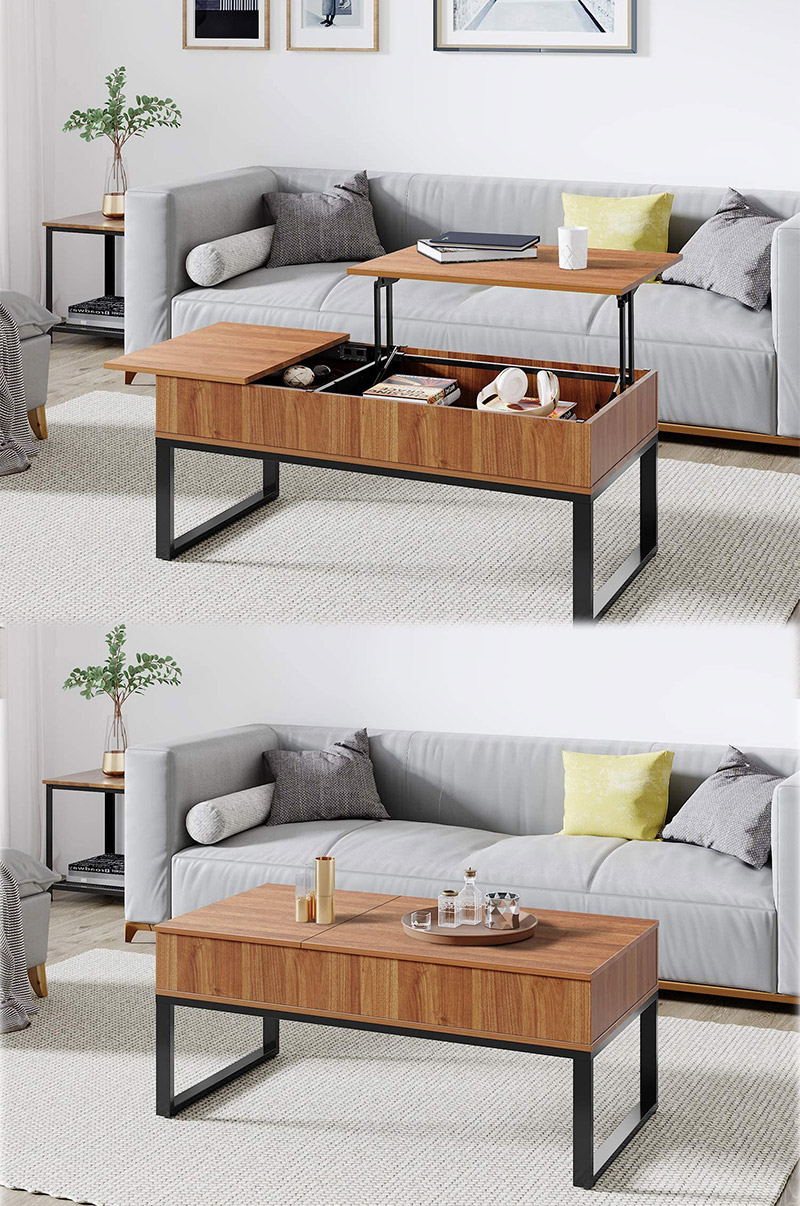 9. Square Coffee Table With 4 Soft Closing Drawers [buy here]
The Coffee Table uses a combination of textures to create depth and perspective. 4 drawers provide ample storage, which makes this stylish coffee table highly functional as well.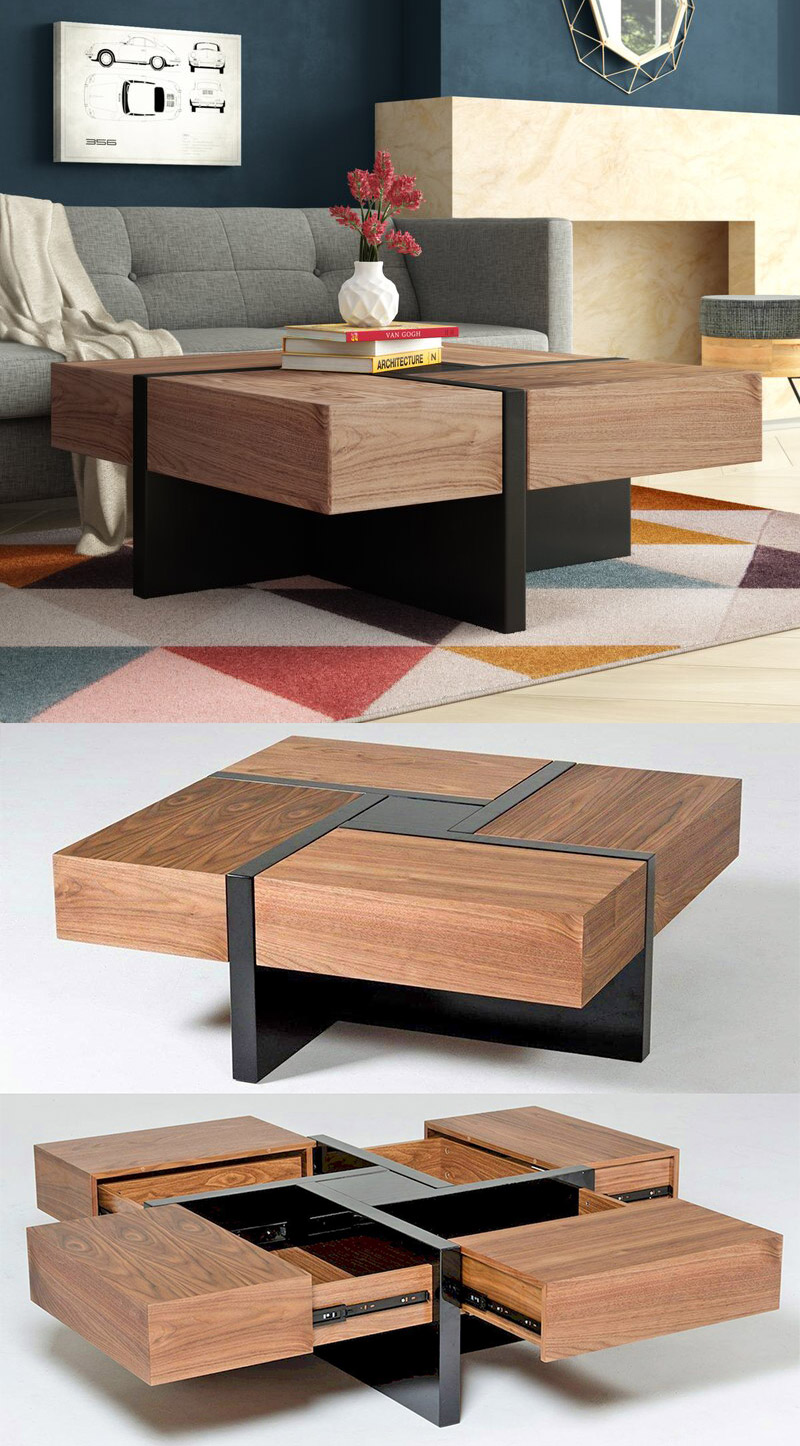 10. Cross Legs Coffee Table with Storage [buy here]
The frame of this fashionable coffee table was crafted using a smooth, consistent MDF wood and its table top was constructed using glass creating timeless fashion and adding to the appealing style of this piece.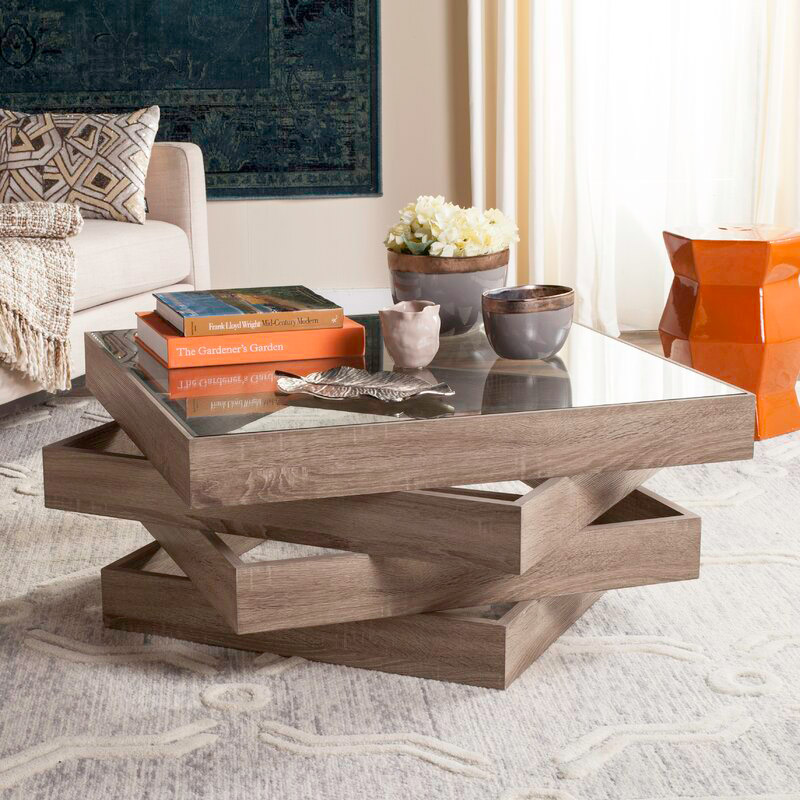 11. Madilynn Trestle Coffee Table with Storage [buy here]
Distinctively designed, this piece features a wide body with a curved lower panel, while a trestle base provides stylish support. Four partitioned cubby shelves set under a pane of tempered glass offer organized storage for everything from remotes to coasters to board games and more, while two side drawers are great for storing batteries and matchbooks. Crafted of manufactured wood with glossy veneers, this table can be wiped down with a multi-surface cleaner for effortless upkeep.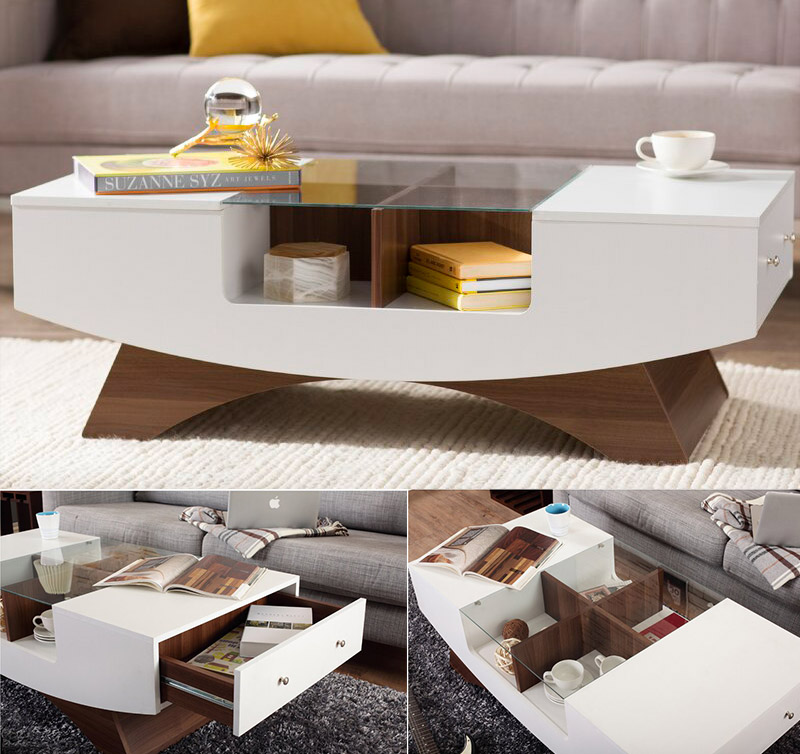 12. Frahm Abstract Coffee Table with Storage [buy here]
Create a statement in your living room with this stunning coffee table. It's constructed from wood and veneer for lasting durability in your living space. The contemporary design features a unique open center with two hidden side drawers for stowing clutter, adorned with beautiful bar pulls for easy access. Find a stunning glass insert that enhances the contemporary flair of this coffee table. Fabulous and functional, there are two finish options for this coffee table, including espresso and white. This modern glass coffee table brings new geometry into your room for casual conversation.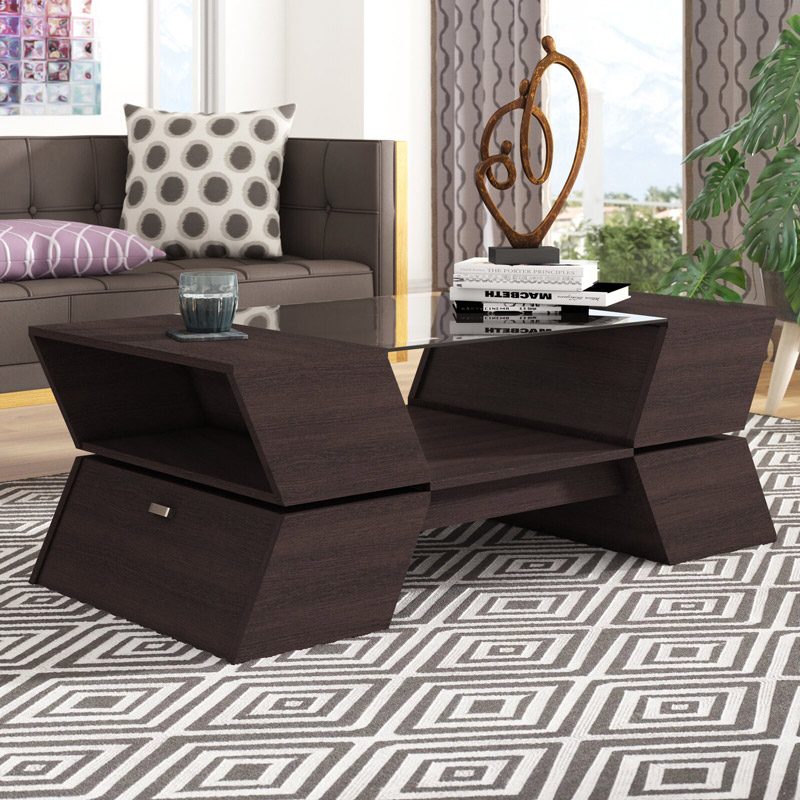 13. Block Coffee Table with Storage [buy here]
Perfect for anchoring your seating ensemble's style while also lending your space handy surface area, nothing rounds out your living room like a coffee table! Take this one, for example: perfect for a clean-lined accent in any contemporary space. It's crafted from espresso-finished manufactured wood and strikes a square silhouette. And with four drawers and opens shelving, it offers handy storage for games, controllers, and more this table is a great option for smaller seating ensembles.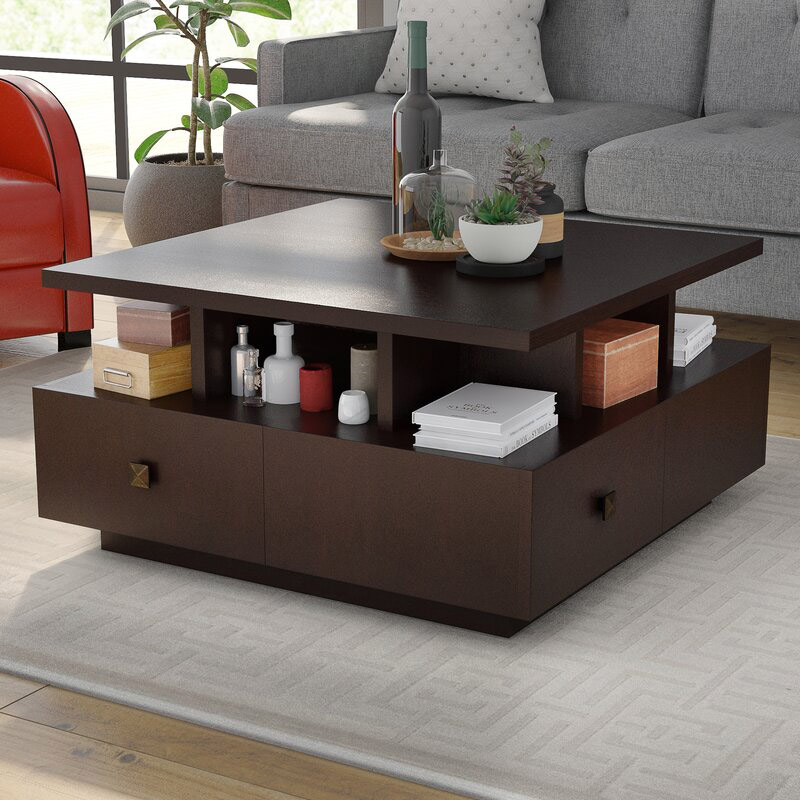 14. Milivoje Coffee Table with Storage [buy here]
Anchor your living room in mid-century style with this table. Founded on gleaming chrome legs, this coffee table strikes a chic, S-shaped silhouette. The bottom portion features built-in storage for coasters and remotes, while the open middle section makes an ideal shelf for books or magazines. The glass tabletop sports a thick black edge, further defining the striking S-shaped silhouette. Rounding out the design, two cylindrical ottomans with white, padded seats slide out from under the table when you need an extra seat.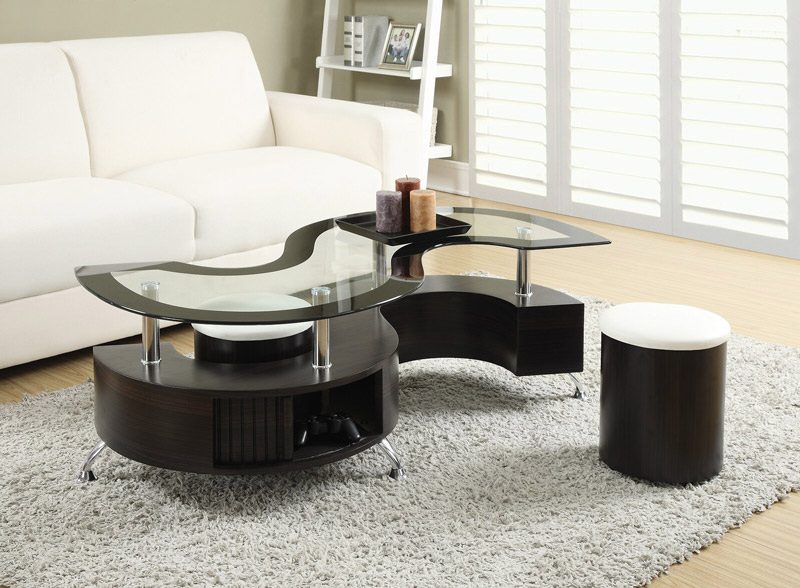 15. Cortez Coffee Table [buy here]
Rounding out your living room decor while keeping beverages, remotes, and more at arm's reach, coffee tables are an essential in any home. Brimming with contemporary appeal, this one showcases a clean-lined design with a side cutout boxed shelf for extra storage space. It's crafted from both solid and manufactured wood and boasts neutral hues of black and white. Plus, it includes two side shelves for keeping books, movies, and more organized.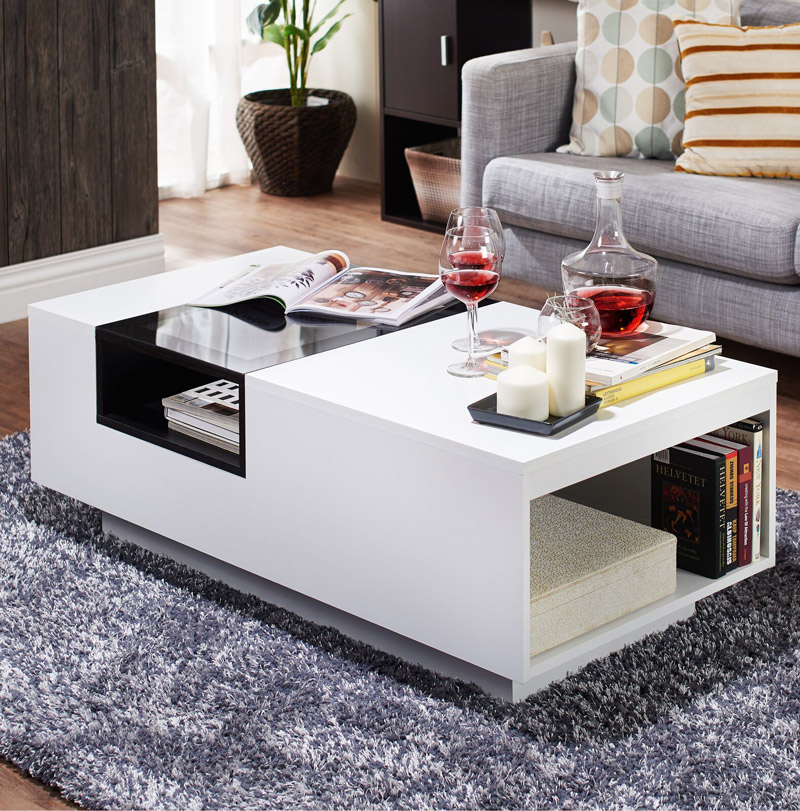 16. Berg Solid Coffee Table with Storage [buy here]
Streamlined your living room with this eye-catching Coffee Table. Two-tone design exaggerates the angled design for massive Modern appeal and sophisticated appearance. Find storage for items with the single drawer and two-compartment cabinet while decor can be showcased on the accenting tabletop. Reinvent your style with this Coffee Table.