Jewelry has fascinated mankind since ages and in today's world it's one of the ways to look unique! Ordinary jewelry designs can't surprise us anymore. More and more creative thoughts are put into jewelry design – styel, material and even the story behind the design, to pursue the uniqueness. In this post, we rounded up several unusual designs we've ever seen, coming with various styles and material. Check out and see how the jewelry designing has evolved!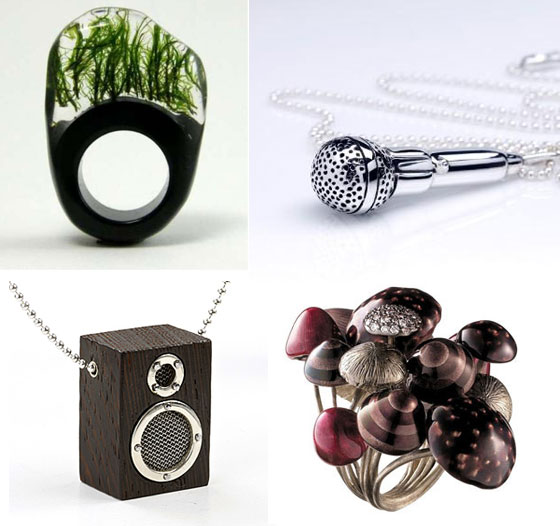 Vegetable Jewelry – the Preciousness of Nature [source]
This project called "Vegetable Jewelry – the preciousness of nature" was created by Ventzislav Iliev, photographer from Sofia, Bulgaria. "The idea for the project comes from a student work and is to express one way vegetables can fit in a fashion magazine, by making them look like jewelry.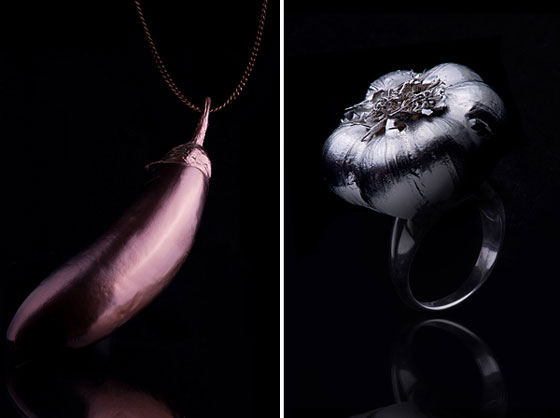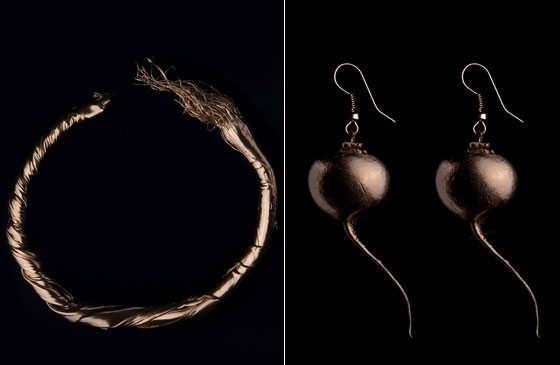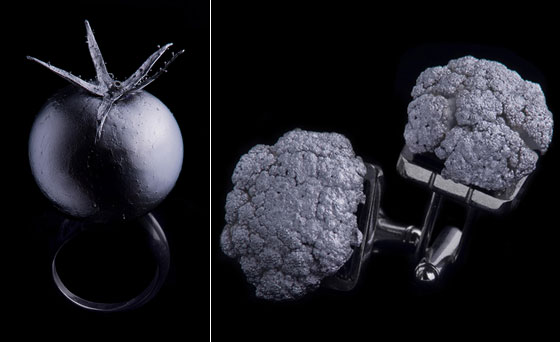 Sculpture Rings Inspired by Alice in Wonderland [designswan]
The impressive creatures that form the scenario of the Alice in Wonderland film were artistically sculptured in gold and diamonds in an extraordinary collection developed by H.Stern in partnership with Disney. Strange roses, colorful mushrooms, bird from beautiful garden, the Cheshire Cat, Jabberwocky and other wonders of the world through the mirror served as the inspiration.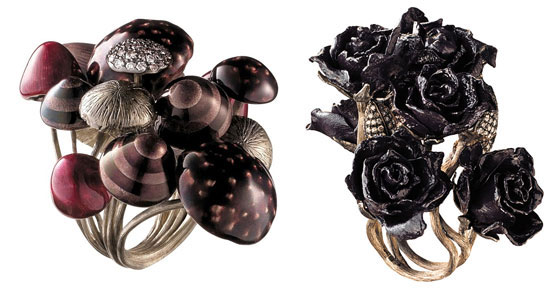 Luxury Jewelry for DJs [source]
Luxury jewelry created by Darkcloud Silver is inspired by music, hip hop and urban culture. This handmade collection consist of rings and pedants in the form of urban music symbols, even including spray can. Due to the fact that all jewelry is created from silver, gold and platinum.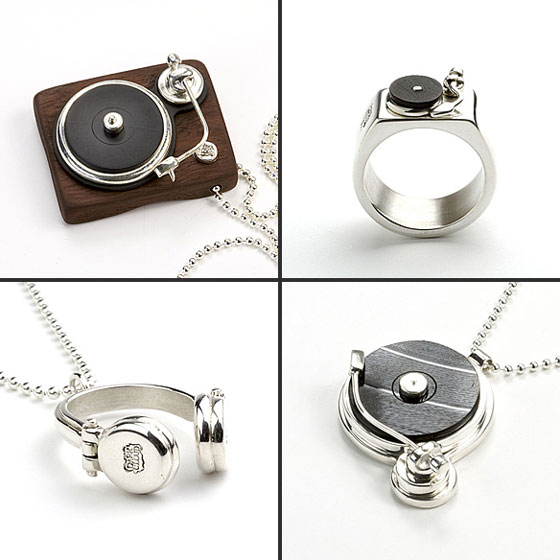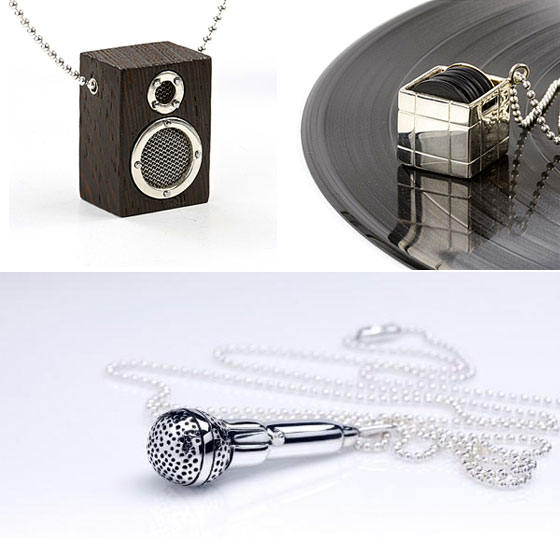 Creative Jewelry Inspired by Signs [designswan]
According to its designers Chao and Eero, people use different signs to communicate their moods. So why not use those popular signs in our fashion world? Smiling face and eyes, exclamation and question marks, comma and quotation, Show your mood with this creative jewelry!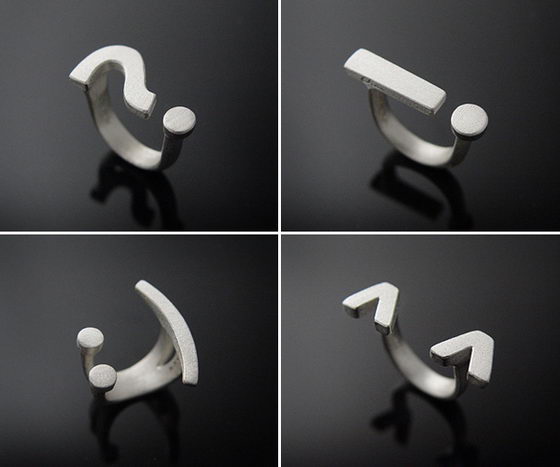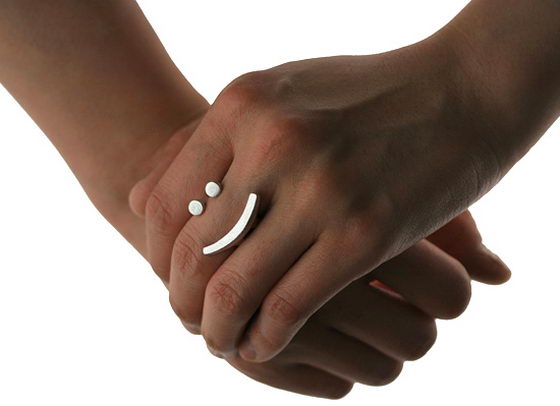 Entangled Jewellery [designswan]
The collection of handmade body embellishment by NIIRO presented in this post is beautiful and marked by the innovation of irregularly, decorative knitting, dazzling, richness and uniqueness of the material used.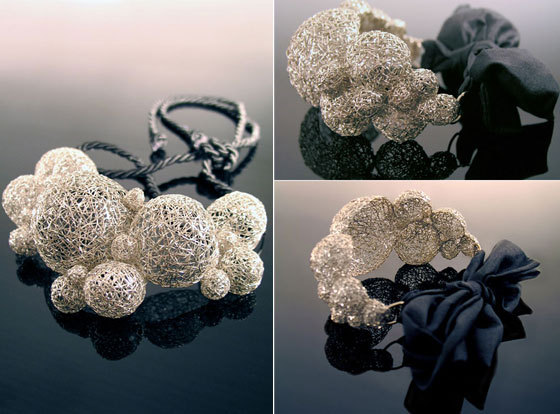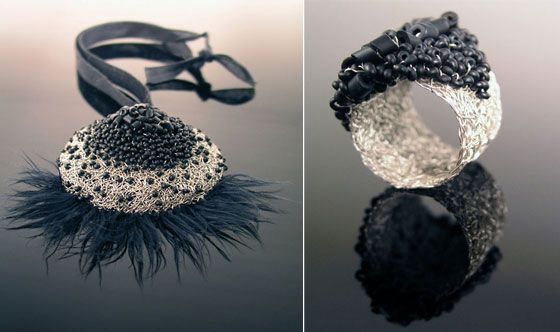 Sculptural jewel by Selda Oketan [source]
This collection contains beautiful sculptural jewel with tiny figures. Every collection Selda created has a subject and every single item has a story of own. This gives her the right inspiration to make them distinctive. Her main purpose is to give spirit of the story to her designs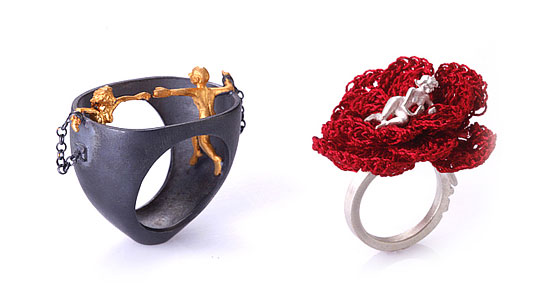 Dream House Rings [designswan]
Jeweler Philippe Tournaire designed these exquisitely detailed rings with buildings on them. It includes different style of architecture from different countries, such as Russia, China, France, Italy, USA…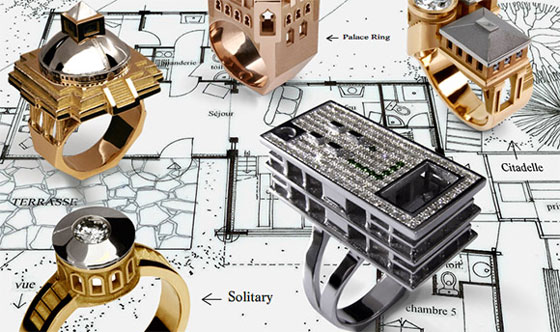 Sea life Sculpture Ring [designswan]
Beautiful and luxurious rings from nOir Jewelry. Go beyond the predictable with NOIR fashion jewelry that takes edgy street influences and redefines them for a fresh approach to glamor.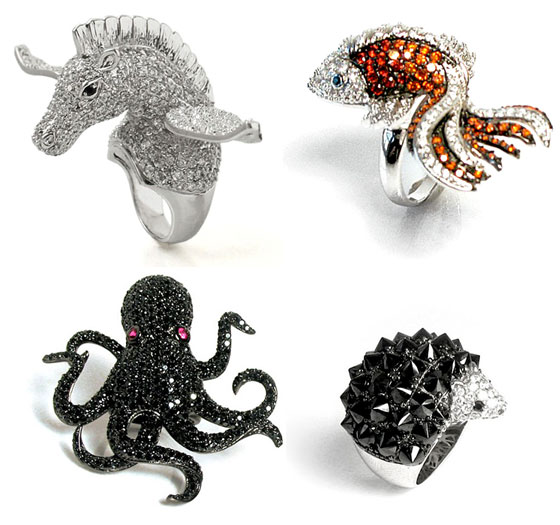 Gothic Jewelry from Bjorg [source]
Bjorg is 34 years old girl designer from Norway. As noticed on her biography she was never fascinated by classical jewellery, there has to be a soul. And according to these thoughts she created fabulous jewerly collection consisted of necklace, rings, earrings, bracelets and pendants. Everything is made from precious and natural materials.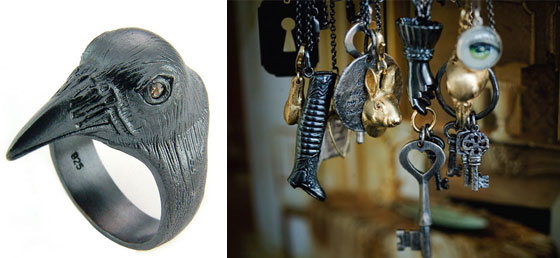 The Wood by Aaron Ruff [source]
Aaron has embodied the old dream of romantics. Ring and necklaces look like the part of a tree with two sets of initials engraved inside the heart. This collection is from sterling silver and there is a possibility to create customized version of each jewelry with desired initials.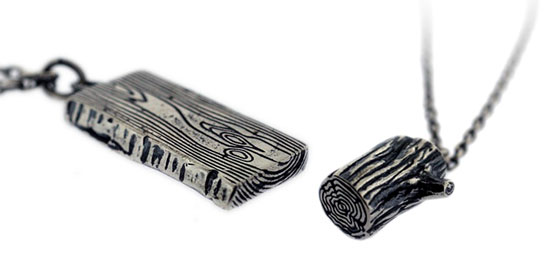 Nature inspired jewelry by Eva DeCarlo [source]
Nature inspired fabulous jewelry collection from Eva DeCarlo are made from silver and are of flowers, plants, leaves and bark. Beautiful flower earrings or cuff bark bracelet or lotus ring will surely bring the style to the wardrobe of nature-lover.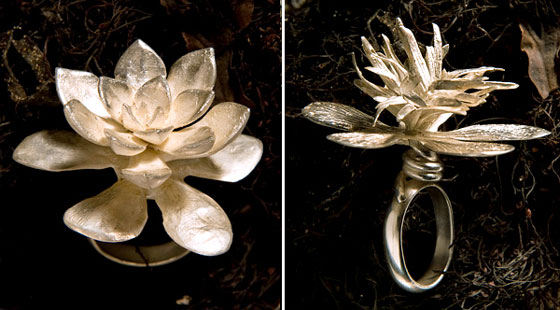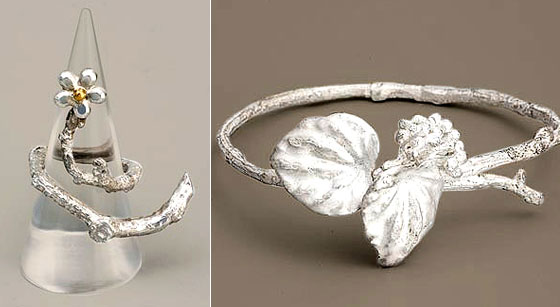 Moss Resin jewelry [source]
Beautiful ring and earring made of high quality clear and black resin. Moss is embedded in it.