I recently had the pleasure of trying out Nanoleaf's LED lighting panels, and I must say, they've completely transformed the ambiance of my home. It's hard to imagine my space without these modern marvels, as they have become an integral part of my smart home setup. In particular, the Nanoleaf Shapes Triangles and Mini Triangles have captured my attention with their versatility and stunning lighting effects.
Unleash Your Creativity:
One of the standout features of these panels is the Connect+ Technology. It allows you to let your imagination run wild by creating unique layouts and combinations. I had a blast experimenting with different designs, crafting my own statement pieces that perfectly complemented my interior decor.
Dancing Lights to the Beat:
What truly amazed me was the Music Visualizer feature. It transformed my living room into a private music festival, as the panels danced to the rhythm of my favorite songs. I highly recommend trying the Pop Rocks Rhythm Scene—it's a mind-blowing experience that brings your music to life like never before.
I had a "fight" with my son for where to install the lighting panel. He wants that behind his computer to mirror his screen. Yes, there is a Screen mirror feature that can sync your screen with the panel for an immersive experience. But I won and now the lights shine in my living room.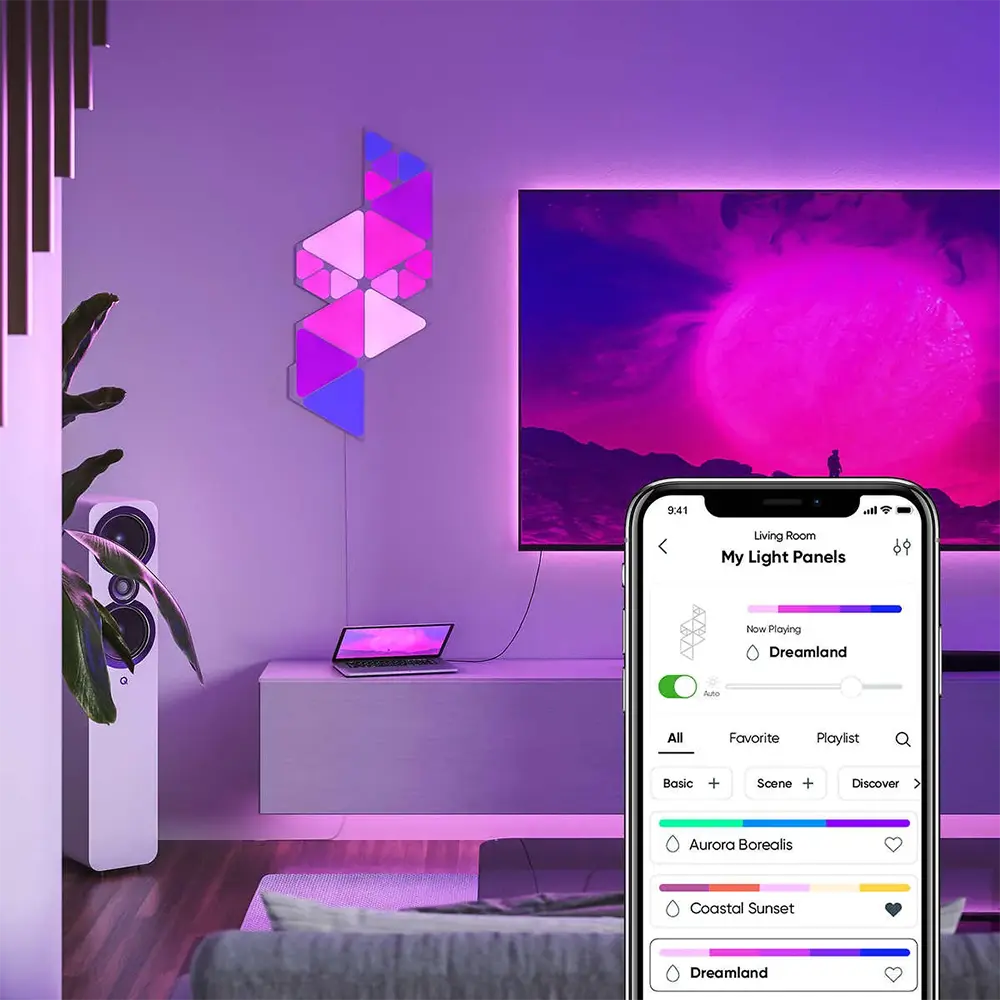 Easy Design Planning and Installation:
Creating your desired lighting layout with the Nanoleaf Triangles and Mini Triangles is a breeze. The Nanoleaf app's Layout Assistant takes the guesswork out of design by allowing you to experiment with different panel arrangements. The app even provides an augmented reality (AR) feature, letting you preview the panels on your wall before finalizing the layout.
Once I settled on a design, the installation process was surprisingly simple. With the included Mounting Tape, I effortlessly attached the panels to my walls without the need for any additional tools. Simply attach the tape to the pre-attached mounting plate on each panel, press them onto the wall, and hold for 30 seconds. Connecting the panels is as easy as snapping the links onto the back of each panel. The power cord and controller can be conveniently snapped onto any link connector, ensuring a neat and organized setup.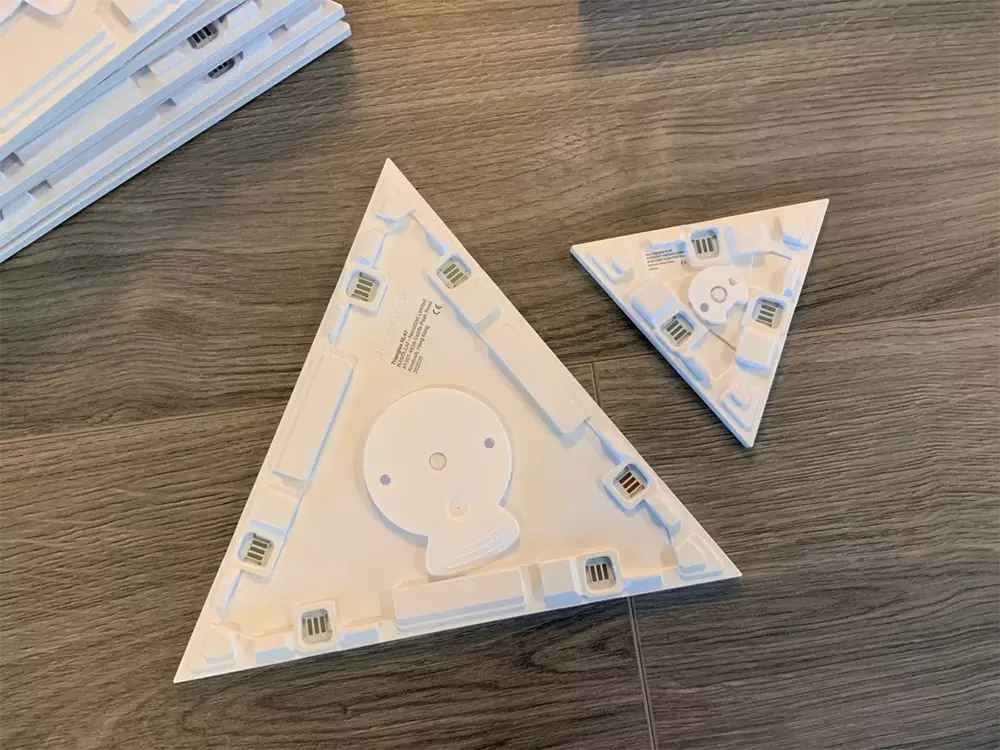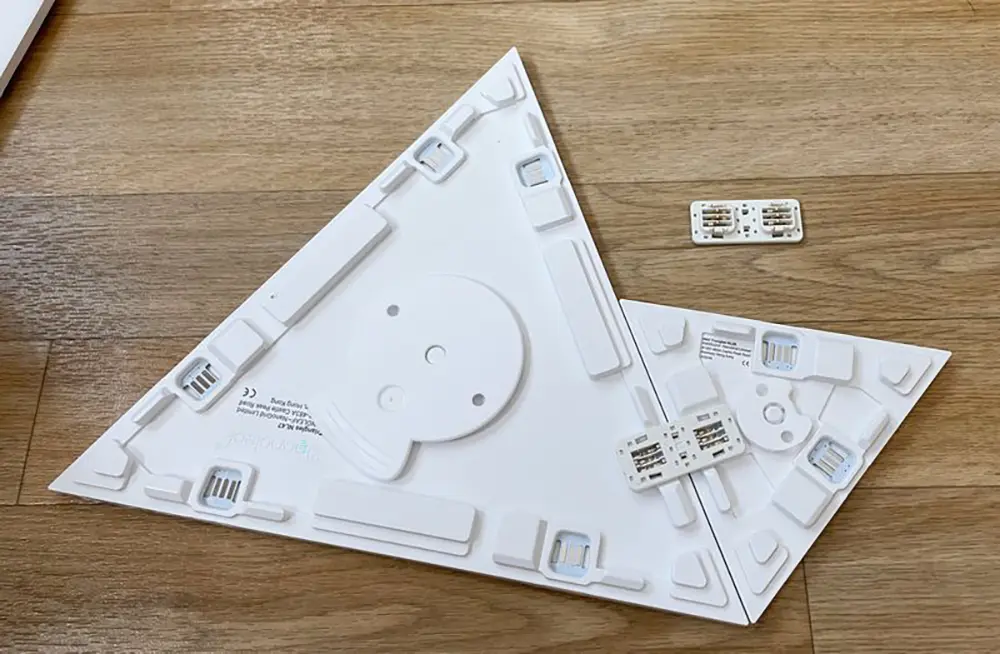 Endless Possibilities:
These Nanoleaf panels are not just limited to one room. I found myself finding creative ways to incorporate them throughout my home. It is quite hard to make the decision of where to place these. And if you are okay with the cost, I would suggest you stock more and let your imagination run wildly. And I am thinking to buy another set for my son, but this time, we probably will go with the lines series.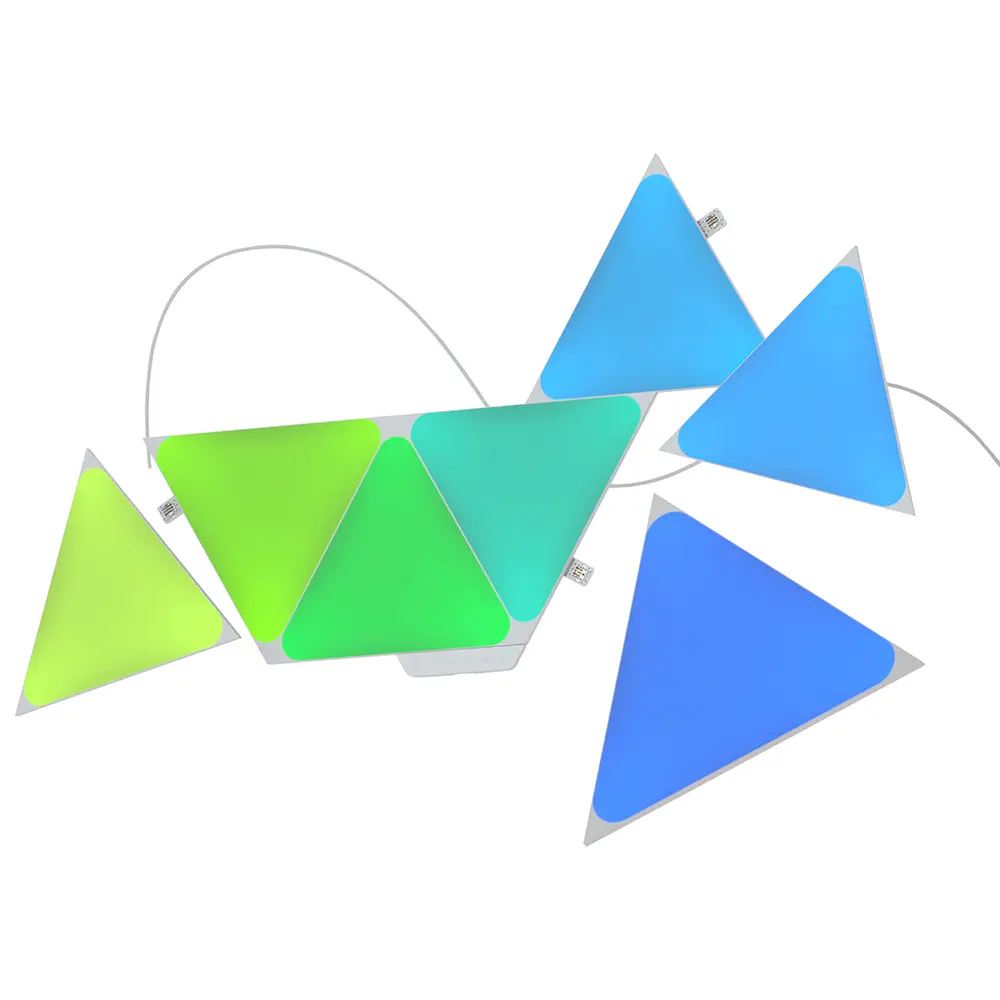 Although I love Nanoleaf panels, I do want to share some findings I got
The Triangles and Mini Triangles have rounded edges, resulting in a light display that is not entirely triangular in shape. However, in my opinion, both versions still look great and add a unique aesthetic to any room.
While these Nanoleaf light panels may not offer extensive utility, they serve as an easy and reliable way to decorate a room.
It's essential to note that the Nanoleaf Triangles and Mini Triangles require a 2.4GHz wireless network for the initial setup. 5GHz networks are not compatible with Nanoleaf products, so ensure that your network meets the necessary requirements before purchasing.
A single power supply can support up to 28 Triangles or up to 77 Mini Triangles, although these numbers may vary when combining different shapes. Nanoleaf offers a handy PSU calculator to remove any guesswork when determining your power supply needs.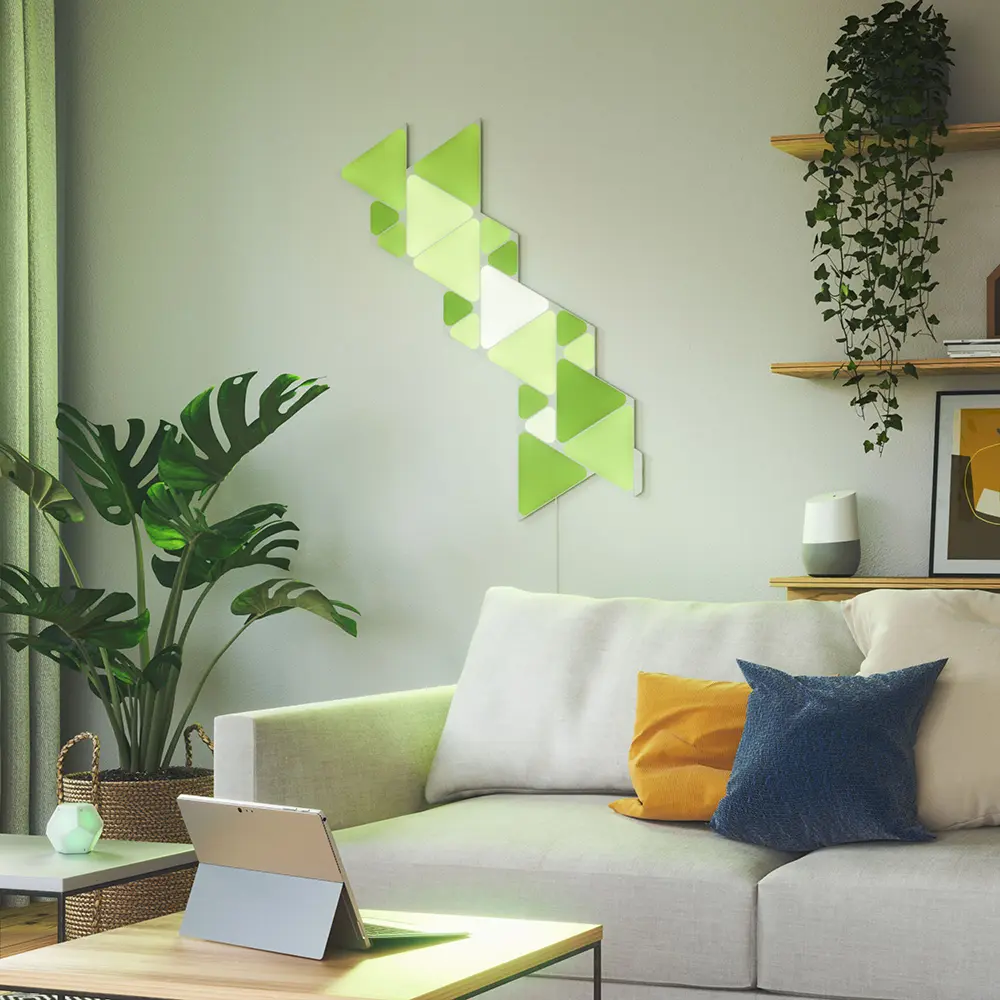 Final Thoughts:
The Nanoleaf LED lighting panels have been a game-changer for me. Not only do they provide stunning lighting effects, but they also add a touch of modern elegance to my space. From the effortless installation process to the intuitive app controls, every aspect of my experience with Nanoleaf has been exceptional.
If you're looking to create a unique and captivating lighting display in your home, I highly recommend giving the Nanoleaf series a try. Trust me, you won't be disappointed!