One of the most important things to do while furnishing your living room is to get good sofa sets. In today article I will present 20 of the most Unusual Sofa Designs. Interesting? Creative? Incredible? or Silly?…Anyway, let's begin.
Brush Sofa
This sofa looks like a giant brush adorned with thick bristles, but each of these comfortable bristle is designed to give you a relaxing massage.Its a very different take on the most common furniture that we see in every house. This sofa is a concept which is the result of a student from school BCUC. The design might look interesting and I'm sure that a lot of teens would get one for their rooms, but after all his sofa is not to practical unfortunately.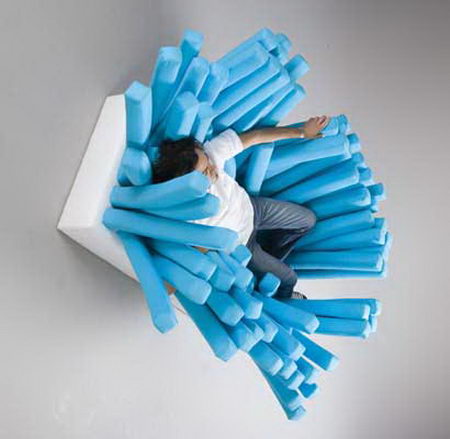 Feel Seating System [link]
At a first glance you might be asking yourself "What is this ?", because the Feel Seating System designed by Animi Causa has a really cool and unusual shape. The shape is inspired by a molecular structure, the basic form for all objects is the universe. It is made of 120 sofa balls covered with elastic fabric. If you are a playful person you can use it in many creative ways, because the structure of the feel allows to create multiple forms.

Carpet Sofa [link]
This sofa that looks like a rug is a great design, and I don't know how nobody thought at this until now. This design is called East meet West and is designed by Tonio de Roover. At a first glance the design looks awesome, but I don't think you could sleep to well on this sofa.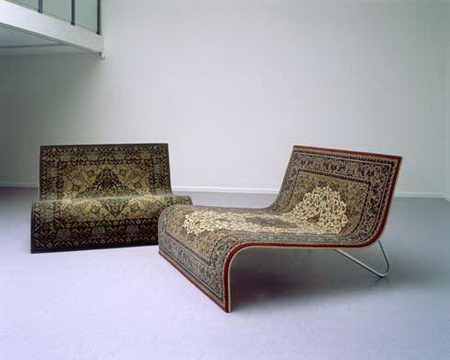 Animal Theme Sofa [link]
Rodolfo Rocchetti from Tappezzeria Rocchetti is a master upholsterer from Rome, and he made some really creative pieces of furniture, check the pictures below.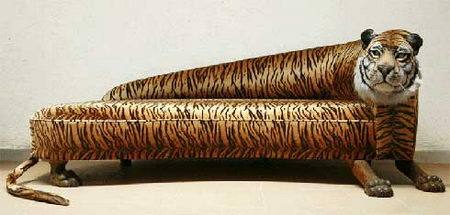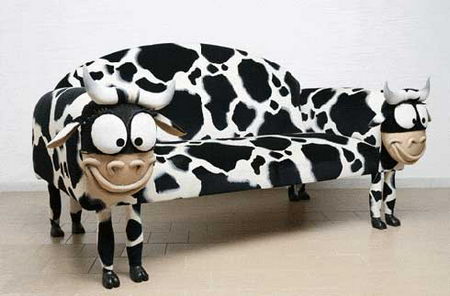 Canape
One half is a plain looking sofa with a decidedly curvy old fashioned style. The other half appears to be climbing the wall! You have to admit there is something whimsical about this design. On one hand it fulfills a function – somewhere to sit on. On the other hand, it is a perhaps a piece of art or even a statement about things driving us up the wall perhaps?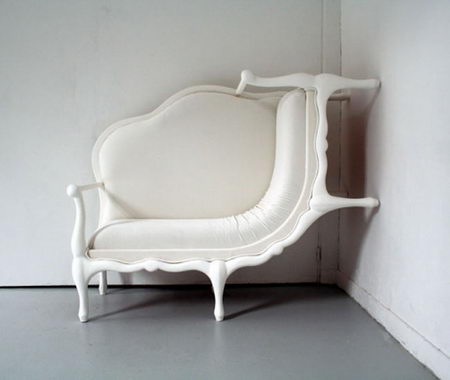 Do Lo Res [link]
Do Lo Res is a very up-to-the-minute sofa composed of several soft, square-based cube- or rectangular-shaped units of various heights. The units are arranged in rows to form the shape of the sofa, and fixed to a platform by steel pins. They are made of different-density polyurethane foam; a stiffer foam is used at the bottom of each unit in order to grip the steel pin, while softer foam at the top ensures optimum comfort. Do Lo Res units may be rearranged to form a wide variety of shapes and compositions.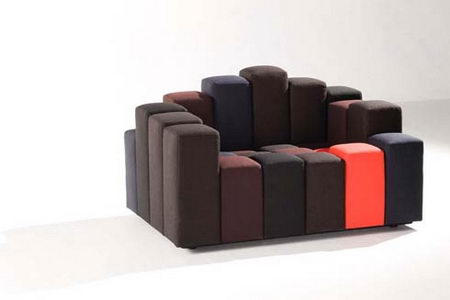 Chill out sofa beds [link]
This seating unit is highly versatile, providing multiple functions as a sofa and double recliner that can accommodate several people. The Chill Out even comes as a solo recliner for the single individual looking for some rest and relaxation. The design features rows of hand-rolled cushions that have been painstakingly crafted to produce a sleek, but textural aesthetic.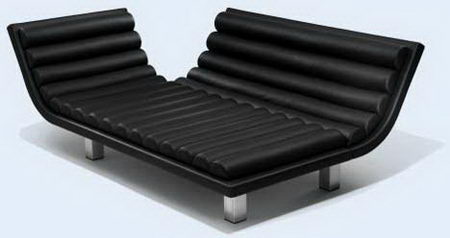 Lego Themed Sofa [link]
Designed and created by Thierry Nahon & Philippe Landecker, LunaBlocks are based on an original concept, the transformation and enlargement of bricks used in building games for children. Easily stacked together, functional and totally versatile, LunaBlocks are designed for the world of decoration and for the home. Like traditional Legos, these blocks come in a variety of colors and configurations all you need to finish a project is some glass, a pillow or cushion, some creativity and loads and loads of disposable income.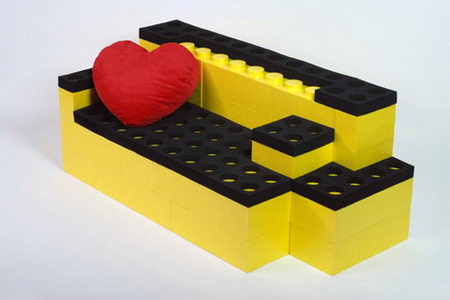 Morpheo Sofa bed
When I saw this picture, I was wondering "Do we really need something like this ?" Maybe the lights attached to this sofa are useful when we read something but I prefer another kind of light.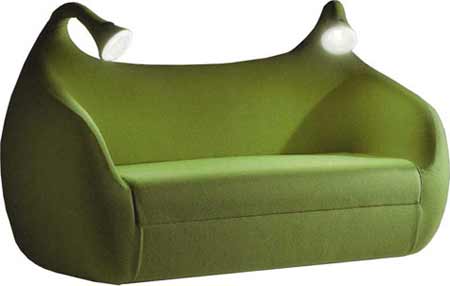 Lava Sofa [link]
In collaboration with designers Kristen Antje Hoppert and Steffen Kroll of Studop Vertijet, Core furniture's Lava Sofa has so many things to offer. The "Lava" is so many things, "a work of art and a piece of sitting-reclining lounge furniture at the same time, the concept of Lava is as diverse as its uses". The possibilities are endless as the vertical variance reaches down to the floor as soft, upholstered mats transform even this surface into part of the furniture.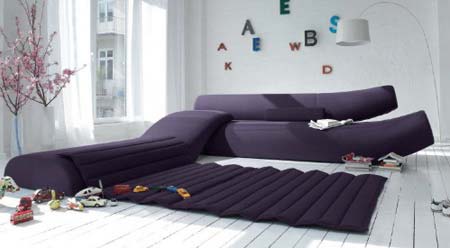 Sitscape [link]
The "Sitscape" is a seating zone with a length of six meters. The form transforms the usual use of a couch. The design is based on specific seating positions and smooth transformations between them. Based on the preferred relaxing positions of the client we generated six basic positions and formed a perfect fit for them in the "Sitscape". Consequently, the "Sitscape" provides familiar possibilities for relaxing. The transitional areas between these positions are undetermined in their use…more here.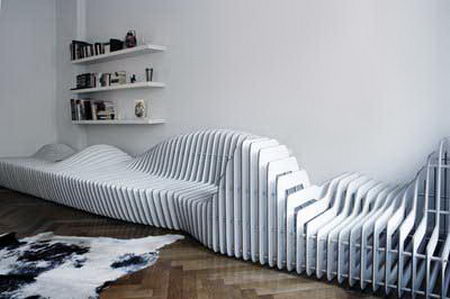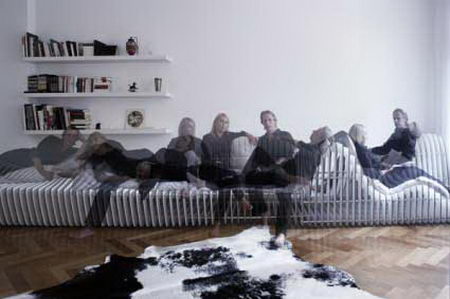 Purity [link]
These two pieces, the rocking chair, and the love seat are designed by Scott Wilson and they are from its new line of sofas and chairs called Purity. The designs are characterized by highly pronounced curves. Their structure is made of steel so that adds strength and durability and are also covered with a mesh of polyurethane. Finally these pieces look very modern, to bad they are just concepts for now …and one thing that I could add is that the rocking chair would definitely need arm rests, rockers really need arm rests.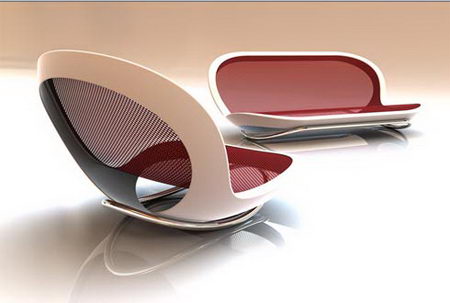 Acceleration [link]
Copenhagen based designer Phillip Grass has come up with a concept for a space age sofa called the "Acceleration".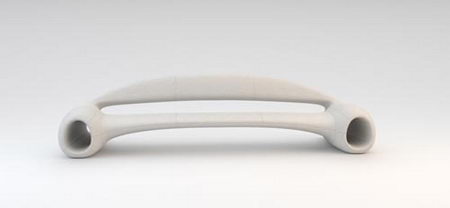 Croissant Sofa [link]
The Croissant Sofa, named for its crescent-looking form, this piece is made in two versions, one suitable for indoors, and another for outdoors. The indoor version is made out of a hand-woven abaca, commonly know as Manila hemp, a tree-like herb resembling a banana plant.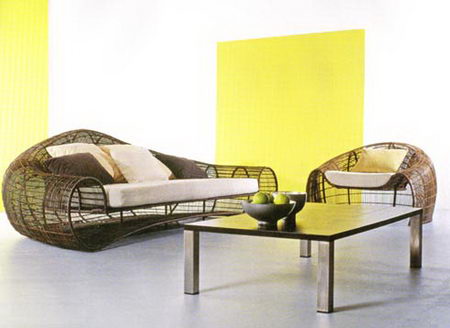 Montanara [link]
This sofa is called Montanara and it was designed by Gaetano Pesce. This sofa creates the illusion of a mountain scene right in your living room, including cushion waterfalls and jagged support peaks of doom. Very creative, beautiful and also relaxing.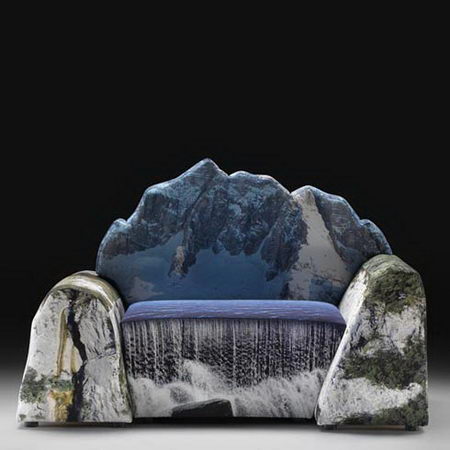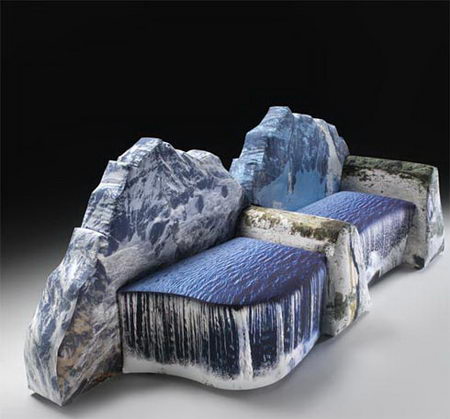 Swimming Pool Sofa [link]
Concept sofa design from advertisement campaign for Piscine Castiglione, a swimming pool design firm.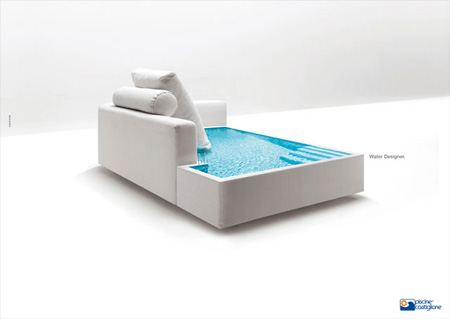 Infinity Shaped Sofa [link]
Creative sofa design inspired by the infinity symbol.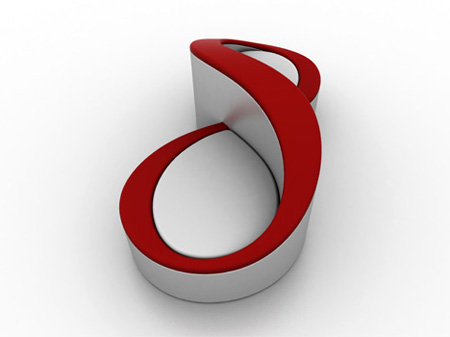 The Twisted Sofa [link]
Creative sofa design from Nina Edwards that is sure to be the focal point of any room it graces.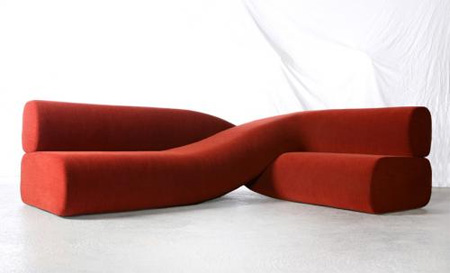 Sofa One [link]
Sofa One is a fun, functional, and clever sofa designed with an eye for imagination and utilizing space to the utmost. It can be right facing or left facing. It has a finished wood portal for magazines and stashables, and the cushion slice can be up for chaise lounging or down for more formal sitting. The cushion is attached for proper hinging.