People use rose as a gift or decoration on Valentine's Day is kind of routine. But rose doesn't really need to be flower. In this post, we will present you with 20 Beautiful Designs in rose shape, which can be a sweet gift or special decoration for the romance. Crystal or glass rose are so pretty, rose cookie or muffin are so sweet, rose candle or soap are full of romance… hope you enjoy all those rose shaped products and make a special Valentine's Day.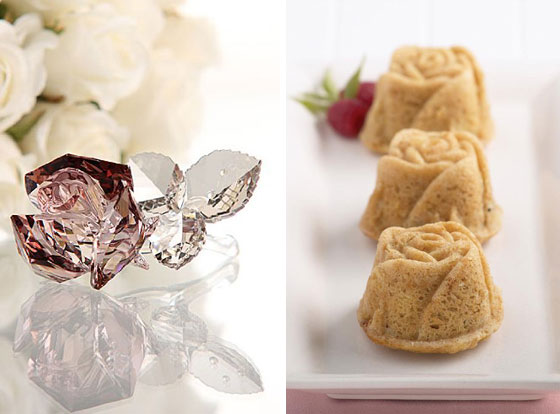 We are a participant in the Amazon Services LLC Associates Program, an affiliate advertising program designed to provide a means for us to earn fees by linking to Amazon.com and affiliated sites.
Rose Ring Pillow [link]
Stunning Rose Ring Bearer Pillow Choose Your Colors. This stunning Rose Ring Pillow is the perfect touch for your big day! This listing is for a 10 x 10″ Ring Pillow, can also be made in 8 x 8″ please contact seller.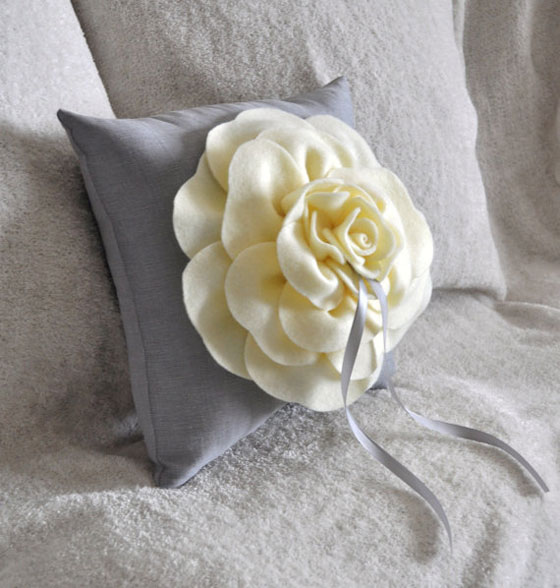 Swarovski Crystal Blossoming Rose [buy on amazon]
This stunning rose blossom gleams in Crystal Blush with three leaves in Crystal Silver Shade. Its unfaceted clear crystal stem creates a feeling of balance. This timeless and romantic decoration makes the perfect centerpiece for an elegant dinner table. 3 1/5″ x 3″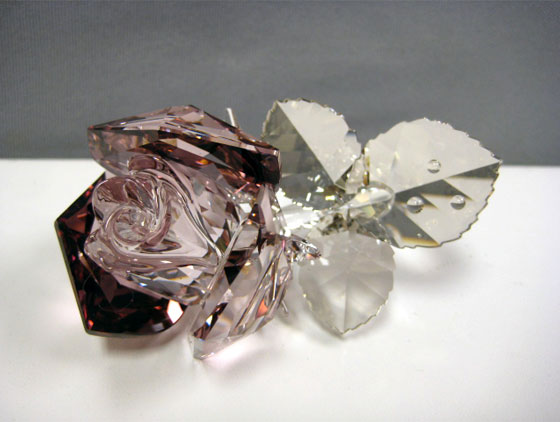 Flower Rose Polymer Clay Flowers Cabochon Mold Resin Clay Mould [discontinued]
Embellishments pictured are made from clay, fondant, resin, plastic or metal. Resin, Fondant, Polymer Clay, Metallic Clay, Glass, Soap, or Wax is typical material used with these molds. Your creativity is what will make your piece unique.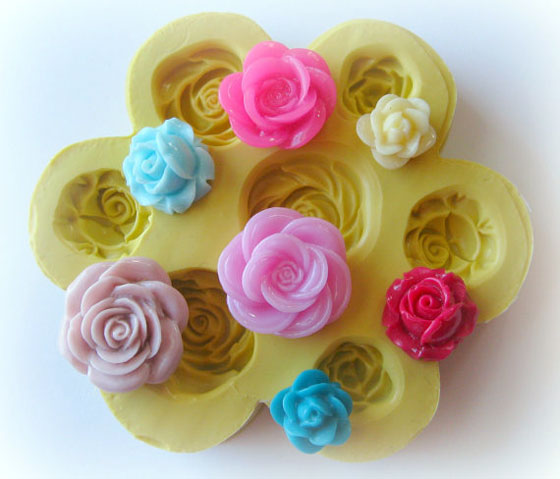 Heart-shaped Rose-bearing Color Changing Light [discontinued]
Blend from one color to the next
A stylish decorative to any home/wedding/party
Simply turn on/off by a switch
Add romance and light to the dark
Ornate Paper Roses [link]
Totally unique bouquet featuring gorgeous ornate vintage inspired creamy white ivory paper roses. So ornate, full of stunning detail in a full round design with twig stems tied with a sheer ivory ribbon (you pick the color ribbon). Totally fabulous for the natural, woodland bride. Bouquet measures about 5″ around with 6″ stems.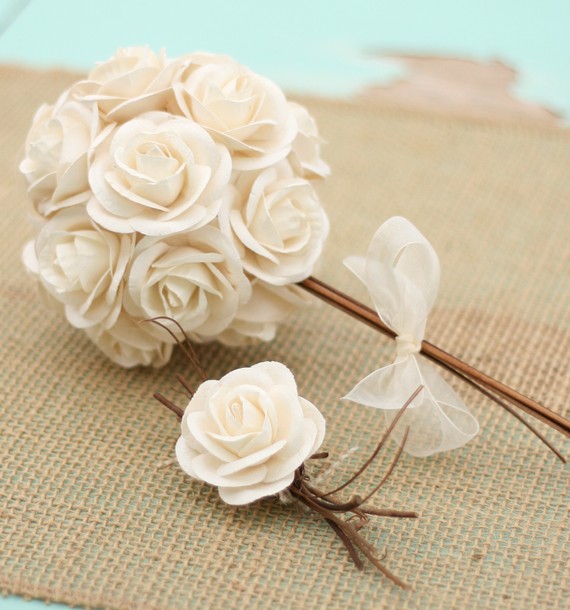 Orrefors Rose 4-7/8-Inch Crystal Votive [buy on amazon]
Romantic sculptural votive with rose shape; 4-7/8 inches
Created by artist Malin Lindahl and made by hand in Sweden
Crafted from pure crystal with beautiful clarity and light refraction
Design features smooth rose petals unfurling around a tealight well
Part of the larger Rose collection; wash by hand for best care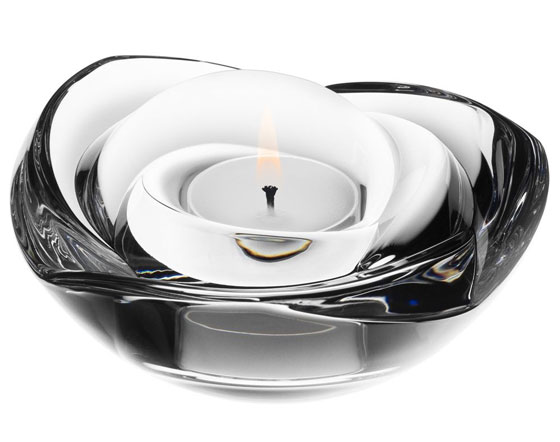 REAL Orange ROSE and Green Turquoise, Carnelian and Coral Sterling Silver Necklace [link]
This one of a kind necklace, features a real, natural orange rose as the pendant. The rose is preserved in poly resin, which keeps it in its just bloomed state forever. The resin makes the rose very durable, even for daily wear, and keeps it lightweight. This red rose measures 2 1/4″ wide by 2 1/2″ long. It is added to an 18″ handstrung chain of many sizes, shapes and shades of green turquoise, coral, carnelian, freshwater pearls, and aventurine that measure from 6mm to 16mm, along with 2mm sterling silver beads.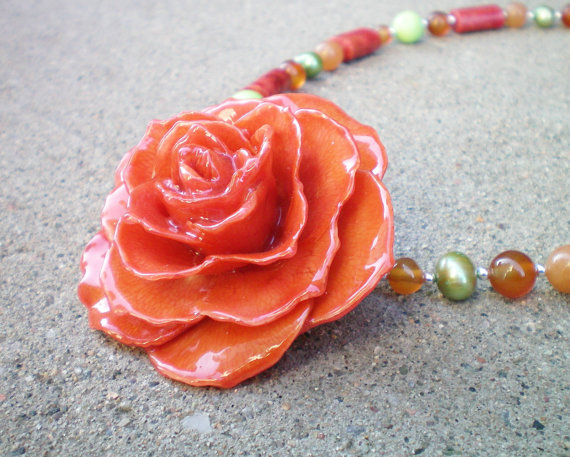 Floating Rose Candles Pkg of 12 [buy on amazon]
Large pearl white rose floaters are a must for events such as housewarmings and weddings. Illuminate these floaters on waters to maximize the atmosphere. These unscented floating candle discs burn exceptionally long and have solid color all the way through. PLEASE NOTE: Actual color may differ from the color shown in the image(s) due to monitor displays.
Size: 3″ Diameter x 1.5″ H
12 items/package
Burn Time: 5 – 6 Hours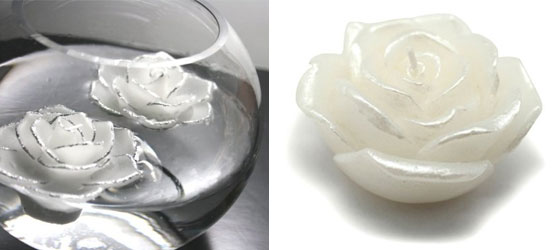 Scented Rose Soaps (set of 12) [buy on amazon]
Size: 5″ Dia x 2.5″ H
Molded to look like real roses
Sold as a set of twelve soap roses in a plastic round box with ribbon
Petals on each rose can be separated to create a realistic display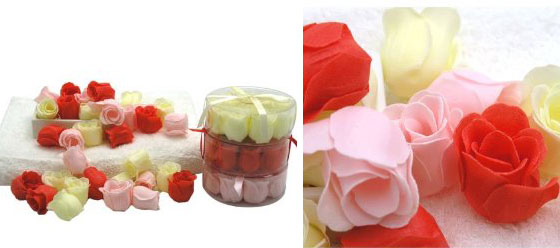 Waterford Fleurology Glass Flower [buy on amazon]
Glass flower figurine
Crystal
Waterford fleurology
Combine quarter cup ammonia with a mild lemon detergent; Rinse in clean water and air dry on a rack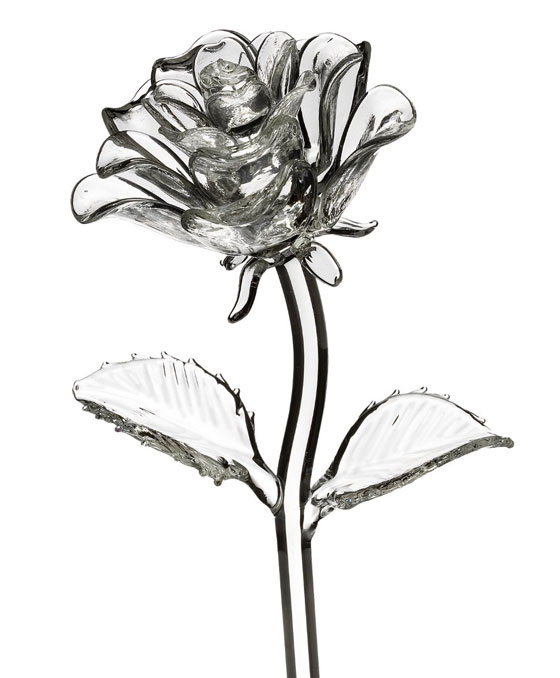 White Rose Flower Fairy Lights [discontinued]
A beautiful set of 35 White Rose Flower Fairy Lights. They are a creamy white rather than an artic white. They are handmade and carefully crafted from the leaves of a rubber tree.
They are brand new and come packaged in a protective bag. The roses each measure approximately 3cm. x 4cm. and are encased with three green transparent leaves. The electric cable is dark green with a total length of 4 metres. Each set comes with a free spare fairy light bulb, and free adapter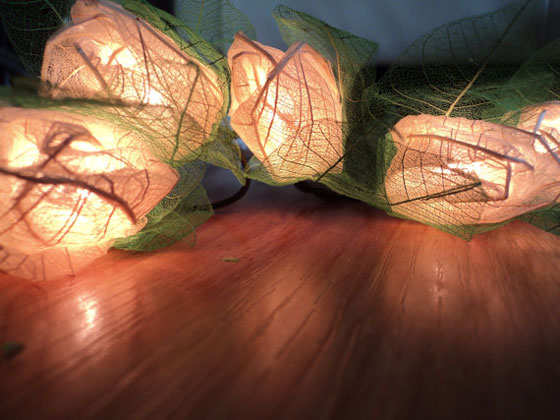 Nordic Ware Cast-Aluminum Nonstick Muffin Pan, Sweetheart Rose [buy on amazon]
Cast-aluminum muffin pan with a dozen 1/2-cup indents
Nonstick coating ensures effortless food removal and quick cleanup
Rosebud-shaped cups feature intricate, Bundt-style detailing
Oven-safe; hand-wash; not for use with metal utensils, scouring pads, or abrasives
Measures 12 by 12 by 2 inches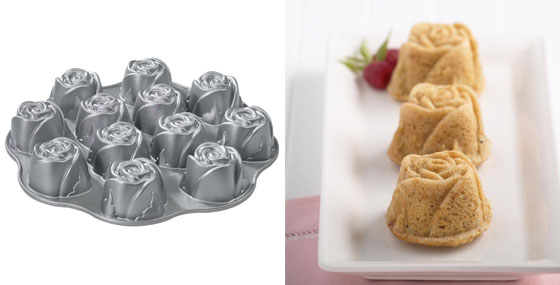 Dragonfly Picture Frame Heart Shaped Pink Rose [buy on amazon]
This elegant heart-shaped photo frame is embellished with a crystal adorned dragonfly and romantic rosets. Complete with a stand at the back. Made of polyresin and enriched with crystals. Holds a 3″x3″ photo. Frame measures 4.5″L x 4.5″H x .5″D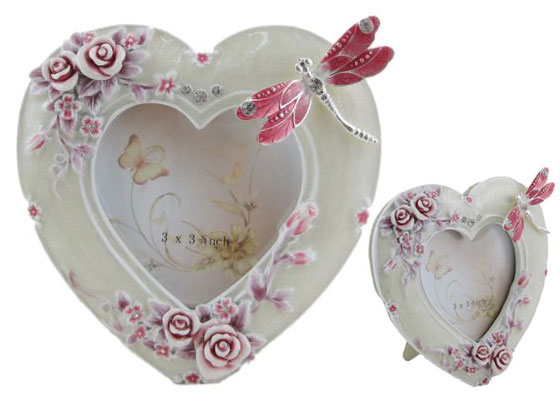 Red rose leather belt [link]
Unless you request another length I will make it approximately 200 cm./ 2.20 yards because then there is a lot of possibilities as to how it can be worn. The rose has a diameter of about 9 cm.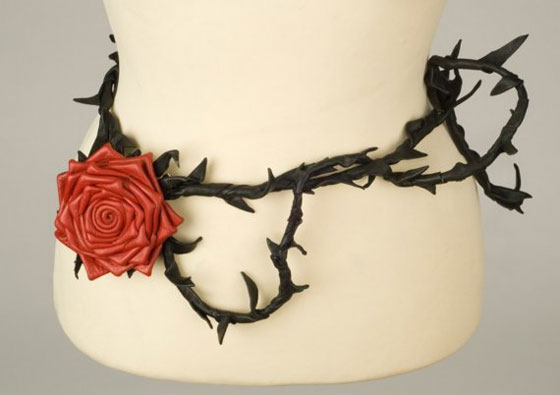 Color Changing Tea lights LED Candles [buy on amazon]
No worries about wax mess and no fire risk at all
Can be used outside in the wind unlike a traditional candle
LED candle with On/Off switch at the bottom for easy operation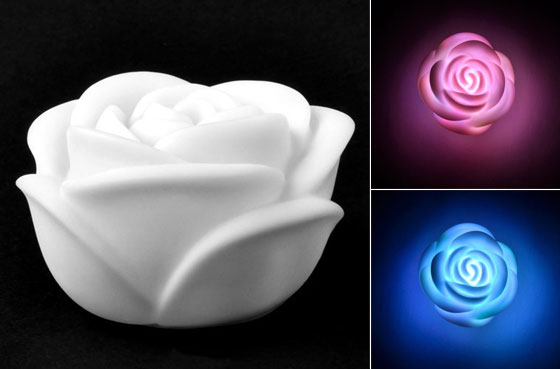 Zak Designs 4-Piece Rose Nested Bowl Set [buy on amazon]
Nested bowl set by Zak Designs
Made of durable melamine
Includes 4 rose-shaped bowls; bowls nest in one another for compact and convenient storage
Perfect for indoor or outdoor entertaining
Safe to use in dishwasher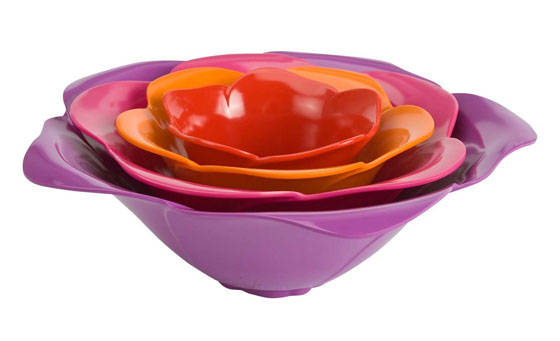 Deep Impression Rose Shaped Cookie Stamp Press[buy on amazon]
This is a cookie press/ stamp in a shape of a beautiful rose with a deep impression. It is slightly smaller than 1.5 inches wide and will make delicious cookies that look delicate and elegant. Makes cookies about 1 inch wide.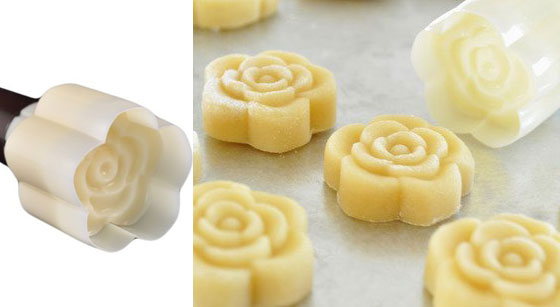 Pink Valentine Rose Pillow [discontinued]
This beautiful Pink Rose pillow for Your Valentine never wilts. A true treasure that will remind your valentine of this day for years to come. The Silk Pink Rose measures 13″ round. The Pillow Form measures 121/2″ Round by 18″ high and is covered in Black and White Plaid Silk. Two taffeta sage green leaves are adorned on one side measuring approximately 6″ each.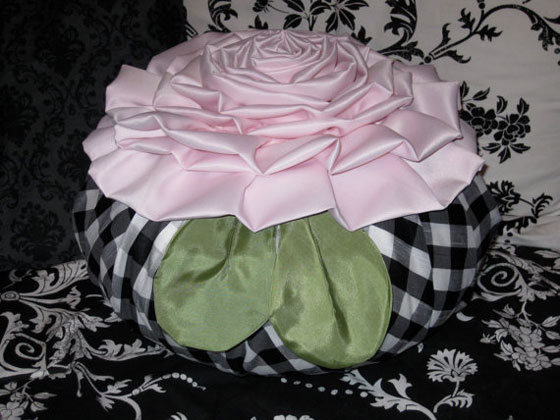 Godinger Rose Bouquet Crystal Vase [buy on amazon]
Unusual vase romantically accents any room
Crafted of heavy crystal
Frosted rose blooms form a sculpted contemporary look
Dense, clear base adds stability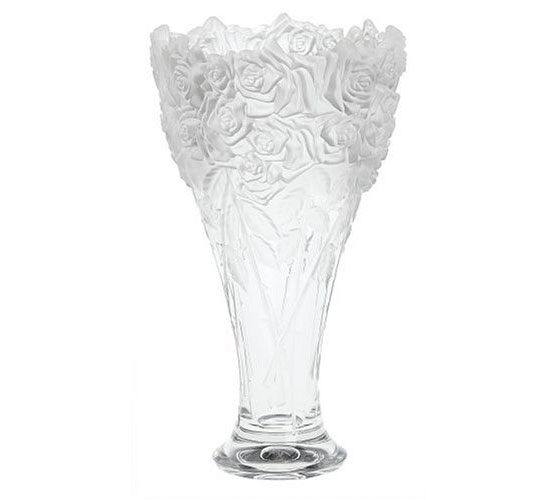 Tiffany 2-Light Rose Table Lamp, Antique Brass and Glass Shade [buy on amazon]
Dale Tiffany is a world-renowned manufacturer of fine glass lighting and home decor in the tradition of Louis Comfort Tiffany
Item measures 7-Inch x 15.5-Inch
Beautiful Antique Brass Finish And Glass Shade
Uses 2 x 5W (G4) bulbs (not included)
Simple inline on/off switch operation