Leather is a popular material for handbags because it is strong and durable. There are many different types of leather, and each has its own unique properties.
A quality leather handbag is a must-have for any fashionista.Some people prefer to buy handbags made from natural materials like leather. Leather bags often last longer than bags made from other materials, and they can be repaired if they become damaged.
Not all leather handbags are created equal. There are a few things you need to look for when choosing the perfect one for you. We've put together this guide to help you find the best leather handbag for your needs..
What is the best leather to make handbags?
What is the best leather to make handbags? It all depends on what kind of look you are going for and how much wear and tear your bag will need to withstand. For a more casual look, go for something like suede or nubuck. These fabrics are softer and have a more relaxed feel. If you need something a bit more durable, full-grain or top-grain leather is a better choice.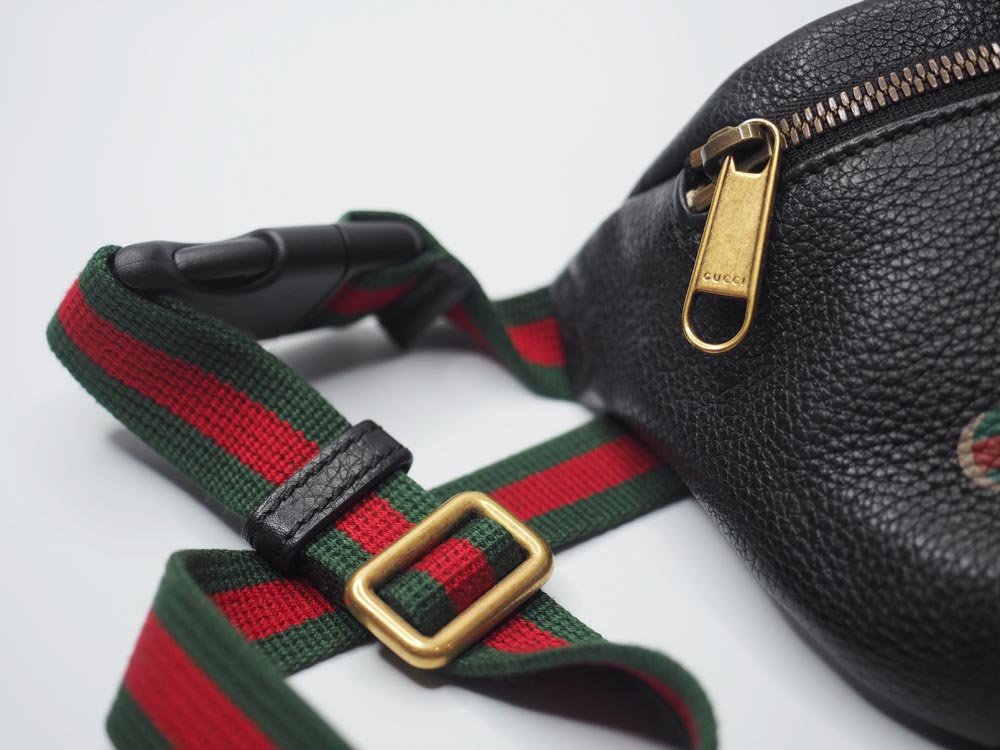 These options are thicker and can stand up to more wear and tear. Finally, if you want something that will really last, look for something made with chrome-tanned leather. This type of leather is treated with chromium to make it more resistant to water damage and other types of wear and tear. No matter what kind of leather you choose, make sure it is treated with care so it will last for years to come.
Types of Leather Used to Make Handbags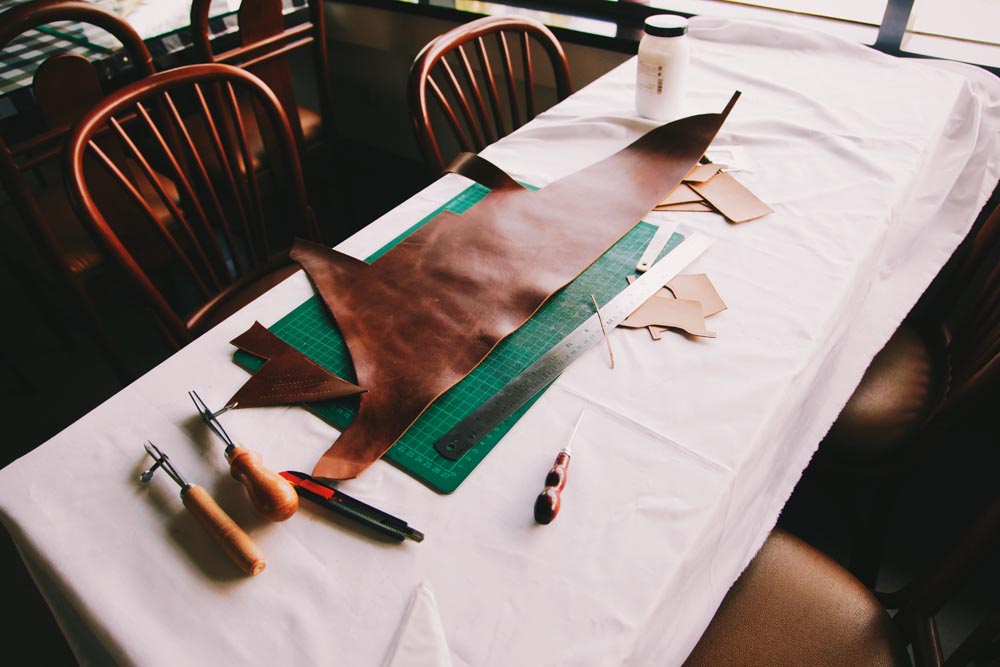 Cowhide leather

Cowhide leather is very soft to the touch and is a typical Tuscan product. A major characteristic of this leather is the changeability, in addition to the variable thickness. The appearance of a cowhide bag changes as its owner grows. As a result, cowhide bags become completely unique and customisable.

In terms of quality, cowhide leather is the best material to choose for a handbag. Leather made from cowhide is not only highly durable, but it also has a very appealing appearance. Whenever you touch cow skin leather, you should feel its roughness.

Full grain leather

The full grain leather is a very high quality leather that is distinguished by its naturalness and softness, both to the touch and to the sight. Consumers who appreciate a precious and durable material, while also loving simplicity, will appreciate the quality of this leather.

Saffiano leather

For the most sophisticated leather lovers, Prada created a weave for the Saffiano leather. It is derived from the calf. It has a particularly "scratched" look due to this interweaving, which is highly valued by stylists. Leather of this type is very durable and waterproof.

Lambskin leather

The soft texture of lambskin leather makes it appealing to some people. However, because it is soft, this type of leather is not as durable as cowhide and is prone to tearing and deforming.

Vegetable- tanned leather

The process of tanning involves turning hides into leather. Vegetable tanning is one of the main methods of producing leather: about 10% of all leather is tanned this way.

The process of tanning involves turning hides into leather. Vegetable tanning is one of the main methods of producing leather: about 10% of all leather is tanned this way.

Natural vegetable tannins are used to alter the protein structure of hides to make leather. The three functions of these organic substances are to preserve, strengthen, and colour hides.

Chrome-tanned leather

A tanning process uses chromium. This method of tanning results in softer, more pliable leather than vegetable tanning. In general, chrome-tanned leather is thinner and not made in very thick "weights" (weights denote leather thickness).
Types of handbags: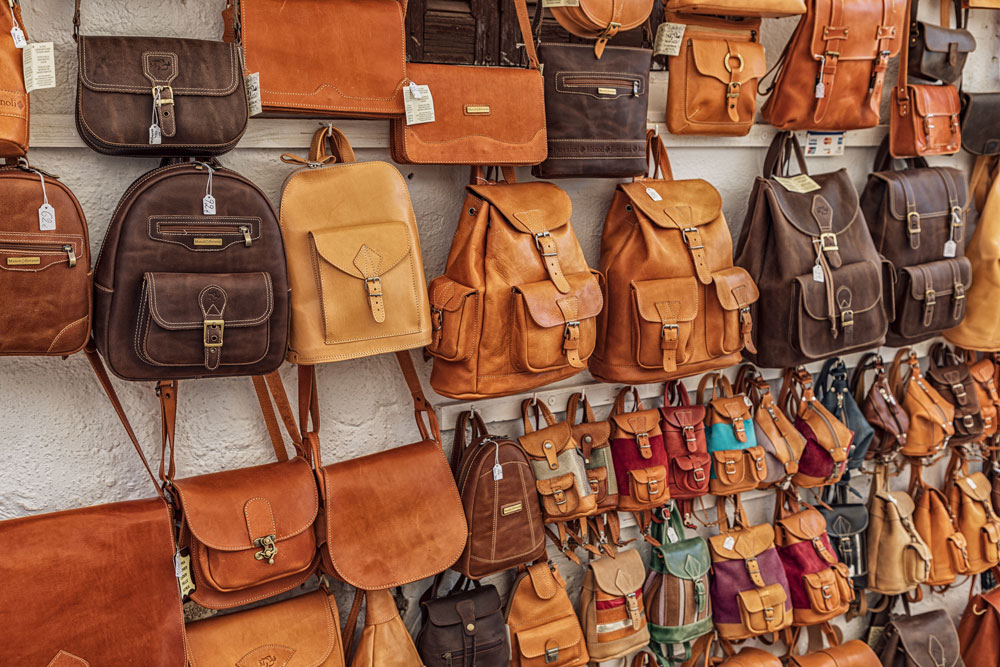 Luggage bag

Fashionable luggage can be difficult to find. It seems like every time you go to the store, all the luggage is either too boring or too expensive. So whether you're looking for a carry-on, a checked bag, or something in between, there are plenty of fashionable options available – and none of them will break the bank. The leather travel bags and holdalls we offer are luxuriously stylish travel companions that love adventure just as much as you do.

Shoulder bag

One of the most functional bags is the shoulder bag or everyday bag. Each brand offers its own variants, so it's impossible to resist buying multiples from different brands. Then again, we aren't complaining, are we? As we all know, we practically carry a mini supermarket anyway, so these bags are big enough to fit all the necessities. Make it a style statement.

Hobo bag

Hobo bags are shoulder bags, but they are not as wide as satchels. Its crescent shape makes it both formal and casual at the same time. Grab a hobo bag if you're tired of your regular totes and shoulder bags – you won't regret it.

Tote bags

Tote bags come in a variety of styles, prints, and colours. A shopping tote, for example, is similar to a shoulder bag, but often larger and more spacious. With this type of bag, you can easily fit a number of recently purchased items.

A bag of this type can easily accommodate a number of items you recently bought. Other types, such as executive styles, are sleek and functional.

Crossbody bags

A crossbody bag makes life easier, which is why they are big on the handbag scene. When you're on the go or have other items to carry, you can use them hands-free. They are named after their long straps that are designed to be worn across the body. The strap can also be worn on the shoulder to give this accessory a high-fashion, thrown-together look.

Duffle bags

Mums, college students, and gym-goers will appreciate the convenience of traditional duffle bags. For everyday casual wear, barrel-shaped bags and mini duffles are popular fashion choices. To make wearing them more convenient, they usually come with two short handles and one long strap.

Most duffles are made of waterproof canvas or nylon, so they are extremely easy to clean. A leather duffle bag offers a more luxurious feel. Fabric, leather, or other materials can be used for mini duffles and barrel bags.

Messenger bags

Messenger bags are popular among men and women due to their versatility and suitability for various lifestyles. Whether you're a student, a business professional, or a mom on the go, these handbags are slim yet spacious, and they usually have many pockets.

They are usually rectangular in shape, with a long strap for easy and comfortable carrying across the body, and can be large or small in size depending on your needs.

Satchels

Satchels are similar to crossbody bags, but they have a more specific shape. The shape of crossbody bags can be circular or square and they can be fastened with a zip or clasp, whereas the shape of satchels is almost always rectangular with an envelope flap and two buckles. You can use these as everyday handbags.

As well as the long crossbody strap, satchels tend to have a short strap along the top that makes them easy to grab in a hurry.

Clutch bags

For a night out on the town, a date night, or a more formal occasion, clutch bags are the perfect choice. Whether your style is soft and slouchy or beaded and boxy, there are plenty of options to suit your budget.

With clutch bags, your important belongings will only have limited space. To your special event, you might only be able to take your keys, cards, and phone.
The Round Up
There is no definitive answer to the question of what is the best leather to make handbags. Different types of leather have different properties that make them well suited for different purposes.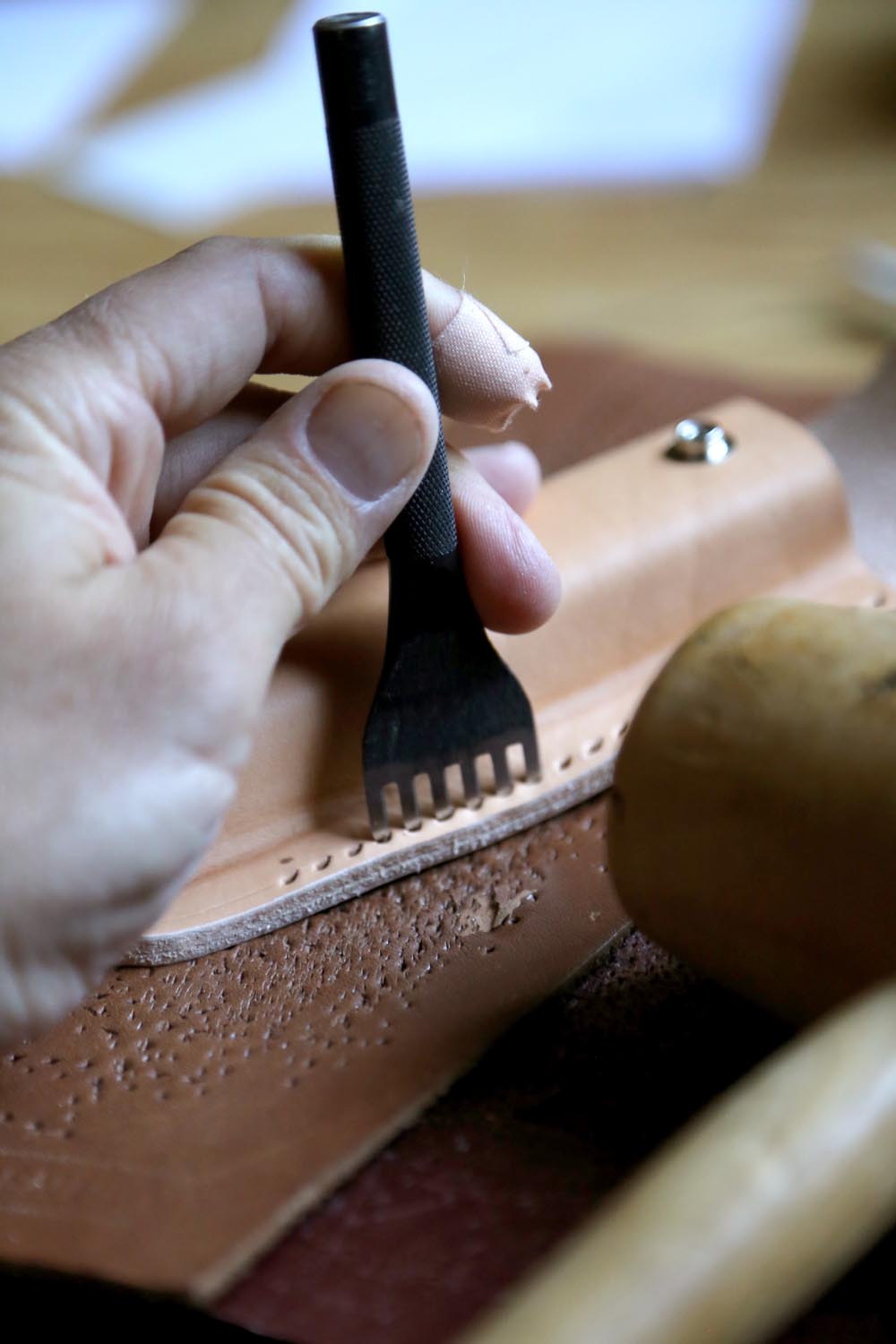 For example, full grain leather is very strong and durable, making it an ideal choice for luggage or other items that will see a lot of wear and tear. However, full grain leather can be difficult to clean and maintain, so it may not be the best choice for a handbag that you want to keep looking pristine.
On the other hand, top grain leather is more responsive to treatment and can be easily dyed or embossed with patterns, making it a popular choice for fashion-forward handbags. Ultimately, the best leather for a handbag depends on the intended use and the personal preferences of the individual.