Moss has all sorts of qualities. It can absorb large amounts of harmful toxins and its water-absorbing properties prevent soil erosion. It is widely used as indoor plant, but mostly, use decorative pieces. But do you know, they can be a stunning art decoration by themselves. Preserved moss varieties can fill a terrarium, frame or other decorative pieces with natural greenery for many years, with zero maintenance. In this article, we have rounded up 10 Beautiful Moss Decorations which can easily bring life to any space with its lush feeling.
Heart of Forest – Moss Wall
This is a 100% real preserved indoor plant, moss art in a terrarium glass handcrafted in Melaka, Malaysia, serving as a long-lasting, maintenance-free plant gift or home decor.
Handmade
Read the full list of materials
Materials: ZERO Moss, Preserved Moss, Composite silicone, Glass, Rubber Wood, LED, Synthetic soil
Approx. ~ Maximum at 110mm x 110mm x 240mm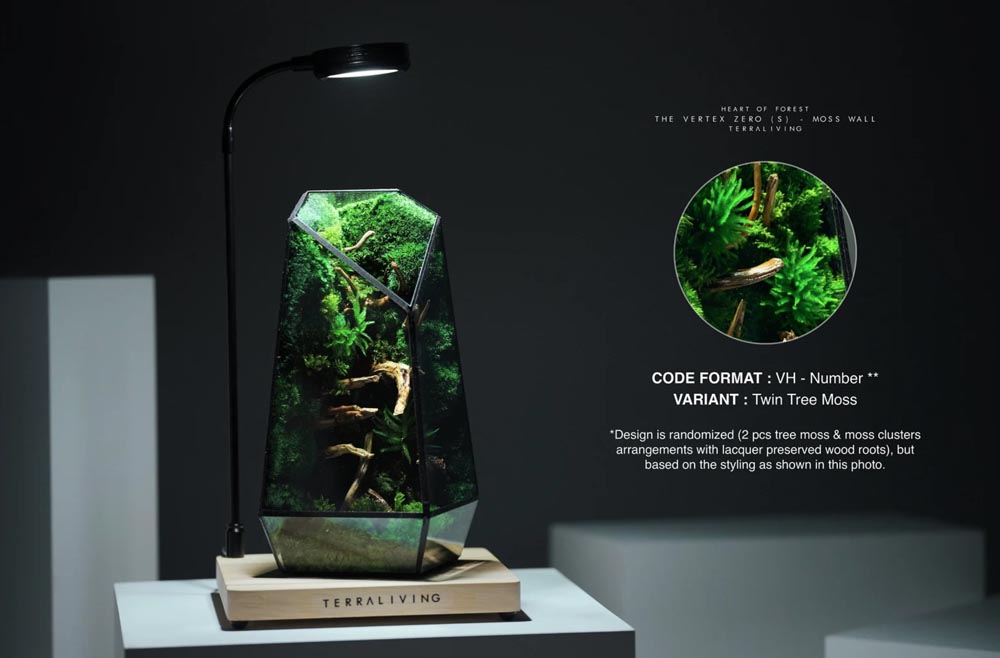 [buy on Etsy]
Desktop Mossarium Centerpiece
Introducing the prism – a geometric, zero-maintenance terrarium handmade using stabilised moss, real spiderwood and cork bark.
Every prism is unique and each captures the dense, mysterious atmosphere of a tropical rainforest or hidden jungle.
A wonderful addition to the home or workplace for lovers of nature. Set atop your mantlepiece, or display alongside your coffee table books.
Materials: Prism Glassware, Preserved Moss, Spider-wood, Stone
Width: 12 centimeters
Height: 19 centimeters
Depth: 12 centimeters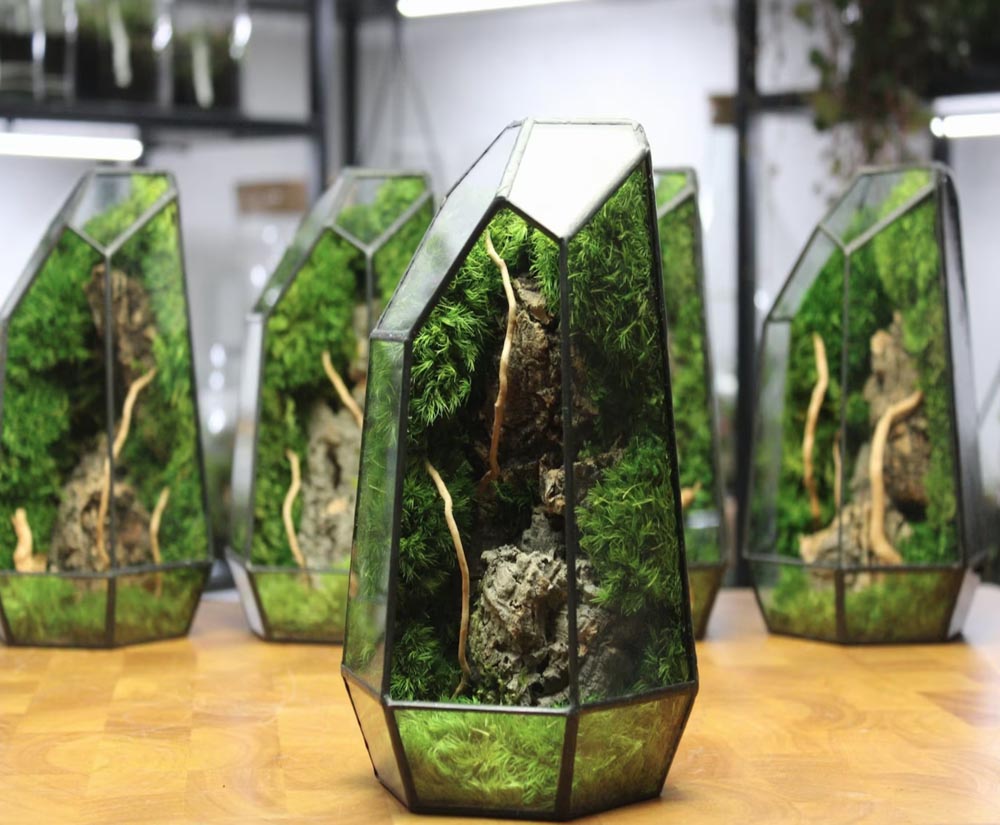 [buy on Etsy]
Mini Mountain Terrarium
These adorable mountain-scapes are made from cork bark and various preserved mosses.
These terrariums are totally zero-maintenance, and under the protection of glass will retain their green vibrancy forever.
Materials: Glass, Cork, Preserved Moss, Cork bark
Width: 6.5 centimeters
Height: 10 centimeters
Depth: 6.5 centimeters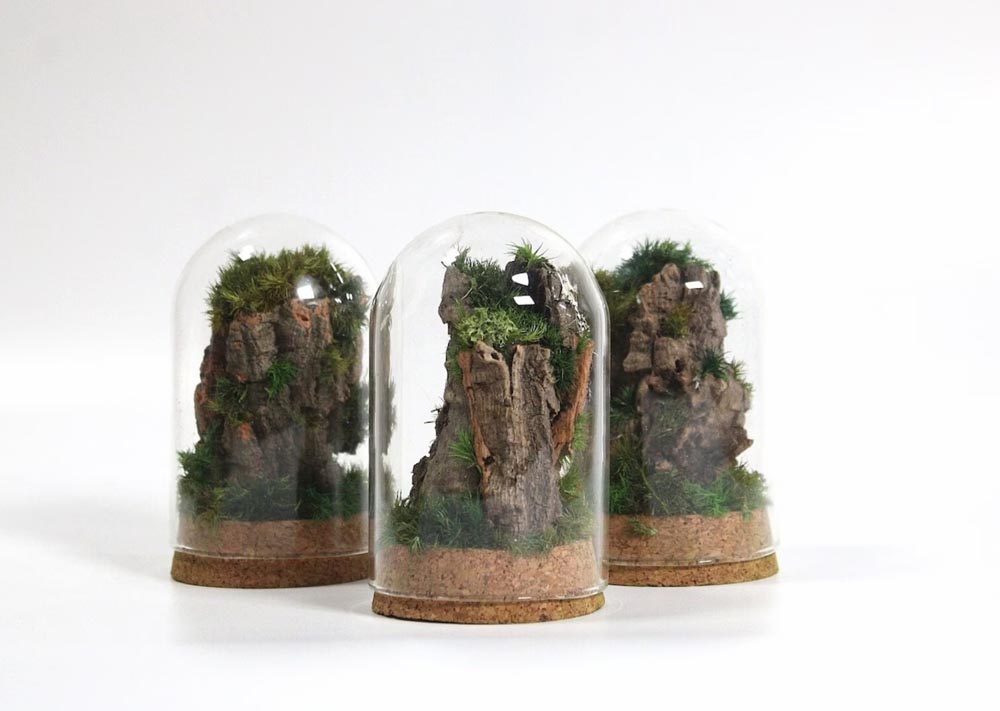 [buy on Etsy]
Large Wall Hanging Moss Decorations
• Made to order: meaning yours will be totally unique
• Zero-maintenance: they require no upkeep to stay green and fluffy
• Perfect for: walls, living rooms, bathrooms, hallways and bedrooms.
• Handmade in the UK
Materials: Wooden Frame, Preserved Moss, Cork Bark
Width: 30 centimeters
Height: 30 centimeters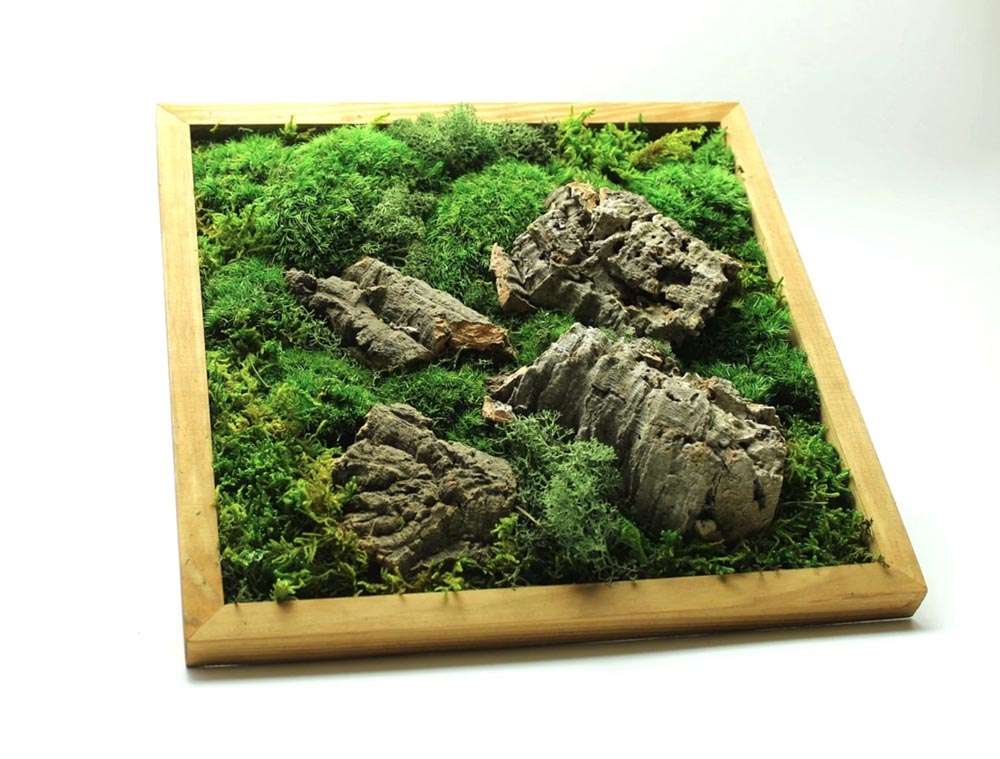 [buy on Etsy]
The Fruiting Body Alpha Growth – Micro Moss Decorations
"The Fruiting Body – ⍺ – Growth" sacrifices a portion of its base mass to sustain its growth, compared to the original "The Fruiting Body – ⍺". The "main body" is now more prominent and filled.
Handmade
Materials: Medium: Glass, Wood
Width: 120 millimeters
Height: 90 millimeters
Depth: 120 millimeters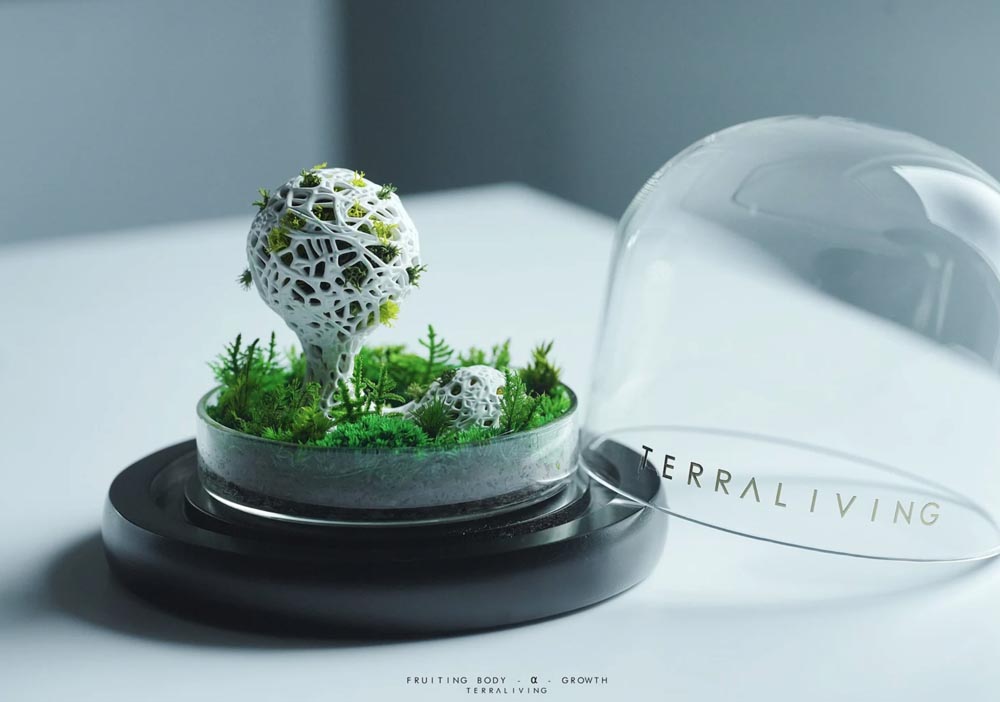 [buy on Etsy]
Desktop Moss Wall ZERO
The shape and size of the glass are the same but the interior moss & driftwood design is a surprise and completely randomized. Every piece has similar design concept based on the photos attached in this listing. We craft every piece with our best skills cultivated over six years of TerraLiving. It comes with a very unique touch based on the curvy shape of preserved wood root and our ZERO Moss.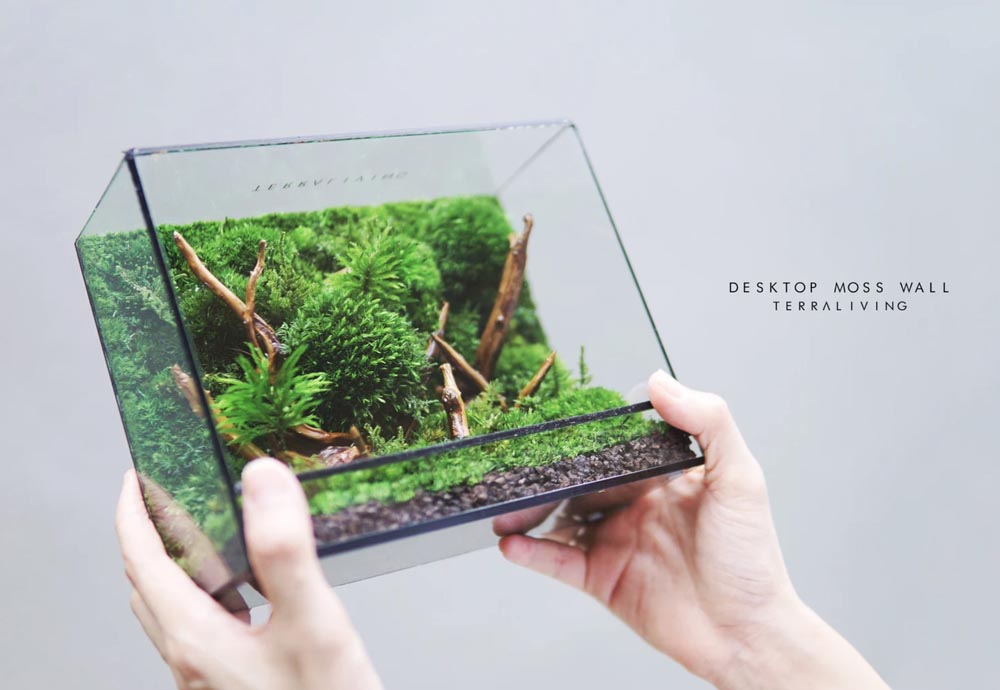 [buy on Etsy]
The Apex 2.0, Parametric Sculpture
This sculpture entices one's mind to wonder about the future when humans terraform an extra-terrestrial planet to accommodate both plant life and inhabitable space.
Handmade
Read the full list of materials
Materials: zero moss, cork bark, bell jar, glass, painted wooden base, preserved moss, lacquer, bio resin
Height (H): Maximum at about 230mm inclusive wooden base.
Wooden base diameter (D): Maximum at about 220mm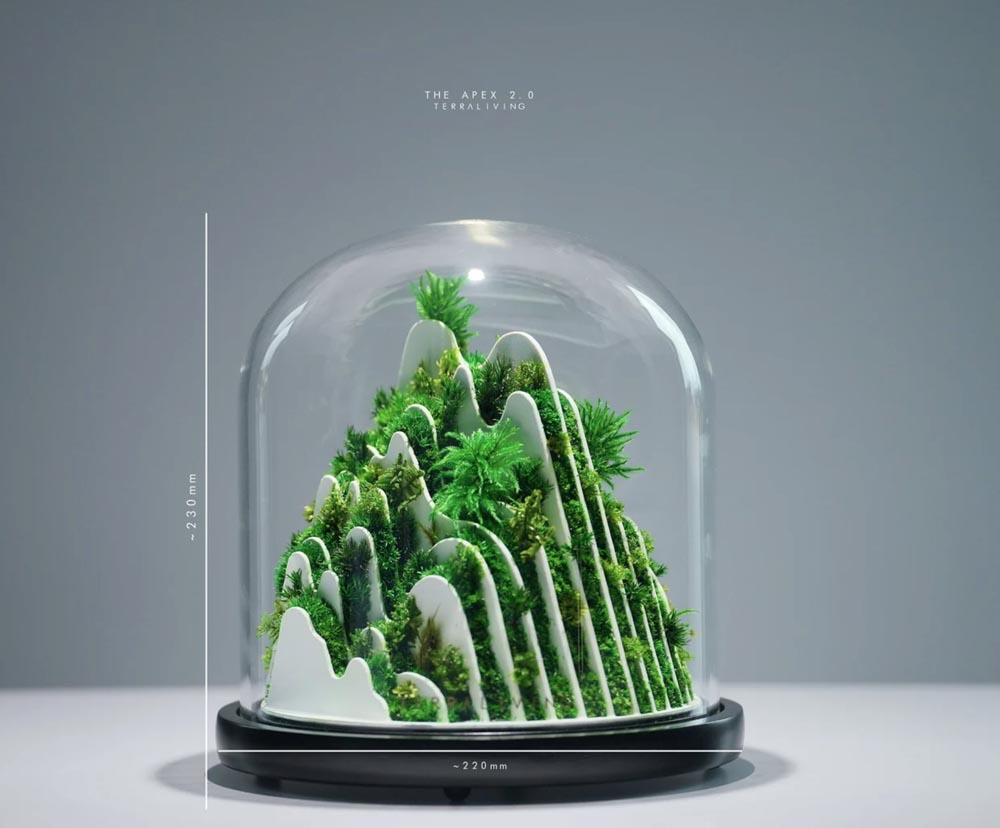 [buy on Etsy]
Art Moss Home Décor
Unique pictures with natural moss. All pictures go with high quality dark brown frame (without gold), but it could be easily changed on any other standard frame you wish. Wall hangers included.
Special gift or modern home décor with soft Scandinavian moss.
Handmade
Read the full list of materials
Materials: natural wood, ecological materials, natural moss, solid wood, rustic, glue, picture on wood, preserved moss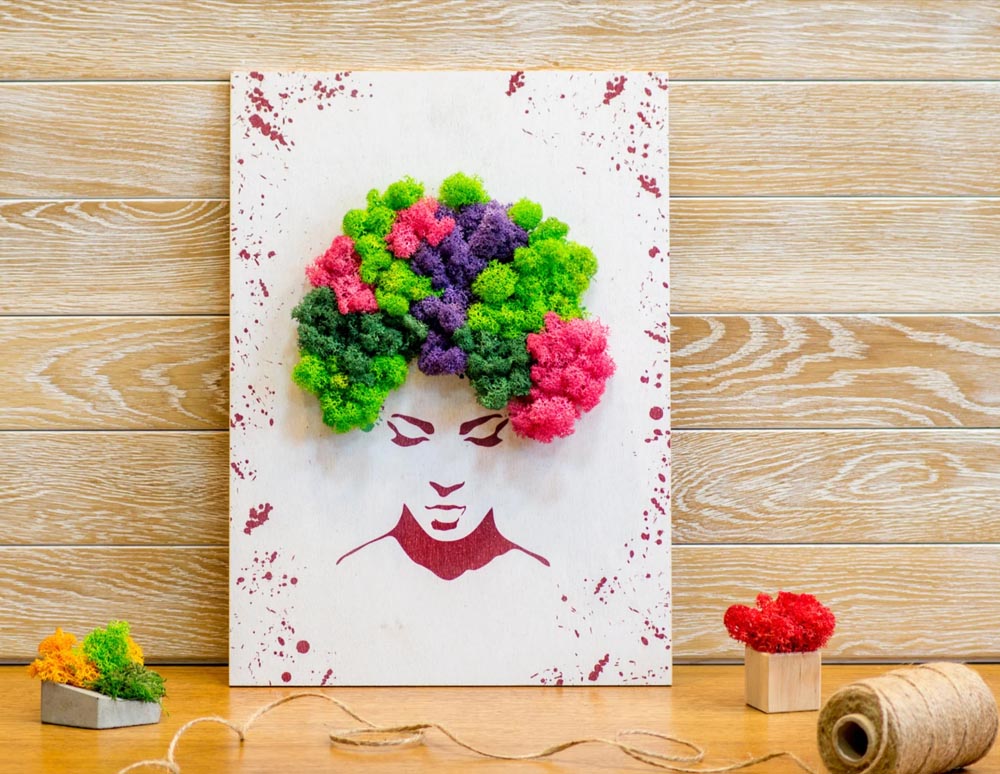 [buy on Etsy]
Preserved Moss Art Framed Mirror
It is a wonderful way to bring the beauty and lush feel of a garden indoors without all the work of caring for live plants. Handmade from real living preserved moss, it requires NO maintenance, watering or even sunlight, so you will have it forever!
Materials: moss, ferns, mirror
Width: 32 inches
Height: 32 inches
Depth: 4 inches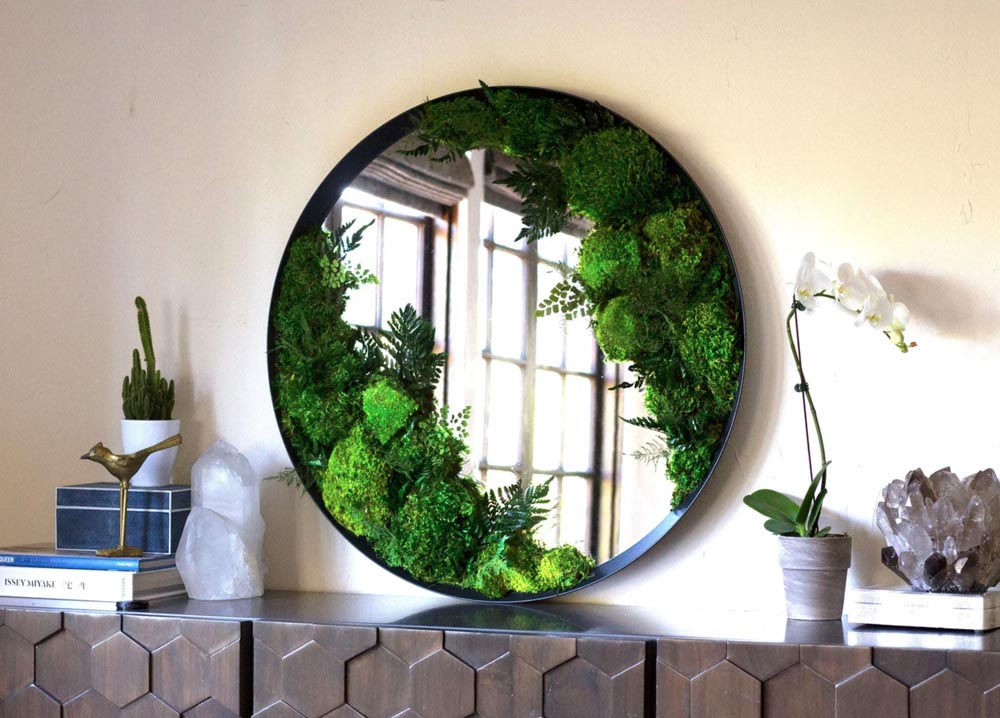 [buy on Etsy]
Moss Decorated Faux Steer Skull
This faux (but very realistic) resin steer skull is adorned with crystals and preserved moss.
The steer skull is make from resin, and you would never know it wasn't real! Don't worry, no animals have been sacrificed for the beauty!! :)
The moss is vibrant and lush, but requires no care or maintenance as it had been preserved.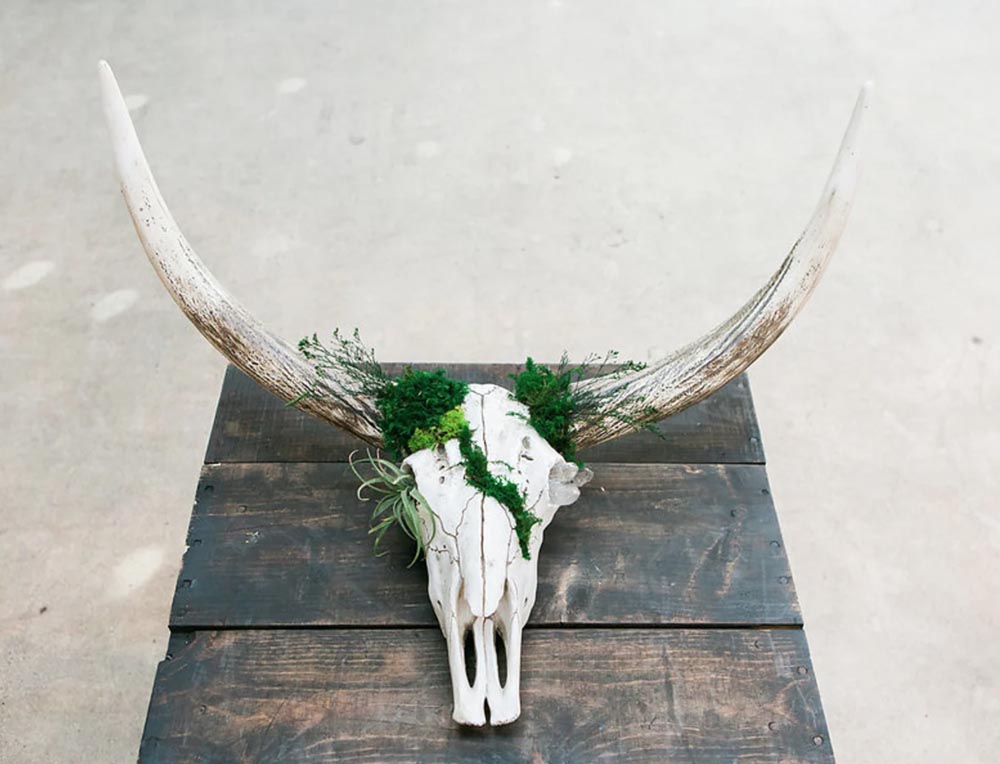 [buy on Etsy]