If you ever looked for some kitchen utensils, Joseph Joseph is one of the brands you can't miss. Founded in 2003, Joseph Joseph specialize in colorful, contemporary kitchen utensils and cool kitchen gadgets. Its innovative and functional range of kitchen tools and utensils are perfect for cooks of all abilities, helping you to prepare food quickly, efficiently and more hygienically.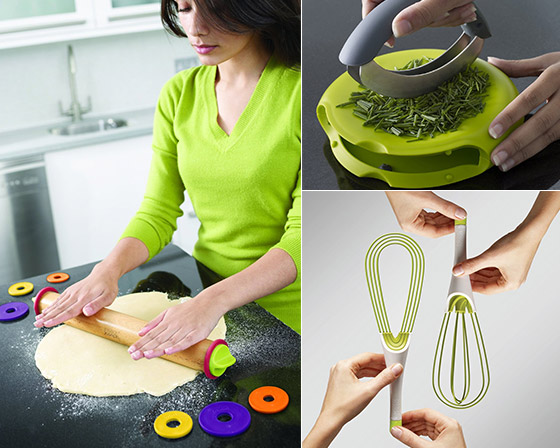 We are a participant in the Amazon Services LLC Associates Program, an affiliate advertising program designed to provide a means for us to earn fees by linking to Amazon.com and affiliated sites.
1. Adjustable Rolling Pin Plus [buy on amazon]
The Multi-Color Adjustable Rolling Pin Plus will take the guess work out of preparing pizza and pie bases, lasagna sheets and filo pastry. The rolling pin has four sets of colorful, removable discs which raise the rolling pin to the required thickness of 1/16-inch, 1/6-inch, 1/4-inch and 3/8-inch off the work surface.
This clever device will ensure that the pastry or dough is rolled to an even thickness throughout. Pin made of beech and measures 16-1/2-inch long and 2-1/2-inch diameter.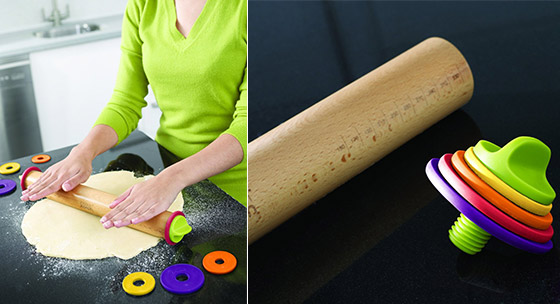 2. wist 2-in-1 Silicone Whisk [buy on amazon]
This innovative product incorporates two essential whisks in one stylish design. Twist begins as a flat whisk, ideal for mixing sauces in low pans or for making gravy in roasting trays. Its silicone-coated steel wires are suitable for non-stick cookware and are perfect for scraping and combining ingredients together, preventing them from burning on the bottom of a pan. Then, with a simple turn of the handle tip, Twist also becomes a highly effective balloon whisk, allowing egg whites to be whipped into peaks of perfection. Twist is heat-resistant up to 520 degrees F.
All the parts can be easily separated for cleaning and Twist is dishwasher safe. Twist can also be closed flat for convenient storage in a drawer, unlike any other balloon whisk.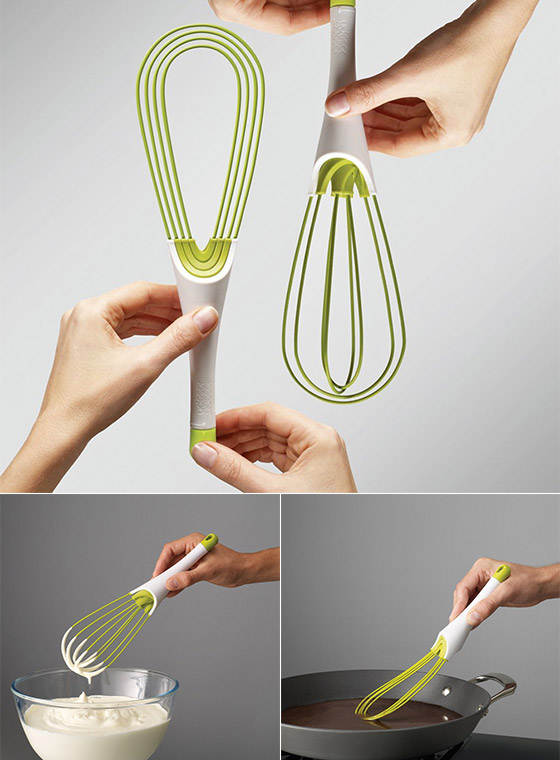 3. 3-in-1 Design Rotary Peeler [buy on amazon]
This compact peeler has three stainless steel blades for three different uses. The standard blade is perfect for potatoes and carrots, the soft skin blade can be used on tomatoes and kiwi and the Julienne blade provides lovely Julienne peels, and can be used on just about any fruit or vegetable. With its twist dial, changing blades is quick and easy. Designed for both right and left handed use. Unclip case for easy cleaning; dishwasher safe. Peeler also features a stainless steel eye remover.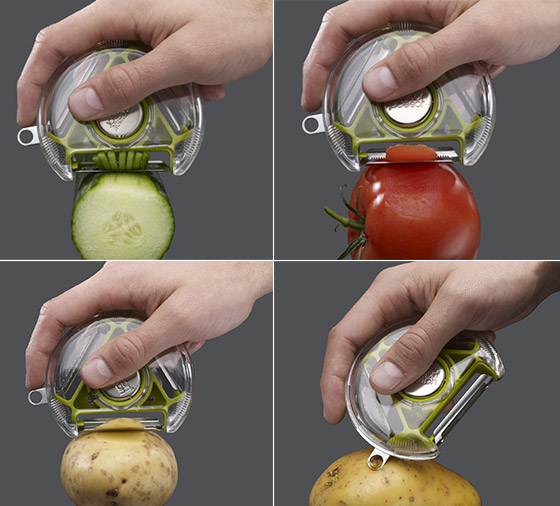 4. Expandable Silicone Trivet [buy on amazon]
Most conventional pot trivets only provide enough space for standing a single hot pan or dish on, meaning additional trivets are required if serving food from a variety of hot containers. The unique expandable design of Stretch helps eliminate this, as its size can be easily adjusted to provide space for more than one pan, or even a large casserole dish. After use, it folds neatly away for convenient storage. Made from a high-quality silicone-nylon composite, it is heat resistant up to 340-Degree C / 640-Degree F. Green. Dishwasher safe.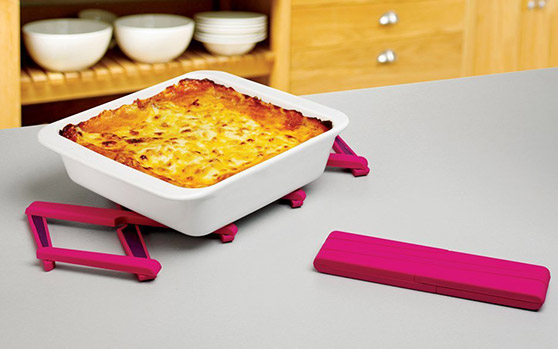 5. 5-In-1 Utensil [buy on amazon]
No more searching through the kitchen drawer looking for the correct cooking utensil. With a single Uni–tool you'll have a slotted spoon, a turner, a solid spoon, a spatula and a cutting tool. It's made from tough nylon and is heat resistant up to 240 degrees C / 480 degrees F. Dishwasher safe.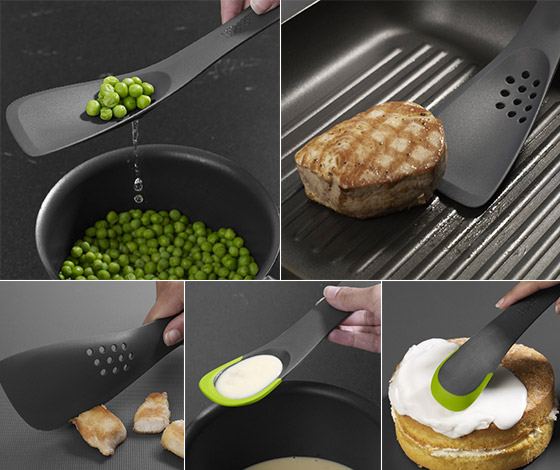 6. Rinse and Chop Plus Cutting Board [buy on amazon]
The Joseph Rinse and Chop Plus is the latest version of this hugely popular, folding chopping board, incorporating an improved, curved colander feature and a non-stick base. When folded and locked, it's unique, innovative design creates a small colander at one end enabling food to be rinsed and drained. When open and laid flat the design becomes a knife-friendly, non-slip chopping board. Once chopping is complete the board can be folded and locked again to create a convenient chute down which chopped food or waste can be poured. Its non-slip edge prevents the board from sliding if stored upright and the locking hole in the design doubles as a convenient hanging point. Dishwasher safe.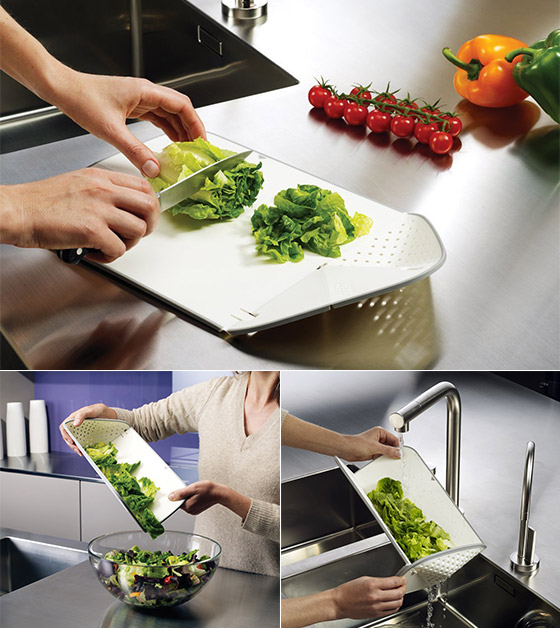 7. TriScale Compact Folding Digital Scale [buy on amazon]
This unique digital scale brings a whole new meaning to the concept of space-saving kitchen gadgets.
When open, its three arms provide a stable platform on which to place bowls and other items for weighing. When closed, the unit folds down to an extremely compact size, enclosing and protecting the screen and controls, which makes it perfect for storing in a kitchen drawer.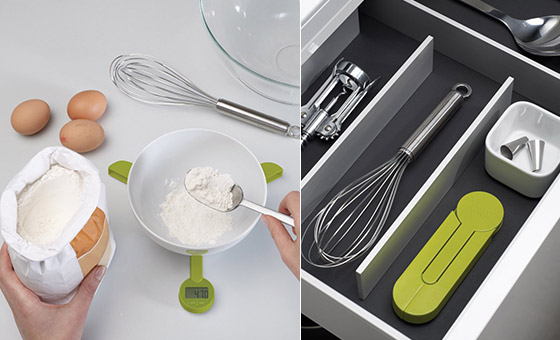 8. Spaghetti Measure [buy on amazon]
This original and innovative compact spaghetti measurer provides an adjustable portion guide for one to four servings. The lever glides along the side of the disc, opening the aperture to control the portion sizes. Grey frame with green aperture. Also available in three other color combinations. By Joseph Joseph, producers of stylish, technically innovative and award winning housewares.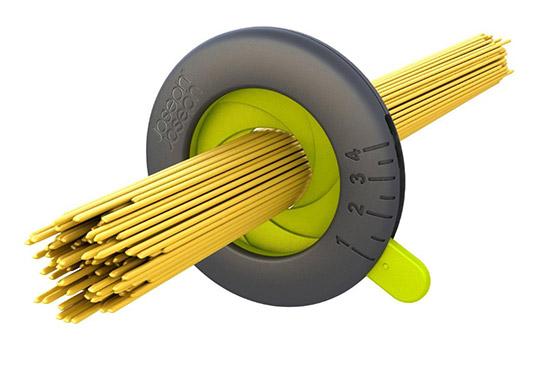 9. Herb Chopper 2-in-1 Cutter and Chopping Board [buy on amazon]
The Compact Herb Chopper is a non-slip chopping board and a double bladed cutter, all in one. Cutter slides into board for easy storage. When you want to use it, simply pull out the cutter, chop on board then safely store the blade back into the compartment. The Compact Herb Chopper is also great for cutting garlic, vegetables, nuts and chocolate. Overall, unit measures 7 by 7 by 1-1/2-inch.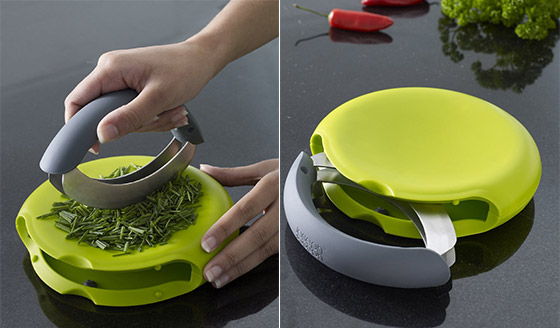 10. Hands On Salad Set [buy on amazon]
The striking design of Joseph Joseph's Hands On Salad Bowl is the result of its unique feature – a pair of hand-like salad servers integrated on either side of the bowl. Blending smoothly into the contours of the design. The servers sit securely in place until required. Made from 100-percent melamine, this product makes a fun and practical solution for both indoor and outdoor entertaining. Dishwasher safe.