Cumin, coriander, cardamom, cinnamon, nutmeg, allspice, black pepper, ginger… If you are serious about your cooking, you will find there are lots of spices for you to choose and begin to worry about how to store them and make them easily access. Or if you just need few of commonly used ones, present them in a cute container and surprise your guests will be fun as well. Hence, we handpicked 10 cool spice containers/racks in this post. Hope it can give you some ideas to store your beloved spices in style.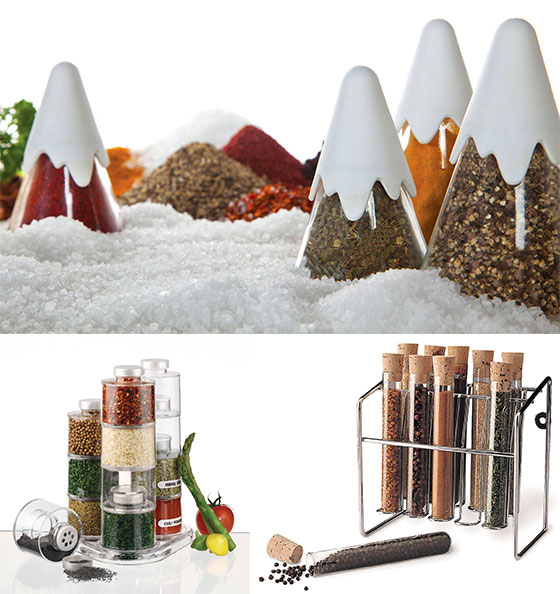 We are a participant in the Amazon Services LLC Associates Program, an affiliate advertising program designed to provide a means for us to earn fees by linking to Amazon.com and affiliated sites.
1. Himalaya Spice Jar [buy on animicausa.com]
These cool new Himalaya Jars are whimsical glass spice containers shaped like snow-capped mountains. They come in a set of four in different sizes resembling a mini mountain range on your kitchen counter.
Size: small – 8x5x5 cm, large – 10X6X6 cm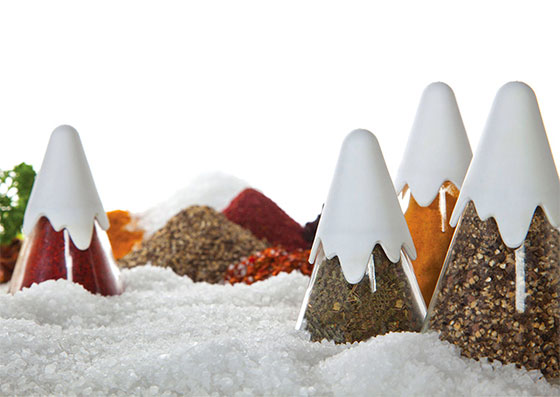 2. Zero Gravity Magnetic Spice Rack with 12 Canisters [buy on amazon]
Zevro's Zero Gravity 14-Piece Magnetic Spice Rack features unique space-saving design to keep spices close at hand but out of the way.Set includes 12 spice canisters and 1 metal shelf. Also includes spice label stickers and mounting hardware. Top and bottom canister placement allows for maximum capacity. Easy one-handed operation uses 3 settings: closed, sprinkle, and pour. Airtight to preserve freshness with clear viewing window for easy of spice identification. Each canister holds up to 1-3/4 ounces.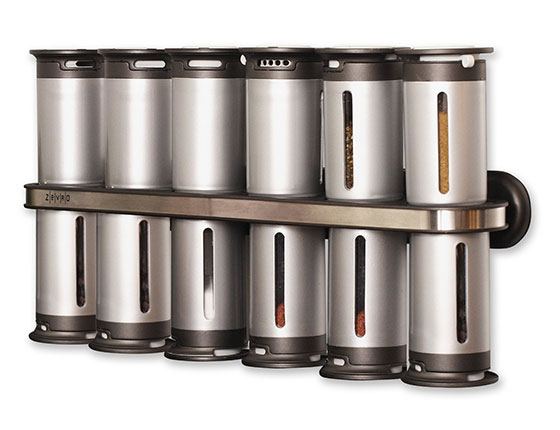 3. Spice Rack – Glass Spice Tube Set [buy on amazon]
Color: Silver
Size: 7″h x 7″w x 4.25″d
Chrome wire rack holds ten of your favorite spices.
Glass tubes have a natural cork stopper for airtight freshness.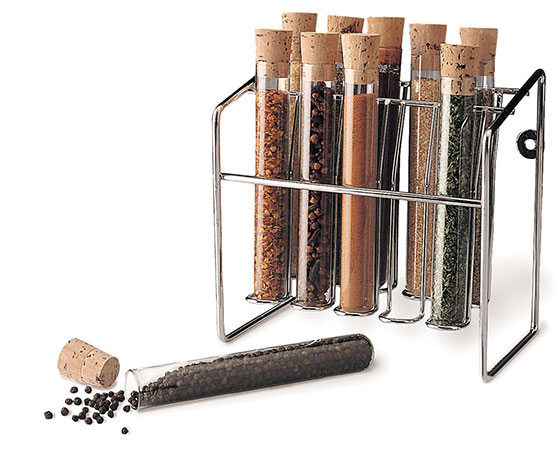 4. Qualy Spice Shaker Set Animal Parade [buy on amazon]
Daydreaming of following Alice to her wonderland in order to dine with cute animals is after all the story of the past with the arrival of Animal Parade – Seasoning Shaker!
Hopping right on your very own dining table is this lovely set of dining companions which comprises of four cute friends that will surely spice up each and every meal while the imagination is being fed along the way.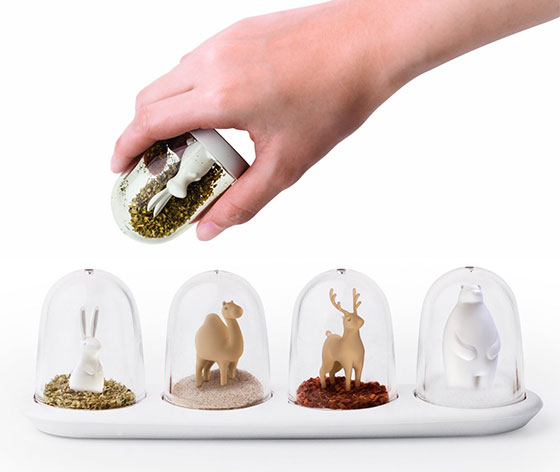 5. 12 Spice Tower Carousel [buy on amazon]
Includes 48 pre-printed and 6 blank spice labels
Unique interlocking design holds bottles securely in place
Makes a beautiful decorative kitchen display
Bottles measure 3-inch by 3-inch
Bottles have 5-ounce capacity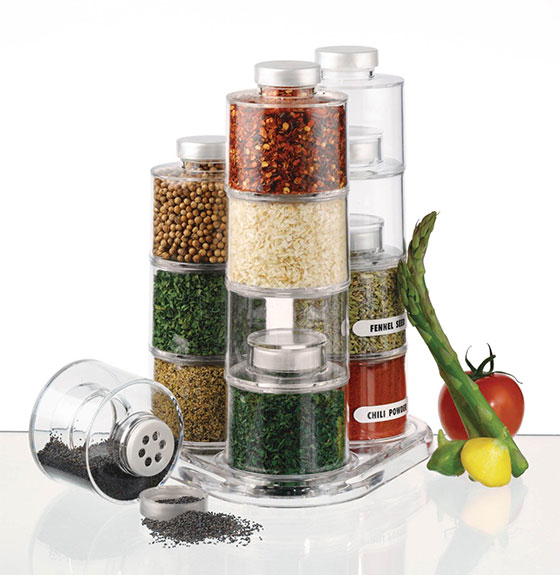 6. Alessi Spice Container Banana Band [buy on amazon]
This little trio of monkeys is happy to serve up spices, delighting friends and family every day or on special occasions
Made from durable PA resin; heads lift off to reveal sifters for easy dispensing of spices
Magnetized bases keep the pieces from falling off when they're carried
Peruse the full stock of A di Alessi household items to find other Banana/monkey pieces from Giovannoni
Set measures 6 inches wide by 6-1/2 inches high; hand wash for care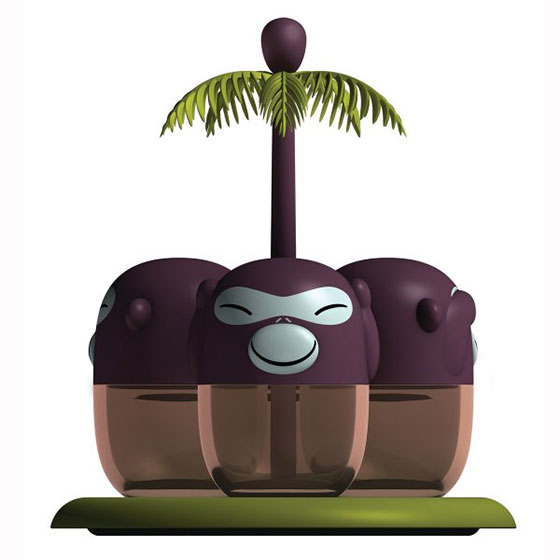 7. KitchenArt Pro Auto-Measure Spice Carousel [buy on amazon]
Includes 12 removable spice compartments, each featuring a patented auto-measure dial
Get the exact amount needed without measuring spoons; twist the dial for a perfect 1/4-teaspoon measurement
Also has standard openings for shaking and pouring; comes with 12 canisters and 55 spice labels
Fully stackable for easy storage of 24, 36 or 48 different spices, so maximizing space is easy
Also mounts under a cabinet or shelf; finished in a beautiful champagne satin to blend with any decor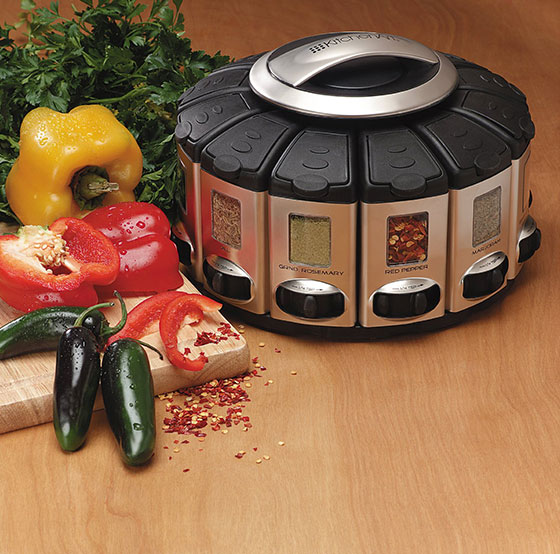 8. Frieling Spice Box [buy on amazon]
With tabs like a file folder, you can customize your spices the way you want. Available in black or white.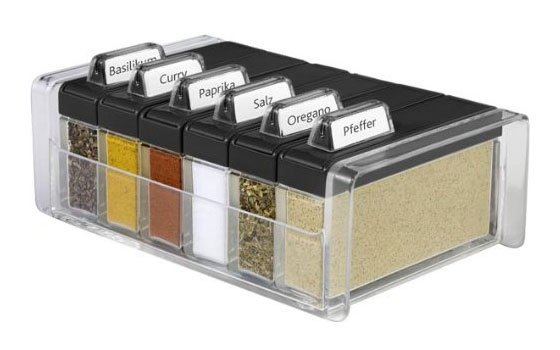 9. Organic Spice Kit for your Fridge [buy on amazon]
24 reusable magnetic jars; Lids are HAND-STAMPED with spice names by hand.
Store on your fridge. Saves kitchen space by freeing up your spice shelf / cabinet (No metal wall plate included–see listing B0094RX7UA which includes plate and saves you $5).
Hexagonal shaped jars fit together creating a honeycomb pattern. Will add a great design to your kitchen!Jars measure 1 3/4″ x 2″; Contains 1.5 oz volume. Small size keeps spices fresh, as you will cycle through more often.
All spices are ORGANIC; filled with herbs, spices and hand-blended seasonings.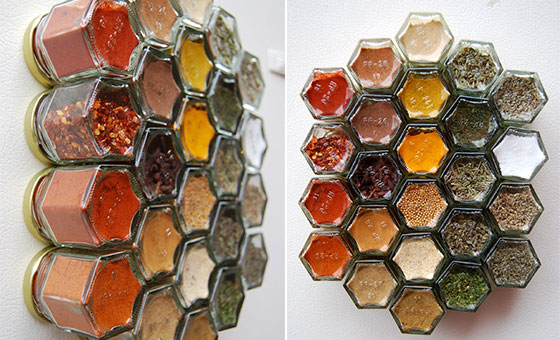 10. Olde Thompson 16-Jar Orbit Spice Rack [buy on amazon]
This handy, well-stocked spice rack comes with 16 sealed jars filled with frequently used spices
Stainless jar caps bear the names of the spices in clear, black lettering
Rack revolves, bringing all the glass jars into view, so finding the spice of choice is easy
Handsome rack made with a black base and a matching stainless finial to blend with any decor
Fits neatly on any countertop or stores easily in a cabinet; set makes a great gift idea for new homeowners or newlyweds