As a big fan of octopus, one of the most mysterious creatures in the ocean, I can't resist any look octopus looking things. I have featured so many cool products in that shape, creepy, cute, soft, hard, modern, vintage. And today, I will focus on something in a fairly large size and vintage style. From clocks to lamp, from table to vase, from mirror to decanter, want to know how these octopus can help to spice our life? Take a look below cool things.
1. Steampunk Octopus Diving Bell Clock [buy here]
This cool steampunk designed octopus clock is a perfect accent for lovers of all things steampunk. The octopus has a early 20th Century diving helmet over its head, and the clock fits into the where the front glass would be. Made of cold cast resin, he has a wonderful metallic bronze finish, with hand-painted brass and copper accents. The quartz clock runs on a lithium cell battery. He measures 5.2 inches tall, 5.9 inches wide and 5.5 inches deep.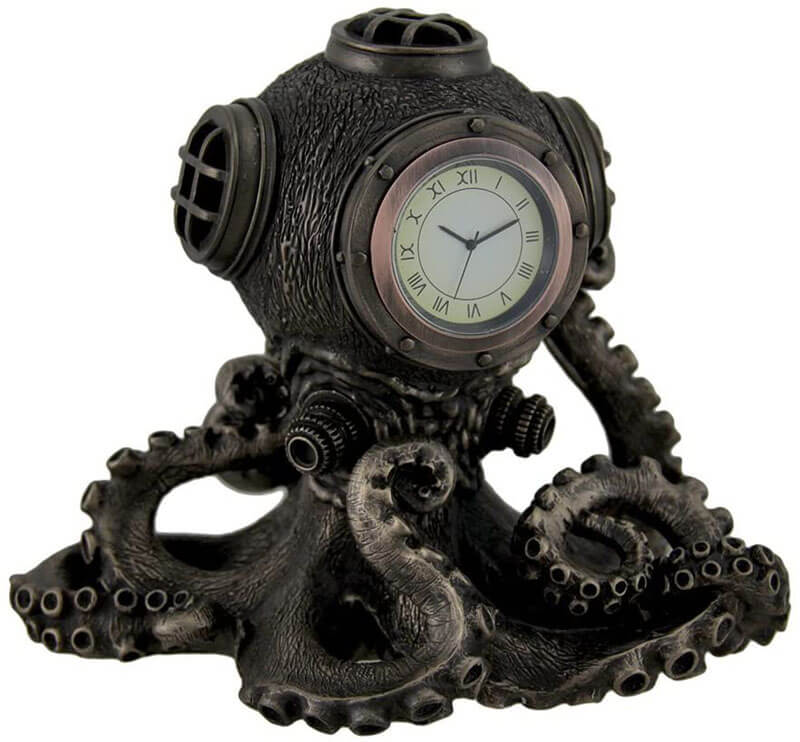 2. Octopus Spirit Decorative Antique Bronze Finish Statue and Glass Decanter Set [buy here]
This unique octopus decanter is a truly impressive piece of art that will make a great addition to any home bar or to set off on its own in a place of honor. The clear glass decanter is set in an octopus sculpture, and cradled by its tentacles. The stopper is topped by additional tentacles while others cradle two shot glasses, each of which feature an octopus detail on them. The figure has been given a detailed antique bronze metallic finish and hand painted to give it further texture. The result is an intricate piece that has a vintage vibe. Use the carafe for wine, whiskey or whatever libation you prefer.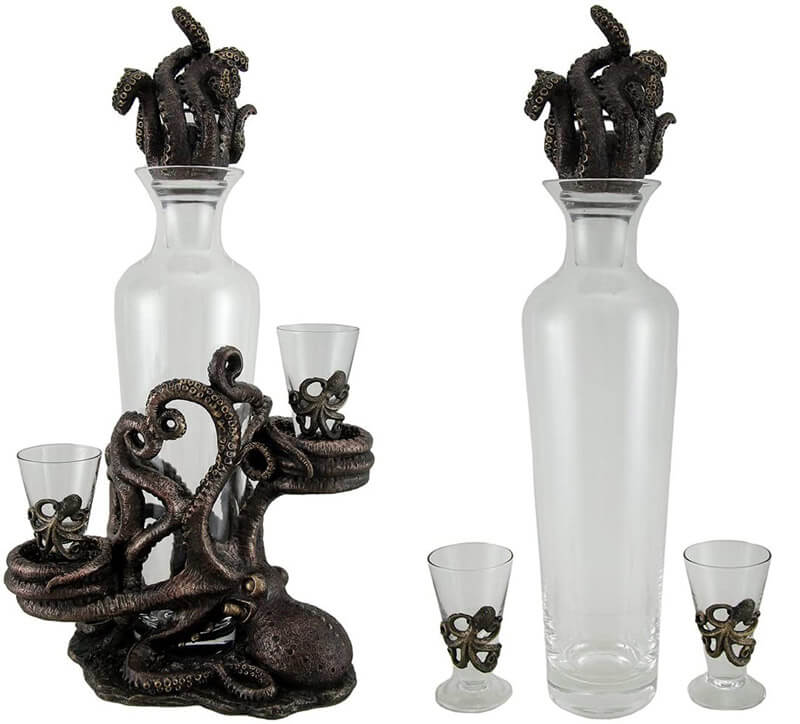 3. Octopus Starfish Round Side Coffee Table [buy here]
Mysterious and feared by sailors and divers alike, the giant octopus hides deep in the ocean, often entwining itself around seagrass populations. This side table is designed with both the mythical kraken octopus and giant tall seagrass, supporting the weight of the luxuriously cut tempered glass. It makes the perfect side table for your living room, theater or entertainment area, covered patios or what have you! The Octopus Sculpture Base measures 21″ tall, 21″ long and 20″ deep approximately. Glass Top is 24″ in Diameter. The table with glass weighs about 26 pounds.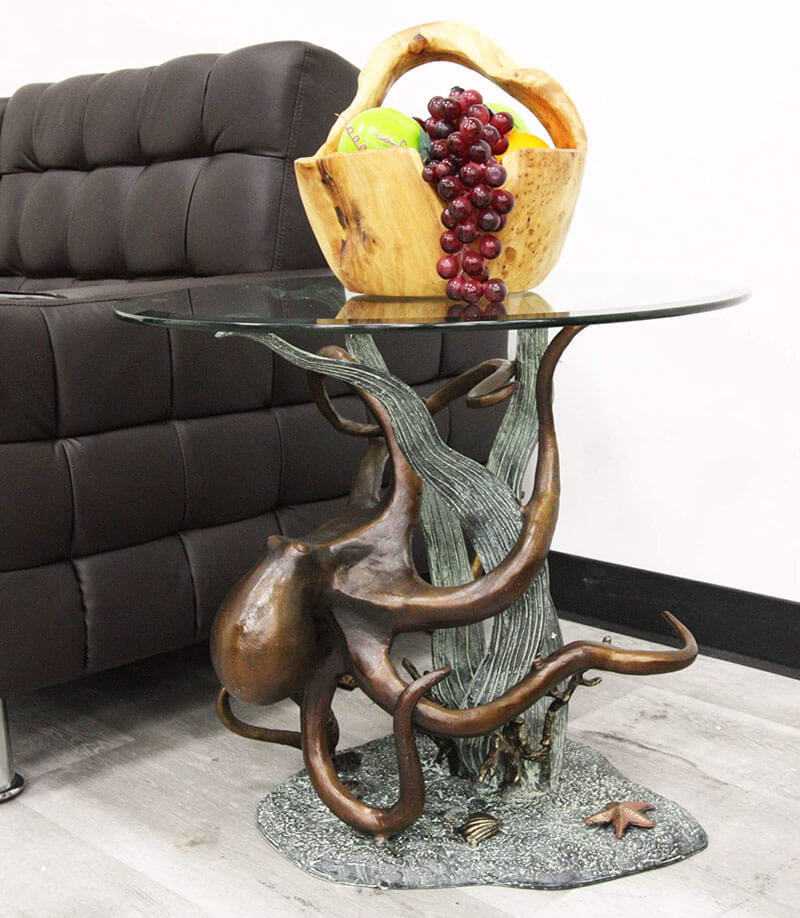 4. Ocean Marine Octopus Oil Warmer [buy here]
This Nautical Octopus Head With Arms Oil Warmer Figurine Decor is made of designer composite resin, hand painted and polished individually. Color tone may vary from pictures. Glass Dish and One Standard Tea Light Candle is included.
5.25″ tall, 5.25″ long and 5″ deep approximately.
It weighs about 1.25 pounds.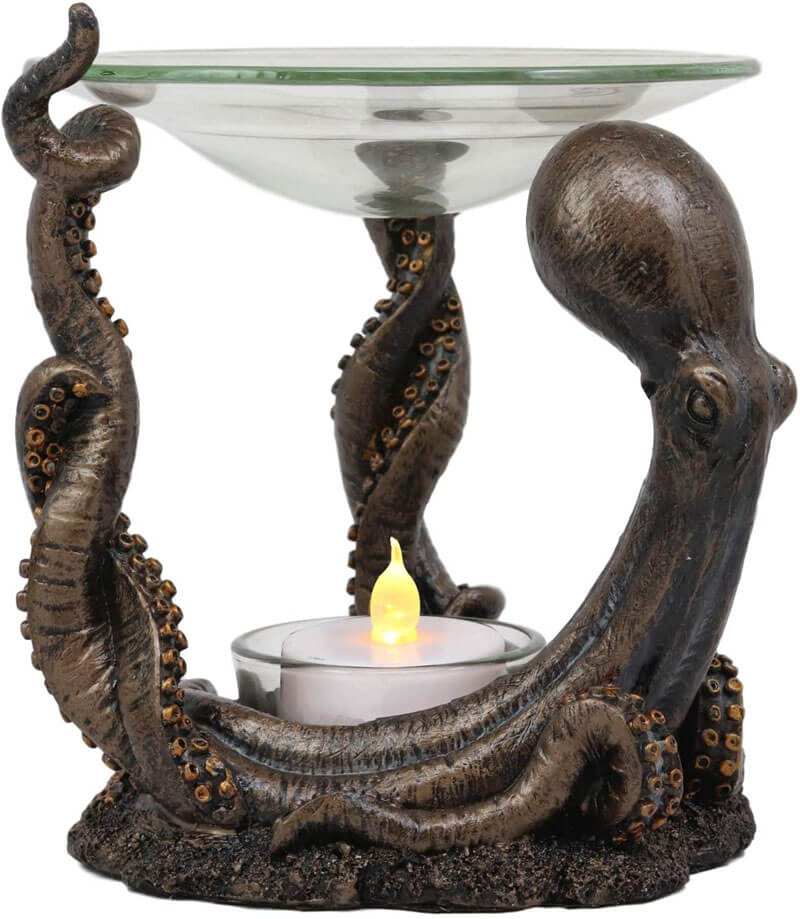 5. Octopus Pillar Candelabra [buy here]
This Octopus Pillar Candelabra by SPI Home, is made of aluminum. It measures 12 inches by 15 inches by 11 inches.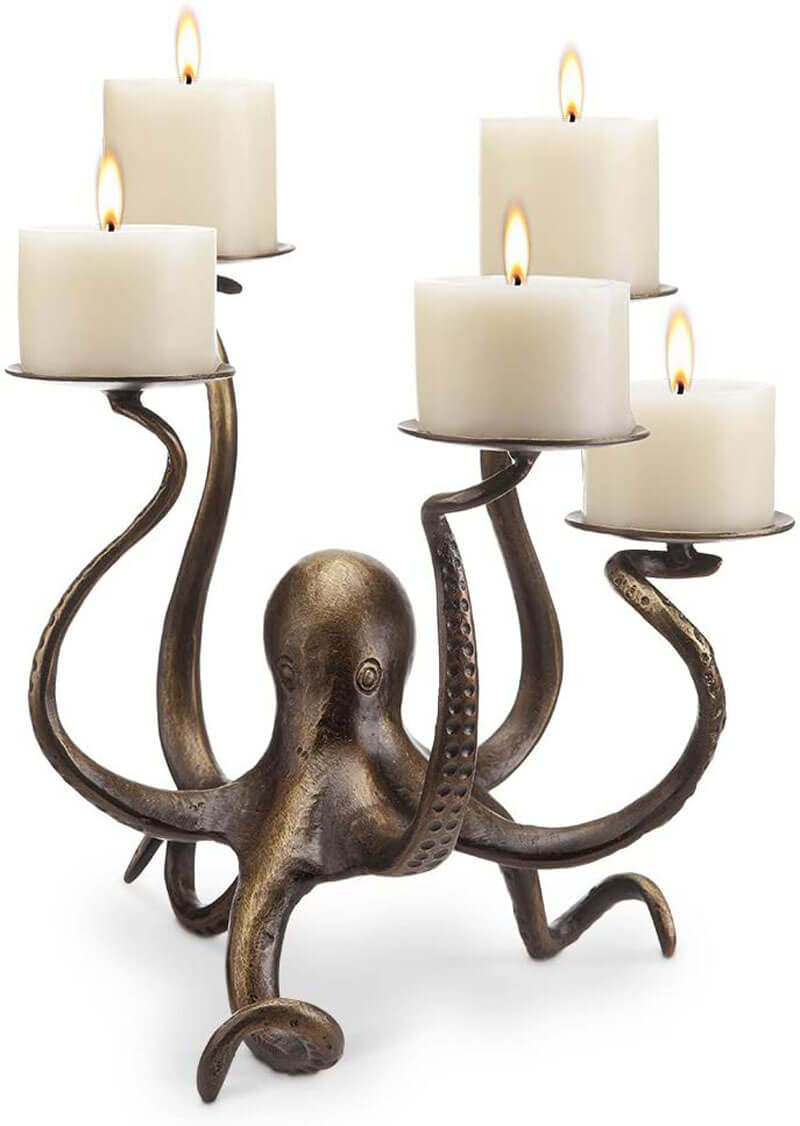 6. Kraken Vase [buy here]
Sculpture of an octopus vase, cast in resin and hand painted.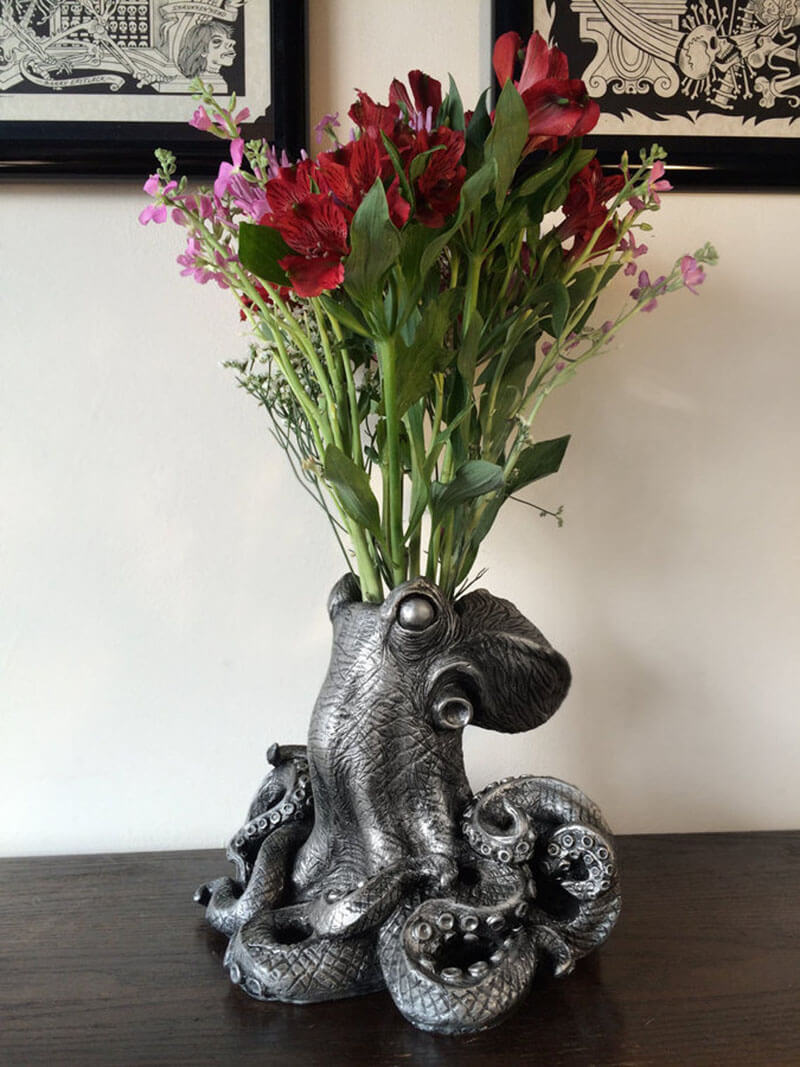 7. Octopus Wine Bottle Holder [buy here]
Stylish Marine Life Octopus Wine Bottle Holder
Polystone silver colored Octopus sculpture.
Measures: 7.5″ tall x 8″ wide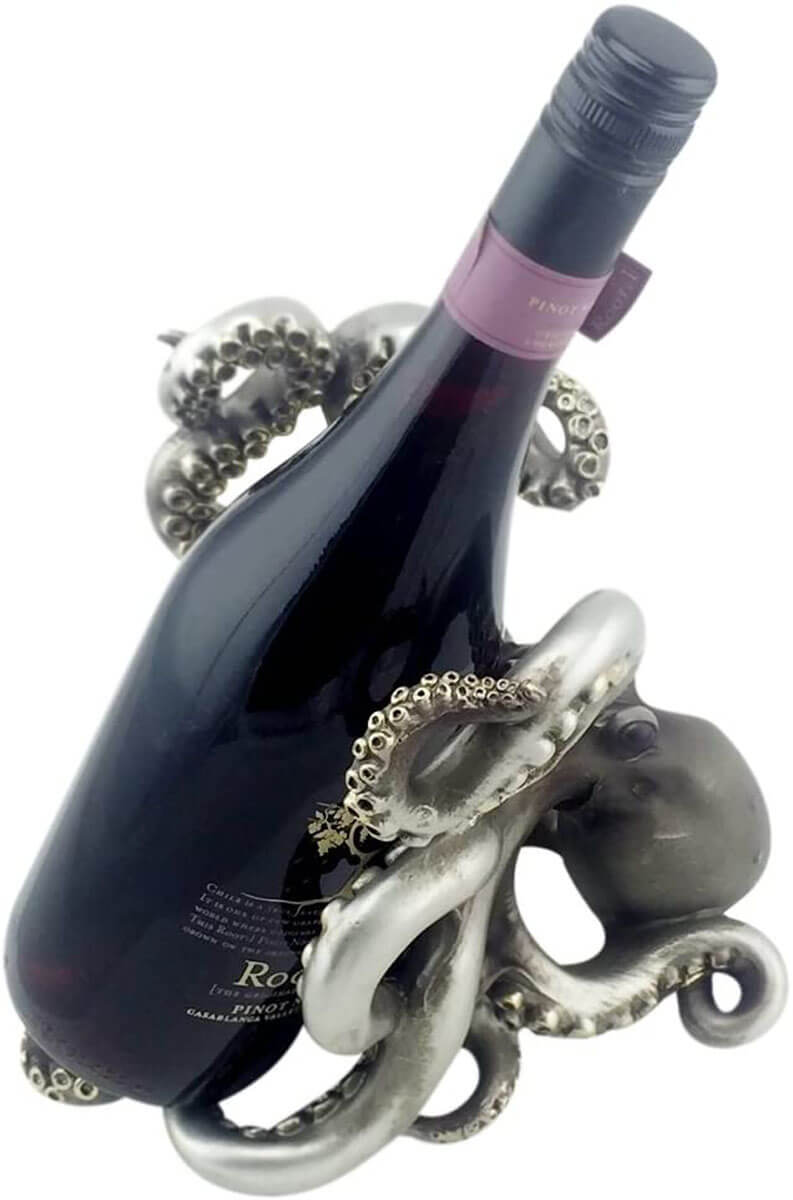 8. Octopus Vanity Mirror [buy here]
This Octopus Vanity Mirror, by SPI Home, is made of aluminum brass. It measures 13.5 inches by 10 inches by 9.5 inches.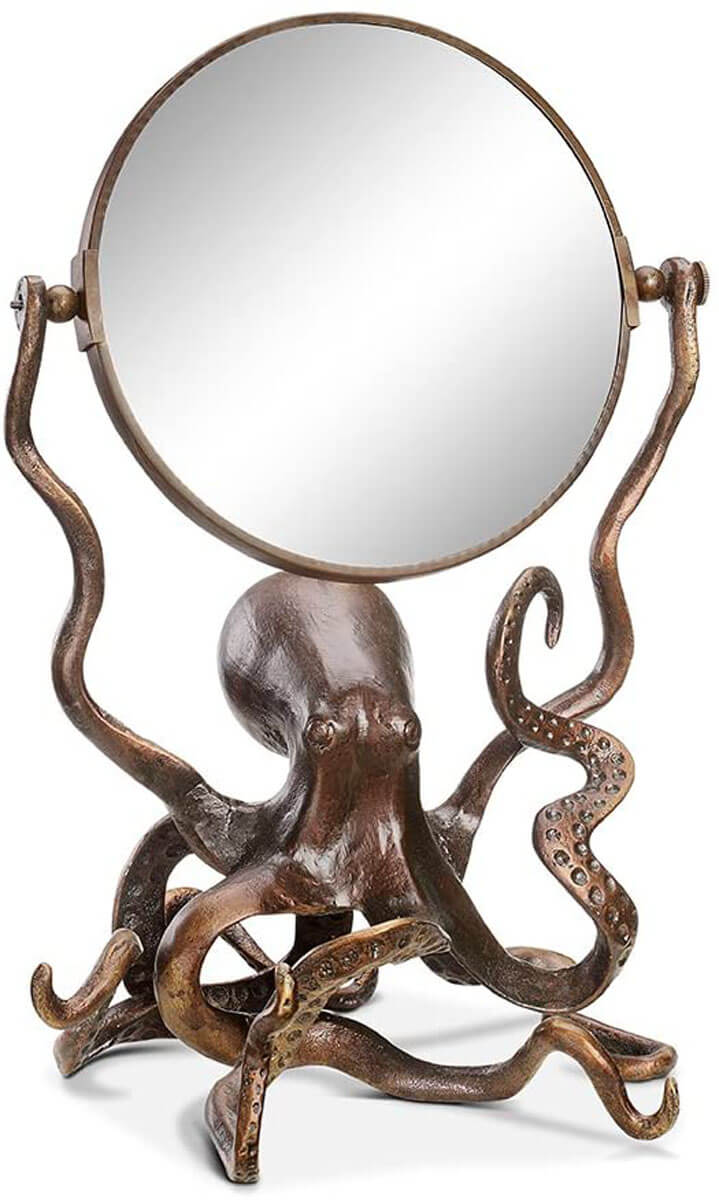 9. Octopus Round Wall Mirror [buy here]
This Octopus Round Wall Mirror, by SPI Home, is made of metal and glass. It measures 22 inches by 22 inches by 2 inches.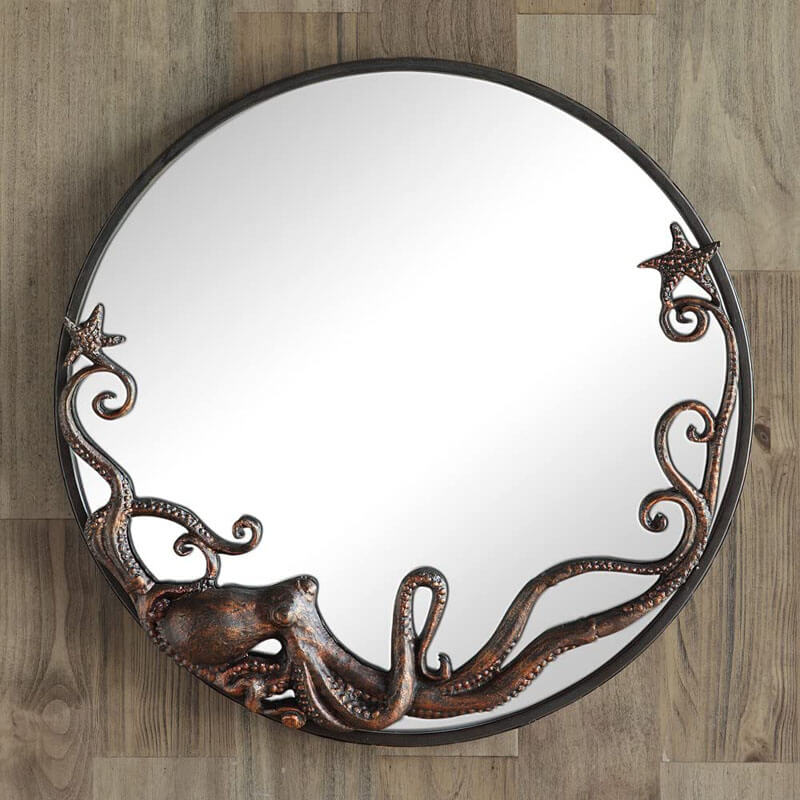 10. Octopus Table Lamp [buy here]
Eye-poppingly realistic details make this a highlight of any lair, underwater or otherwise. An ultra-authentic sculpture of an octopus tiptoes on the ends of its tentacles, with a bright lamp cradled underneath its intelligent eyes. Measures 13 1/2″ high x 9 1/2″ deep x 7 1/2″ wide. Crafted in painted resin, bulb included, and has a 42″ long cord. For 110v/120v electrical systems