Hey, Monday again, our "cool hunting day". As usual, in this post, I will present you 10 Creative and Innovative Product Design I found in last week… And hope you also like them… Check our menu, what we have in today's cool hunting journey:
We are a participant in the Amazon Services LLC Associates Program, an affiliate advertising program designed to provide a means for us to earn fees by linking to Amazon.com and affiliated sites.
1. Wallpaper that can generate electricity [link]
Wallpaper can generate electricity? Of course not, but, it makes you think like… might that little running mice or the rotating windmills are trying to do something on the wall. (lol) The picture shown below is a creative wallpaper/wallpaper stick design. It is really cute and smart and will definitely inspired the room.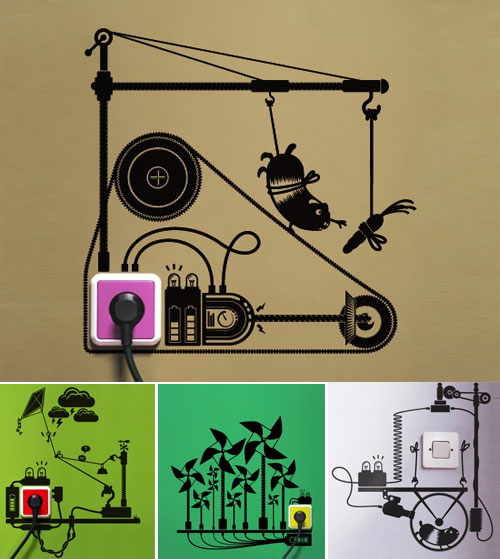 2. Movement Bookcase [link]
The Movement Bookcase by Samulnoli. Hugging your books! The Movement Bookcase includes a arrangement of bent nails which can be shaped in the form of legs and arms, acting as book holders, grabing your books! I love this design.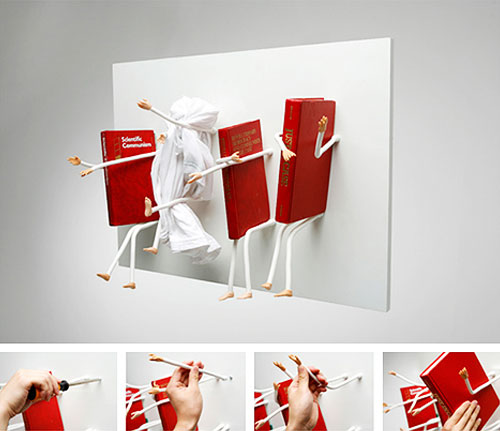 3. Falling Books Bookend [link]
Stop those books from falling over with this funky bookend. The heavy books appear to almost crush the handsome little man, but don't worry – the sturdy bookend will keep your books tidy and upright.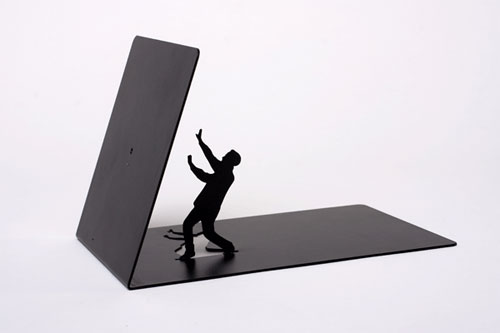 4. Printing Your Toast [link]
Print Your Toast designed by Othmar Mühlebach. Based on the idea of a desktop printer, you just lay a stack of bread at the top and each slice is printed onto the plate below.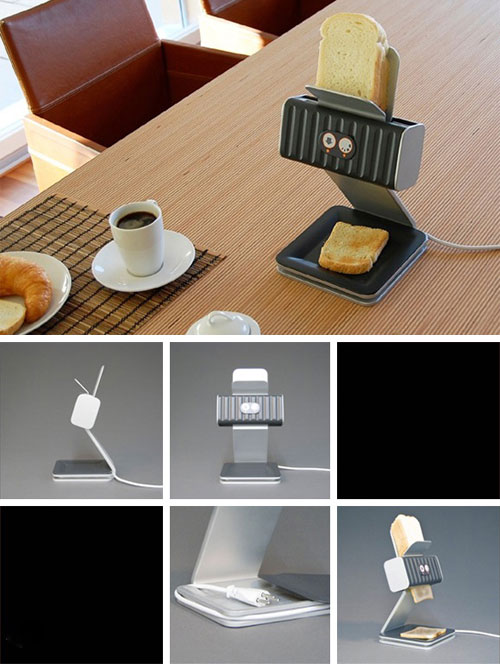 5. Radio Flexio [link]
Flexio is this really awesome radio that's solar powered and portable. I'm willing to overlook the "only one fixed FM channel" stand for the cute little paper packaging it comes in. I'm sure the dynamics of manufacturing this are going to be reasonable, because one can even use it for promotions and gifts…like ask someone to advertise on its package. The innovative factor comes from the flexible speaker & flexible solar cell. It's designed to be used within the station-waves range, but could be modified to receive internet radio via WiFi or WiMax.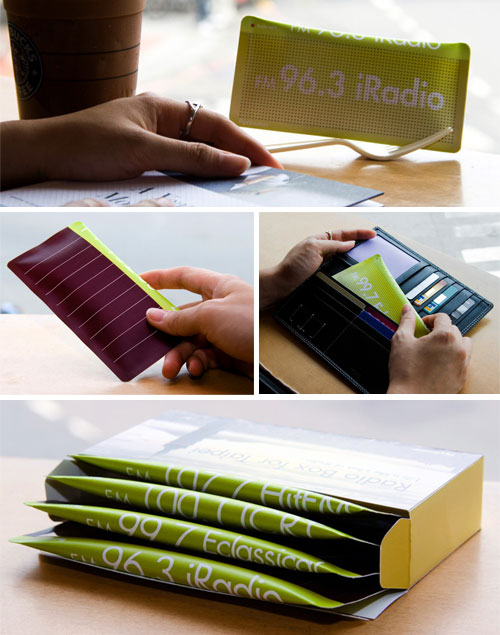 6. Washboard Necktie [link]
Let's make some funs while at work. The Washboard Necktie is unique, made of stainless steel, it measures 18 inches long by 4 inches wide. It can be clipped on to your shirt, and including a pair of thimbles for strumming, Cool tie!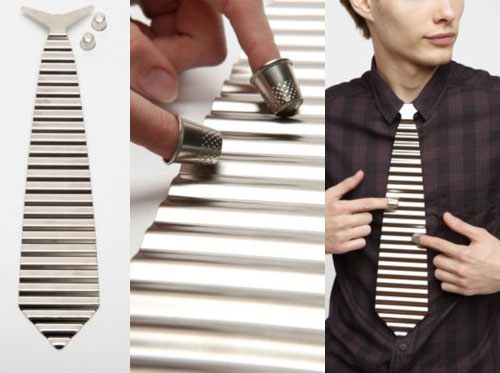 7. Moonstones – Luna Piedra [link]
I'm in love with the Seoul Green Project called Luna Piedra which means moonstone in Spanish. These beautiful pebbles illuminate with embedded OLEDs. They replace traditional lighting setups which aren't portable and waste a lot of energy. The Luna Piedra generates enough power by water currents using a very tiny nano generator. It doesn't heat up and leaves no polluting effluents. I want one, NOW.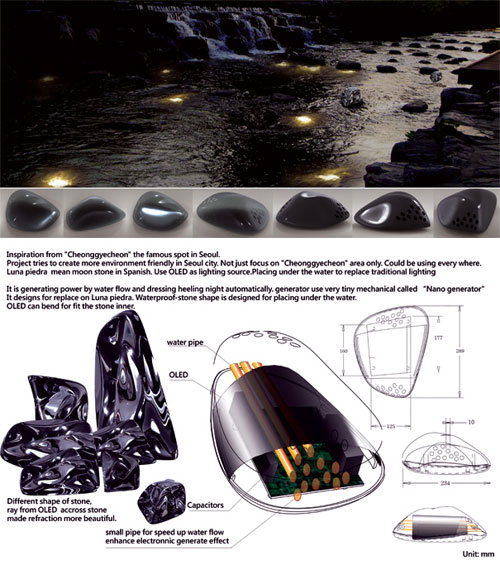 8. Umbrella Shoulder Holder [link]
This Japan's Umbrella Shoulder Holder that let's you keep your both hands free in the rain to carry your stuff! It shaped likes a snake, you just attach the handle of umbrella to red wire sausage and knot around your sholder.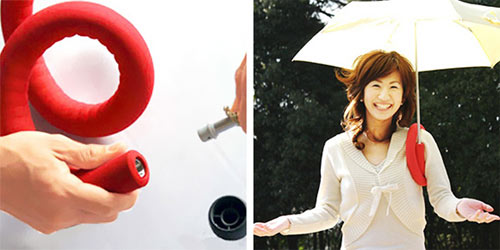 9. Sanyo neck Warmers [buy on Amazon]
Sanyo has released a new set of Eneloop warmers, yeah, warmer for neck. It is powered by rechargeable battery for portability. It is a great device for those who into winter sports such as skiing and also for those who commute by bicycle or motorcycle. The warmer has a heating section that wraps snugly around the neck. Its One-size-fits-all design with the size-adjustable belt making it fit for both men and women. The thermal section and the power supply unit are removable to allow the outer cover to be easily hand-washed. More pictures after the break.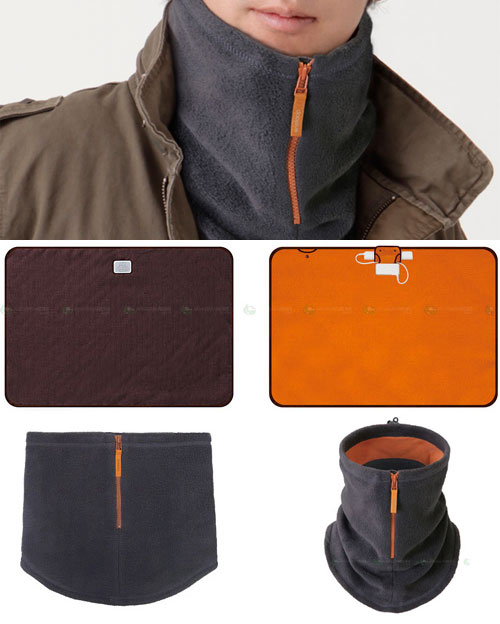 10. Steampunk terrarium [link]
Professor Alexander's Botanical Vasculum – Steamed 300 watt Moss Terrarium from Etsy seller SteamedGlass is a beautiful blown-glass steampunk Rube Goldberg terrarium. It stands 10 1/4″ tall as mounted on the SteamPunked stand made of a simulated cherrywood base, copper tubing, chemistry glass, an adjustable 4x magnifying glass and other ornate trimmings. The bulb houses a small solar powered LED bulb that lights itself when all other lights go out and throws a dreamlike shadow pattern on your walls making the perfect night light. It can also be turned on and off with the old fashioned knife switch mounted to the base."