Hey, Monday again, our "cool hunting day". As usual, in this post, I will present you 10 Creative and Innovative Product Design I found in last week… And hope you also like them… Check our menu, what we have in today's cool hunting journey:
1. Philco PC takes codgers back to the good old days [link]
For those of us old enough to remember the iconic Philco Predicta TV from the late '50s, this Philco PC design concept is guaranteed to raise a smile. SchultzeWORKS designstudio added a dash of orange, along with an old-time keyboard giving it a Steam-punk flavor, accompanied by a mouse that looks more like a foot switch than a pointing device.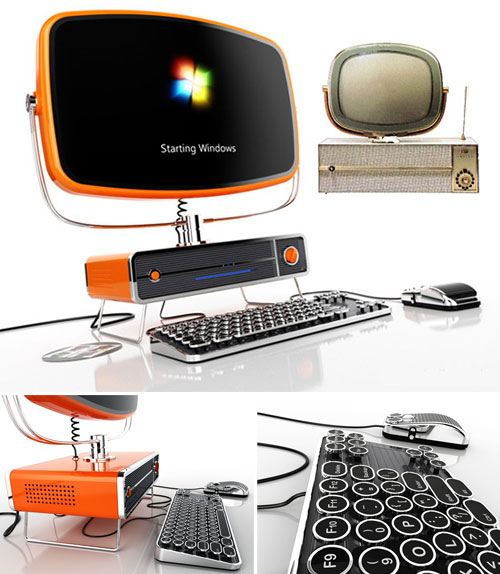 2. Warm up with solar-powered hat and gloves [link]
Here's a product we can really warm up to: a knit hat and matching gloves with built-in solar panels. No, not your typical bulky (and dare we say, ugly) solar panels, but cheerful little snow-flake shaped panels that convert sunlight into snuggly warm goodness.
Dubbed "Endless Warm," the cozy conceptual duo from Germany's Yiran Qian were finalists in the DesignBoom Greenlife contest. The only problem we see is that typical cold winter days don't boast significant amounts of sunshine. Hopefully, there's an equally cute battery hidden in the hat and gloves.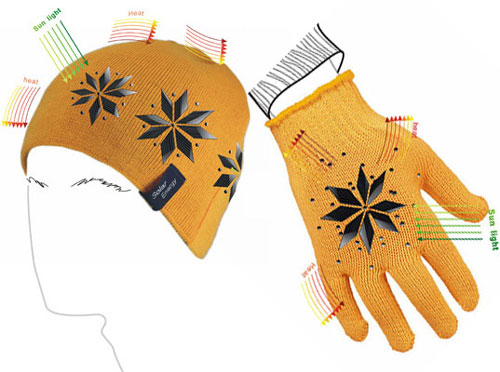 3. Have a bath in the shoe [link]
If you are women and love shoes, you would love these shoes bathtub. These Shoe Bathtubs by Italian SICIS, the bathtub is entirely covered in an artistic way with glass mosaic, looks like a luxurious shoe, beautiful.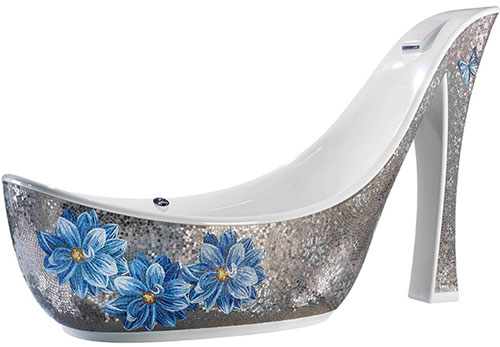 4. Collapsible Lamp [link]
Pish posh–they've got nothing on this new lamp by Studio Dror, being unveiled this month at Art Basel. The shade itself folds completely flat–it actually looks just like a bit of chicken wire or plastic fencing. But give it a tug, and the thing unfurls into a forest of interlocking cubes.
Dror created the lamp for Materialise.MGX, which specialises in producing furniture using laser sintering. The lamp shade itself is designed so that the cubes are densest in the center–thus diffusing the light simply by overlapping.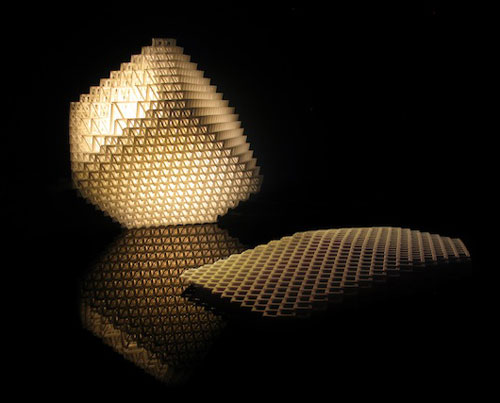 5. AromaUSB [link]
AromaUSB is a real working USB fragrance dispenser. It provides a pleasant fragrance when plugged into a computer.
– Ideal for work station and business travel
– Cold mist ultrasonic diffusion
– Adjustable fragrance strength
– Changeable and refillable fragrance cartridge
– Long-lasting effectiveness
– Single refill lasts up to a week of use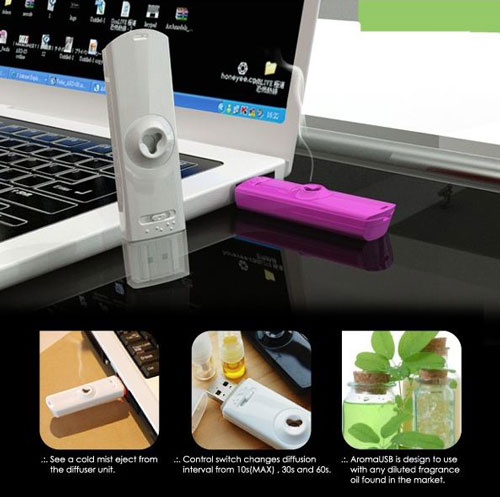 6. R1 radio by il-gu cha [link]
Il-gu cha has designed an analog radio, the R1 radio, tuning is done by moving the radio from left to right and volume is controlled by rolling the radio forward and backward.
From designer:
"An analog radio is one of most important product for a blind people. In the using a behavior of how people manipulated rather than burying all of interaction in to the product. So adjusting radio to the right station would require a new kind of manipulation rather than simply tuning a knob.
'R1' has designed for them to control the radio more intuitively. By using a wheel structure user can control the radio by physical movement. The 'R1' allowed users to turn gadget on or off and to control volume and tuning simply by physically rolling the radio forward, backward and sideways.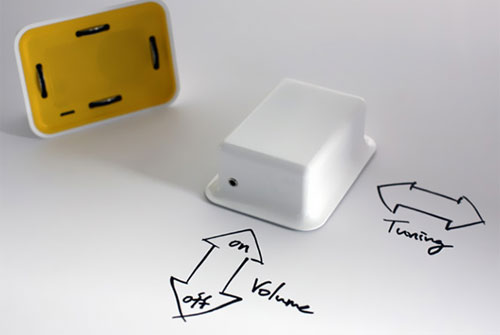 7. ALPHABET Drawers [link]
Inspired by vintage printing blocks, this beautifully finished chest of 26 drawers is made from solid oak – the perfect place to file everything from A-Z! It seems a good idea to arrange things.
The ALPHABET chest of drawers stands around waist height.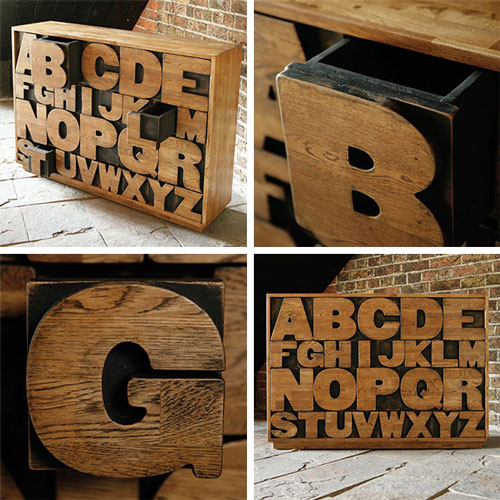 8. Cool Folding Keyboard [link]
Innovative portable keyboard concept, designed by Yoonsang Kim and Eunsung Park, folds up like a traditional folding fan when not in use.
The designers envisioned this Keystick as a personal keyboard you take with you everywhere, never needing to touch any object that's been touched by others, awkwardly naming their idea the "None Bacteria Project." Never mind that — if they can give this keyboard deep enough key travel, they might have a hit on their hands.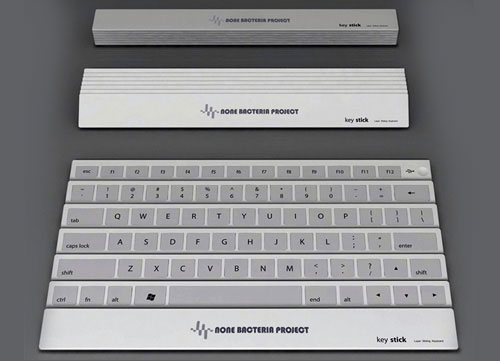 9. A Lamp that Gives Life [link]
The Natural Affection lamp is all about giving affection, protection, life and death. The lamp curls over the flower embracing it. Acting as if it is caring for its baby, the lamp shows its love by giving light to the flower as it tries to keep it warm. The vase can be used with both real and artificial flowers, or to create the complete life and death ambience, seeds can be planted so that the flower can grow and then die away after its life cycle, all the while be cared for by the loving lamp.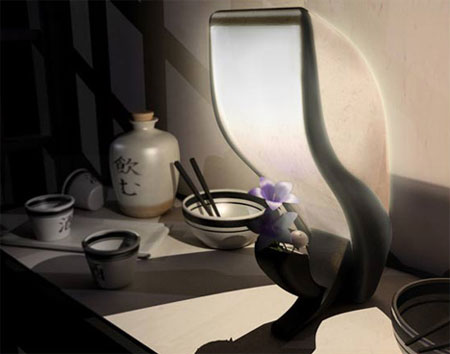 10. kettle boils it whistles your favorite tunes [link]
Yuri Suzuki and Naoki Kawamoto want to contribute to the design of daily domestic noises. alarms, mobile phones, a doorbell; They reexplore their sounds. The musical kettle is a part of series 're-design soundscape'. As the kettle boils it whistles your favorite tunes.